Gaming PC Builds – May 2015
Jump to a specific budget build –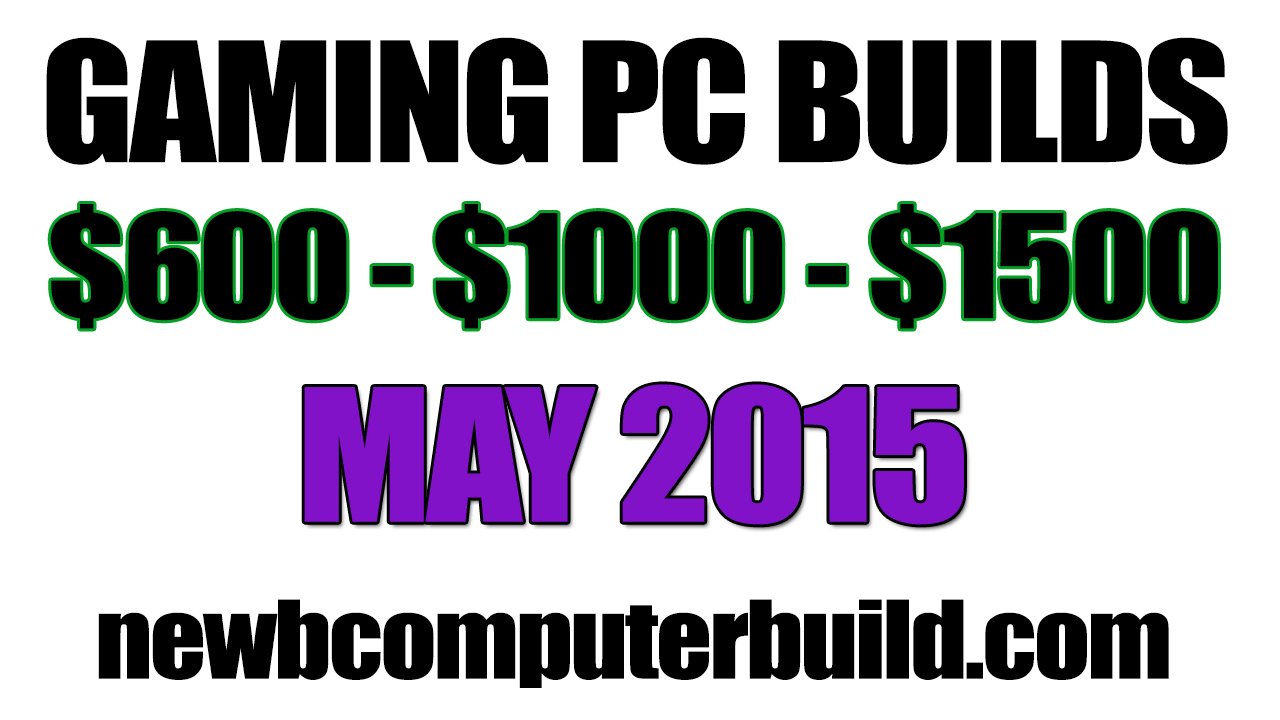 Gaming PC Builds of the Month Introduction:
Here is the May 2015 update to the Monthly Gaming PC Builds here at Newb Computer Build. Yes I did miss last month (April 2015) and for that I apologize, but there was a lot of engagement in the previous month builds in the comment sections, which was really good to see. It's always great to see new pc builders as well as novice builders wanting to upgrade come along and ask questions so feel free to do so in the comments section following the article.
It's a great month for PC builders in any of the $1500, $1000 or $600 budgets in that each are still strong contenders, with a few included upgrades due to significant price decreases, especially RAM costs. The $1500 has seen a few tweaks and comes in comfortable below $1500 this month. The $1000 build has a few upgrades and the $600 has the most significant upgrades with a bump up to the AMD FX 8320 included in its base build this month – this is great news for anyone considering a $600 build this month.

May 2015 PC Builds ( $1477 )
Gaming PC Build Recipe:
Game with Extreme settings at resolutions of 2560×1400 and 1920×1080

Overview: Gaming PC Build ( $1500 )
The $1500 build is definitely the build to get for those wanting to game at resolutions of 1920X1080 up to 2560×1600 maxed out. Furthermore, this build even has the potential of 4K resolutions, and 4K resolutions maxed out with some slight upgrades (see hardware alternatives table below main build).
The processor used is the Intel i5 4690K processor, which is very easily overclocked and I have paired this with the MSI Z97 GAMING 5 motherboard, which has dropped in price and comes with some nice built in features like a row of voltage detection points to help with the needs of enthusiast overclockers – this motherboard's overclocking ability is great and one should have no problem pushing the Intel 4690K processor to its limits.
The CPU cooler once again is the Cooler Master Hyper 212 CPU Cooler, which is a worthy investment to take full advantage of the unlocked multiplier on the Intel 4690K processor, allowing an easy overclock. If you want to install a liquid CPU cooler instead, then I have also included the Corsair Hydro Series H100i GTX liquid cpu cooler in the upgrade suggestions table below.
For the graphics card, I have once again chosen to go with the Zotac GeForce GTX 980 AMP Edition, which is simply one of the most affordable GTX 980's out right now. The GTX 980 is a very capable graphics card and even more so for those who are expecting to game at high resolutions.
The RAM package has stayed the same with the Crucial Ballistix Sport 16GB (8Gb X 2). 16Gb of memory is more then enough and it will last in a gaming pc build for years to come – this RAM kit is extremely affordable right now coming in at only $109; this is an amazing price for a full 16GB of memory. This RAM kit has gone down in price for the past 4 months as memory has finally become much more affordable versus in the recent past.
The included hard disk hard-drive used is the same one I've included for a few months now, the Seagate Barracuda 1TB, which is plenty of space for most gamers, but I have also included the very fast SanDisk Extreme PRO 240GB Solid State Drive – this is where you would install your OS and any of your most played games / software in order the maximize boot & load times.
I have gone back to the high quality EVGA SuperNOVA 750W G2 Gold Certified power supply since it is now priced much better. This is a super high quality & efficient PSU and I highly recommend it.
The case for the $1500 build for May 2015 is the Corsair Carbide Series 330R Blackout Edition. This case is relatively similar in look the last $1500 build and it boasts low noise designed for media rooms, bedrooms, dorm rooms, or any place where performance and silence are essential according to Corsair. Below are some tech. specs for the Corsair Carbide 330R (read more at Corsair.com)