Click to download the PDF - Building a Gaming PC Guide 2012.pdf
A guide to building a gaming PC for the year of 2012: Compiled and revised from the "Choosing Hardware" section here at Newb Computer Build. This guide will familiarize you with the basic descriptions of what each piece of hardware does, how to make sure each piece of hardware is compatible with one another and give you suggestions on how & where to purchase this hardware.
Contents: (links jump to relative parts in article)
Why Build Your Own Gaming PC?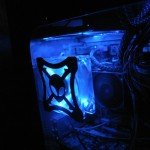 If you are an avid Gamer or just a plain hardware enthusiast then there is nothing like building your own PC! Honestly there are so many reasons why you should build your own PC:
Building your own PC is cheaper: You get much more for your money when building your own PC. You can build more powerful gaming computer at a much smaller price tag!
Personalize and Customize: Building your own PC makes it more unique and yours. Gamers more than anyone know the appeal of being able to customize and by building your own PC you get to choose everything you put in it exactly the way you want it. Anything from the type of processor to the look of your snazzy computer case, you can make the PC that suits you.
The satisfaction: Nothing makes you appreciate the machine you game on, watch movies on, listen to music on and do pretty much whatever else you do on than building it yourself. Building your own PC will enable you to learn more about the hardware you use giving you a greater understanding of each individual part. This does in turn give you so much more satisfaction than going to your nearest hardware retailer and buying a pre-built PC.
It is FUN: Building your own gaming PC will take a little research for all the specific hardware you need and to do this you may have to visit hardware forums, read hardware reviews and ask others for advice. It may seem like a lot of work but you will have fun connecting with new people, learning new information, getting your geek on and most of all having a great understanding and appreciation for your gaming PC. After all, your money is hard earned!