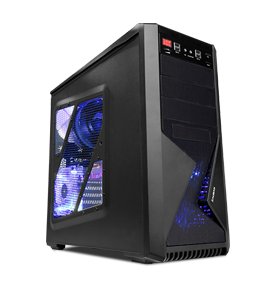 Zalman Z9 Plus Case Review Introduction
Purchase: The Zalman Z9 Plus Case at Amazon
Recently, I bought the Z9 Plus PC case to support my current PC gaming build. Previous to the Z9 I was using a very old case that was given to me by a friend of my girlfriends for free, so at this point in time I thought I should upgrade for a few reasons:
My old case was VERY loud; although it made it sound very powerful it also sounded like a helicopter prepping take off.
My older case was quite dusty inside (needed cleaning anyways so since I was going to open up and clean anyways, thought mise well carry everything over to another case at this point in time)
Finally, the airflow in my other case was terrible. Even though I had fans full fledge 100% of the time, it got hot inside. It would run at a case temp of about 38 degrees case temp, whereas I run at 24 degrees Celsius case temperature now.
I purchased the Z9 Plus for $59 at a Memory Express near me, and with a $10 dollar mail in rebate I was able to grab it for $49 – so this was a pretty good deal!
What made me choose the Z9 Plus?
Well I started with a rough budget I was going to set aside for a new pc case and this was around $50. So I chose all of the cases in this budget and quickly narrowed down the cases based on a few things I wanted:
A solid construction (metal or really sturdy hard plastic)
Good air flow (as to keep the case cool and as dust free as possible)
Front USB ports Supporting at least USB 2.0 (and at least 2 ports)
Mid Sized ATX to fit my motherboard