PC Build Navigation: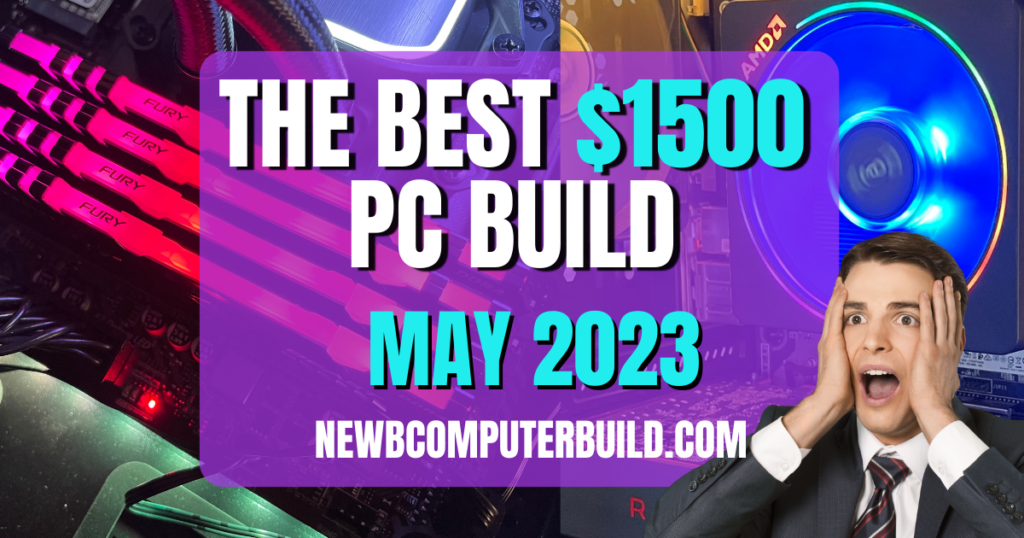 The Best $1500 Gaming PC Build for May 2023 Update:
Looking for the ultimate gaming experience without breaking the bank? Look no further than our top pick for the best $1500 gaming PC build.
This build, designed for May 2023, offers a fantastic premium PC build capable of running all PC games on the market in higher resolutions (1440P and into 4K resolutions). With the latest technology, including the newer Ryzen 7000 series CPU, the Ryzen 7600X, this build unlocks the latest in gaming tech with DDR5 memory support and PCIe 5.0 support.
This gaming PC build is designed to last for years to come and leaves plenty of room for upgrades now or in the future. May is a great month to build with respect to modern releases, and prices have gone way down, even post-boxing day sales which launched at the end of last year.
Keep in mind that every PC build can be unique to its builder, so feel free to swap out components such as cases if you have your eye set on something more unique to you. If you have any questions about compatibility, feel free to leave a comment.
Which May 2023 Gaming PC Build is right for you based on Your Gaming and Budget Needs?
The budgets included below should accommodate most PC gamers out there that play in many gaming settings, maxing games anywhere from 1080p to 1440p and play really well into 4K.
If you are not sure which pc build is right for you based solely on your budget, then here is a quick breakdown of which build may be a right fit for you (*rough performance guidelines):
---
Bookmark our Best Gaming PC Builds for 2023 Page to Keep up to Date With the Monthly Gaming PC Builds, or subscribe here.
---
The Best $1500 Gaming PC Build | May 2023
Performance: Game with Extreme settings and High FPS at resolutions of 1920×1080 (1080P) & 2560×1440 (1440p) + good gameplay at 4K
*This Gaming PC Build is powered by the Ryzen 5 7600X and a Radeon RX 6800 XT Graphics Card
*Update: The Ryzen 7600X is newer, FAST and a fantastic gaming CPU. The Ryzen 7600X and AM5 Platform have more upgradability for the future, supporting DDR5 Memory and more.
Pure gaming performance with smooth 100+ FPS in the world's most popular games

6 Cores and 12 processing threads, based on AMD "Zen 4" architecture

5.3 GHz Max Boost, unlocked for overclocking, 38 MB cache, DDR5-5200 support

For the state-of-the-art Socket AM5 platform, can support PCIe 5.0 on select 600 Series motherboards

Cooler not included
Looking to save some $? Then you could consider a Ryzen 5 7600 (non 'X'), cheaper and you can overclock to achieve similar to the stock performance of a 7600X + it comes with a stock cooler saving you even more.
Amazon Price: $249.00
*Note: This takes the place of the below alternative Hyper 212 Black Edition cooler for assured AM5 compatibility. The below Hyper 212 may need a compatibility kit.
Streamlined, more affordable redux line version of the award-winning NH-U12S heatsink

Slim 120mm size for excellent case, RAM and PCIe compatibility: fits most tower cases (158mm height), doesn't overhang the RAM slots, doesn't block the PCIe on most ATX and Micro-ATX motherboards

Quiet NF-P12 redux-1700 120mm fan with PWM for automatic speed control: full cooling performance under load, near silent at idle!

Pre-applied high-quality NT-H1 thermal paste & SecuFirm2 mounting system for easy installation on Intel LGA1700, LGA1200, LGA1150, LGA1151, LGA1155, LGA1156, LGA2011, LGA2066 and AMD AM4 & AM5
Amazon Price: $54.95
Sleek Finishing: Anodized gun-metal black with brushed aluminum surface finish to the top cover for a more refined look

Nickle Black: The nickel plated jet black also enhances radiation cooling performance

Direct contact technology: 4 Heat Pipe with exclusive direct contact technology effectively provides excellent heat dissipation; Air flow: 57.3 CFM; Noise level: 30.0 decibels

Precise Air Flow: Stacked fin array ensures the least airflow resistance which allows cooler air flow into the heat sink

RGB LED controller: The wired RGB LED controller allows for customizable colors and effects with just the touch of a button
Amazon Price: $57.41
Supports AMD Ryzen 7000 Series Desktop Processors

Supports DDR5 Memory

Core Boost : With premium layout and digital power design to support more cores and provide better performance

Memory Boost: Advanced technology to deliver pure data signals for the best performance, stability and compatibility

Premium Thermal Solution: Extended Heatsink, MOSFET thermal pads rated for 7W/mK, additional choke thermal pads and M.2 Shield Frozr are built for a high-performance system and non-stop work
Amazon Price: $199.99 *cheaper this month!
Memory Speed:16 GBPS

The Speedster series exemplifies a modern aerodynamic style though clean and elegant design. It is a thoughtful design with the sole purpose of maximizing airflow to improve cooling and performance.

A revolutionary new memory architecture that redefines how to deliver higher levels of performance and efficiency for 4K gaming. AMD RDNA 2 architecture elevates and unifies the gaming

AMD RDNA 2 architecture elevates and unifies the gaming experience from performance to visuals across consoles and PC.

New Ray Accelerators, handling the intersection of rays, deliver high-performance hardware accelerated raytracing
Is the RX 6800 XT not up to your speed? Check out the alternative graphics card suggestion for the best $1500 PC build on the hardware alternatives page.
Cost (Amazon): $559.99
DDR5 Memory is here! 16GB of RAM is the perfect spot for any high-end gaming PC -- plus this is DDR5.
Harness blazing speeds up to 5600MHz — 1.5x faster than DDR4

Game at higher frame rates and run demanding software with nearly 2x the bandwidth of DDR4

Empower your system for the next-generation multi-core CPUs

Intel XMP 3.0 enabled for easy performance recovery

ECC Type = Non-ECC, Form Factor = UDIMM, Pin Count = 288-pin, PC Speed = PC5-38400, Voltage = 1.1V
Amazon Price: $51.99
NVMe (PCIe Gen4 x4) technology with up to 5000MB/s sequential reads, random read/write 650K/800K IOPS

Spacious storage up to 4TB

Performs up to 43% faster than the fastest Gen3 NVMe SSDs

Rated at MTTF greater than 1.5 million hours for extended longevity and reliability

Backward compatibility with Gen3
Amazon Price: $39.99
80 PLUS Gold efficiency (up to 92.7%)

ATX 3.0 PSU with full support for PCIe 5.0 GPUs and GPUs with 6+2 pin connectors

Exceptionally silent 120mm be quiet! fan

Advanced stability and voltage regulation thanks to LLC technology

2 strong 12V-rails
Amazon Price: $134.90
Combining innovative cable management, concentrated airflow, and proven CORSAIR build quality, the 4000D is a fitting choice for an immaculate high-performance PC.

The CORSAIR RapidRoute cable management system makes it simple and fast to route your major cables through a single channel, with a roomy 25mm of space behind the motherboard for all of your cables.

Includes two CORSAIR 120mm AirGuide fans, utilizing anti-vortex vanes to concentrate airflow and enhance cooling. Motherboard will fit in our 4000 Series cases without any issue. Mini-ITX, micro-ATX, ATX, and E-ATX form factor motherboards are all supported.

A spacious interior fits up to 6x 120mm or 4x 140mm cooling fans, along with multiple radiators including 360mm in front and 280mm in the roof (dependent on RAM height).

Put modern connections within easy reach with a front I/O panel including a USB 3.1 Type-C Port, USB 3.0 port, and a combination audio/microphone jack.
Amazon Price: $103.99
ESTIMATED PRICE (May 2023): $1389

Overview | Best Gaming PC Build for $1500
The best $1500 gaming pc build for May 2023 includes one of the best-performing gaming CPUs in the market right now, the Ryzen 5 7600X. This PCU has a STRONG gaming performance, with strong single and multi-threaded performance, leveraging PCIe 5.0 and DDR5 memory. Looking for more beef or performance? Then you may want to check out the hardware upgrade suggestions in the full $1500 gaming PC build of the month article.
If you do want to save a bit of cash though with little sacrifice for gaming performance, then you could consider a Ryzen 5 7600 (non 'X'), cheaper and you can overclock to achieve similar to the stock performance of a 7600X + it comes with a stock cooler saving you even more.
Along with the newer Ryzen CPU comes the capability for this build to have the newest generation of memory, which includes a 16GB kit of DDR5 memory, which is faster and more efficient than the previous DDR4 kits included prior — this is a super exciting addition, especially as DDR5 becomes more and more accessible, such as it has.
This is paired with another powerfully new piece of hardware, the RX 6800 XT graphics card, making this a very powerful gaming pc capable of extreme performance in games at higher resolutions — we're talking exceptional 4K gaming at well above 60FPS and of course, phenomenal FPS performance at 1440P and 1080p.
If you are looking for an over-the-top, very fast-performing gaming PC build that you don't have to worry about tweaking very much in order to max all games out at HD and higher resolutions, then this build is for you. However, unless you want to get into seriously high-end 4K gaming, you shouldn't need much more.
If you still think you need increased performance, you could upgrade your CPU or GPU if you have the excess funds. If that is the case, you could simply consider upping the graphics card, you could check out the upgrade alternatives for this build in the below full overview of the best $1500 gaming PC build page.
$1500 Gaming PC Build of the Month Upgrades
If you have more to spend, then you could check out some hardware alternative suggestions. This could be for either upgrading this build before or after you buy it. To do so, visit the full $1500 gaming pc builds overview here:
To read the full overview and for a list of hardware alternatives, please visit the FULL Best $1500 Gaming PC Build Page
---
Operating Systems for Your Gaming PC
Do keep in mind that you will also need an operating system, however, it's not too difficult to find keys for windows 11 online, you will need to install it using something like a USB key or external drive.
The Best $1500 PC Build for May 2023 Overview Video
If you prefer to check out a video overview of the $1500 Gaming PC build, then look no further. And please remember if you have any questions or comments on your build to leave them below and I'll try my best to help you. Best of luck building your next best PC build!