Last Updated: September 1st, 2020
Build Overview
Looking for a spiffy $1500 gaming pc build? Then you are in the right place. Here you will find the very best up to date $1500 budget gaming pc builds updated monthly here at Newb Computer Build. If you are in the market for a pc build around $1500, then you should be able to expect gameplay that exceeds expectations at resolutions of high FPS 2K resolutions into 4K. That is being able to play pc games at well over 60FPS at 1080p, and 1440p resolutions – so do check the type of monitor you'll be using.
The hardware below is chosen based on two main things, performance and quality for the best possible price. All of the hardware is conveniently linked to Amazon.
Best of luck when planning your next gaming pc build and should you have any questions feel free to get in touch. If you are in the market for another budget you can also check out the other gaming pc build budgets.
The Best $1500 Gaming PC Build 2020
Performance: Game with Extreme settings and High FPS at resolutions of 1920×1080 (1080P) & 2560×1440 (1440p) + good gameplay at 4K
*This Gaming PC Build is powered by the AMD Ryzen 3700X CPU and an RTX 2070 SUPER Graphics Card
The world's most advanced processor in the desktop PC gaming segment
Can deliver ultra-fast 100+ FPS performance in the world's most popular games
8 Cores and 16 processing threads, bundled with the AMD
Wraith Prism cooler with color-controlled LED support
4.4 GHz Max Boost, unlocked for overclocking, 36 MB of game Cache, ddr-3200 support
For the advanced socket AM4 platform, can support PCIe 4.0 on x570 motherboards
Amazon Price: $279.99
2. Cooler: Stock AMD Wraith Prism Cooler
The Ryzen 3700X is an amazing CPU in so many ways, in that it doesn't necessarily need to be overclocked and comes with a great Wraith Prism Cooler, this saves you with a little more cash for other upgrades! Plus it's a good looking cooler for a stock cooler.
*Note: Some types of motherboards have been low in stock, if the recommended board here is not in stock, try searching for alternative "X570 Motherboard" at a similar cost, these will be compatible with the Ryzen 7 3700X.
AMD AM4 socket: Ready for 2nd and 3rd Gen AMD Ryzen processors to maximize connectivity and speed with up to two M. 2 Drives, USB 3. 2 Gen2 and AMD StoreMI

Enhanced power solution: military-grade TUF components, ProCool socket and Digi+ VRM for maximum durability

Comprehensive Cooling: Active PCH heatsink, VRM heatsink, M. 2 heatsink, hybrid fan headers and Fan Xpert

Next-gen connectivity: Dual PCIe 4. 0 m. 2 and USB 3. 2 Gen 2 Type-A/Type-C.Operating system:Windows 10 64-bit

Gaming Networking: Exclusive Realtek L8200A Gigabit Ethernet, Intel 2x2 802. 11ac Wi-Fi with MU-MIMO support, Bluetooth 5. 0, TUF LANGuard and technology
*If this motherboard is not available and alternative could be:
Asus Prime X570-P Ryzen 3 AM4 with PCIe Gen4, Dual M.2 HDMI, SATA 6GB/s USB 3.2 Gen 2 ATX Motherboard
Amazon Price: $189.99
The RTX 2070 SUPER is a fantastic graphics card that provides great pc gaming performance at resolutions from 1080-, 1400p and well into 4K should you want to. The 2070 SUPER is better than the 2070, with a GeForce RTX 2080 sized cooler.
Amazon Price: $529.99

An exclusive WD BLACK SSD dashboard with gaming mode improves game performance.

Available in capacities ranging from 250GB to 2TB

Ideal for enthusiasts building custom desktops or gaming rigs

NVMe drive not compatible with SATA interface
Amazon Price: $149.99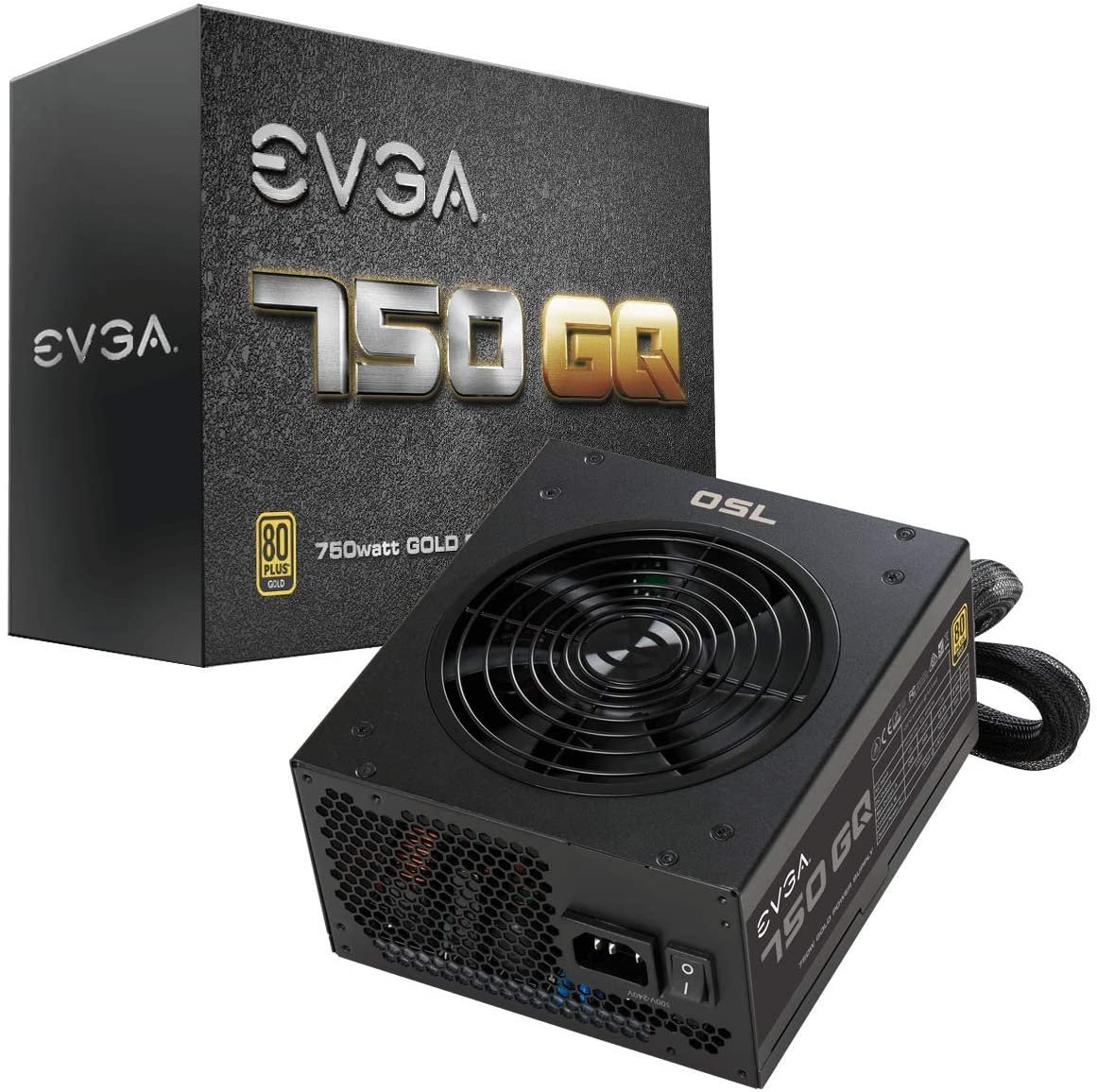 EVGA 750 GQ: Great quality, Great value, Active clamp +DC to DC design for efficient operation

80 Plus Gold certified, with 90 percent (115VAC) / 92 percent (220VAC to 240VAC) efficiency or higher under typical loads; Operating Temperature 0 degree to 50 degree Celsius

Fan Size/Bearing: 135 millimeters Fluid Dynamic Bearing, modular design to reduce clutter and improve airflow

Heavy duty protections, including OVP, UVP, OCP, OPP, SCP, and OTP

5 year warranty
Amazon Price: $119.99
*If available, I recommend the following instead:
A great, quality power supply that give you all the juice you need to power this pc build - plus this is a platinum efficiency power supply, making is super efficient and it is fully modular (so no messy cables).
This case is alike to many of the same caliber Corsair cases, and the 220T has amazing airflow and comes with three corsair SP120 RGB fans that work great with Corsairs icue software:
Improve your system's cooling with a high airflow layout complete with a steel grill front panel for optimal air intake

Light up your PC with three included Corsair SP120 RGB Pro fans each lined with eight individually addressable LEDs around the hub (24 total)

The included lighting Node core controls your RGB lighting making for brilliant lighting effects right out of the box with Corsair iCUE software

The 220T RGB airflow's solid steel construction and front plate ensure sturdy and resilient durability along with a striking look

An edge-to-edge tempered glass side panel window showcases your PC's components and RGB lighting. Compatible corsair liquid coolers-H55, H60, H75, H80i, H90, H100i, H105, H110i, H115i, H150i
Amazon Price: $99.99
ESTIMATED PRICE: $1465 (September 2020)
$1500 Build Details
The above gaming PC build is the best possible build you can get for $1500 for gaming, which will get you amazing performance in higher resolution pc gaming.
We have again kept the Ryzen 3700X Gaming CPU, which has an 8-core, 16-thread setup with a boost clock of 4.4GhZ and included with this CPU is a stock Wraith Cooler, which can be all you need to keep this powerful build going strong. What's also really cool is that the Wraith Cooler also has RGB lighting, which obviously adds more power — if not that, it's a great addition to a great performing cpu.
Paired with the 3700X CPU, we have an RTX 2070 SUPER. The RTX 2070 utilizes GDDR6 memory, which is the new generation of memory and blasts the socks of any game you'll throw at it.
The motherboard included is an ASUS AM4 TUF Gaming X570-Plus, which is a newer X570 motherboard capable of so much. Including next-generation PCIe 4.0 M.2, USB 3.2 gen 2, and Aura Sync RGB lighting. The brief list of specifications are as follows (learn more at asus.com):
AMD AM4 Socket: Ready for 2nd and 3rd Gen AMD RyzenTM

 

processors
Enhanced Power Solution: Military-grade TUF components, ProCool socket and Digi+ VRM for maximum durability
Comprehensive Cooling: Active PCH heatsink, VRM heatsink, M.2 heatsink, hybrid fan headers and Fan Xpert 4
Next-Gen Connectivity: Dual PCIe 4.0 M.2, USB 3.2 Gen 2 ports, exclusive Realtek® L8200A Gigabit Ethernet, TUF LANGuard and TurboLAN technology
Realtek S1200A Codec: Features an unprecedented 108dB signal-to-noise ratio for the stereo line-out and a 103dB SNR for the line-in, providing pristine audio quality
Aura Sync RGB: Synchronize LED lighting with a vast portfolio of compatible PC gear, including addressable RGB strips
TUF Gaming Alliance: ASUS hardware ecosystem ensures the best compatibility and complementary aesthetics from components to case
The $1500 pc build sports a total of 16GB of Crucial Ballistix 3600 Mhz Memory. For storage, included is a Western Digital Black 1TB NVMe SSD, which isn't bad for a budget NVMe drive and definitely not bad if you are used to standard SATA SSD's.
To power, this superb pc build, the Included power supply this month is the EVGA 750 GQ 750W Semi Modular power supply. Power supplies have been thought to come by these days, and this one has all the power you need and features that are nice, like being fully modular. If these are not available, try looking for reputable 750W + power supplies. For a better alternative and only if it is in stock (as it has been harder to come by lately), you could consider an EVGA SuperNOVA 750 P2.
The PC case included is a Corsair iCUE 220T RGB  – which offers superb caliber qualities in comparison to similar Corsair offerings and has phenomenal cooling – and includes three Corsair SP120 RGB fans that you can customize nicely with Corsair's icue software.
Upgrades for the Best $1500 PC Build
The above build should fit nicely into a $1500 pc build budget, however, what if you have more to spend or want some upgrade ideas for in the future when you do have more to spend – well that's where the best $1500 PC Build alternatives come into play.
The below hardware upgrades are compatible with the above pc build should you need more CPU, GPU, memory, cooling or storage performance.