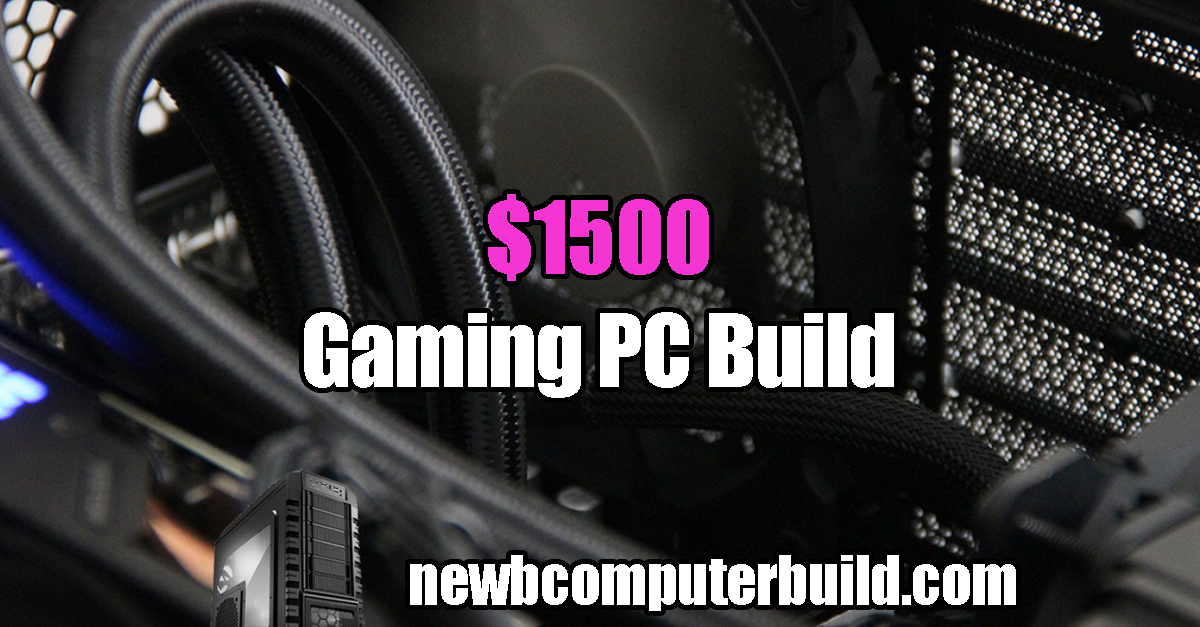 Last Updated: July 1st, 2021
Build Overview
Looking for a spiffy $1500 gaming pc build? Then you are in the right place. Here you will find the very best up-to-date $1500 budget gaming pc builds updated monthly here at Newb Computer Build. If you are in the market for a pc build for around $1500, then you should be able to expect gameplay that exceeds expectations at resolutions of high FPS 2K resolutions into 4K. That is being able to play pc games at well over 60FPS at 1080p, and 1440p resolutions - so do check the type of monitor you'll be using.
The hardware below is chosen based on two main things, performance, and quality for the best possible price. All of the hardware is conveniently linked to Amazon.
Best of luck when planning your next gaming pc build and should you have any questions feel free to get in touch. If you are in the market for another budget you can also check out the other gaming pc build budgets.
The Best $1500 Gaming PC Build 2021
Performance: Game with Extreme settings and High FPS at resolutions of 1920x1080 (1080P) & 2560x1440 (1440p) + good gameplay at 4K
*This Gaming PC Build is powered by the AMD Ryzen 5600X CPU and an RTX 3070 Graphics Card
The Best $1500 Gaming PC Build Details
The above gaming PC build is the best possible build you can get for $1500 for gaming, which will get you amazing performance in higher resolution pc gaming.
We have now introduced the brand spanking new Ryzen 5 5600X CPU to the $1500 gaming pc build, which is AMD's fastest 6 core processor with 12 processing threads. However, if it's not in stock, no fret, as you can always still go with a Ryzen 7 3700X for around the same cost. The Ryzen 5 5600X is a newer CPU and has performed phenomenally in gaming benchmarks, offering a 4.6GHz max boost, which is unlocked for overclocking.
Paired with the Ryzen 5 5600X CPU, is also a very exciting inclusion - the  RTX 3070 graphics card. This card can easily max games out in any game at 1440p and plays well into 4K resolution, hitting easily 60fps in some mainstream games. Since this graphics card has been one of the most popular GPU's for 2021, it might be hard to get your hands on. If you're impatient, you could consider an older-gen RTX 2070 Super, noting that it performs quite good, but not as good as the RTX 3070.
If you're curious how to best purchase a GPU right now, then please check out my article on Why is it so Hard to Buy a Graphics Card Right Now - The GPU Shortage of 2021.
The motherboard included if an ASUS TUF Gaming X570-Plus, which is an X570 motherboard capable of so much. Including next-generation PCIe 4.0 M.2 (two of them), USB 3.2 gen 2, and so much more. See the full specifications at Asus.com.
AMD AM4 Socket and PCIe 4. 0: The perfect pairing for Zen 3 Ryzen 5000 & 3rd Gen AMD Ryzen CPUs

Enhanced power solution: military-grade TUF Gaming components, Precools socket and Digi+ VRM for maximum durability

Comprehensive Cooling: Active PCH heatsink, VRM heatsink, M. 2 heatsink, hybrid fan headers and Fan Expert 4

Next-Gen Connectivity: Dual PCIe 4. 0 M. 2, USB 3. 2 Gen 2 ports, exclusive Relate L8200A Gigabit Ethernet, TUF LANGuid and Turbo LAN technology

Relate S1200A Codec: Features an unprecedented 108dB signal-to-noise ratio for the stereo line-out and a 103dB SNR for the line-in, providing pristine audio quality

Please ensure your BIOS is up to date if installing a compatible Ryzen 5000 series CPU. Visit ASUS site search by motherboard model name, click on "Support" tab, Drivers and Tools, then BIOS & Firmware to download the latest BIOS
The $1500 pc build sports a total of 16GB of Crucial Ballistix 3600 Mhz Memory. For storage, included is a Crucial P2 1TB NVMe SSD, which isn't bad for a budget NVMe drive and definitely not bad if you are used to standard SATA SSD's.
To power, this superb pc build, the Included power supply this month is the EVGA 750 Watt Super Nova 750 GA Fully Modular Power Supply. For a better alternative and only if it is in stock (as it has been harder to come by lately), you could consider an EVGA SuperNOVA 750 P2, that is, if it doesn't cost too much.
The PC case included is a Cooler Master MasterBox MB511 ARGB pc case. The Cooler Master MasterBox MB511 has a fine mesh front panel with very good airflow and an aRGB lighting system for a fully customized lighting experience. Learn more at coolermaster.com. 
Upgrades for the Best $1500 PC Build
The above build should fit nicely into a $1500 pc build budget, however, what if you have more to spend or want some upgrade ideas for in the future when you do have more to spend - well that's where the best $1500 PC Build alternatives come into play.
The below hardware upgrades are compatible with the above pc build should you need more CPU, GPU, memory, cooling or storage performance.
Best of luck building your best possible $1500 gaming pc build this 2021. If you have any questions be sure to leave a comment or simply join our Facebook Group to help grow a great gaming pc build community: Gaming PC Builders Facebook Group.