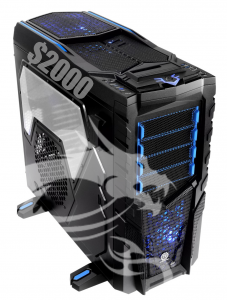 This is a special month, because I don't normally do a $2000 build in a month to month time-frame. There are a few reason I have decided to do one this month and the first reason is simple, because you, the readers, have requested on multiple occasions last month that I do one.
Reason two, with the introduction of the new Intel Haswell processors coming out a few days or so ago I thought it was the right time to do one. Although, I didn't make this build a Haswell build, this is the best $2000 build in my opinion you can get for your moneys worth at the time being. Prices may also be decreasing on some of the hardware as the month goes on so do keep an eye out for this (just a random gues however).
And finally, reason three I am doing a $2000 build is also to make comfortable room to include the very new GTX 780 Graphics card, which has made it's way splendidly into the realm right underneath the GTX Titan cards. This has made the GTX 780 a very smart buy for a high-end gaming graphics card.
This build is no wimpy gamers build, so dive right on in and enjoy!
Gaming PC Build ( $1983): June 2013
Gaming PC Build Recipe:
Capability: Game with Ultra  settings in games up to 2560×1600 resolutions

All hardware is linked to Amazon.com – You Can also try   Amazon.ca (CANADA) • Amazon.co.uk (UK) Newegg.com (US) • Newegg.ca (CANADA)  Scorptec.com.au(AUS)  pccasegear.com (AUS) to shop for these parts.
| | Hardware Link |
| --- | --- |
| Estimated Price: | $ 1983 |
| Processor | Intel Core i7-3770K Quad-Core Processor 3.5 GHz 8 MB Cache LGA 1155 – BX80637I73770KPrice: $313.81 |
| Cooler | Cooler Master Seidon 240M Liquid CPU Water Cooling System with Copper Heatsink and 240mm Radiator – 2 FansPrice: $89.99 |
| Motherboard | MSI Computer Corp. LGA 1155 Intel Z77 DDR3 1333 CrossFireX and SLI/ SATA3 USB 3.0 A&GbE ATX Motherboard Z77A-GD65 GAMINGPrice: $179.99 |
| Graphics Card | EVGA GeForce GTX780 SuperClocked w/EVGA ACX Cooler 3GB GDDR5 384bit, DVI-I, DVI-D, HDMI,DP, SLI Ready (03G-P4-2784-KR)Price: $659.99 |
| RAM | Kingston HyperX Blu 16GB Kit (2×8 GB Modules) 1600MHz 240-pin DDR3 Non-ECC CL10 Desktop Memory KHX1600C10D3B1K2/16GPrice: $119.99 |
| Hard Drive | Western Digital WD1002FAEX Caviar Black 1 TB SATA III 7200 RPM 64 MB Cache Internal Desktop 3.5″ Hard DrivePrice: $91.26 |
| SSD | Samsung Electronics 840 Pro Series 2.5-Inch 256 GB SATA 6GB/s Solid State Drive MZ-7PD256BWPrice: $219.99 |
| Power Supply | Corsair Professional Series  AX 850 Watt ATX/EPS Modular 80 PLUS Gold (AX850)Price: $164.98 |
| Computer Case | Thermaltake Chaser MK-1 VN300M1W2N No PS Full Tower Case (Black)Price: $131.74 |
| Optical Drive | Samsung 24x SATA DVD¡ARW Internal Drive without Software, Black SH-224BB/BEBEPrice: $21.25 |