Corsair Dark Core RGB Pro Wireless Gaming Mouse – An Exploration
When I received the Dark Core RGB Pro Wireless Gaming Mouse from Corsair, I must say I was intrigued. I have been a long advocate for wired gaming mice personally, as the latency of old generations just weren't up to par for the most avid of gamers – especially in high frame rate gaming as the latency was just too high.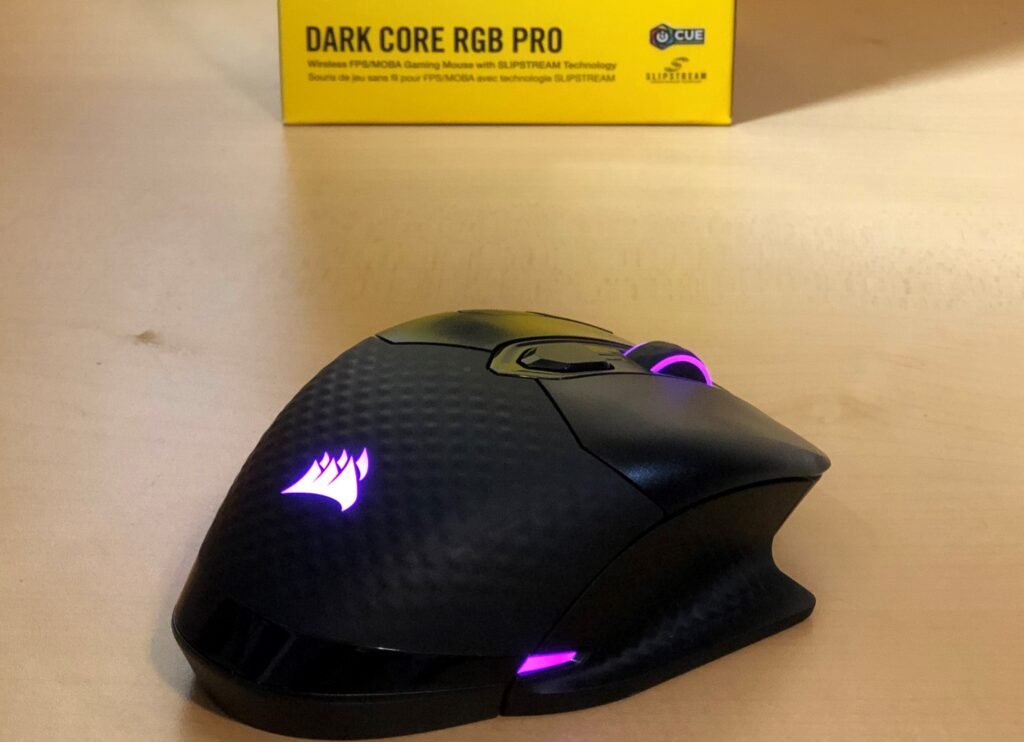 And now here comes the Dark Core RGB Pro – which boasts near-instantaneous wireless speeds, that are theoretically even better than wired using what Corsair calls its Slipstream Wireless technology.
Slipstream Wireless technology you say? Well essentially, according to Corsair, "SLIPSTREAM CORSAIR WIRELESS TECHNOLOGY provides wireless devices with hyper-fast wireless transmission speeds and an ultra-long-range, unwavering signal."
Cool, and this promises as low as sub-1ms on mice and keyboards, including the Dark Core RGB Pro. I wanted to get that out of the way because to me this was the most important aspect of a mouse that claims to "win without wires". Plus, the technology states that it can go up to a 60ft wireless range, which honestly to me doesn't really matter as my gaming mouse is typically 2-3 feet from my PC – so I suppose it may be useful if you're wireless gaming in a movie theatre or something, but cool none the less.
Before we go on with how this mouse actually looks, feels and ultimately operated while gamign and general use, let'sd take a quick look at its technical specifications.
The Corsair Dark Core RGB Pro Technical Specifications:
Wireless Connectivity: Hyper-fast, sub-1ms 2.4GHz SLIPSTREAM CORSAIR WIRELESS TECHNOLOGY, Bluetooth® 4.2 + LE
Wired Connectivity: USB 2.0 Type-A to PC, USB-C to mouse
Battery Charging Charges via USB to computer
Battery Type: Built-in lithium-polymer, rechargeable
Battery Life: 2.4GHz SLIPSTREAM WIRELESS: Up to 16hrs w/ standard lighting and 36hrs w/out backlighting
Bluetooth: Up to 18hrs w/ standard lighting and 50hrs w/out backlighting
Sensor: Pixart PAW3392, Optical
Sensor Resolution 100 – 18,000 DPI, with 1 DPI steps
Onboard Profiles: Three
Backlight Nine-Zone RGB Buttons: Eight
USB Report Rate: 1,000/2,000Hz
Color: Black
Mouse Feet: PTFE
Cable: 1.8 m / 6 ft., braided, fixed
iCUE (Software) Supported
Dimensions: 127.0(L) x 89.0(W) x 43.0(H) mm / 5.00"(L) x 3.50"(W) x 1.69"(H)
Weight: 133g / 0.31 lbs. (w/o cable and accessories)
Warranty Two years
Hyper-Polling Thoughts
So with the specifications list out of the way, the next thing that stuck out to me was the USB Report Rate, also known as the Polling Rate, which goes up to 2000Hz. When you first connect the gaming mouse, it does default to 1000HZ, which is still great – but at 2000Hz I have no reason to believe that I would have any latency issues with regards to polling rate.
Corsair describes this 2000Hz polling rate as their "Hyper-Polling Technology". From what I can tell through gaming, I have had no issues once so ever with response times while using the Dark Core RGB Pro wirelessly, and I can only speculate that this is because of this. And for those of you wondering why this matters – well, polling rate is the rate at which the mouse sends data on its position and clicks back to the PC.
The Three-Way – Connecting the Dark Core RGB Pro
You do have many options that you can connect this mouse, three to be exact. That is through Corsairs Slipstream Wireless connection using the included USB dongle (the obvious choice), Bluetooth, or USB Wired. What I really appreciated was while this mouse boasts amazing wireless connectivity, it's still amazingly usable through a direct connection using the included mesh USB C to USB A cord, which also charges while it's plugged in. And while Bluetooth is nice, I don't see myself ever using this unless I forgot the USB dongle at home.
Gaming Mouse Sensitivity – 18,000 DPI
In terms of DPI (dots per linear inch, also known as the mouse's sensitivity), this mouse goes up to 18,000 DPI, which is absolutely phenomenal. And better yet, you can set up to three quick switch DPI presets at a time, which are programmable by 1 DPI increments – so you could do 17,998, 17,999, and 18,000 presets – but in all seriousness, 18,000 is high and probably too high for me personally, but it's great to know you can or if you really can use it in extreme FPS gaming.
When I initially set up the Dark Core RGB Pro mouse, what I found best was 3000 DPI, 6000 DPI, and 10,000 DPI, which is better to my liking and even a tad too high depending on the game.
As an aside here, I also felt that what worked great in tandem with the fully customize breadth of DPI choices, was the bottom of the mouse does glide very smoothly – as there are 4-5 hard plastic surfaces on the bottom (5 when using the included interchangeable side grip) that did slide nicely on the hard plastic mouse pad I was using (non Corsair by the way). The benefit here for me was I could play more around with the DPI and actually notice the smaller increments in DPI change. This could also be because I have beaten my previous mouse into the group through countless of gaming hours.
Dark Core RGB Pro Weight
In terms of weight, I was relatively pleased, but not fully. At 133 grams, the mouse is heftyish (not a word). It does have a little bit of a weighty feel when compared to your typical mouse, however, I'm a fan of mice that have a customizable weight option, and generally aim for the heavier side. With that being said, out of the box, the weight is decent, but I would rather it be a tad heavier or at least have the option too.
And lastly, Corsair promises a 50 hour charge time with its lithium-polymer battery. Specifically, though, they do state that 50 hours is only is you are using Bluetooth without ANY RGB lighting on. Realistically, I would be using Slipstream with RGB lighting (because it makes my PC faster obviously), so I should be able to expect up to 16 hours, and if I'm desperate I can turn the lighting off and expect 36 hours – which is still really great. And what this means is that the RGB lighting literally cuts the battery life of the Dark Core RGB Pro by more than half.
I do also want to add another note with regards to battery life – when I was initially charging the mouse plugged in via USB to my PC, it was still charging at 6 hours in with minor use, so if this is still the case once fully draining the battery after 16ish hours in Slipstream and RGB lighting that is a while to wait, however, I don't actually mind gaming with it wired for a while either.
So for my use, I don't game more than a max of 3-4 hours at a time, so if my mouse can last 16ish hours going all out with the fastest connection and the fancy lighting, I'm good to go.
Corsair Dark Core RGB Pro – What's in the box?
Inside the box, we have the actual mouse, the USB Wireless Receiver (for Slipstream Technology wireless connection), a USB Cord with a USB-C Connector to connect to the mouse, and a USB-A end for connecting to the PC, and an interchangeable side grip.
USB Cord
The included USB cord is a USB C (the charging side that connects to the mouse) to a USB A (the side that plugs into your PC).
The cord itself has a nice mesh sheath around it, which is nice as its obviously a higher quality cord than your standard plastic USB. Secondly, it gave a nice professional look to the overall package of contents.
Plus, when I'm going to be using this mouse in the wired mode, I expect the cord to take a bit of a beating when moving around frequently. The quality in the cord is appreciated here.
USB Wireless Receiver
The Wireless receiver is a simple chicklet sized USB receiver, that looks like a USB Bluetooth receiver, and plugs nicely into any PC USB port.
Interchanageable Side Grip
I did want to note on the side grip, because when I first received this I was like, hell no, I'm not going to use that. However, without the side grip, my pinky does drag a little when gaming, especially as I move the mouse quickly side to side.
When I first attached the included side grip extension, my first thought was that the mouse really did feel a tiny bit bulkier, but within minutes I absolutely loved the feel. I felt like the mouse fully contoured my hand, and that it actually became a full extension of myself. A bit too far? Yes, but I actually felt like a had an actual full mouse in my hands, that had no problems tracking side to side, and front to back.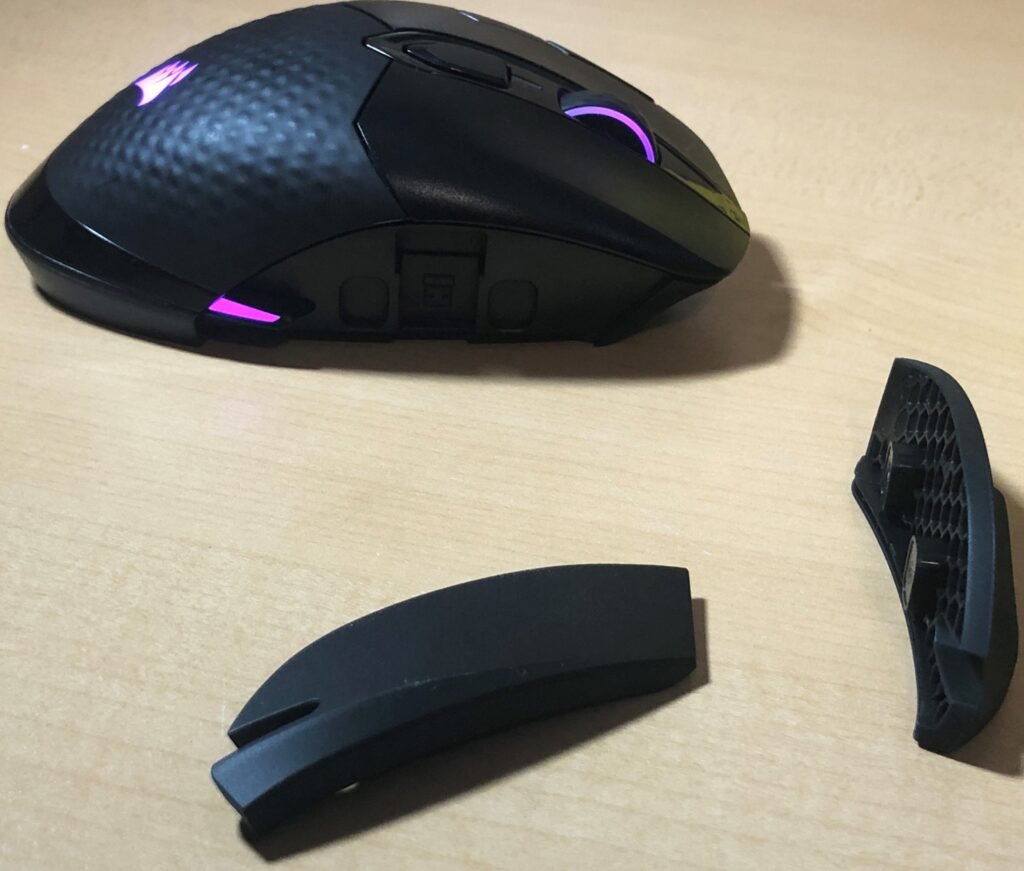 The Software: iCUE
The iCUE software made it really simple to set up the Dark Core RGB Pro mouse. This software is used to set some settings for the mouse itself and to control its RGB lighting. You can also use to set some advanced Macros through its Actions and Hardware Actions Settings.
First, I downloaded this software on Corsair's website here, and the installation was a breeze. You have the option of setting up profiles for any hardware you have that is compatible with iCUE and in the instance of the Dark Core RGB Pro, you can have up to three profiles that you save on to the mouse itself.
I went ahead and customized my RGB lighting first, using the color pulse option, which I thought looked the coolest in order to show off the RGB prowess this mouse has through its nine RGB zones. This was very simple and was literally a few clicks away from initially entering the software.
Next, I fiddled with the DPI settings for the mouse. There is the option to select three DPI selections that are easily changed while using the Dark Core RGB Pro using the up and down DPI buttons on the mouse itself. The ended up using 3000 DPI, 6000 CPI, and 10,000 DPI. These seem to work the best for me and my gaming use, however, you do have the option to select up to 18,000 DPI in 1 DPI increments. I did try 18,000 and my mouse literally went WOOSH across the screen – but perhaps there are gamers out there that need far more mouse sensitivity than I.
When setting up the DPI settings, there is an option for "Sniper" mode, which you can select a lower DPI and the use case would be for lowering your DPI immediately in FPS games in order to snipe more accurately.
I did find this interesting as the mouse itself doesn't have a built-in sniper button, which I actually like in a gaming mouse. But I did end up adding a custom Macro for this through the Hardware Actions section in the iCUE software, and I remapped my Forward button on the Dark Core RGB Pro to be my Sniper button set to 300 DPI.
Overall though, I did find the iCUE software very easy to manage and loved the customizeability of the Dark Core RGB Pro through it.
One thing to note, is that in order to get the full 2000Hz Hyper Polling activated, you have to go to settings in the iCUE software and set the "Device Polling Rate from 1000Hz to 2000Hz, as 1000Hz is the default for the mouse.
Gaming With the Dark Core RGB Pro
Slipstream Technology, the less than 1ms latency Corsair boasts, seems to be doing what it's supposed to be doing. From my perspective after several games of Warzone and even some games of StarCraft 2, I couldn't even tell I was using a wireless mouse. to me, this is a shock, really.
While gaming, I did find the DPI up and down buttons were a tad harder to pinpoint quickly when needing to jump up or down as they seem to be a tad more to the left than I'm personally used to. But this is merely a very minor preference.
In terms of the mouse's size and feel, while gaming I got comfortable very quickly to how the mouse perfectly contoured my hand as if it fits like a glove. This makes sense since Corsair themselves has stated that they have searched the highest possible degree of comfort and this has been done by studying "…numerous materials and grip patterns used in sporting gear, such as NFL receiver gloves, tennis racquets, golf clubs, and more…"
I mean there was an almost instant familiarity, and while I'm not necessarily a sports guy, the Darke Core RGB Pro did contour nicely to my hand.
Corsair Dark Core RGB Pro, the Best Wireless Gaming Mouse?
Final Thoughts
Reviewing a Gaming Mouse is inherently bias, as there is no one best mouse, and everyone has a preference based on what they play, what they're used to, hand size, and on and on. However, I have gotten used to higher-end gaming mice over the years and do feel I hold enough experience to base my thoughts in comparison to the Dark Core RGB Pro.
For me, the number one thing in a gaming mouse is comfort, and I would say the Dark Core delivers here. It contours nicely to my hand, and the side pink attachment was a very nice and unexpected addition that I surprisingly liked.
In terms of the overall mouse quality in materials, I do think there is a great quality in product material used, and I especially appreciated the soft feel of the soft almost leather feeling material used on the back of the mouse where the palm rests. I do think though, that the left and right buttons will look a little worn after some use, and if not worn, at least will show shiny grease easily. Although, this would be the case with most mice anyhow.
Three things to note on what I thought was lacking in the Corsair Dark Core RGB Pro
I did find it interesting that there was no dedicated "sniper button" as this is marketed as being an FPS mouse – and built into the Corsair iCUE software is a literal "sniper dpi" setting. I do use this quite often in high fps games as it very quickly drops my dpi so I can more accurately shoot. However, I was able to alleviate this using custom Hardware Actions in the iCue software, reassigning the Forward button located at the left side of the mouse (as I personally rarely used the forward and back buttons). So if you do use those buttons, you may be out of luck if you are also used to a sniper button.
Another minor thing that I found, was the scroll wheel doesn't have an "unlock" feature. Such as, I'm in the habit of unlocking my scroll wheel so that its able to free scroll, and then locking it to scroll more slowly. The use case here for me at least is when general web browsing and wanting to quickly scroll through long-form web content and even in games where I was to scroll through weapon changes quickly.
This was a minor annoyance due to my previous habits with my gaming mice, however, the scroll wheen itself does feel very nice when scrolling with a very fine bump feel when scrolling backward and forwards.
And the third thing I thought the Dark Core RGB Pro didn't have was the option for custom weights. I'm used to being able to customize my gaming mouse to exactly the weight I like, and typically this is on the heavier side. The Dark Core RGB Pro does come in at 133 grams, which is a decent weight and I got used to it relatively quickly. However, typically using a heavier mouse, I would have like to still be able to do so. And funny enough, I can't explain it too well, but the included side pinky attachment actually made me forget the mouse was a different weight, as I thought it help in the finesse in which I was able to move the mouse back and forth.
The Corsair Dark Core RGB Pro is the Best Wireless Gaming Mouse I've Used
Now I have typically wanted to avoid wireless mice, or gaming mice as typically latency is any issue, the fact that they run on batteries that are unpredictable and die, or they simply have no option to connect directly. The Corsair Dark Core RGB PRO changes all of that.
I love the fact this mouse at zero noticeability between using it wired versus wireless while gaming in high FPS gaming. I love that this mouse fits perfectly into the palm of my hand to the point that I could simply relax my whole hand, which actually felt like I could actually relax my hand without worrying about missing a click. This mouse also connects wirelessly virtually instantly using the Slipstream connection and has yet to drop connection for me. And the fact that I can simply plug it right in, makes this mouse an obvious choice for me to actually make the switch to my official gaming mouse.
And finally, I do find that the nine zone RGB lighting is a very nice touch and when controlled using the iCue software, is very simple to control. I would however have loved if I could sync it nicely to my Ryzen Wraith Prism RGB Cooler to have everything in sync, however, beggars can't be choosers and I can simply set them separately to match anyhow.
So if you're looking for a phenomenal wireless gaming mouse that you don't have to worry about gaming latency, connects instantly, looks and feels very decent, and has plenty of battery life, the Corsair Dark RGB Pro is a great choice – and sits well in the realm of gaming mice at around $79.99 US.
Looking to purchase the Corsair Dark Core RGB Pro: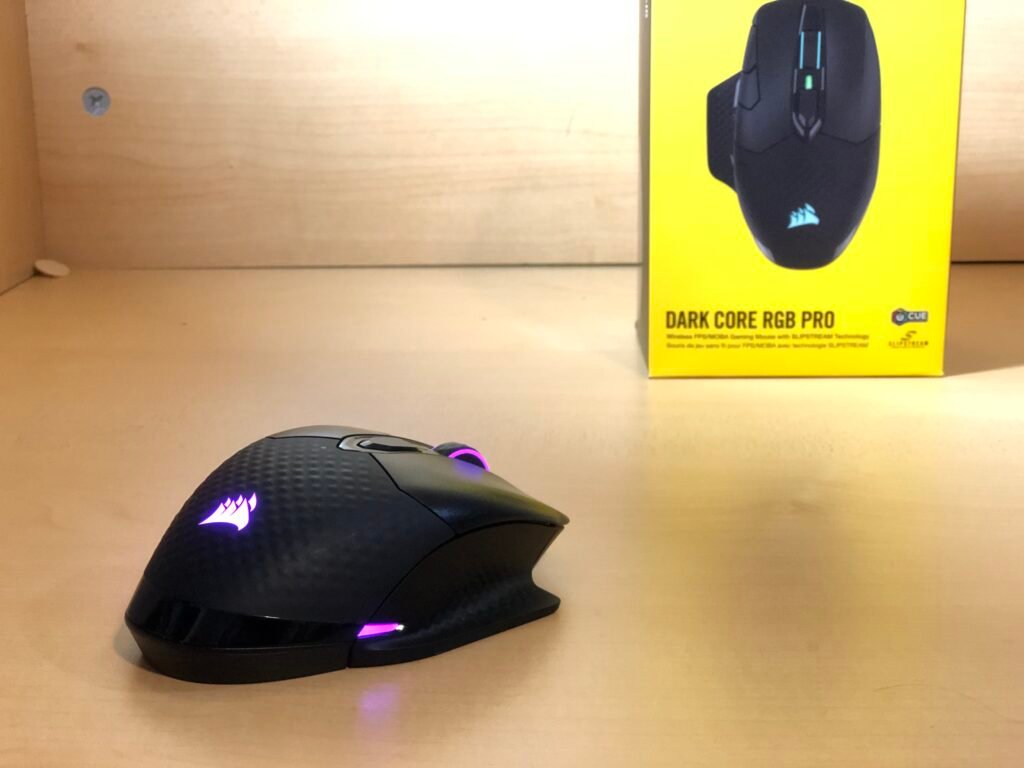 So if you are considering a solid wireless gaming mouse, the Corsair Dark Core RGB Pro might be for you.
Full Video Review