The Crucial X6 was announced at the end of August in 2020 by Micron and I got my hands on one shortly after. The Crucial X6 is a portable SSD solution, that is essentially the little brother to the previous portable SSD release from Micron, the Crucial X8 (see my overview here).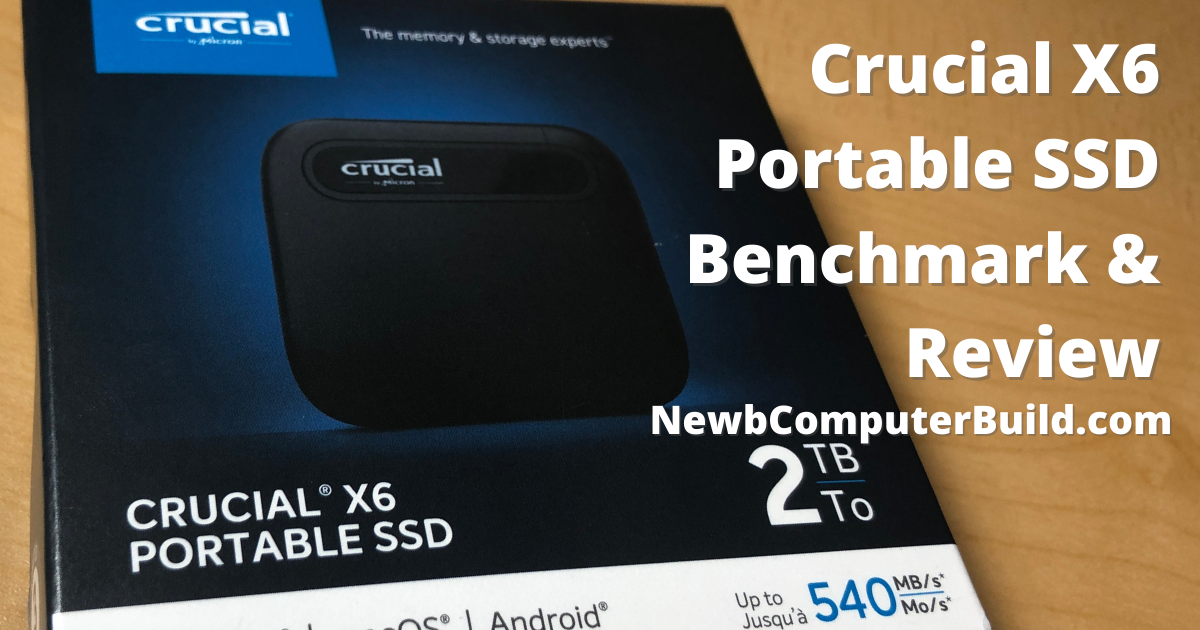 The difference between the two portable SSD's is that the Crucial X6 is a more compact drive that still offers a 1TB and 2TB storage solution. The tradeoff though – the Crucial X6 promises 540MB/s read speeds, whereas the Crucial X8 promised a blazingly fast 1050MB/s (we benchmarked at 984.25 MB/s read speeds).
So today, what I'm going to talk about is my initial impressions of this compact portable SSD as well as do a quick benchmark to see how it stands up to it's promised speeds and functionality.
The Crucial X8 I'm reviewing today is the 2TB version, which is the same as the 1TB except the tiniest bit heavier (1Tb version is 39 grams and the 2TB version is 42 grams).
Crucial X6 Comments on Features
I mean, this drive is pretty straight forward in terms of features. The main feature is that this is a high performing portable SSD solution (estimated at 3.8X faster read speeds, estimated at 540MB/s, than your typical hard drive you may have kicking around still), and it's smaller than more portable solutions of this caliber.
The Crucial X6 measures in at just 0.43inL X 2.71inW and 2.52 in H. Which is small and is smaller than the Crucial X8
Above you can see the Crucial X6 right beside the Crucial X8. And while the drive is small, I wasn't flabbergasted when I first cracked it out of the box.
While the Crucial X6 was narrower in width, it is taller in height. Overall though, a very convenient storage package to lug around, especially given that it is significantly lighter, almost feather-like when compared to the heftier Crucial X8.
With that being said, the Crucial X6 does feel 'cheaper' in relation the the X8. The outer shell is a harder plastic, while the X8 feels like a heavier metal with rubber endings – which feels much more refined. However, the Crucial X6 makes up for it in it's weight being significantly lighter and the fact that the weight could be compared to that of a USB key (albeit heavier, but comparable especially when you take into consideration its a high performing SSD at a 2TB capacity).
In terms of what comes in the box, it's simple – we have the Cruxial X6 itself, a small manual and a USB C to USB C cord. This is spiffy, unless you don't have a USB C connection. And if not, you will need to purchase a USB C to USB A cord, which can be purchased for around $10. Something to consider if you need this. Also to note, is that the Crucial X8 does come with a USB C to USB A adapter.
The USB consideration may be viable to those purchasing a portable SSD for consoles to store games like the PS4 or XBOX One – which is interesting since this drive is potentially also marketing to these individuals.
In terms of the rest of the promised features of the Crucial X6 we have the following:
Memory Type :High quality Micron® 3D NAND
Interface: USB 3.1 Gen-2 Type-C (10Gb/s). Backwardly compatible with USB 3.2 Gen-1/USB 3.1 Gen-1/ USB 3.0 (5Gb/s)
Operating Temperature and Environment: 25 °C to 40 °C with relative humidity between 10% and 80%
Non-operating Temperature in Transit: –20 °C to 65 °C
Operating Shock and Vibe: Conforms to random vibration of up to 3.1grms between 5-800Hz for up to 30 minutes without impact to data on drive
Non-operating Shock and Vibe Conforms to exposure up to 1500G/s for 0.5ms without impact to data on drive
Drop Proof3: Up to 6.5 ft / 2 M on a carpeted concrete floor without impact to data on drive
Crucial X6 Portable SSD Power Usage: USB bus powered (5V/1A required)
Compliance: Compliant for sale in all countries Crucial deals in worldwide. Regulatory marks include CE, KCC, RCM, UL, WEEE, RoHS, BSMI
Warranty 3-year limited warranty5
The only other comment I would have in terms of features that would be of interest would the the "Drop Proof" height of 6.5 ft. I found this interesting since Micron promises that the Crucial X8 could be dropped by up to 7.5ft without data degradation, so I am curious as to why that would decrease for the Crucial X6, considering its smaller weight. Food for thought?
The Crucial X6 Benchmark
I plugged my Crucial X6 into my PC using its USB C to my USC C Gen 2 port. So this will ensure we can maximize the performance of this drive.
Also, I am using a fairly basic PC with a Ryzen 3700X, Tomahawk Max B450 motherboard and RX 5700 GPU.
I simply benchmarked using Crystal Disk Mark 7.0.0 benchmark software, which Micron used to measure their maximum sequential read speeds of the Crucial X6. Mind you they did uses Crystal Disk Mark 6.0.2.
I tested using an average of 5 runs with 1GB file size.
So here are my results: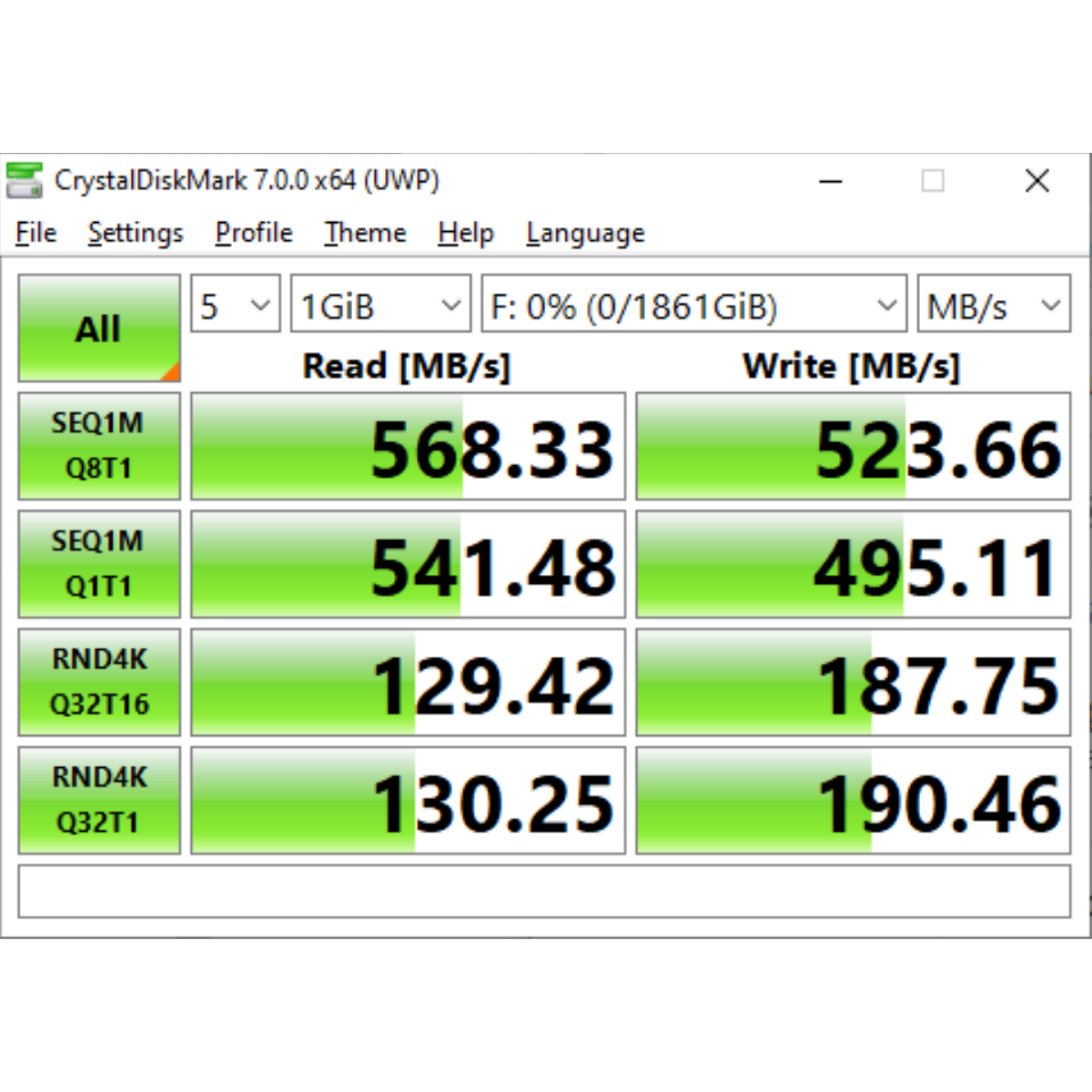 Wow, I was actually surprised. 568.33 MB/s Read speeds and 523.66 MB/s Write speeds.
Crucial promised 540MB/s sequential read speeds, and we exceeded those and were able to get decent Write speeds that were just under that at 523.66 MB/s – not too shabby.
And when we compare that to the Crucial X8, where we got 984.25 MB/s on an estimated 1050 MB/s – this is surprisingly good.
Crucial X6 Pricing:
The expected pricing is as follows:
And if you want to compare apples to apples – so a 2TB Cruial X8 to a 2TB Crucial X6, we could compare the price per performance in terms of read/write speeds.
The Crucial X8 2TB version (recently released as well), would based on our previous tests performance around 42.26% better in READ speeds and 46.29% in WRITE speeds than the 2TB Crucial X6 – however it is just 13.64% more in terms of cost (at $329.95).
So if you are willing to spend nearly 14% more, you could get more bang for your buck in terms of speed, however, there probably isn't a need depending on your use of your portable SSD. So for things like running stored games, storing photos, or even a backup – you'd probably be good to go with a Crucial X6 – however, if you're going to use the portable SSD for higher-end media work like 4K video, you'd probably be better off with an X8 or better.
Crucial X6 Video Review and Benchmark
Crucial X6 – Some Snapshots