For the most up to date builds visit the best gaming pc builds of the month page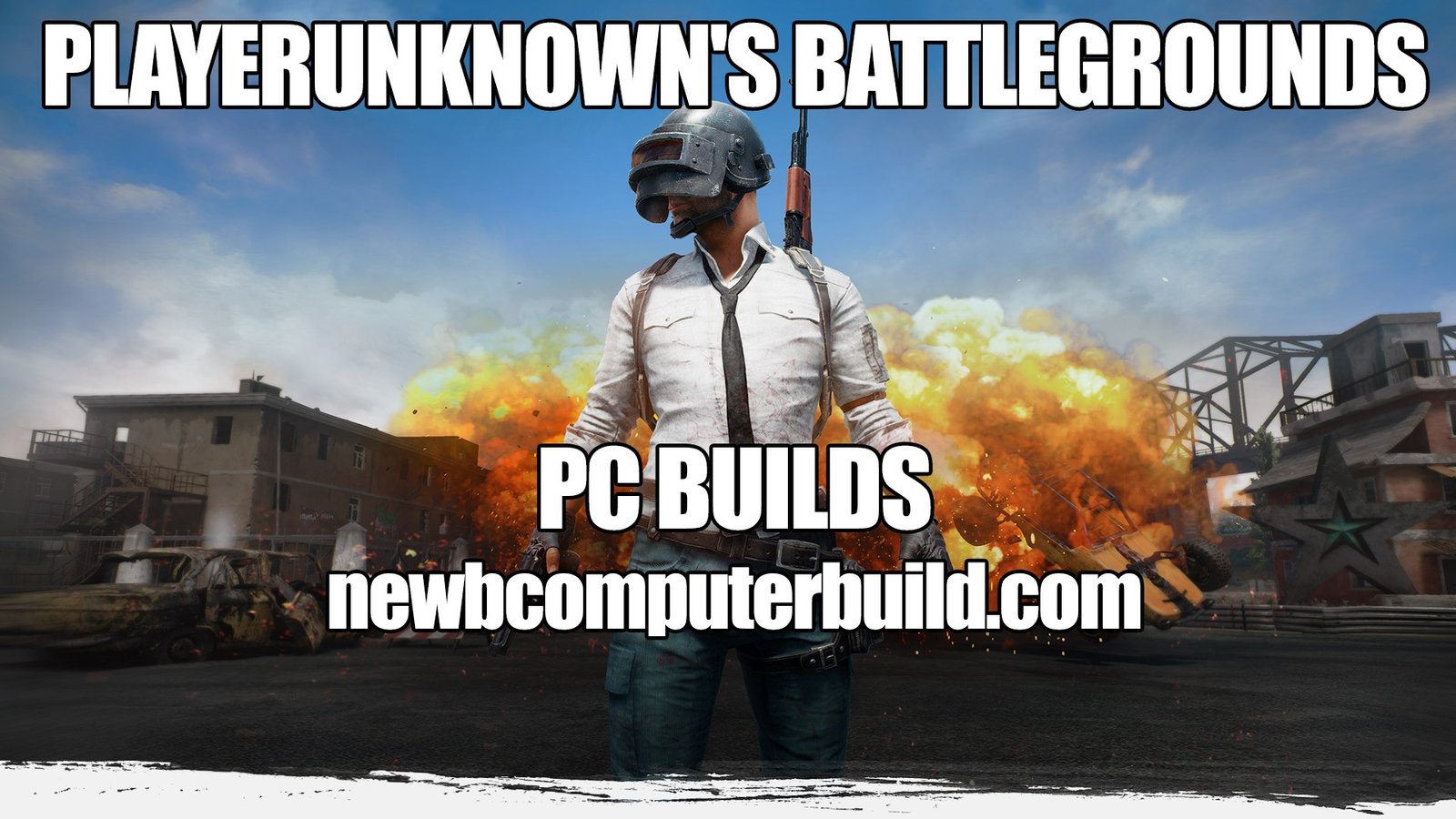 Introduction: Building a PC for PLAYERUNKNOWN's BATTLEGROUNDS
PLAYERUNKNOWN's BATTLEGROUNDS (PUBG) was released in March of 2017 and is a multiplayer online battle royale pc gaming developed by Bluehole. In Battle Royale there are 100 players on a remote island for a winner takes all showdown. If you are looking to build a gaming pc for PUBG you may
In this article you will find two PC builds for PUBG – the first is based on a higher than the game publisher Bluehole's minimum hardware specifications and based on you wanting to get a pc build that will play PUBG maxed out at 1080p with 60 frames per second on average (basic PUBG build). The second build is intended to get you playing at max settings (Best PUBG build).
PLAYERUNKNOWN's BATTLEGROUNDS PC System Requirements
Minimum specifications: (PUBG wiki)
The only reason I'm putting the minimum pc requirements for PUBG is to outline exactly what the game publisher Bluehole has laid out in terms of minimum settings requirements. These are setting that you probably don't want to play at or even want to go out of your way to build a pc to play with. It's even stated on the PUBG wiki that "Many people with minimum specs report that they have inconsistent framerates, caution advised".
However, if you are looking to see what you already have in terms of a pc or hardware laying around your house, it must at least look something like this:
OS: 64-bit Windows 7, Windows 8.1, Windows 10
Processor: Intel Core i3-4340 / AMD FX-6300
Memory: 6 GB RAM
Graphics: nVidia GeForce GTX 660 2GB / AMD Radeon HD 7850 2GB
DirectX: Version 11
Network: Broadband Internet connection
Storage: 30 GB available space
Recommended specifications (pcgamer):
Now given that the minimum specifications are no where near what you should consider hardware one would purchase for PUBG, the following are recommended PC requirements thanks to pcgamer who did a performance analysis where they found that PUBG can actually be quite CPU limited — so they recommend something like a Ryzen 5 or a newer Intel i5 with the goal of hitting 60fps in PUBG at 1080p with Ultra Settings. Given the requirements below, either of those cpus paired with a GTX 1060 6Gb graphics card or better will render an average of 60fps at 1080p or higher (which will at times dip as low as 44fps, which can be alleviated if you switch to medium settings).
OS: 64-bit Windows 10
Processor: AMD Ryzen 5-1600 / Intel Core i5-7600K
Memory: 8 GB RAM
Graphics: Nvidia GTX 1060 6GB or better
Basic PUBG PC Build – $900
The assumption with this build is that it should support great gameplay in PUBG at ultra settings at 1920×1080 with an average of 60FPS. Most standard gamers with a basic 1080P monitor with a a refresh rate of say 60hz should choose this build.
Capability: Game with Ultra Settings at 1920X1080
Hardware Link
Price
Image
Estimated Price:
$922
Processor
AMD Ryzen 5 1600 Processor

$209.99
Cooler
*Included with cpu – Wraith Spire Cooler
$-
Motherboard
$99.99
Graphics Card

GTX 1060 6GB: ASUS GeForce GTX 1060 6GB
$299.99

RAM
$79.99
SSD
$92.95
Power Supply
EVGA SuperNOVA 650 G1, 80+ GOLD 650W, Fully Modular, 10 Year Warranty, Includes FREE Power On Self Tester Power Supply 120-G1-0650-XR
$89.99
Computer Case
$49.99
Overview: $1000 2017 Gaming PC Build
This is the PC build for PUBG that most standard gamers will most likely need. The builds in this article are not built to just barely play the game, but they have in mind specifically what you need to play PUBG on around 60+FPS on average at a starting resolution of 1920×1080. This is exactly what you should expect to get with this build. Pairing a Ryzen 1600 with a GTX 1060 6Gb graphics card is the perfect duo for this build.
If you look at these CPU benchmarks by pcgamer you will notice that the the Ryzen 5 1600 is capable of this kind of performance and even surpasses (on average' minimum fps and maximum fps) above the Intel i5's. This cpu is the perfect contender that you can overclock enough to keep up with the performance demands of pugb at these settings. Granted the minimum fps can drop, this can always be adjusted depending on the map you are playing if you are concerned — or opt for the higher end build below.
With this cpu we have included the GIGABYTE GA-AB350-Gaming 3 motherboard, a full size ATX board that currently comes in just under $100. A list of specifications for the GA-AB350 are (gigabyte.us):
Supports AMD Ryzen™ & 7th Generation A-series / Athlon™ Processors
Dual Channel Non-ECC Unbuffered DDR4, 4 DIMMs
Fast 2 USB 3.1 Gen 2 with USB Type-A
2-Way CrossFire™ Multi-Graphics Support with Ultra Durable™ Metal Shielding over PCIe Slots
Ultra-Fast PCIe Gen3 x4 M.2 with PCIe NVMe & SATA mode support
ALC1220 120dB SNR HD Audio with Smart Headphone Amp
Realtek® Gigabit LAN with cFosSpeed Internet Accelerator Software
USB DAC-UP 2 & 2 Front USB 3.0 Ports with Adjustable Voltage
RGB FUSION with Multi-Zone LED Light Show design
Swappable Overlay for Accent LED
Smart Fan 5 features 6 Temperature Sensors and 5 Hybrid Fan Headers
GIGABYTE™ UEFI DualBIOS™
APP Center Including EasyTune™ and Cloud Station™ Utilities
We also know that the GTX 1060 is the minimum card you need to hit that 60fps benchmark as seen with these GPU bechmarks by pcgamer. Included above is an Asus GTX 1060 6GB card that comes slightly overclocked out of the box.
For RAM the 8GB kit of Corsair Vengeance LPX RAM is a great start and is definitely more than the minimum 6GB and will suffice just fine assuming you don't run much more than PUBG at one time. If you need more you can always easily bump it up to 16GB later on (see upgrades table).
For the rest of the hardware we have around what you should want or minimally need. Such as a 240GB  SK Hynix SSD, a 650W EVGA Supernova G1 PSU, and a Rosewill Challenger ATX gaming pc case.
Alternatives / Upgrades to the Basic PUBG Build
The build above reflects one that matches just above the recommended requirements to play PUBG on the PC and at Ultra settings at 1920×1080 resolutions. However, if you want to pump more FPS (specifically the minimum fps expected) or make double sure your PC can play PUBG and more games then these are some of the suggestions I would have over and above the ones in the base build.
To bump up that FPS and get a more consistent FPS at those ultra setting you may want to consider going with a GTX 1070, such as the EVGA GTX 1070 seen below. Likewise as mentioned above, if you find you want to run more than PUBG at one time or find that more memory is perhaps needed, you could bump up your RAM to a 16GB kit of DDR4.
Best PUBG PC Build – $1500
The Best PUBG PC Build can push the performance limits of PUBG to well over 60+FPS at resolutions of 1440p and if you are looking to stay at 1080- resolutions, then it is capable of FPS nearing 100.
Gaming PC Build Recipe:
This build should play PUBG at ultra settings at both 1920×1080 and 2560×1440 resolutions
Hardware Link
Price
Image
Processor
Intel 7th Gen Intel Core Desktop Processor i7-7700K (BX80677I77700K)

$334.89
Cooler
Cooler Master Hyper 212 EVO – CPU Cooler with 120mm PWM Fan
$29.99
Motherboard
ASUS PRIME Z270-A LGA1151 DDR4 DP HDMI DVI M.2 USB 3.1 Z270 ATX Motherboard
$144.99
Graphics Card
GTX 1080: Gigabyte GeForce GTX 1080 G1 Gaming 8G Video Graphics Cards GV-N1080G1
$523.89
RAM
$148.99
SSD
SK Hynix Flash Memory 2.5″ 250 GB Internal Solid State Drives HFS250G32TND-N1A2A
$92.95
Power Supply
EVGA Supernova G2 750W 220-G2-0750-XR Fully Modular Power Supply
$117.54
Computer Case
NZXT S340 Mid Tower Computer Case, Matte Black/Red (CA-S340MB-GR)
$74.89
Estimated Price :
$1468
Overview: The Best PUBG PC Build
If you are looking to build the "Best PUBG Pc Build" then you are  looking to further push the performance limits of PUBG at either really high FPS at 1080p (up to 100fps) or to play well beyond 60+FPS at 1440p. This build uses a combination of an Intel i7 7700K CPU and a GTX 1080, adding both powerful computing and graphics capabilities.
The CPU is an Intel i7 7700K, which has been shown to 70FPS at Ultra Settings and 1440p in PUBG and up to 100FPS at 1080p when paired with a GTX 1080 (such as the included Gigabyte GTX 1080). This pc build is an awesome combo for those looking to achieve great performance in not only PUBG, but most games out on the market right now. (Paired with the CPU is a Corsair Hyper 212 CPU cooler since there isn't once included with the cpu).
The motherboard is a Z270 chipset board, specifically the ASUS PRIME Z270-A. This motherboard is one of Asus's best Z270 motherboards and very well balanced. This board does literally anything most mainstream gamers will ever need. If you want to learn more please visit the ASUS Prime Z1270-A page at Asus.com.
For RAM, this higher end build includes 16GB of Crucial Vengeance DDR4 RAM. 16GB isn't necessarily needed, but will help and might be nice to have if you do a lot of multi tasking on your pc.
For the rest of the hardware we have included the same SK Hynix 240GB SSD since this is all you really need if your primary concern is to run PUBG, but feel free to upgrade to a 500GB version if you need it. We also have a 750W EVGA Supernova G2 PSU, and a NZXT S340 PC case (which comes in other colors as well).
Alternatives / Upgrades  to the Best PUBG PC Build
Here ar a couple of alternative or upgrades you could consider to further increase your PUBG performance expectation with your PC build. Such as you could upgrade your graphics card to a GTX 1080 Ti to milk every peice of FPS possible. Likewise you could
 Final Words – Building a PUBG PC Build
When choosing the right gaming pc build for PLAYERUNKNOWN's BATTLEGROUNDS it might not be very easy to decipher what you need in order to get the best performance possible, but given the game can be quite cpu intensive and graphics intensive at the same time, we have a good idea what it takes to get up and playing at the settings you'd expect from a higher end gaming pc.
Given the two builds above, your choices are simple; both allow you to play PUBG on Ultra settings anywhere from 1080p to 1440p at an average FPS of 60+. The only caveat here is that it does depend on which maps you play etc. but all in all these builds will get you playing where you should be at in terms of pure pc gaming performance.
Best of luck and have fun playing PUBG on the PC. Or if you haven't played the game, then you can get a glimpse in the following PLAYERUNKNOWN'S BATTLEGROUNDS – "BATTLE ROYALE" Trailer: