Jump to a specific budget gaming pc build below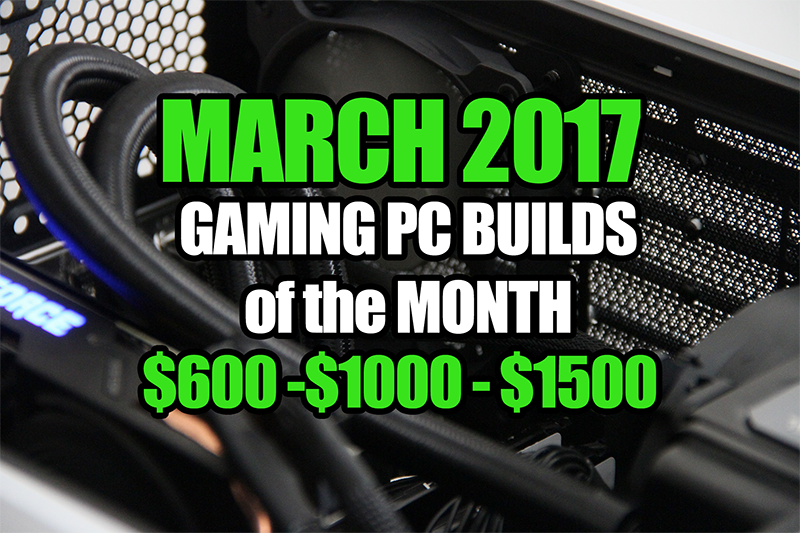 Build the Best March 2017 Gaming PC Build
Last month we saw the first ever Kaby Lake CPU PC Builds. These were new cpus included in our builds, which meant a fresh overhaul to the three builds you see below, and the same goes for this month. This month we are again seeing the exciting release of AMD's Ryzen CPUs as well, however these will not be included in this months builds as we need to see some concrete gaming benchmarks and the cpus are on pre-order for March 2nd for th high-end AMD cpus the Ryzen 7 1700x, 1800x and 1700. You may see these included somehow in next months builds, but who knows, we shall wait and see.
Included below are three separate gaming pc build budget categories with many options in between – these include a $600, $1000 and $1300 / $1500 PC builds. There are also suggestions for peripherals (monitors / keyboards / mice) and operating system suggestions.
Best of luck to those who are either building their very first gaming pc this March 2017 or to those who are simply upgrading to a faster gaming machine. Feel free to leave any questions or comments below and I'll try to get back as soon as possible.
---

$1300 or $1500 PC Build March 2017 (1440p to 4K)
Capability: Game with Extreme settings and High FPS at resolutions of 1920×1080 (1080P) & 2560×1440 (1440p) + playable at 4K
(*Note: All prices are in USD, but URLs go to your local Amazon store)
Overview: Gaming PC Build ( Under $1500 or $1300 )
This gaming pc build can either be $1300 to $1500 depending on whether you choose a GTX 1070 or a GTX 1080. Your choice depends on both budget and at what resolutions you see yourself gaming at (plus google some specific game benchmarks to see if you even need a GTX 1080 versus a GTX 1070).
This is the highest end gaming pc build here on the monthly builds article, which will be best for gaming at 1440p (2K) resolutions, and even able to play comfortably into 4K (even more so should you get the GTX 1080 graphics card). If you look a little further below there are hardware upgrades for this build that all increase performance a step further to either further solidify those higher resolutions or future games should you have a higher budget for you pc build this March 2017.
This month we are featuring Intel's newest CPU line – the 7th Generation Kaby Lake cpu line. This replaces the previous 6600k, we now have a slightly higher clocked Intel 7600K processor included in this pc build. This processor still has an LGA 1151 socket and is compatible with the new Z270 chipset motherboards.
To pair with the cpu we have a Cooler Master Hyper 212 cpu air cooler, which is still very compatible with the new Intel CPUs and is probably the best bang for your buck air cooler there is, which has been the case for a long while.
Now the ultimate driver behind those high demanding games in this build  is either the GTX 1080 OR a GTX 1070 (choose one or the other). Now if you want the highest possible performing gaming pc in this build, then go with the GTX 1080 otherwise go with the GTX 1070 for great QHD (1440p) gameplay or the GTX 1080 for beyond that. Both are great cards and the GTX 1080 may be more for those who want to play the highest demanding of games at the highest frame rates easily at 1440p resolutions and do quite well at 4K.
Now with the New Intel Kaby Lake CPUs, come new motherboards. This month for this build we have a Gigabyte GA-Z270X-Ultra Gaming – that is a Z270 chipset board boasting the following specifications (learn more Gigabyte.com):
Supports 7th/ 6th Generation Intel® Core™ Processors
Dual Channel Non-ECC Unbuffered DDR4, 4 DIMMs
Fast USB 3.1 Gen 2 with USB Type-C™ and Type-A
3-Way Graphics Support with Dual Armor and Ultra Durable™ Design
Dual NVMe PCIe SSDs in RAID 0 Support
NVMe PCIe Gen3 x4 U.2 Connector
Ultra-Fast M.2 with PCIe Gen3 x4 & SATA interface
Intel® Optane™ Memory Ready
ALC1220 120dB SNR HD Audio with Smart Headphone Amp
Intel® GbE LAN with cFosSpeed Internet Accelerator Software
USB DAC-UP 2 with Adjustable Voltage
RGB FUSION LED Light Show design
Swappable Overlay for Accent LED
Smart Fan 5 features Multiple Temperature Sensors and Hybrid Fan Headers
Lightning-Fast Intel® Thunderbolt™ 3 AIC Support
GIGABYTE UEFI DualBIOS™
APP Center Including EasyTune™ and Cloud Station™ Utilities
The included RAM, we have 16GB (two 8GB sticks) of Corsair Vengeance LPX 16GB DDR4 RAM, which is plenty enough memory for this gaming px build.
The storage is a Samsung 850 EVO 500GB SSD – which has simply been a quality SSD leader for a while now and if you do want a bump up in storage speed you will need to check out a more expensive and faster PCIe SSD's (see alternatives below).
For the Power Supply Unit (PSU), we have an efficient EVGA SuperNOVA 750 P2, which is a Platinum rated more efficient PSU, compared to the previously included EVGA gold rated psu I had included in this gaming pc build previously (learn more at evga.com)
The PC case we have for this gaming pc build is the Fractal Design Define R4. This case has been around for early 5 years and is a great buy today, especially for it's cost – plus who wouldn't love this sleek sexy case. For an in depth review check out tweaktowns Fractal Design Define R4 review. Otherwise the main features of this case are (read more: fractal-design.com):
High density noise-reducing material for an optimal silent case – To achieve a high level of noise reduction, material with mass should be incorporated which is what we strive to achieve with the dense bitumen used on the side panels
Patent pending ModuVent™ design allowing the user to choose between optimal silence or maximum airflow
Top HDD cage (5 trays total) can be rotated 90 degrees or removed for additional airflow or to accommodate long graphic cards up to 430mm in length
Three-speed fan controller is strategically integrated in the front panel and supports up to 3 fans
Two Silent Series R2 fans included, featuring hydraulic bearings contributing to a longer life expectancy – Silent Series R2 retail fans will now come standard in all cases
Wider case body that allows for improved cable routing behind the motherboard – now 26mm wide
New tool-less front fan holder makes switching front fans a breeze
Two SSDs can be mounted on the back of the motherboard plate in addition to the 8 slots in the HDD trays, for a total of 10 SSD positions available
---
You Can View All The $1300 2017 Gaming PC Builds Here
---
March 2017 (Under $1300 or $1500) PC Build Upgrade Suggestions
The hardware upgrades you see here are recommendations for the above PC build for March 2017. You can choose one or all of the hardware and it will be compatible with the above build and improve it's performance in some way.
The nw i7 Intel Kaby Lake CPU we now include the new Intel i7 7700K cpu. This could also be a worthy upgrade for those wanting to further "future-proof" their high-end build or for those that want to do some media work involving rendering – such as with graphics and video work.
The above gaming pc build a regular SATA SSD, which is perfectly suited for most gamers, although below is a faster Samsung 950 PRO PCIe SSD, which has faster read / write times and also 500GB of storage – a real premium PCIe Solid State Drive.
If you want more than the included air cpu cooler included in the main build, then below is the Corsair Hydro Series H100i V2 liquid cpu cooler. This cooler would be a substitute for the above included Hyper 212 EVO air cpu cooler and would provide a quieter, more efficient / more customized cooling experience. This option would be best purchased now rather then later so as to save on buying only one cooler for your PC (learn more at corsair.com).
Now for the ultimate increase in graphics performance and for those who have a huge chunk of change, one could consider the NVIDIA TITAN X. This graphics card would be fore 1 those with money; and two those who want to maximize their gaming performance in the 4K resolution realm. The TITAN X has a nearly 30% increase in performance over the GTX 1080, but it comes at a price premium of $1200+.
Peripheral Ideas (Monitor Keyboard & Mouse) for the March 2017 Under $1500 PC Build
Here are some peripheral ideas for our under $1300 – $1500 March 2017 PC build. Below is a monitor that would go best with this build since it is capable of pumping games with high settings at 1440p into frame rates able to match its 144hz refresh rates. Also included is a premium mechanical keyboard and premium gaming pc mouse.
---

$1000 March 2017 Gaming PC Build (1080p to 1440p)
Capability: Game with Extreme settings at 1920X1080 resolutions up to Higher Settings at 2560×1440 (2K)
(*Note: All prices are in USD but URLs go to your local Amazon)
Hardware Link
Price
Image
Estimated Price:
$912.35 (March 2017)
Processor
Intel  i5 7600K 7th Gen Core Desktop Processors

*New 7th Gen. Kaby Lake CPU!

$239.99
Cooler
Cooler Master Hyper 212 EVO – CPU Cooler with 120mm PWM Fan (RR-212E-20PK-R2)
$31.39
 
Motherboard
$135.00
Graphics Card

XFX RADEON RX 480 8GB Custom Tuned OC Graphics Card w/ Backplate (RX480M8BFA6)
$219.99

RAM
$64.00
SSD
$93.99
Power Supply
EVGA SuperNOVA 650 G1 80+ GOLD, 650W Continuous Power, Fully Modular 10 Year Warranty Power Supply 120-G1-0650-XR
$79.99
Computer Case
$64.99
Overview: $1000 2017 Gaming PC Build
The March 2017 $1000 gaming pc build is for anyone who wants to get the most out of any game at 1080p into 2K resolutions for under $1000. This is a High-End gaming PC build, a gaming pc build that will probably cover most of any average gamer needs and do so with marvellous speed.
Intel has now rolled out their new Kaby lake CPU line, so we have now replaced the previous 6600K Skylake cpu with a newer Intel i5 7600K, which is clocked slightly higher. To pair with this cpu we have yet again a Cooler Master Hyper 212 cpu cooler as you need one and it is one of the best bang for your buck air coolers on the market capable of supporting overclocking quite easily.
We now only have one choice of a graphics card for this build since the RX 480 has gone down with significant difference when compared to the similar gtx 1060 graphics card. Previously we did also have the GTX 1060 (which is still a good buy, just more expensive). The exact card we have this month is the XFX RADEON RX 480 8GB graphics card (you can also save an extra $25 if you go with the 4GB version of the RX 480).
The motherboard included again for the $1000 March 2017 PC Build is an ASUS PRIME Z270-P, a newer Z270 chipset motherboard that we are pairing with the new Kaby Lake cpu included in this build. The ASUS PRIME Z270-P has gotten well rounded reviews – LegitReviews.com did a great massive review on the board calling it a great mother board that was able to easily overclock their i7 7700K cpu up to 5.0Mhz. The ASUS PRIME Z270-P is fitted with the following features (asus.com):
5X Protection III: Multiple hardware safeguards for all-round protection
LED illumination: Lighting control for both PCIe slot and audio trace paths
Dual native M.2 and NVMe PCIe RAID support: Lightning-fast storage speeds
DDR4 memory support: Overclock to 3866MHz
Intel® Optane™ memory ready: Exploit the latest high-speed storage technology
The RAM included is the affordable kit of Ballistix Sport LT 8GB kit,which is enough memory for most standard gaming pc builds, and you always have the option to upgrade more in the future if need be with the extra couple of slots on the included motherboard.
The storage has switched back to the better Samsung 850 EVO 256GB SSD as it costs just the same as last months Hynix SSD now. If 256GB isn;t enough storage then you can also bump up to the 500GB version for about $60 more.
The included power supply unit (and for some time now in this build) used is the EVGA SuperNOVA G1 650W power supply, which is a great PSU with all modular cables and it provides the perfect amount of power for this build along with room for some upgrades. For it's price, quality and the fact that it's modular makes this a perfect choice.
The PC case has also stayed the same for the third month in a row and for good reason. One, there has been little movement with regards to newly released cases and two, The NZXT S340 is a bang up case. This month again we have included the NZXT S340, a long standing quality modern case that provides all you need in most gaming pc builds and with a sleek look. comes in a few different color variations.
NZXT S340 Features (learn more at NZXT.com):
360° of steel casing surrounding the all-steel chassis
Grommet-less cable management bar keeps cables tidy with ease
Full 280mm radiator support for the latest Kraken cooler
Compact form factor coming in two inches below competing mid towers
Detailed design and engineering with tons of small touches
Very easy to build in for new and experienced users alike
Integrated PSU shroud for an ultra clean build
Fully filtered intakes
---
You Can View All The $1000 2017 Gaming PC Builds Here
---
March 2017 $1000 PC Build Upgrade Suggestions
Here are some upgrade ideas for your under $1000 March 2017 pc build depending on your budget or future performance upgrades.
For a further boost in graphics you could consider going straight for a GTX 1070 graphics card, which could max those games out in 2K without a hiccup enabling higher frame rates in more demanding games (also see the $1300 / $1500 gaming pc build, which also uses this graphics card).
If you want more than the included 256GB storage SSD in the main build, you could consider bumping your SSD up to the 500GB Samsung 850 EVO  giving you nearly double the space.
You could also go with a liquid cpu cooler such as the Corsair Hydro Series H80i V2 in place of the Cooler Master Hyper 212 EVO  air cooler already included in the above build. This could help keep things quiet and a tad cooler when overclocking and it offers a more customize cooling experience (learn more about the Corsair h80i GT at Corsair.com).
I have also included a PSU upgrade this month – that is the EVGA 650Watt P2, which is a Platinum rated Power Supply Unit giving you an extra boost in power efficiency, which could save a tad on power as it uses it more efficiently. To learn more about the EVGA P2 specifications please visit the EVGA P2 information page.
STORAGE UPGRADE
Add a Larger Faster SSD: Samsung 850 EVO 500GB 2.5-Inch SATA III Internal SSD (MZ-75E500B/AM) ($169.99) –

GRAPHICS CARD UPGRADE

EVGA GeForce GTX 1070 SC GAMING ACX 3.0 Black Edition, 8GB GDDR5, LED, DX12 OSD Support (PXOC) 08G-P4-5173-KR Price: $387.98

PSU UPGRADE

Upgrade to a Platinum efficient power supply – EVGA SuperNOVA 650 P2, 80+ PLATINUM 650W , Fully Modular , EVGA ECO Mode, 10 Year Warranty , Includes FREE Power On Self Tester, Power Supply 220-P2-0650-X1 ($99.99)

CPU COOLER UPGRADE

Corsair Hydro Series H80i v2 Extreme Performance Liquid CPU Cooler , Black- Add a liquid CPU Cooler for quieter, more customized and efficient cooling ($85.00)
Peripheral Ideas (Monitor Keyboard & Mouse) for the March 2017  $1000 PC Build
Here are some peripheral ideas for our under $1000 March 2017 PC build. These are optional to the above build, but are suggestions in case you are starting fresh and need them (as you will need a monitor, mouse and keyboard!).
Below is a monitor that would go best with this build since it is capable of pumping games with high settings at high FPS no problem at 1080p without a hiccup (keep in mind that you can go into 1440p if you wanted). Also included is a mechanical keyboard with cherry mx switches with plenty of features and a mouse catered to high precision FPS players.
---

$600 March 2017 Gaming PC Build (1080p)
Capability: Game at Smoothly with High settings and FPS at 1920X1080 resolutions in most games.
(*Note: All prices are in USD but URLs go to your local Amazon)
Hardware Link
Price
Image
Estimated Price:
$611 (March 2017)
Processor

*New 7th Gen. Kaby Lake CPU!

$119.99
Motherboard
MSI Pro Series Intel H270 DDR4 HDMI USB 3 CrossFire ATX Motherboard (H270 PC MATE)
$109.99
Graphics Card
ASUS ROG STRIX Radeon Rx 470 4GB OC Edition AMD Graphics Card with DP 1.4 HDMI 2.0 (STRIX-RX470-O4G-GAMING)
$169.99
RAM
Ballistix Sport LT 8GB Kit (4GBx2) DDR4 2400 MT/s (PC4-19200) DIMM 288-Pin – BLS2K4G4D240FSB (Gray)
$64.00
SSD
SanDisk SSD PLUS 120GB Solid State Drive
$44.99
Power Supply
EVGA 500 W1, 80+ WHITE 500W, 3 Year Warranty, Power Supply 100-W1-0500-KR
$46.26
Computer Case
BitFenix NOVA Mid Tower Cases BFX-NOV-100-KKWSK-RP
$56.48
---
Overview: $600 Gaming PC Build
This is the most affordable budget March 2017 gaming pc build included in this article Sure you can spend a little less and still get up and gaming, but this should (in my opinion) be the baseline build for anyone looking to invest in a new gaming pc that will last a while – you'll be able to crush a ton of games at higher resolutions playing at standard HD 1080p resolutions without a fret.
We have another new Intel Kaby Lake cpu also included in this $600 gaming pc build for March 2017. Included here is the Intel i3 7100, which now replaces the previous intel i3 6100. We don't need an extra cooler for this build since the 7100 does come with a stock cooler, which should work just fine.
To pair with the Kaby Lake Intel i3 7100, we have an RX 470 4GB graphics card. This is a great card for pushing those 1080p games, however if you do want a slightly bigger bump you could consider and Rx 480 4GB graphics card for only $20-$30 more.
With the new cpu, comes a newer motherboard with a newer chipset. I have changed the motherboard to a slightly better board this month for a nominal increase in cost. This month we have the MSI Pro Series Intel H270 PC MATE, which has the following features (to learn more visit: msi.com).
Supports 7th/6th Gen Intel Core/Pentium/Celeron processors for LGA 1151 socket

Supports DDR4-2400 Memory

Twin Turbo M.2

Military Class 5 Components

Double layer grounding mounting holes
For RAM we have a kit of Ballistix Sport LT DDR4 8GB which is plenty RAM for this build. And for storage included is a 120GB Sandisk Solid State Drive – I know this is not a ton of storage, but it is an SSD which is highly suggested and it is only a little more to bump up to a 256Gb SSD should you want to.
The power supply has been switched up again this month to the EVGA 500 W1, with enough juice to power this build and at a great cost.
The included pc case for the $600 gaming pc build for March 2017 is the BitFenix NOVA – a solid budget oriented case that fits the needs of the $600 gaming pc build perfectly. For a good review check out legitreviews.com review and the BitFenix Nova has the following specifications (learn more: bitfenix.com):
| | |
| --- | --- |
| Colors | Black – White |
| Motherboard | ATX, Micro ATX, Mini-ITX (7 expansion slots) |
| CPU Cooler | up to 160mm tall |
| VGA | up to 320mm long and up to 140mm tall |
| Power Supply | up to 220mm long |
| 5.25" ODD Slots | 1 |
| 3.5" HDD Slots | 4 |
| 2.5" SSD Slots | 2 |
| Dust Filter Bottom | slide-out PSU Dust Filter |
| Cooling Front | 120mm x 2 |
| Cooling Rear | 120mm x 1 (included) |
| Radiator Rear | 120mm |
| I/O | USB 3.0 x 1, USB 2.0 x 1, HD Audio MIC & Headphone, Power LED (white), HDD LED (red) |
| Dimensions (WxHxD) | 183 x 437 x 465 mm – 7.20 x 17.20 x 18.30 inch |
| Materials | Steel, Plastic |
| Weight | 4.8Kg – 10.6lbs |
| Special Features | Closed Frontpanel to block noise, Frontpanel sidevents for good airflow, Large window sidepanel, pre-installed mainboard stand-offs, ruberized anti-slip casefeet, PSU dust filter |
---
You Can View All The $600 2017 Gaming PC Builds Here
---
March 2017 $600 PC Build Upgrade Suggestions
These are the upgrade suggestions for specific hardware included in the above $600 March 2017 gaming pc build. You can choose to upgrade one of all of the hardware and each will provide a performance boost for this build.
If you want to dial down those cpu temp a tad bit more, you could always opt for a non-stock cpu cooler, such as the Cooler Master Hyper 212 EVO (included in both of the other builds for quite some time).
One of the more important performance upgrade solutions could be the Radeon RX 480 4GB graphics card, for not much more in cost – which would be highly recommended. You could also consider the 8GB version. but this is not needed.
You can increase your storage space by going with a larger capacity Samsung 850 EVO 250GB SSD. This would be recommended if you think you will need more than 120GB as included in the SSD in the base build above.e
*New: Finally, included is a much better performing and brand new Kaby lake Intel  gaming CPU, the Intel i5 7500, which may be a worthy investment to solidify performance in those higher cpu demanding games.
Peripheral Ideas (Monitor Keyboard & Mouse) for the March 2017 Under $600 PC Build
Here are some peripheral ideas for the March 2017 $600 2017 PC build. Below is a 24-inch monitor that would go best with this build since it is capable of pumping games with high settings at 1080p standard HD resolutions. The included keyboard is a basic cherry mx mechanical keyboard without any special features, but everything most gamers really need. Also included is a basic gaming pc mouse with plenty of features.
---
Operating System Options for the March 2017 Gaming PC Builds
If you don't already have an operating system for your new gaming pc build, then you're going to have to either invest in purchasing a standard OS such as Windows 10. Otherwise, there are some free alternatives that you could consider below as well. Keep in mind that it is recommended to purchase Windows online or as a USB stick and install it that way as optical drives are not included in any of these builds and nor would you generally need one for any modern gaming pc.
Included below is a USB copy of Windows 10, which is probably what most people need. I have also included two other operating systems that are both currently free. Ubuntu is a Linux based operating system. The last OS is SteamOS, which is also a Linux OS being developed by Valve Corporation and is being made to be used for a Steam Machine game console.
OS Link
Price
Image
Windows 8.1
Microsoft Windows 10 Home USB Flash Drive

*This is the USB version, you can also purchase the DVD (which requires an Optical Drive) or purchase a downloaded copy, which would require you to install on to a USB or hard drive from another PC.

$109.98
 
Ubuntu
Ubuntu – Desktop
Free
SteamOS
SteamOS Beta "Build your own Steam Machine"
Free
March 2017's Gaming PC Build Hardware Overview Video: