Gaming PC Builds – January 2018
Jump to a specific budget build –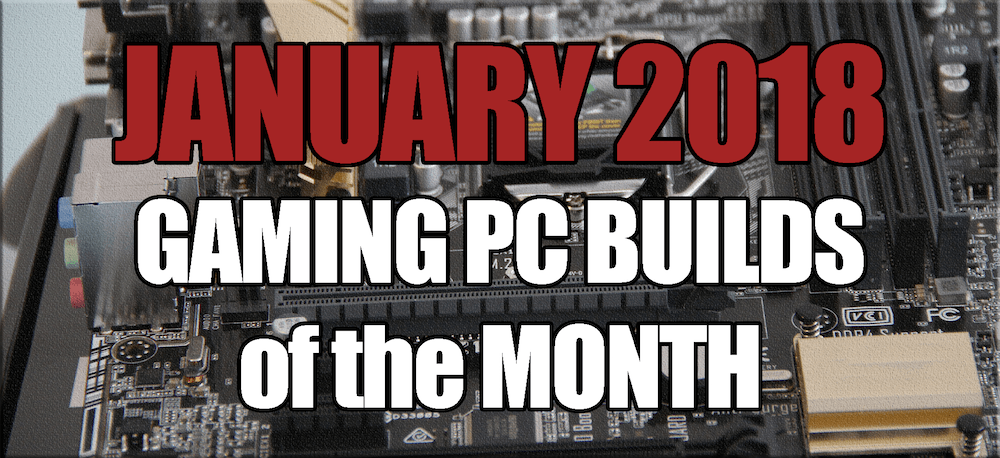 January 2018 Gaming PC Builds of the Month
Welcome to the January 2018 gaming pc builds of the month article over here at Newb Computer Build and happy new year!
For the updates this month we have seen a crazy amount of price fluctuations. Everything from RAM prices that are way too high, graphic cards supplies being quite low and I've even noticed power supplies being prices a little too high. As for the RAM prices, this looks like it will stay as is for about another year, so we must accept that as is as this is mostly a supply and demand issue (or at lease from what Iv'e heard. And as for the other supply levels, well I would simply blame the holidays for that and they should replenish throughout January 2018.
If you are here for the first time, then welcome. The following gaming pc builds are organization from a more expensive high-end pc build, to a mid-range build down to an entry level build. All of the builds of priced and put together based on expected average performance in terms of frames per seconds at specific resolutions. So for example, if you want to game at higher 1440p resolutions at the highest possible frame rates then the high-end build is for you. Likewise, if you find you'll only game at 1080p and don't need the highest in frame rates then the entry level build will be a perfect fit.
If you have any questions please leave a comment, best of luck building!
---
Visit the Best Gaming PC Builds for 2018 Page to Keep up to Date With the Monthly Gaming PC Builds
---

$1600 Best Gaming PC Build 2018
Performance: Game with Extreme settings and High FPS at resolutions of 1920×1080 (1080P) & 2560×1440 (1440p) + good gameplay at 4K
*This PC Build is powered by the new Intel Coffee Lake i7-8700K CPU
Hardware Link
Price
Image
Processor
$379.99
Cooler
Cooler Master Hyper 212 EVO – CPU Cooler with 120mm PWM Fan
$32.99
Motherboard
ASUS TUF Z370-PLUS GAMING LGA1151 DDR4 HDMI DVI M.2 Z370 ATX Motherboard
$149.99
Graphics Card
GTX 1080: MSI Gaming GeForce GTX 1080 8GB GDDR5X SLI DirectX 12 VR Ready Graphics Card (GTX 1080 ARMOR 8G OC)
$534.99
RAM
$173.99
SSD
SanDisk SSD PLUS 480GB Solid State Drive (SDSSDA-480G-G26) [Newest Version]
$129.99
Power Supply

EVGA Supernova G2 750W 220-G2-0750-XR Fully Modular Power Supply

$99.99
Computer Case
NZXT S340 Mid Tower Computer Case, Matte Black/Blue (CA-S340MB-GB)
$69.99
Estimated Price :
$1580 – (2018)
Overview: Best Gaming PC Build for $1600
The high-end gaming pc build is for those who want to expose the limitless potential of their gaming rigs FPS — that is those gamers who want to game comfortably at 1440p on high refresh rates monitors while gaming at the highest settings. The included CPU is probably the biggest change as of a month ago as we have now included Intel Coffee Lake i7 8700K CPU.
The high-end graphics card included is the GTX 1080 (the MSI GTX 1080). This graphics card is made to max out games at 1400p resolutions. As a plus the GTX 1080 has also proven to be very playable on VR platforms if you are ever interested. If you are looking to beef up this build further, you could also consider the GTX 1080 Ti or if you wanted to save some dollars you could probably get away with a GTX 1070 Ti as well.
The motherboard we have for the high-end gaming pc build is the Asus TUF Z370-PLUS GAMING board, which is a solid Z370 motherboard with Aura Sync RGB lighting and at a reasonable price for these newer boards. The Z370-PLUS GAMING board has the following specifications (Learn more at Asus.com – Z370-PLUS GAMING):
ASUS OptiMem: Careful routing of traces and vias to preserve signal integrity for improved memory overclocking
Exclusive DTS Custom audio: Delivers positional cues to stereo headphones, helping you to pinpoint enemies and action
TUF Protection: SafeSlot, ESD Guards, DDR4 overvoltage protection, Digi+ VRM, and stainless-steel back I/O for long-term reliability
TUF Components: TUF LANGuard, TUF Chokes, TUF Capacitors, and TUF MOSFETs for maximum durability
Fan Xpert 4 Core: Ensures every fan achieves the best balance of cooling performance and acoustics
Onboard M.2 heatsink: Cools your M.2 drive, delivering consistent storage performance and enhanced reliability.
Aura Sync RGB: Synchronize LED lighting with a vast portfolio of compatible PC gear.
Included in the high-end build is 16GB total in memory, a kit of two 8GB sticks of Ballistix Sport LT memory. RAM prices have been and are all over the place due to an assumed apply and demand issue. But we do have to accept this for now.
Our storage solution, is a SanDisk Plus 480 GB SSD – plenty of space to get started with your build. If you think you want to milk as much speed and performance as possible you could also opt for a PCIe SSD, for a bit of a premium (as shown in the hardware upgrades/alternatives below).
We have now included again the EVGA Supernova G2 750W psu as the price for this PSU has now come back to where it should be and is a great efficient psu that will last years.
The included pc case the well reputed the NZXT S340 (specifically, the Matte Black/Red color scheme). I absolutely love the aesthetic of this case (and all the S340's), one that just boasts confidence in style and quality. To learn more please visit the product page at NZXT.com.
2018 Best $1800 PC Build Upgrade Suggestions
The hardware upgrades you see above are recommendations for the above 2018 $1800 gaming PC build. You can choose one or all of the hardware and it will be compatible with the above build and improve it's performance in some way.
For those who are concerned about or want a highly efficient power supply, you could go with the Platinum rated EVGA SuperNOVA 750 P2 — just a little bit more than the G2 EVGA psu included in the main high end pc build.
The above pc build does include an SSD, which is perfectly suited for most gamers and pc builders, but if someone were searching for the fastest and one of the most efficient methods of storage, you could consider a premium PCIe Solid State Drive, such as the Plextor 512Gb M.2 PCIe SSD above.
(*Highly recommended for high-end overclocks). If you want more than the included air cpu cooler included in the main build, then above is the Corsair Hydro Series H100i V2 liquid cpu cooler. This cooler would be a substitute for the above included Hyper 212 EVO air cpu cooler and would provide a quieter, more efficient / more customized cooling experience. This option would be best purchased now rather then later so as to save on buying only one cooler for your PC.
The final upgrade you see above is a GeForce GTX 1080 Ti, which perform really well for those high-end resolutions, and is said to have "epic 4K performance", as stated by Trusted Reviews in their GTX 1080 ti Review.

---
$1000 Best Gaming PC Build 2018
Capability: Game with Extreme settings at 1920X1080 resolutions up to Higher Settings at 2560×1440 (2K)
Hardware Link
Price
Image
Estimated Price:
$1021 (2018)
Processor
AMD Ryzen 5 1600 Processor with Wraith Spire Cooler

$199.99
Cooler
*Free — Wraith Spire Cooler included with the Ryzen 5 1700
$
Motherboard
$109.99
Graphics Card

RX 580 8GB: PowerColor VGA – AXRX 580 8GBD5-3DH/OC
$379.99
RAM
$94.99
SSD
$94.75
Power Supply
EVGA 650 GQ, 80+ GOLD 650W, Semi Modular, EVGA ECO Mode, 5 Year Warranty, Power Supply 210-GQ-0650-V1
$81.61
Computer Case
$59.99
Overview: $1000 Best Gaming PC Build 2018
The best gaming pc build for $1000 is for those who want to game at high FPS with resolutions of 1080p to 1440p. This budget PC build that will probably cover most of any average gamers needs, those pc gamers who want an affordable pc that they get to custom build and play the most modern games at the highest settings on the most used gaming resolutions.
The included processor is an AMD Ryzen 51600 cpu. Another option one could consider is the Ryzen 1600X, but you can overclock the 1600 up to 1600x levels, plus the 1600 comes with its own cpu cooler; you can see the hardware alternative table below for an even better upgrade choice as well. Another alternative cpu could also be an Intel i5 8400, but if you go this route you will need to get a Z370 socketed motherboard (*see the $1600 pc build above for an example).
For the graphics card we have included again is a RX 580 8GB.  This is a great gpu, although it may be a tad low in supply near the start of January 2018. If you have trouble finding an RX 580 for a decent price, then you could also consider a GTX 1070.
The motherboard is being switched up merely due to price costs this month to an MSI X370 GAMING PLUS, which has the following specification (learn more at MSI.com – MSI X370 GAMING PLUS):
Supports AMD® RYZEN Series processors and 7th Gen A-series / AthlonTM Processors for socket AM4
Supports DDR4-3200+(OC) Memory
DDR4 Boost: Give your DDR4 memory a performance boost
VR Ready and VR Boost: Best virtual reality game experience without latency, reduces motion sickness
Lightning Fast Game experience: Turbo M.2, Lightning USB 3.1 Gen2
Audio Boost: Reward your ears with studio grade sound quality for the most immersive gaming experience
GAMING LAN with LAN Protect: The best online gaming experience with lowest latency and bandwidth management
Military Class 4, Guard-Pro: Latest evolution in high quality components for best protection and efficiency
MULTI-GPU: With Steel Armor PCI-E slots. Supports NVIDIA SLI™ & AMD Crossfire™
Mystic Light Sync: Synchronize other RGB solutions with your gaming rig and control all LEDs in one click
In-Game Weapons: Game Boost, GAMING Hotkey, X-Boost
EZ Debug LED: Easiest way to troubleshoot
Click BIOS 5: Award-winning BIOS with high resolution scalable font, favorites and search function
GAMING CERTIFIED: 24-hour on- and offline game and motherboard testing by eSports players
WHQL certified for Windows 10
The RAM included is the affordable kit of Kingston HyperX Fury 8Gb kit, which is enough memory for most gaming pc builds, and you always have the option to upgrade more in the future if need be with the extra couple of slots on the included motherboard. RAM prices are a little unpredictable these days due to supply and demand issues (or so I've heard), so you can try to look for the best deal on a 8GB kit of 2X 4Gb sticks of ram and you will be fine.
For this pc builds storage, we have a SK Hynix 256GB SSD, which is a great value SSD. Should you want more than the 250GB, then you can look at the high-end build for another SSD option as well or in the hardware alternatives table below.
The included power supply unit used in this months $1000 pc build was the EVGA SuperNOVA G1 650W power supply but for some reason the cost shot up this month. What we instead have for a psu this month is the EVGA 650 GQ, 80+ GOLD, which has a similar quality, however it is only semi-modular, which means some of the cords are permanently attached to the psu (rather than detachable). If you can find the EVGA G1 for a similar or lesser cost then my suggestion would be to go with that.
Now for the PC case for the $1000 gaming pc build is the MasterBox 5 by Corsair. This case has a very straightforward design, which makes it super easy to build your pc build with.  Read the full specifications for the MasterBox 5 over at corsair.com.
2018 Best $1000 PC Build Upgrade Suggestions
---
Above are the upgrade ideas for the best 2018 $1000 gaming PC build, these are recommended in case you have a larger budget or want some upgrade suggestions later on.
There is a CPU upgrade included this month for those who have a tiny bit more to spend on more performance, more specifically for someone who also using their PC as a workstation. If you want to boost up your performance you can upgrade your cpu to an AMD Ryzen 7 1700. Also mentioned earlier, you could also go with an Intel i5-8400, however you would need to switch your motherboard to a Z370 socket (see the $1600 gaming pc build above for an example).
For the best in terms of a performance boost, you could consider going straight for a GTX 1070 or GTX 1070 ti graphics card, which could max those games out in 2K without a problem, which will enable higher frame rates in more demanding games.
You could also go with a liquid cpu cooler such as the Corsair Hydro Series H80i V2 in place of the included air cooler already included in the above build above. This could help keep things quiet and a tad cooler when overclocking and it offers a more customize cooling experience.
I have also included a PSU upgrade this month – that is the EVGA 650Watt P2, which is a Platinum rated Power Supply Unit giving you an extra boost in power efficiency, which could save a tad on power as it uses it more efficiently.

$700 Best Gaming PC Build 2018
Capability: Game at Smoothly with High settings and FPS at 1920X1080 resolutions in most games.
Overview: Gaming PC Build 2018
The best $700 gaming PC build is able to game smoothly at 1080p resolutions in most games on higher settings. Most general gamers will most likely be gaming on a 1080p monitor and this will actually be all they need to play the games they want to play. Plus this is a great build to consider if you are new to the pc building community. *Please note that the entry level gaming pc build slot used to be considered a $600 build, however to keep up with price fluctuations and providing performance expected out of a gaming pc, the budget had to increase a little.
The CPU for the 2018 $700 PC build to a Ryzen 5 1400. This is currently the best cost per performance solution for this budget.
For the graphics card we have a GTX 1050 Ti graphics card. This is a very affordable gpu that provides you will good 1080p game play. If you need to further boost your graphics performance, check out the alternatives tables below where we include an AMD RX 580 4GB graphics card, likewise you could also get a GTX 1060 3Gb card if you don't have as much to spend.
For the motherboard we had to include a new one to accommodate the inclusion of our Ryzen CPU, so this month we have gone with the plain GIGABYTE GA-AB350-Gaming. This motherboard is a variant of the one included in the $1000 pc build above and has the following specification (Gigabyte.com):
Supports AMD Ryzen™ & 7th Generation A-series/ Athlon™ Processors
Dual Channel Non-ECC Unbuffered DDR4, 4 DIMMs
Fast 2 USB 3.1 Gen 2 with USB Type-A
2-Way CrossFire™ Multi-Graphics Support
Ultra-Fast PCIe Gen3 x4 M.2 with PCIe NVMe & SATA mode support
High Quality Audio Capacitors and Audio Noise Guard with LED Trace Path Lighting
Realtek® Gigabit LAN with cFosSpeed Internet Accelerator Software
Smart Fan 5 features 6 Temperature Sensors and 4 Hybrid Fan Headers
GIGABYTE UEFI DualBIOS™
APP Center Including EasyTune™ and Cloud Station™ Utilities
The RAM included is a kit of Kingsten HyperX Fury (the same as in the $1000 pc build) which is enough memory for most gaming pc builds, and you always have the option to upgrade more in the future if need be with the extra couple of slots on the included motherboard.
The storage included is a Kingston Digital 120GB solid state drive SSD. This is a great start in terms of storage speed and capacity, however if you do think you'll need more storage right away, you could consider a 256Gb or larger SSD as well (look at any of the builds in this article or in the hardware alternatives table for suggestions).
To actually provided power in this pc build, we have the reputable and affordable Corsair CX Series, CX500, with enough juice to power this build and for a good cost.
For the gaming PC case we have a brand new budget case that was just released, the VIVO V10G. This is a surprisingly great value new case that has three blue 120mm LED fans. Learn more about this case's specifications on VIVO's website:
• ATX Mid-Tower
• Supports ATX, Micro ATX, and Mini ITX motherboards
• Color – Matte black with tented tempered glass front and side (full black interior)
• SPCC 0.5T steel with plastic front bezel, tempered glass front and left side panels
• Top mounted ATX power supply (not included)
2018 $600 Best PC Build Upgrade Suggestions
Above you will find upgrade suggestions should you have more to spend or want ideas for hardware upgrade when you have the need in the future for the best 2018 $600 gaming PC build.
If you are wanting a different style to your pc case we have included yet another newly released PC case, the BitFenix Enso. This case can be a worthy upgrade that has RGB lighting functionality, a windowed side the view your superb hardware and it is painted black inside and out.
One of the more important performance upgrade solutions could be to the AMD RX 580 graphics card (4GB version), for a little bit more than the included GTX 1050 ti already included. Previously we would have recommended the GTX 1060 3GB which is still an option and more affordable, so I'll leave the choice up to you based on your available budget for your pc build.
You could also increase your storage space by going with a larger capacity SK HYNIX 256Gb SSD or even the 500GB one. This would be recommended if you think you will need more than 120GB as included in the SSD in the base build above.
---
Operating Systems for Your 2018 Gaming PC Builds
You will need an operating cpu for your gaming pc build and If you don't already have one laying around, then you're going to have to purchase a standard OS such as Windows 10 or check out some free alternatives that you could consider. Keep in mind that it is recommended to purchase Windows online or as a USB stick and install it that way as optical drives are not included in any of these builds and nor would you generally need one for any modern gaming pc.
Included below is a USB copy of Windows 10, which is probably what most people need. I have also included two other operating systems that are both currently free – so could be worth the time trying out. Ubuntu is a Linux based operating system. The last OS is SteamOS, which is also a Linux OS being developed by Valve Corporation.
OS Link
Price
Image
Windows 8.1
Microsoft Windows 10 Home USB Flash Drive

*This is the USB version, you can also purchase the DVD (which requires an Optical Drive) or purchase a downloaded copy, which would require you to install on to a USB or hard drive from another PC.

$99.99
 
Ubuntu
Ubuntu – Desktop
Free
SteamOS
SteamOS – "Build your own Steam Machine"
Free