The Everyday Laptop
In this article find laptops for  $1900 – $1500 – $1000 – $750 – $250
The "everyday laptop" is just that, a general laptop that can pretty much do everything for the everyday person. I know this is quite general, but bare with me. An 'everyday' laptop as I am quoting it, is a laptop that can adequately perform regular person things such as all typical office software (light business user / students), watching  media /movies, browsing web related materials and moderate gaming.
By no means do I consider myself an expert when in comes to purchasing the everyday laptop, but recently I have done a ton of research into the matter in order to purchase a few for some employees at my place of work. The ultimate goal for me with these laptops was to choose a laptop to suite…a typical everyday person.
The need was simply this – to purchase a purchase a few laptops within a budget of $1000 or so. The usage for these laptops is quite simple and to be used for simple daily work tasks, such as web browsing, word processing, e-mail, watching video and so forth. There was one caveat however, the idea being that they should be able to last at least a couple of years. What I am going to do in this article is feature five laptops around that budget (below and above).
First, this overview and list is probably not for everyone. In my opinion these are great overall laptops for work, students or everyday use at home. Perhaps you are a gamer, or an avid media enthusiast. If so, then some of these suggestions could be beneficial, but do take them with a grain of salt. You can however, follow the general guidelines below for purchasing a laptop for whatever your use.
Please, I invite anyone that has any discrepancies to let me know via the comments – I would love to provide anyone with any further constructive advice with respect to these laptops on these budgets.
Factors to Consider When Purchasing a Laptop
While reading some of the points in the below list, try to figure out what would be most important to you. Some individuals  may want a larger screen, or some may consider high processing speeds more important and so forth.
Choose your laptop screen size & resolution
Most individuals choose a laptop over a desktop PC for one sole reason – to get a portable computer. Even though you have decided you want a computer that is portable, you do want something that is worthwhile to stare at; this will be ultimately determined by how you use this device though. If you don't mind a little more weight, then you can generally opt for a larger screen size (say for 15 inches and above), however if portability is your primary concern then you probably want get a smaller sized screen. Likewise, you should probably focus on resolution as well. If you are going to be using primarily office applications or word processing, then this would be the least of your concerns, however if you want to play HD media or even game, then this should probably be a higher factor on your list.
Processor Speed and Graphics Card
This will depend on what you will use your laptop for most. A better processor will help with tasks more CPU dependent like graphics work, video work or even gaming – same even goes for graphics cards. I would say if you do have a high concern in performance for these factors, then try to opt for a non integrated graphics option laptop; as in the laptop actually has a graphics cards aside from the integrated graphics of the included processor.
Most of the laptop you see below will be able to do moderate gaming, although most are using integrated graphics, so do keep this in mind.
Types of Storage
I feel it is definitely one of the most important factors – especially with the "everyday" laptop type thinking. There is a wider usage of solid state drives now and the type of hard-drive will definitely effect your boot and load times of software  / your operating system. When looking at finding the right type of storage included on your laptop, you may want to consider the total amount of storage space you need. Do you need, 500GB, 1TB, less or more?
Well if you need a ton of data on your laptop at once and on the go all the time, then you may want to go for 500Gb+. However you can really increase your loading times by going with a solid state drive – the only con here is that these generally cost more per GB. Another factor to look for is the speed of a hard disk drive itself, measured in rotation per minute 'RPM'. So if you do go with a 500GB+ HDD, you may want to compare a 5200RPM drive versus 1 7200RPM drive.
You have a budget…right?
Alright, so the last factor is how much you really have to spend on a new laptop. The amount you spend on a new laptop will really depend on the combination of the above factors (and a few others), so please do take into consideration what is most important to you. Say you game more, then the hard drive speed may or may not be your most important factor. However, if you are always on the go and more of a business user, then perhaps quick boot & load times are more important for you.
Below are listed several recommendations of mine with respect to five different budget ranges of laptops. With your discretion take a gander… (*note: prices are current as of this articles publish date)
Laptop Budgets
$1900 Laptop
Purchase: $1849 at Amazon
Description:
This is a high-end ultrabook designed laptop – which Asus describes as the perfect balance between form and function. The Asus Zenbook has scratch resistant corning Gorilla glass that is supposed to be scratch and dent free. This laptop also has a very high 2560 x 1440 pixel resolution (4x that os a typical HD screen) and on top of that comes with an Intel i7 processor and Intel 5100 graphics. (PS. This laptop also has a large 512GB solid stat drive).
Specs:
Intel Core i7-4558U processor
8GB DDR3L 1600 MHz SDRAM
256GB SSD
2560 x 1440 (WQHD)
Port 2 x USB 3.0 port(s) 1 x micro HDMI 1 x mini Display Port
$1500 Laptops – (2 Choices)
Purchase: $1444.99 at Amazon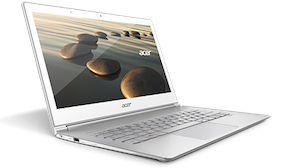 Description: This laptop is a very sleek, very light (2.87 pounds) laptop with a stunning 1920×1080 LED HD display. All that with an Intel i7 4500U, 8Gb memory and a 256GB solid state drive and you are set. The Acer Aspire S7 has 7 hours of battery life, Gorilla Glass, illuminated keyboard – all boasting towards the perfect ultrabook – so yes this one too has a touch screen, which is another bonus.
Specs:
Intel Core i7-4500U 1.8GHz 1.8 GHz (3 MB Cache)
8 GB DDR3L SDRAM
256 GB Solid-State Drive
13.3-Inch Screen, Intel® HD Graphics 4400
Windows 8, 7-hour battery life
Purchase: $1483 at Amazon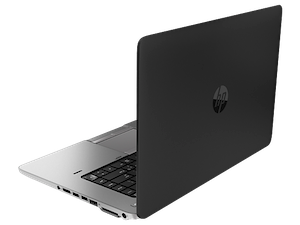 Description:
I included this HP as a second option for the $1500 class of laptops here to dissociate between a nice ultrabook and a more 'typical' laptop. Typically geared to Business users, this HP EliteBook can meet several needs. This is a full large HD (1920X1080) 15 inch display with 7.5 hours of battery life. Quite the durable laptop coming in at 4.4 pounds. The processor is a 2.1 Ghz Intel Core i7 2600U (faster then the above Acer model) & Intel HD 4400 graphics. This particular model doesn't have an SSD, rather is uses a 7200 RPM 500GB hard drive, so there is plenty of room for data.
Specs:
HP EliteBook 850 G1 E3W16UT 15.6 LED Notebook Intel Core i7-4600U 2.1GHz 8GB DDR3 500GB HDD Intel HD Graphics 4400 Windows 7 Professional 64-bit
Read more specs on HP's data sheet.
$1000 Laptop
Purchase: $999 at Amazon
Description:
The HP Spectre is purely a great laptop for its price. Laptopmag even has an Editors Choice on this – as promoted by HP themselves.  Laptop mag described this laptop as a laptop with a "Unique Control Zone touchpad; Beautiful design; Gorgeous display; Snappy backlit keyboard; Strong performance; Long battery life".
The Hp Spectre has a 13.3 inch screen with a vivid resolution screen (1920×1080) that is said to have stunningly sharp imagery and it is also said to be one of the best ultra books money can buy [laptopmag]. That bing said, yes another ultrabook, so this means that it is a 1080p touch screen laptop with a sleek design. Specifically, this laptop comes with an Intel i5 4200U processor and Intel HD graphics.
Standard this laptop does come with a 128Gb solid state drive and only 4GB DDR3 memory, however you can spec this up to 8GB for free right now (**Click this when selecting the memory when purchasing!)
Specs:
4th generation Intel® CoreTM i5-4200U Processor + Intel® QHD Graphics (optional)
13.3-inch diagonal Vivid HD LED-backlit Display (choose resolution, optional QHD)
Beats Audio
128GB SSD
8GB DDR3 RAM
Touchscreen
Ultrabook – slim – less than 4lbs
$750 Laptop
Purchase: $721.99 at Amazon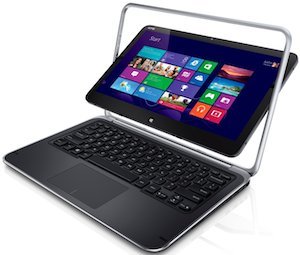 Description:
The XPS 12 is a fantastic little laptop. The XPS 12 can last up to 9.5 hours on battery and it has a flip screen that can easily turn into into tablet mode. The screen is a crisp 1920×1080 400-nit display (a very bright screen that makes it easy to see your screen in high light, such as outdoors). This device boots up in seconds with its 128GB solid state drive and Intel Core i5 3317U processor.
Specs:
Intel Core i5 3317U 1.7 GHz, Up to 2.6 GHZ
4 GB DDR3L SDRAM
Intel HD Graphics 4000
128 GB Solid-State Drive
12.5-Inch Screen
Windows 8
$230 Laptop
Purchase: $230 at Amazon
Description:
This relatively cheap laptop runs on a dual core Intel Celeron processor and has 6 hors of battery life – plus at the time of writing this, you can purchase this laptop for $230 on Amazon.
What is a Chromebook though? Well this is a laptop running Chrome OS as its operating system  Generally they are designed to work while being connected to the internet with most of its data stored in the "cloud" [Wikipedia]. This is what makes these powerful laptops so affordable and portable. Although this type of laptop may not be for everyone, there is definite value here.
Specs: 
11.6 inches Display
Samsung Exynos 5250 Dual Core Processor
2 GB DDR3L RAM 16 GB Solid State Drive
2 USB Ports: 1 USB 3.0 + 1 USB 2.0, HDMI Port
Built-in dual band Wi-Fi 802.11 a/b/g/n
Conclusion
Thanks for checking out my list of five budget laptops for everyday use. Like I said a the start of this article, not all of these may suite your particular budget or needs. So if this is the case feel free to leave a comment, let us know what your specific needs are or if you have a specific budget not mentioned above. Here at Newb Computer Build this is the first laptop article I have put up as generally I post the monthly gaming pc builds, so this was an exciting addition. this time around.
Whatever laptop you decide to go with, I wish you the best 🙂