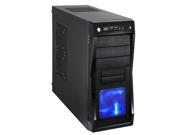 I changed a few things in the Fourth Tier Gaming Build which include the addition of the SAMSUNG Spinpoint F3 HD103SJ 1TB 7200 RPM SATA 3.0Gb/s 3.5″ Internal Hard Drive -Bare Drive allowing more hard drive space while using a quality hard drive. As well I have changed the Radeon HD 5770 for a MSI N460GTX Twin Frozr II SOC GeForce GTX 460 (Fermi) 768MB 192-bit GDDR5 PCI Express 2.0 x16 HDCP Ready SLI Support Video card which will be much more beneficial. And finally both to compensate for the price changes, and a greater bag for your buck I included the ASRock H55M/USB3 R2.0 LGA 1156 Intel H55 HDMI USB 3.0 Micro ATX Intel Motherboard which includes the same benefits (and has fantastic reviews) as the previous Gigabyte version.
All parts have a set of constituent products under "Budget Yielding Alternatives" that you may feel like considering if you want to go with something a little different (especially with computer cases), or better (as in a hard drive with more space, power supply with more wattage for future use, or higher quality RAM).
Or check out the many other computer builds up top!