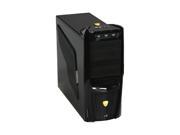 The Intel Core i7-950 processor at around $295 and can quite possibly be a great
choice for any hardcore gamer. The Intel i7 is currently the most powerful gaming processors available. The only downfall about using the Intel Core i7-950 is that it must use a X58 based motherboard, which means overall you pay will end up with a higher priced build. However, these motherboard utilize triple channel DDR3 memory and overall the result in performance is significant.
The Radeon HD 6850 will provide a great performance of 1920×1200 resolution in most games. The Radeon 6800 series review here – TomsHardware (If you want to get a slightly better graphics cards for a slightly slightly higher prices, consider the other cards in the "Budget Yielding Alternatives" section below)
The MSI X58M LGA 1366 Intel Micro ATX Motherboard includes 6×240 pin memory slots allowing up to a maximum of 24GB of  triple channel DDR3 memory. A built in Audio chipset allowing 8 channels of sound using Realtek ALC889. As well,  includes 6x USB 2.0 onboard connectors, 6 x USB 2.0, 2 x PCI Express 2.0 x16 (at x16), 1 x PCI Express x4, and  1 x PCI slots.
In this build I included a high quality G.SKILL 6GB (3 x 2GB) 240-Pin DDR3 SDRAM DDR3 1333 (PC3 10666) Triple Channel Kit Desktop Memory, a 500 GB Western Digital Caviar Blue 7200RPM, 3.0Gb/s Hard Drive, a CORSAIR CMPSU-750TX 750W ATX12V / EPS12V SLI Ready CrossFire Ready  Power Supply, a good LITE-ON CD/DVD burner, and chose the AeroCool Vx-R Black SECC 0.5mm ATX Mid Tower Computer Case.
All parts have a set of constituent products under "Budget Yielding Alternatives" that you may feel like considering if you want to go with something a little different (especially with computer cases), or better (as in a hard drive with more space, power supply with more wattage for future use, or higher quality RAM).