Gaming PC Builds – August 2015
Jump to a specific budget build –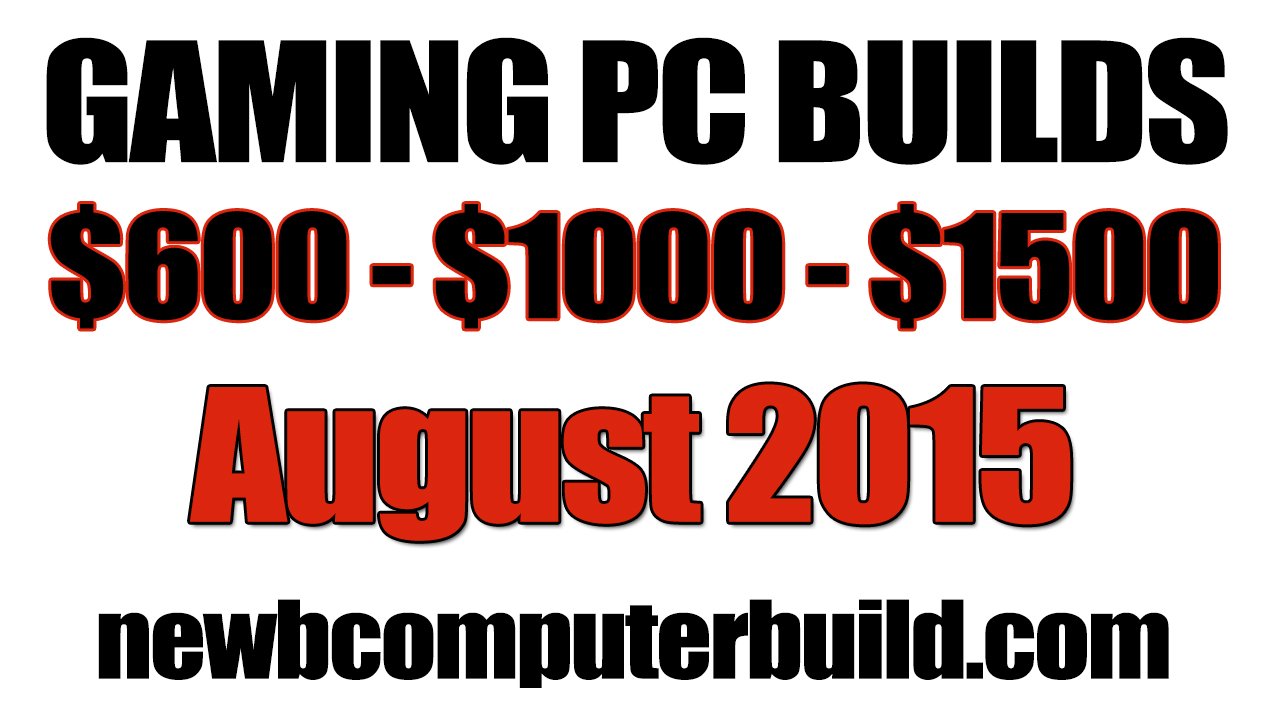 Gaming PC Builds of the Month Introduction:
Welcome everyone to the August 2015 edition of the Newb Computer Build Gaming PC Builds of the Month. You will find three separate budget builds below including a $1500, $1000 and $600 build. Each of the builds are flexible and can accommodate varying budgets should yours be less or more. Should you have any questions do feel free to ask below.
The August gaming pc builds of the month are going to be highly reflective of July's builds with the near releases of Intel's Skylake CPUs (specifically the Intel i5 6600K and i7 6700K) there hasn't been too many notable hardware releases or price changes. The Skylake CPUs are now available for pre-order and you will be able to officially purchase / receive them near the end of August if you so liked. With the Skylake cpu releases come new motherboard releases that support its Z170 chipset and LGA1151 socket. As well, these motherboards will support DDR4 RAM and some more new features – this being the most exciting part of this release.
That being said, if you are looking to purchase a gaming pc build throughout August, these $1000 & $1500 builds currently use the Intel i5 4690K processor, which in benchmarks hasn't so far shown too much of a difference in gaming performance between that and the new Intel i5 6600K. This would also mean if you have purchased a build using an Intel 4690K, this upgrade probably would not be worth it.
Enjoy thes gaming pc builds of the month for August 2015 and should you have any questions, comments or simply want to say hi, feel free to leave your comments below.

August 2015 PC Builds ( $1506 )
Gaming PC Build Recipe:
Game with Extreme settings at resolutions of 2560×1400 and 1920×1080 & 4K!

Overview: Gaming PC Build ( $1500 )
If you are wanting to game with extreme settings and game up to resolutions as high as 4K with ease, then this is the build for you. Last month we saw the release of the GTX 980 Ti graphics card, which came in at about 20-30% faster then the previously included GTX 980 (non "Ti" card). The $1500 build is solid this month with a bump up in the SSD storage to 250GB and the newer Silverstone Tek KL05B-Q pc case well worth its cost.
The processor used again is the Intel i5 4690K processor, which is very easily overclocked, if you wanted to bump up the processor to an i7, then please refer to the alternatives table below, however the benefit for a pure gamer will be minimal, however you may see the benefit should you do more then just game (ie. render video, graphics and the such).
I have included again the Gigabyte GA-Z97X-UD3H-BK (Black Edition) motherboard. This Gigabyte board is more then capable of overclocking the included processor quite well, supports multi graphics (SLI & crossfire) and a whole bunch of other features. You can learn more directly on this motherboards specifications webpage on Gigabytes website.
The CPU cooler once again is the Cooler Master Hyper 212 CPU Cooler, which is a worthy investment to take full advantage of the unlocked multiplier on the Intel 4690K processor, allowing an easy overclock. If you want to install a liquid CPU cooler instead, then I have also included the Corsair Hydro Series H100i GTX liquid cpu cooler in the upgrade suggestions table below should your budget allow.
As mentioned above, the included graphics card is a GTX 980 Ti. This month we have a  Gigabyte GeForce GTX 980 Ti graphics card, boasting a whopping 6Gb of memory GDDR5 and accelerated by the NVIDIA's Maxwell architecture. This card is phenomenal and was a newly released card last month. I have found that these cards have been selling quick, so if this particular GTX 980 Ti is unavailable or spikes up in cost, search for a similar GTX 980 Ti that is in the price range of $650 – $660 as this is the cost it should be selling at; this card will perform amazingly.
We still have an included 16Gb of RAM in the $1500 build, for August we have a kit of 16GB of Crucial Ballistix Sport. 16GB kits of RAM has gone down a little further in price, so now is definitely a cost effective time to purchase a 16GB kit of RAM as its the cheapest its ever been at the moment.
The included hard-drive used is the same one I've included for a few months now, the Seagate Barracuda 1TB, which is plenty of space for most gamers. Also included is a Samsung 850 EVO 250GB Solid State Drive – This is a bump up from the previous months 120GB version of this SSD. The SSD is to be used as your boot drive where you should install your operating system and most used software. That way you can boot everything used the most as efficiently as possible while using the larger Seagate drive to store larger media items and less used software.
The power supply used again is the EVGA SuperNOVA 750W G2 Gold Certified power supply, which is a high quality & efficient PSU and I highly recommend it and it should be enough juice to power this beast of a gaming machine.
The $1500 builds PC case this month is a newer released Silverstone Kublai KL05B-Q case that came out in June 2015. This is a solid case well worth its cost, with tons of space, easy to keep clean and foam padding to keep things quiet. This Silverstone case has the following features as noted by Silverstonetek.com:
Interference-free design for mounting 240mm or 280mm radiator
Highly flexible storage accommodation of up to 8 or 11 drives*
Quick access filters for easy cleaning
Motherboard back plate opening for quick CPU cooler assembly
Mesh front panel intake maximizes airflow with side window for viewing system innards (KL05-W)
Front-side intake vents with foam padded side panels to minimize noise (KL05-Q)
All black painted interior for stylish look
*Requires purchase of additional drive cage
$1500 Gaming PC Build Upgrade Suggestions
If you have a little bit of extra cash now or in the future, then you might be wondering what else you could spend it on either over and above the $1500 budget.
Some may want to upgrade to an i7 processor, such as the Intel Core i7 4790K featured below (Perhaps you do more then game? Or you like to show off? Either way the Intel Core i7 4690K is also very easily overclockable, so it does have plenty of potential for any enthusiast or individual using their PC for more then just gaming.
The build you see above includes a mid tower case which does have plenty of room for the included hardware, but for those who think they need more upgrade space or breathing room for their gaming pc then perhaps a full tower case such as the popular Phanteks Enthoo Full Tower PC case would be of benefit to you.
The Corsair Hydro Series H100i GTX liquid cpu cooler can provide you with some optimal cooling if you would like a quality liquid cpu cooler, which would also keep your PC cooler while being nice and quiet. You could also go with more storage in your SSD by going with a super fast 1TB SanDisk Extreme SSD – or any combination of drives mentioned in the $1500 build overview above.
August 2015 PC Builds ( $980 )
Gaming PC Build Recipe:
Capability: Game with Extreme settings at 1920X1080 resolutions and even High Settings in some games at 2560×1400
Overview: Gaming PC Build ( $1000 )
As for updates to the $1000 build for August, not a whole lot has changed to the main hardware. Basically, everything has stayed the same with the exception of a motherboard switch to a Gigabyte Gaming Z97X board, a different PC case and some graphics card branding changes to accommodate for cost differences with the previously used card alternatives.
This $1000 build is designed for those wanting to game with high FPS's using HD resolutions of 1920X1080 no problem and even for those that want to push their games to higher resolution of 2560X1600. Depending on the game, FPS will vary as your resolutions increase, so always remember to do a little research with regards to the collection of games and or other software you're planning to play and at what resolution.
The included processor is the Intel i5 4690K processor, which is the same processor in the $1500 build and for a while has been the go to gaming pc build processor. To easily overclock this processor, I have included the Cool Master Hyper 212 Evo to help you when overclocking and keeping those temperatures down.
As for a motherboard this month, I have switched the board to the Gigabyte GA-Z97X-GAMING 5. This motherboard has most of anything most gamers will need or want in a motherboard with the following features: (learn more about this motherboard at Gigabyte.com)
Supports 4th and 5th Generation Intel® Core™ processors
Creative SoundBlaster X-Fi MB3 gaming audio suite
Audio Noise Guard with LED path lighting
Gold plated display and audio ports
High end Nichicon audio capacitors
Realtek ALC1150 115dB SNR HD Audio with Built-in rear audio amplifier
Killer™ E2200 gaming networking platform
Extreme multi graphics support
SATA Express support for 10 Gb/s data transfer
M.2 for SSDs drives with up to 10 Gb/s data transfer
Long lifespan Durable Black Solid caps
APP Center including EasyTune™ and Cloud Station™ utilities
GIGABYTE UEFI DualBIOS™
The first graphics card included, is the EVGA GeForce GTX 970 SSC ACX and for the very same price I have included an alternative card for you to choose from, which is the XFX Double Dissipation R9 390. Both of these cards will perform very similarly, so I'll leave the choice as to which you would like to go with. Both cards will max any modern game at 1920×1080 and even in resolutions beyond that up to 2560×1400. I would like to note though, that if you have a specific set of games in mind, try searching specific benchmarks for either the GTA 970, or AMD R9 390 as they might perform slightly better then one or the other in a specific game for example.
There is an included 8GB kit of RAM – the RAM featured again is the 8Gb of DDR3 Crucial Ballistix Sport kit – where 8Gb of RAM should be the perfect amount for this build and mot gamers. For a storage solution, we have a 1TB Seagate Barracuda hard drive, which should be plenty of space for most gamers – if you can splurge a little bit more I would highly recommend either switching to a solid state drive or adding a smaller SSD boot drive as seen in the hardware alternatives below; you will notice a world of a difference with read and write times guaranteed.
The power supply unit being used again is the EVGA SuperNOVA G1 650W power supply, which is a great PSU with all modular cables and it provides the perfect amount of power for this build along with room for some upgrades.
The PC case included in the $1000 build this month is a well reviewed classic, the Antec Three Hundred Two mid tower pc case. This is an affordable, durable case with plenty of room for a mid tower. For more information on this case please visit Antec.com.
$1000 Gaming PC Build Upgrade Suggestions
The small table of alternative or additional hardware below is for those with a little extra to spend in their $1000 budget build, or for future upgrade ideas.
You could SLI with two EVGA GeForce GTX 970 graphics cards, which would definitely be enough juice for extreme gaming at higher resolutions (2560X1600 & 4K for example), or even high resolution multi-monitor setups (*note: if you go with the AMD R9 390 graphics card, you can crossfire with another R9 390).
Since there is no SSD included in the base $1000 build, I do highly suggest considering one. An SSD makes a world of a difference in boot / loading speeds. Featured below is super fast quality SSD, the SanDisk Extreme Pro 240GB SSD – or maybe you have tons of media or simply need extra space, so you could upgrade to the 2TB version of the Seagate HDD. If you think you won't utilize the entirety of a 1TB hard drive, then you could also ditch that drive and just get a single SSD.
The last upgrade suggestions includes the newer Corsair Hydro Series H80i GT liquid CPU cooler, which has an improved coldplate and pump design (learn more about Corsair's new liquid cpus here).
Also, please *note that if you do decide to SLI with another GTX 970 (or Crossfire two R9 390's), I would suggest you have at least a 750W PSU.
Monthly Gaming PC Build ( $601 ): August 2015
(Game at Smoothly with Medium – High settings at 1920X1080 resolutions)
Gaming PC Build Recipe:
Overview: $600 Gaming PC Build
The $600 is more then capable of playing any game out there and perhaps can play some of them one higher settings at 1920X1080. There have been some significant changes to the $600 build when compared to the July 2015 Gaming PC Builds of the Month. Specifically, the graphics card, motherboard form factor and in turn the PC case sizing, all of which I will go into more detail below. The major reasoning behind my switch, was that I've found that when using the smaller Micro ATX form factor it may prove a little more difficult for individuals newer to PC building to put hardware together due to less room, harder to manage airflow and overall upgradability due to size of case & less motherboard features. However, if you are interested in a smaller form factor $600 gaming pc build then check out July 2015s $600 build.
I have again included the new CPU addition to this build, the AMD FX-8320 8 Core Black Edition processor, which provides significant potential for a $600 budget gaming PC and this processor is also unlocked and easily overclockable.
The motherboard chosen this month is a full sized ATX motherboard – ASUS M5A97 R2.0 AM3+ AMD 970.  This motherboard is a larger form factor board when compared to the previous months micro atx boards and has the following specification according to (read more at asus.com)
Dual Intelligent Processors – TPU + EPU.
Remote GO! – One-stop PC Remote Control and Home Entertainment
USB 3.0 Boost – Faster USB 3.0 Transmission with UASP
Network iControl – Real-time Network Bandwidth Control
DirectKey – A Dedicated Button to Access the BIOS Directly
USB BIOS Flashback – Easy, Worry-free USB BIOS Flashback with Hardware-based Design
UEFI BIOS – Flexible & Easy BIOS Interface
Comparing this ATX Asus motherboard to last months micro atx Gigabyte motherboard you gain 6 SATA 6Gb/s, more usb 2.0 and 3.0 ports, better audio and more.
For the graphics card, as last month I included the newly release AMD Radeon R9 380, which is a great new card, but to save just a bit in this full ATX sized build this month, I've downsized the card very slightly in performance to an AMD R7 370 graphics card, going with the MSI R7 370 OC card. You will get slightly better performance going with an AMD R9 380, but check out the hardware alternatives list below for details on that if you have a tad extra to spend.
The included memory is  a kit of  Crucial Ballistix Sport 8GB again and for the hard drive is a 1TB Seagate Barracuda.
The power supply used again is the  EVGA 600B 600Watt power supply, its at a reputable budget PSU and more then enough power for this build and more.
We have now changed the $600 builds case to a full ATX sized case. This allows for easy installation for first timer, good airflow and room for expansion should you want to put more hardware in the future or re-use for a future build. The case for the August 2015 $600 build is the Corsair Carbide SPEC-01. You may have noticed that this is the same case as used in the $1000 build last month and I think it provides the perfect addition to a budget build bringing everything together into a quality looking build.  The SPEC-01 has some of the following notable specifications (learn more at corsair.com):
Huge side panel window
LED front intake fan, with room for more
Flexible cooling potential
Multiple drive bays
Easy system builds, maintenance and upgrades
Upgrade Suggestions for the $600 Gaming PC Build:
The following are hardware recommended for those who have a little more then $600 for this build or want some suggestions to upgrade it in the future.
To get the most out of the AMD FX 8320 processor, you can overclock this cpu easily and to do so efficiently you will want a more efficient cpu cooler. The previous months needed a low profile cpu cooler, however I have now included the affordable and very reputable Cooler Master Hyper 212 EVO cpu cooler.
The second choice here is a better graphics card (the same one as last months $600 gaming pc build), which is the Sapphire Radeon R9 380. Purchase this if you have a little more cash to spend, which is worth the investment for a little more fps while gaming.
If you need more hard drive space it doesn't cost too much more to get a 2TB Seagate Barracuda, likewise you can also speed up your read and write times with a solid state drive such as the OCZ 240GB SSD you see below.
---
August 2015 Gaming PC Build Mice, Keyboard & Monitor Peripheral Considerations
The peripheral considerations are included as an attachment to the August 2015 gaming pc builds of the month. The builds above include the essential hardware to build a gaming pc, however you do need peripherals in order to control your gaming pc. So if you already don't have a mouse, keyboard, monitor or OS, then you may want to check out the following article.
The August 2015 gaming pc peripherals article is separated into three separate categories including each in a higher end, mid-range and basic peripheral category.
To view this months peripheral suggestions please visit August 2015 Gaming PC Peripherals – Keyboards Mice and Monitors
Operating System Options
If you don't already have an operating system for your new gaming pc build, then you're going to have to either invest in purchasing a standard OS such as Windows 7, 8 or 8.1 with the option of upgrading to Windows 10. Otherwise, there are some free alternatives that you could consider.
The following are some operating systems you can consider installing upon putting your Gaming PC build together. The first two will cost you and are either Windows 7 or 8.1 – I have no opinions here so I'll leave the purchase of these up to the discretion of yourself, but do keep in mind that either way you do have the option of upgrading to Windows 10 now. I have also included two other operating systems that are both currently free. Ubuntu is a Linux based operating system. The last OS is SteamOS, which is also a Linux OS being developed by Valve Corporation and is being made to be used for a Steam Machine game console.
August 2015's Gaming PC Hardware Overview Video: