Gaming PC Builds – February 2015
Jump to a specific budget build –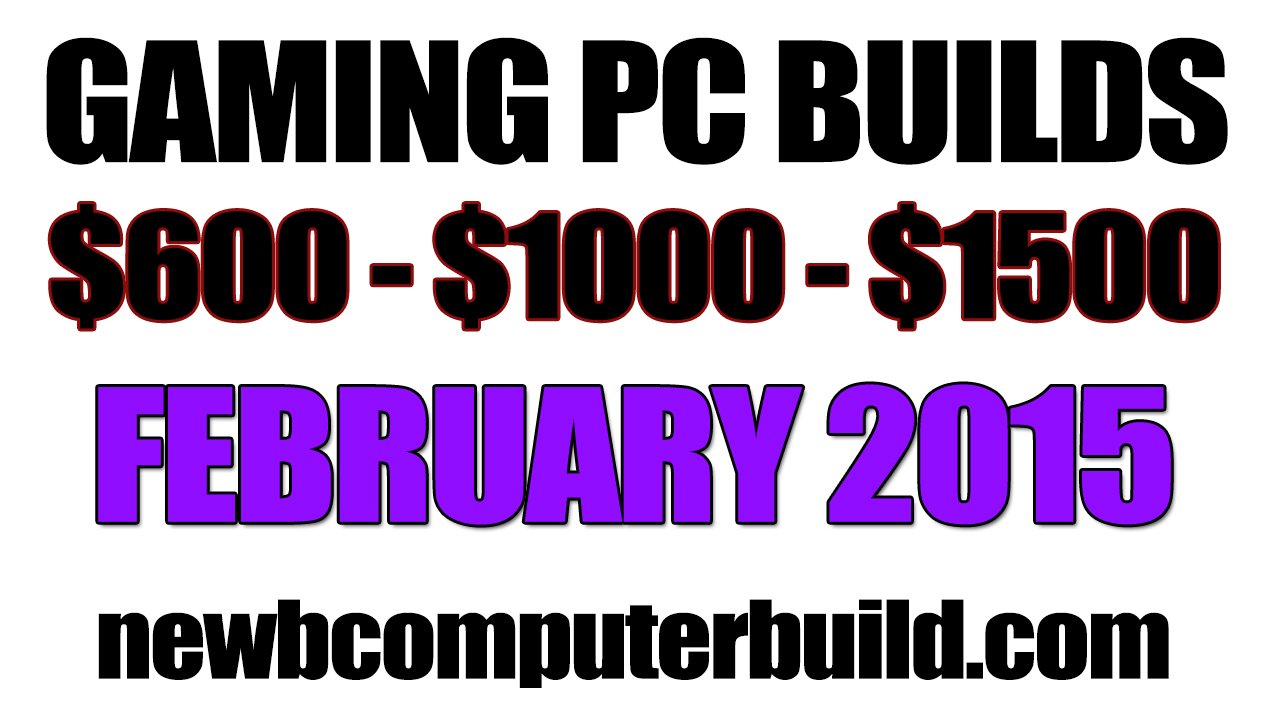 Gaming PC Builds of the Month Introduction:
Welcome everyone to the February 2015 edition of the gaming pc builds of the month here are Newb Computer Build. I'm going to do an honest introduction here and simply state that these builds have, for the most part not changed at all since last month. Over the course of the last month prices have been stable with new hardware releases having minimal impact.
One note worthy hardware release was the GeForce GTX 960, which has a similar performance to the Radeon R9 280. For everyone that has been checking in on these monthly updates may notice that the Radeon R9 280 has been used  for a few months now with the $600 PC build – so naturally I was excited to be able to include the new GTX 960 this in that build, but to my dismay it just wan't worth it. You can read more about why in the $600 build below.
Also, I want to note that RAM prices across the board have gone down in price significantly this month, which is great news for any PC builder this month.
Other then that, each build is just as solid as it was last month, where some hardware switched simply to save a few bucks, so read on and start the process into researching for your new builds. As always, if you have any questions please leave a comment and I'll be sure to respond when I have a chance; conversation is more then welcome!

February 2015 PC Builds ( $1489 )
Gaming PC Build Recipe:
Game with Extreme settings at resolutions of 2560×1400, 1920×1080

Overview: Gaming PC Build ( $1500 )
The $1500 build is more then capable of playing any game maxed, 1920×1080 resolutions and even easily up to resolutions of 2560x 1440 no problem. This build has stood strong for three months performance wise staying with the Intel 4690K processor, GTX 980 graphics card and I've even kept the case the same with the Phanteks Entho Pro Full Tower PC case. There has simply been no reason to change any of these with nothing better coming to market as of late.
The included processor is the Intel i5 4690K processor, which is fully unlocked and very easily overclockable. The included ASUS Z97-A Motherboard has replaced the previous MSI Z97 Gaming 5 board to accommodate price increases, however this board is just as capable minus a few features.
The CPU cooler is the Cooler Master Hyper 212 CPU Cooler, which is a worthy investment to take full advantage of the unlocked multiplier on the Intel 4690K processor, allowing an easy overclock.
For the graphics card, I chose the Zotac GeForce GTX 980 AMP Edition, which is priced at exactly what the GTX 980 should be priced at right now and it has gotten great reviews and it is priced just perfectly when compared to similar cards.
Our RAM package has stayed the same with the Crucial Ballistix Sport 16GB (8Gb X 2). 16Gb of memory is more then enough and it will last in a gaming pc build for years to come – also note that RAM has gone down in price significantly this month, which is just awesome.
The included hard disk hard-drive used is the same one I've included for a few months now, the Seagate Barracuda 1TB. There is also an included Samsung 850 Pro 128GB Solid State Drive. For the same price as the Samsung 840 PRO that has 550MB/s Read speeds and 470MB/2 Write speeds. You can also opt for the 256 GB version of the Samsung 850 Pro if you scrapped the Seagate Barracuda 1TB Hard Drive for pretty much the same price given the saved cost of the Seagate drive.
The power supply unit included is an EVGA SuperNOVA 750 Watt PSU. This is a feature packed quality built PSU that is fully modular Gold Certified PSU (with up to 90% efficiency). So this PSU will perform quietly and use less energy while also looking pretty good – in my opinion one of the best PSU buys in the 750Watt range these days. And on the plus side, this power supply dropped back down in price making it a fantastic purchase right now.
The full tower case included for the second month in a row is the Phanteks Enthoo Pro Full-Tower chassis. The one featured in the table above is a nice sleek looking one that does include the attractive side window, as there is also a non windowed version available for a little less. There have been no notable full tower PC case releases since last months article, so I thought it be best to include this very well values full towered case again.
A quick overview of the Phantek Enthoo Pro case as taken from phantek.com is –
Phantek Enthoo Pro Overview
Features:
Enthoo Pro includes 1 x 200mm fan in front and 1 x 140mm fan in the rear. Ability to upgrade to additional fans is possible. All fans included are Phanteks' new redesigned and better performing SP series fans. Budget friendly case, Phanteks' Enthoo Pro, unleash unlimited possibilities.
Appearance:
-Brushed plastic with an aluminum appearance
-Stealth interior: hidden PSU / hidden HDD
Cooling:
-Extreme cooling capacity
– 2 included Phanteks' premium fans
– The PWM hub makes it possible to control all the connected fans (also 3-pin fans) with PWM function through 1 PWM connector and create a better cable management.
– Extensive water cooling support. Provides up to 4 different installation areas for slim and thick radiators varying from single to triple (120mm and 140mm form factors). Clearance for push-pull fan configurations.
– Innovative liquid cooling mounting systems: radiator brackets for easy installation
Functionality:
– Closed HDD panel strengthens the chassis' rigidity, even when both HDD cages are removed.
– Removable Drop-n-Lock SSD bracket that can be installed on 2 different locations. (1 bracket incl.)
– Removable dust filters for easy maintenance.
– Pre-installed cable management tools behind the motherboard tray that can be fastened and released.
– 2x USB 3.0, 2x USB 2.0, microphone, 3.5mm audio jack
Lastly, we have the optical drive, which I went with the LITE-ON optical drive which is simply one of the cheapest optical drives you can purchase at the moment.
$1500 Gaming PC Build Upgrade Suggestions
If you have a little bit of extra  cash then you may be wondering what else you could spend it on either over and above the $1500 budget outlines above or in the near future.
If you do more then gaming, then an  Intel i7-4790K processor may be a worthy upgrade from the Intel i5 4690K processor included in the $1500 gaming pc build. You can also splurge a bit more into your graphics budget and go and SLI with another GTX 780, or you could go for a Dual GPU Radeon R9 295X2 graphics card that comes with a closed looped liquid cooler. You could also go with more storage in your SSD by going with an affordable Samsung 850 EVO 1TB SSD – or any combination of drives mentioned in the $1500 build overview above.
Intel Core i7-4790K Processor (8M Cache, up to 4.40 GHz) (BX80646I74790K) ($335.99) – Do more then gaming? – Then an i7 might be the right choice.

SLI

with another –Zotac GeForce GTX 980 AMP Edition 4GB GDDR5 PCI Express 3.0 HDMI DVI DisplayPort SLI Ready Graphics Cards ZT-90204-10P (+$549.99)
Get the Best Dual-GPU Card with a closed looped liquid cooler:VisionTek Radeon R9 295X2 Video Graphics Card ($899.99)
An Affordable 1TB SSD:Samsung 850 EVO 1TB 2.5-Inch SATA III Internal SSD (MZ-75E1T0B/AM) ($389.99)
February 2015 PC Builds ( $1037 )
Gaming PC Build Recipe:
Capability: Game with Extreme settings at 1920X1080 resolutions and even High Settings in some games at 2560×1400
Hardware Link
Price
Image
Estimated Price:
$1036.95
Processor
Intel Core i5-4690K Processor 3.5 GHz LGA 1150 BX80646I54690K
$238.99
Cooler
Cooler Master Hyper 212 EVO – CPU Cooler with 120mm PWM Fan (RR-212E-20PK-R2)
$36.99
 
Motherboard
ASUS Z97-A ATX DDR3 2600 LGA 1150 Motherboards Z97-A
$144.99
Graphics Card

PNY XLR8 GeForce GTX 970 4GB GDDR5 Graphics Card VCGGTX9704XPB

$329.99
RAM
Crucial Ballistix Sport 8GB Kit (4GBx2) DDR3 1600 MT/s (PC3-12800) CL9 @1.5V UDIMM 240-Pin Memory BLS2KIT4G3D1609DS1S00
$60.99
Hard Drive
Seagate Barracuda 1 TB HDD SATA 6 Gb/s NCQ 64MB Cache 3.5-Inch Internal Bare Drive ST1000DM003
$52.25
SSD
*none – check the additions / alternatives section below for options!
Power Supply
EVGA SuperNOVA 650G1 650W ATX12V Power Supply 120-G1-0650-XR
$79.99
Computer Case
Fractal Design FD-CA-CORE-2300-BL Core 2300 No Power Supply ATX Full Tower Case (Black)
$65.99
Optical Drive
Lite-On Super AllWrite 24X SATA DVD+/-RW Dual Layer Drive – Bulk – IHAS124-04 (Black)
$18.99
Overview: Gaming PC Build ( $1000 )
The included processor is the Intel i5 4690K processor, as it has been for months now. To easily overclock this processor, I have  included the Cool Master Hyper 212 Evo cpu cooler, probably the most popular cooler out to date.
You may notice that this build does go a little over budget again this month coming in at a current cost of $1036, which I thought was reasonable given that the two major performance vehicles in this builds is the Intel 4690K processor and the GTX 970 graphics card (two of the more expensive components).
The included motherboard is the same as last months as I went with the Asus Z97-A motherboard, which is a great pick for this budget and is more then capable of getting a ton of overclock out of the Intel 4690K processor. Some of the included features of the board include: (To learn more about these features visit the motherboard page here at asus.com)
5-Way Optimization by Dual Intelligent Processors 5 – One click, total system optimization!
M.2 & SATA Express – Speed up your system with lightning-fast 10Gb/s transfer speed
Crystal Sound 2 and Intel Gigabit Ethernet — a game-winning combo!
ASUS HomeCloud – Access your PC remotely and stream multimedia content anywhere, anytime
Proven quality – 5X Protection. 1000+ compatible devices. 7000+ validation hours.
The included graphics card is the PNY XLR8 GeForce GTX 970 graphics card, which is a great choice in this budget range and well worth the cost where it's at. In this budget category you really have two choice of similarly performing cards at the moment, the first which is the GTA 970 you see in this build as well you can also go with the Radeon 290X if you find one with a lower price then $329. The biggest difference between these two cards is that the Radeon 290X does use more energy, white the power consumption of the GTX 970 is much lower.
For memory, we have a much cheaper package this month,  going with 8Gb of DDR3 Crucial Ballistix Sport – where 8Gb of RAM should be the perfect amount for a good build. We have a 1TB Seagate Barracuda hard drive, which should be plenty of space for most gamers – I didn't include an SSD since the budget just didn't allow for it, however you could swap for a low storage SSD option if you wanted, or spend a little more and add one in (as seen in the alternatives section below).
The power supply unit being used is the EVGA SuperNOVA G1 650W power supply, which is a great PSU with all modular cables, high-quality Japanese brand capacitors.
For a PC case this month I have included the well priced Fractal Design 2300, which is a brand new mid tower pc case release –
A compact full-ATX case with bottom-mounted PSU, designed for exceptional airflow and cooling
Brushed aluminum-look front panel with a sleek, three-dimensional textured finish
Superior water cooling support for its size, supporting one 240/280mm radiator in the front and a 240mm radiator in the top
Featuring a 120mm rear exhaust fan for great cooling
Total 7 fan slots with two 120mm fans included
Extruded motherboard plate allowing space for additional cable routing; 18.5mm around the motherboard and 13.5mm directly behind it
Supports tall CPU cooler towers, up to 162mm in height
Multiple easy-to-clean dust filters designed into the case to help maintain a dust free interior
Innovative vertical HDD bracket, which simultaneously holds three 3.5″ drives and three 2.5″ drives
One additional SSD position behind the PSU area with easy installation and access
$1000 Gaming PC Build Upgrade Suggestions
Below are some hardware additions should you have some extra cash and want to upgrade a specific piece to the above build. Whether you have some extra cash over and above the $1000 budget to spend or want some future considerations here they are in full force.
You could get some serious graphics power with the SLI of two PNY GTX 970 graphics cards, which would definitely be enough juice for higher resolutions (2560X1600 or even 4K for example) or even high resolution multi-monitor setups. You could also consider this a worthy future upgrade consideration should you find you need the graphics juice in the years to come.
Since there is no SSD included in the base $1000 build, I do suggest you highly considering one if you funds allow. This month the Samsung 850 PRO SSD is included. For those that simply want more space for large sums of media etc. you could consider getting a 2TB drive (doubling your space) with the Seagate Barracuda 2TB drive.
I have included a pc case alternative for those that want a second option for the $1000 build this month. Actually, the extra case is the same as the one used in the $1500 build and this is because I think its an awesome purchase for a quality well priced full tower gaming pc case option.
Also, please *note that if you do decide to SLI with another GTX 970, I would suggest you have at least a 750W PSU (already included in the above build).
Monthly Gaming PC Build ( $584 ): February 2015
(Game at Smoothly with Medium – High settings at 1920X1080 resolutions)
Gaming PC Build Recipe:
Hardware Link
Price
Image
Estimated Price:
$ 584.47
Processor
AMD FD6300WMHKBOX FX-6300 6-Core Processor Black Edition
$99.99
Motherboard
Gigabyte AM3+ AMD DDR3 1333 760G HDMI USB 3.0 Micro ATX Motherboard GA-78LMT-USB3
$58.99
Graphics Card
Sapphire Radeon R9 280 3GB GDDR5 DVI-I/DVI-D/HDMI/DP Dual-X with PCI-Express Graphics Card Boost 11230-00-20G

---

Alternative graphics card (uses less energy)

*New Release:EVGA GeForce GTX 960 SuperSC ACX 2.0+ 2GB GDDR5 128bit, PCI-E 3.0 Dual-Link DVI-I, 3 x DP, HDMI, SLI, HDCP, G-SYNC Ready Graphics Cards 02G-P4-2966-KR

$189.99 (R9 280)

---

$209.99 (GTX 960)

RAM
Crucial Ballistix Sport 8GB Kit (4GBx2) DDR3 1600 MT/s (PC3-12800) CL9 @1.5V UDIMM 240-Pin Memory BLS2KIT4G3D1609DS1S00
$60.99
Hard Drive
Seagate Barracuda 1 TB HDD SATA 6 Gb/s NCQ 64MB Cache 3.5-Inch Internal Bare Drive ST1000DM003
$52.25
Power Supply
EVGA 600B 80PLUS Bronze Certified ATX12V/EPS12V Active PFC 600W Power Supply 100-B1-0600-KR
$58.25
Computer Case
Cooler Master N200 – Mini Tower Computer Case with Front 240mm Radiator Support and Ventilated Front Panel
$44.99
Optical Drive
Lite-On Super AllWrite 24X SATA DVD+/-RW Dual Layer Drive – Bulk – IHAS124-04 (Black)
$18.99
Overview: $600 Gaming PC Build
The $600 budget gaming pc build has probably changes the least in the past months, however this month it doesn't seem to be alone at least. With the release of the new GeForce GTX 960 graphics card, I was excited to include it in this build, however after looking at the benchmarks I was hesitant to give it a full recommendation. The Radeon R9 280 performs approximately 15% faster then the newer GTX 960, however the GTX 960 uses significantly less power, so I have included both in the build table above for anyone interested in either.
We still have the great budget CPU in the $600 build this month – the AMD FX 6300  is the processor used, which can be easily overclocked since it has an unlocked multiplier.
For the graphics card, we again have a Radeon R9 280, however this month we have the Sapphire Radeon R9 280, which will give you great performance in most games at 1920×1080 – likewise as mentioned there is the alternative recommendation of the EVGA GeForce GTX 960, which performs slightly less then the Radeon R9 280, but uses less power.
The motherboard included for the third month in a row is the Gigabyte AM3+ GA-78LMT Micro ATX motherboard. This is a Micro ATX motherboard and will allow for a smaller PC case to make a nicely compact build without missing out on performance increases. The Gigabyte AM3+ GA-78LMT Micro ATX motherboard has the following specifications – (To learn more visit gigabyte.com)
Ultra Durable 4 Classic Technology with high quality components design
Supports AMD AM3+ FX/AM3 Phenom™ II & Athlon™ II series processors
4+1 Phase CPU Power design for AMD high TDP 125W CPU support
Integrated ATI Radeon HD 3000 graphics (DirectX10)
PCI-E 2.0 x16 interface for ultimate graphics support
Hybrid EFI technology with DualBIOS for 3TB HDD support
Integrated HDMI/DVI/D-sub for Full HD 1080 contents playback
4 USB 3.0 with superspeed transfer rates of up to 5 Gbps
GIGABYTE 3x USB Power with On/Off Charge USB ports
We have a total of 8Gb included in the $600 gaming pc build – a kit of  Crucial Ballistix Sport 8GB, which is a much cheaper kit of RAM this mont, since memory overall has gone down in cost. As for a hard drive for each build this month we have the same for each build, which is the 1TB Seagate Barracuda.
The PSU has switched to a different brand for the first time in a while. The new power supply is the  EVGA 600B 600Watt power supply, plenty of power for this build and a great price for 600Watts of power in a solid budget psu.
The PC case used this month has been changed to the Cooler Master N200, a popular MicroATX mini tower that sports a modern & simplistic style.
Edgy asymmetrical design with full mesh on the front panel
Mini tower with great expandability that supports up to three 3.5″ HDD and four 2.5″ SSD
Supports a 240mm liquid cooling radiator in the front
Supports high-end graphics cards with a length of up to 355mm/14inch
Supports air CPU cooler heights up to 160mm/6.3inch
Supports SuperSpeed USB 3.0
Removable dust filter under the PSU for easy maintenance
Overclocking the AMD FX 6300 – The following information video (AMD FX 6300 Overclocking Guide (Overclock to 5 ghz) Step by Step Guide) can help you if your new to overclocking and if you decide to go with this $600 gaming pc build.
Upgrade Suggestions for the $600 Gaming PC Build:
These upgrades and alternatives below are for anyone who might have some extra spending cash or want some ideas for future upgrades over and above the allotted $600 budget for this gaming pc build.
The upgrades and alternatives this month include an upgraded eight core AMD FX-8320 processor, for about $45 more you could get a faster cpu with 8 cores.
I have included two hard drive alternative solutions. The first being a 2TB Seagate Barracuda for those that need a ton of storage, perhaps you have a large movie collection? The second drive is a Samsung 850 EVO 120GB solid state drive if you want to have a super quick boot drive.
The final suggestion I put here is a quick case alternative for those that want a difference higher quality micro atx sized case. Such as the Corsair Carbide Series Air 240 case seen below, which has a unique box layout and tons of space (one of my personal favorite looking cases).
---
February 2015 Gaming PC Build Peripheral Considerations
I'm including the peripheral considerations again, however I have decided to split these into a separate post this month in order to include them an attachment to this post and as a separate entity for those looking specifically for gaming pc peripherals. The builds above include the essentials to build a gaming pc, however you do need peripherals in order to control your build. So if you already don't have any of these, here will be some gaming specific suggestions.
If you're looking for a gaming mouse, keyboard or monitor then you can view three separate categories including each in a higher end, mid-range and basic peripheral categories. To view this months peripheral suggestions please visit Gaming PC Keyboards Mice and Monitors – February 2015.
Operating System Options
If you don't already have an operating system for your new gaming pc build, then you're going to have to either invest in purchasing a standard OS such as Windows 7 or 8. Otherwise, there are some free alternatives that you could consider.
The following are some operating systems you can consider installing upon putting your Gaming PC build together. The first two will cost you and are either Windows 7 or 8.1 – I have no opinions here so I'll leave the purchase of these up to the discretion of yourself. I have also included two other operating systems that are both currently free. Ubuntu is a Linux based operating system. The last OS is SteamOS, which is also a Linux OS being developed by Valve Corporation and is being made to be used for a Steam Machine game console. The official release of SteamOS has not been announced, however you can try out the beta.
February 2015's Gaming PC Hardware Overview Video:
Coming soon.**