Gaming PC Builds – June 2015
Jump to a specific budget build –
Gaming PC Builds of the Month Introduction:
Hello everyone and welcome to the June 2015 edition of the gaming pc builds of the month. For those of you who are planning on building with the more costly $1500 build, then this is the month for you. On the first of June the GeForce GTX 980 Ti graphics card was released and it is included into the $1500 build this month. To give you an idea of the impact this card has, geforce.com states it as "…[the GTX 980 Ti] delivers unbeatable 4K and virtual reality experience" and according to benchmarks the GTX 980 Ti's performance is approximately 20-30% faster then the GTX 980.
Looking at the other two builds (the $100 and $600 builds), there haven't been a ton of changes, but I have switched the components that have switched in cost or included those that have gone down. The $600 build for the second month in a row includes the upgrade to the AMD 8320 processor and is a fantastic budget build capable higher end 1920×1080 resolution gaming. There were a few minor changes in the $1000 build, including the addition of the newly released Antec P70 budget gaming pc case.
If you have any questions with regards to any of the builds, hardware or your specific build configuration, then feel free to leave a comment and I'll try to help you out. Likewise feel free to start a discussion or just say hi. Now…on to the June 2015 gaming pc builds!

June 2015 PC Builds ( $1490 )
Gaming PC Build Recipe:
Game with Extreme settings at resolutions of 2560×1400 and 1920×1080 & 4K!

Hardware Link
Price
Image
Estimated Price:
$1489.88
Processor
Intel Core i5-4690K Processor 3.5 GHz LGA 1150 BX80646I54690K
$235.99
Cooler
Cooler Master Hyper 212 EVO – CPU Cooler with 120mm PWM Fan (RR-212E-20PK-R2)
$31.24
Motherboard
MSI ATX DDR3 2600 LGA 1150 Motherboards Z97 GAMING 5
$134.99
Graphics Card
*New (GTX 980 Ti – 20-30% faster than the GTX 980) – Gigabyte GeForce GTX 980 Ti Overclocked 6GB GBBR5 PCiE Video Card Graphics Cards GV-N98TD5-6GD-B

Alternative Card (GTX 980) –MSI Graphics Cards GTX 980 GAMING 4G

$649.99
RAM
Kingston HyperX FURY 16GB Kit (2x8GB) 1600MHz DDR3 CL10 DIMM – Black (HX316C10FBK2/16)
$99.99
Hard Drive
Seagate 1TB Desktop HDD SATA 6Gb/s 64MB Cache 3.5-Inch Internal Bare Drive (ST1000DM003)
$50.97
SSD
Samsung 850 EVO 120GB 2.5-Inch SATA III Internal SSD (MZ-75E120B/AM)
$67.99
Power Supply
EVGA SuperNOVA 750G2 80PLUS Gold Certified ATX12V/EPS12V 750W Power Supply 220-G2-0750-XR
$110.99
Computer Case
NZXT S340 No Power Supply ATX Mid Tower Case Cases CA-S340W-W1
$69.99
Optical Drive
*optional – The NZXT S340 does not have an optical drive bay, so either you install this externally or install your OS / software via USB.Lite-On 24X SATA Internal DVD+/-RW Drive Optical Drive IHAS124-14
$18.25
Overview: Gaming PC Build ( $1500 )
Looking for a 4K capable build, or wanting to play literally any game out there maxed out no problem otherwise – then this is the build for you. The $1500 build has a major bump up in potential for the month of June 2015 with the inclusion of the new GTA 980 Ti graphics card – which, according to pcgamer is about 20-30 percent faster then the GTX 980, and 50-70 percent faster then the GTX 970.
The processor used again is the Intel i5 4690K processor, which is very easily overclocked and I have paired this with the MSI Z97 GAMING 5 motherboard, which has some nice built in features like a row of voltage detection points to help with the needs of enthusiast overclockers – this motherboard's overclocking ability is great and one should have no problem pushing the Intel 4690K processor to its limits. The same goes for overclocking the Intel i7 4790K should you decide to go with that from the hardware alternatives section below.
The CPU cooler once again is the Cooler Master Hyper 212 CPU Cooler, which is a worthy investment to take full advantage of the unlocked multiplier on the Intel 4690K processor, allowing an easy overclock. If you want to install a liquid CPU cooler instead, then I have also included the Corsair Hydro Series H100i GTX liquid cpu cooler in the upgrade suggestions table below should your budget allow.
The biggest addition this month is the GTX 980 Ti Graphics card. Included is the Gigabyte Geforce GTX 980 Ti graphics card, boasting a whopping 6Gb of memory GDDR5 and accelerated by the NVIDIA's Maxwell architecture. According to pcgamer, this card performace about 20-30% faster then the GTX 980 & 50-70% faster then the GTX 970. Check out the NVIDIA GeForce GTX 980 Ti announcement video –
We still have an included 16Gb of RAM in the $1500 build, but for June I have switched it up to a slick looking kit of 16GB of Kingston HyperX FURY Black RAM. It's not any better then the previous kit I've included for a few months now, but it's just cheaper; it just happens to look cooler.
The included hard-drive used is the same one I've included for a few months now, the Seagate Barracuda 1TB, which is plenty of space for most gamers. Also included is a Samsung 850 EVO 120GB Solid State Drive – this is a sight downgrade from the previous months faster SanDisk Extreme PRO 240GB SSD, but I have made this switch in order to pack in as much power as possible with the GTC 980 Ti.
The power supply used again is the EVGA SuperNOVA 750W G2 Gold Certified power supply, which is a super high quality & efficient PSU and I highly recommend it and it should be enough juice to power this beast of a gaming machine.
For the case this month I've included a newer budget mid tower case – the NZXT S340. I've included this case for two reasons; first it's cheap enough to squeeze everything into the $1500 build on budget and second, I like to showcase notable newer released PC hardware (released end of 2014). The NZXT S340 comes at a lower budget, but definitely has the qualities of a more premium minimalistic case. The case comes in white, black, black / blue and black / red and has the following specifications (to learn more visit nzxt.com):
(Keep in mind that the NZXT S340 doesn't have an optical drive bay, so if you decide to purchase the included one, you will have to use it externally to install any software you have or just install everything via USB or equivalent)
Drive Bays
External 5.25″: 0
Internal 3.5″: 2+1
Internal 2.5″: 2
Cooling System
Front: 2x 140/2x120mm
Top: 1x 140/120mm (1 x 120mm FN V2 Fans Included)
Rear: 1x 120mm (1 x 120mm FN V2 Fan Included)
Filters
Front (Included)
Bottom Rear(Included)
Radiator Support
Front 2 x 140 or 2 x 120mm
Rear 1 x 120mm
Clearance
GPU Clearance With Radiator: 334mm
GPU Clearance Without Radiator: 364mm
CPU Cooler: 161mm
Cable Management: Lowest Point – 17mm; Highest Point 168mm
Dimensions
200mm x 445mm x 432mm
Material
SECC Steel, ABS Plastic
Motherboard Support
Mini-ITX, MicroATX, ATX
Expansion Slots
7
External Electronics
1 x Audio/Mic
2x USB 3.0
Product Weight
7.05 kg
UPC
15671012111 (White)
15671012128 (Black)
USB 3.0 Ports
2
Warranty
2 Years
$1500 Gaming PC Build Upgrade Suggestions
If you have a little bit of extra cash, then you might be wondering what else you could spend it on either over and above the $1500 budget outlines above or in the near future.
Some may want to upgrade to an i7 processor, such as the Intel Core i7 4790K featured below (Perhaps you do more then game? Do you stream? Video edit? Do any Graphics Work?). The Intel Core i7 4690K is also very easily overclockable.
The build you see above includes a mid tower case, so for those who think they need more upgrade space or breathing room for their gaming pc then perhaps a full tower case such as the Rosewill THOR V2 will suffice.
The Corsair Hydro Series H100i GTX liquid cpu cooler has just been released recently and can provide you with some optimal cooling if you like. You could also go with more storage in your SSD by going with an affordable Samsung 850 EVO 1TB SSD – or any combination of drives mentioned in the $1500 build overview above.

June 2015 PC Builds ( $1006 )
Gaming PC Build Recipe:
Capability: Game with Extreme settings at 1920X1080 resolutions and even High Settings in some games at 2560×1400
Hardware Link
Price
Image
Estimated Price:
$1005.81
Processor
Intel Core i5-4690K Processor 3.5 GHz LGA 1150 BX80646I54690K
$235.99
Cooler
Cooler Master Hyper 212 EVO – CPU Cooler with 120mm PWM Fan (RR-212E-20PK-R2)
$31.24
 
Motherboard
ASUS Z97-A ATX DDR3 2600 LGA 1150 Motherboards Z97-A
$149.99
Graphics Card

EVGA GeForce GTX 970 Super Clocked ACX 2.0 4GB GDDR5 Graphics Card

$324.99
RAM
Crucial Ballistix Sport 8GB Kit (4GBx2) DDR3 1600 (PC3-12800) 240-Pin UDIMM Memory BLS2KIT4G3D1609DS1S00/BLS2CP4G3D1609
$54.99
Hard Drive
Seagate 1TB Desktop HDD SATA 6Gb/s 64MB Cache 3.5-Inch Internal Bare Drive (ST1000DM003)
$50.97
SSD
*none – check the additions / alternatives section below for options!
Power Supply
EVGA SuperNOVA 650G1 650W ATX12V Power Supply 120-G1-0650-XR
$79.99
Computer Case
Antec Builder-Ready Case P70
$54.27
Optical Drive
Lite-On 24X SATA Internal DVD+/-RW Drive Optical Drive IHAS124-14
$18.25
Overview: Gaming PC Build ( $1000 )
The $1000 build is for gamers who want to play most of any game maxed out at high FPS's using HD resolutions of 1920X1080 no problem and even for those that want to push their games to higher resolution of 2560X1600. Depending on the game, FPS will vary as your resolutions increase, so always remember to do a little research with regards to the collection of games you're planning to play and at what resolution. That being said, the June 2015 $1000 build is staying strong this month with very few changes, the case being the exception.
The included processor is the Intel i5 4690K processor, which is the same processor in the $1500 build and for a while has been the go to gaming pc build processor. To easily overclock this processor, I have included the Cool Master Hyper 212 Evo to help you when overclocking and keeping those temperatures down.
As for a motherboard this month, I have changed this to the previous $1500 build choice since it fits nicely in this build now, which is the Asus Z97-A.Likewise, both the $1500 builds motherboard above and this motherboard are around the same cost, so I'll leave it up to you which you like better. The ASUS Z97-A is a very capable motherboard with the following specifications:  (To read the full specification please visit asus.com).
5-Way Optimization by Dual Intelligent Processors 5 – One click, total system optimization!
M.2 & SATA Express – Speed up your system with lightning-fast 10Gb/s transfer speed
Crystal Sound 2 and Intel Gigabit Ethernet — a game-winning combo!
ASUS HomeCloud – Access your PC remotely and stream multimedia content anywhere, anytime
Proven quality – 5X Protection. 1000+ compatible devices. 7000+ validation hours.
The included graphics card again is the EVGA GeForce GTX 970 ACX graphics card, which is a great choice in this budget range and well worth the cost where it's at. This graphics card will play most games really well at resolutions as high as 2560×1600 maxed out and at the moment this is one of the best graphics cards for your money.
The RAM featured again is the 8Gb of DDR3 Crucial Ballistix Sport kit – where 8Gb of RAM should be the perfect amount for this build. For a storage solution, we have a 1TB Seagate Barracuda hard drive, which should be plenty of space for most gamers – if you can splurge a little bit more it might also be worth either switching to a solid state drive or adding a smaller SSD boot drive as seen in the hardware alternatives below.
The power supply unit being used again is the EVGA SuperNOVA G1 650W power supply, which is a great PSU with all modular cables and it provides the perfect amount of power for this build along with room for some upgrades.
Quite literally the only change for the $1000 build this June is the PC case. The chosen case is the Antec P70, which was just release recently. This is Antec's latest "low-cost" case and Antec describes it as a "builder-friendly case for performance and silence". The Antec P70 has the following specifications (learn more at antec.com):
UPC
0-761345-92070-4
Unit Dimensions
18.0" (D) x 8.1" (W) x 18.7" (H)458mm (D) x 205mm (W) x 476mm (H)
Maximum video card size
15″ (380 mm)
Water cooling support
rear water cooling grommets
Front Ports
1 x USB 3.0
2 x USB 2.0Audio In/Out
Case Type
Mid Tower
Cooling System
Includes 2 x top 120 mm exhaust fanIncludes 1 x rear 120 mm exhaust fanOptional 2 x front intake
Drive Bays
• 8 Drive bays
– 2 x 5.25" External HDD Bay- 4 x Internal HDD Bay- 1 x 3.5" External- 1 x 2.5" Dedicated SSD Mount
Washabale Filter
Front
Motherboard Support
Standard ATX, Micro ATX, Mini-ITX
CPU Cutout
Yes
PSU mount
Standard ATX
Color(s)
Black
Expansion Slots
7 expansion slots
$1000 Gaming PC Build Upgrade Suggestions
If you have more then $1000 to spend on your build or perhaps you're looking for some future upgrade suggestions, then the hardware below is included for those reasons.
You could SLI with two EVGA GeForce GTX 970 graphics cards, which would definitely be enough juice for extreme gaming at higher resolutions (2560X1600 & 4K for example), or even high resolution multi-monitor setups. You could also consider this a worthy future upgrade consideration should you find you need the graphics juice in the years to come.
Since there is no SSD included in the base $1000 build, I do highly suggest considering one. An SSD makes a world of a difference in boot / loading speeds. Featured below is super fast quality SSD, the SanDisk Extreme Pro 240GB SSD – or maybe you have tons of media or simply need extra space, so you could upgrade to the 2TB version of the Seagate HDD.
The last upgrade suggestions includes the newer Corsair Hydro Series H80i GT liquid CPU cooler, which has an improved coldplate and pump design (learn more about Corsair's new liquid cpus here).
Also, please *note that if you do decide to SLI with another GTX 970, I would suggest you have at least a 750W PSU.

Monthly Gaming PC Build ( $619 ): June 2015
(Game at Smoothly with Medium – High settings at 1920X1080 resolutions)
Gaming PC Build Recipe:
Overview: $600 Gaming PC Build
The $600 is more then capable of playing any game out there and perhaps can play some of them maxed out with high FPS at 1920X1080. I have again included the new CPU addition to this build, the AMD FX-8320 8 Core Black Edition processor instead of the previous AMD FX6300. This was doable since the cost of all the combined hardware dipped significantly, which is very exciting for those trying to fit their budget build into $600. This processor is also unlocked and easily overclockable. Likewise, for those budget conscious buyers – the AMD FX 6300 is still a viable choice. The $600 does go slightly over $600 this month, but this was done in order to not sacrifice performance for only a few dollars.
The motherboard included again is a small form factor  Gigabyte AM3+ GA-78LMT Micro ATX motherboard. This is a Micro ATX motherboard and will allow for a smaller PC case to make a nicely compact build without missing out on performance increases. The Gigabyte AM3+ GA-78LMT Micro ATX motherboard has the following specifications – (To learn more visit gigabyte.com)
Ultra Durable 4 Classic Technology with high quality components design
Supports AMD AM3+ FX/AM3 Phenom™ II & Athlon™ II series processors
4+1 Phase CPU Power design for AMD high TDP 125W CPU support
Integrated ATI Radeon HD 3000 graphics (DirectX10)
PCI-E 2.0 x16 interface for ultimate graphics support
The GeForce GTX 960 graphics card was used as one of the choices in last months build, but I have decided the exclusively include it as the graphics card choice for June. This card performs very well and runs on much less power, saving on energy and in turn heat.
For a total of 8Gb of RAM we have a kit of  Crucial Ballistix Sport 8GB, which like most memory has gone down in cost significantly. As for a hard drive for each build this month we have the same for each build, which is the 1TB Seagate Barracuda.
The power supply used is the  EVGA 600B 600Watt power supply, its at a reputable budget PSU and more then enough power for this build and more.
For a PC case this month I chosen again same Micro ATX case for a nice compact gaming PC build – The Silverstone Tek Micro ATX PS08 pc case. This is a great budget mico atx case  with plenty of room for all of your components, yet still very compact with the following specifications (learn more at  silverstonetek.com)
Includes one 180mm Air Penetrator fan for positive pressure cooling
Removable motherboard tray and top panel
Quick access filters to prevent dust buildup
Convenient wire and cable routing pathways
Adjustable holder for large CPU coolers
Motherboard back plate opening behind CPU area for quick cooler assembly
Impressive storage capacity up to five 3.5″ hard drives and one 2.5″ drive
Upgrade Suggestions for the $600 Gaming PC Build:
The options below are for those with a little extra spending cash or want some ideas for future upgrades over and above the allotted $600 budget for this gaming pc build.
First I have included the low profile ZALMAN CNPS8900 cpu cooler, this would be a great addition to anyone considering overclocking your AMD FX 8320 processor right off the bat in order to keep everything nice and cool while doing so. I made the mistake last month of including the Hyper 212 evo cpu cooler as a cooler addition for the $600 build, but its much too large for the Silverston Tek Micro ATX case, which is why there is a need for a low profile cpu cooler.
I have included two hard drive alternative solutions. The first being a 2TB Seagate Barracuda for those that need a ton of storage for those need more then the included 1TB Seagate hard drive. The second drive is a Solid State Drive, the OCZ Storage Solutions Arc 100 Series 120GB SSD, which is a very affordable SSD with lots of storage per dollar spent at only a current $59.99.
Finally, if you want a higher quality more sleek looking Micro ATX case, I have included the Corsair Carbide Series Air 240 Micro ATX case. This is a very unique case that comes in both the white version you see below as well as black and will unlike the Silverstone Tek Micro ATX case included in the $600 build be able to fit large CPU coolers.
---
June 2015 Gaming PC Build Peripheral Considerations
The peripheral considerations are included as an attachment to the June 2015 gaming pc builds of the month. The builds above include the essential hardware to build a gaming pc, however you do need peripherals in order to control your gaming pc. So if you already don't have a mouse, keyboard, monitor or OS, then you may want to check out the following article.
The June 2015 gaming pc peripherals article is separated into three separate categories including each in a higher end, mid-range and basic peripheral category.
To view this months peripheral suggestions please visit June 2015 Gaming PC Peripherals – Keyboards Mice and Monitors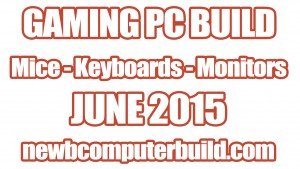 Operating System Options
If you don't already have an operating system for your new gaming pc build, then you're going to have to either invest in purchasing a standard OS such as Windows 7 or 8. Otherwise, there are some free alternatives that you could consider.
The following are some operating systems you can consider installing upon putting your Gaming PC build together. The first two will cost you and are either Windows 7 or 8.1 – I have no opinions here so I'll leave the purchase of these up to the discretion of yourself. I have also included two other operating systems that are both currently free. Ubuntu is a Linux based operating system. The last OS is SteamOS, which is also a Linux OS being developed by Valve Corporation and is being made to be used for a Steam Machine game console. The official release of SteamOS has not been announced, however you can try out the beta.
June 2015's Gaming PC Hardware Overview Video: