This article is part of Newb Computer Build's "How to: Build a Gaming PC" guides to choosing your PC hardware for your Gaming PC builds. When you are choosing all of the hardware for your Gaming PC build, I would suggest that the very second piece of hardware you choose is the motherboard; with the Processor being your first choice. The reasoning behind this is that once you choose the Processor you want then you are able to select all of the compatible motherboards based on "Socket Type",  then you can select all of the other options you want included on your motherboard. I will start this article off with a brief description of what a motherboard, all of the parts of the motherboard you should be familiar with, and then a few steps you should go through when shopping for your new motherboard.
What is a "Motherboard"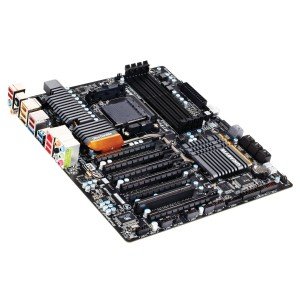 In a desktop computer the motherboard aka. mobo essentially includes all of the crucial components of your system. The motherboard connects all of the components of a computer system including the Processor, and can host a number of other peripherals, subsystems and devices. Minimally a motherboard will include a socket to hold your Processor, memory slots for your RAM, a chipset (forms interface between Processors front side bus, main memory, and peripheral buses – don't worry about these yet), non-volatile memory chip (which contains the firmware or BIOS – the software that can be used to control the motherboard), a clock generator (keeps everything in sync), expansion slots (for various peripherals), and a power connection (to connect to a power supply to power the motherboard). Modern motherboard will most likely come with at least some connectors for a mouse / keyboard, and mounting points for a heatsink or fan to cool your Processor.
Terms you Should Know (For a Gaming Motherboard):
CPU Socket Type: This is the socket type for the type of Processor you have chosen. Each type of processor has a unique type of socket type (shape) that will fit into a motherboard. So you must make sure you choose the right motherboard socket type to fit your Processor. For example an AMD Processor with an AM3+ socket type will need a motherboard with an AM3+ socket type.
Chipsets: Will usually be unique to a type of processor and controls
the communication between the processor and external devices. These will usually refer to the northbridge and southbridge. The northbridge will link the Processor to high end devices such as the main memory and graphics controllers, and the southbridge will connect lower speed peripheral buses. What all of this means to you is that you should simply familiarize yourself with what a specific Chipset is for a specific motherboard. You can do this by choosing the right motherboard for you, then by simply searching google for that chipset name to familiarize yourself with what that chipset includes. (Do not fret too long over the chipsets as you can usually select a motherboard based on what it includes as described by any decent hardware retailer – but if you want to know more about the motherboard specifics it might be a smart idea to learn more)
Memory: As in how much and what type of memory your motherboard supports. A specific motherboard will support a certain number of memory slots, the numbers of pins your memory must have, the type of memory (ex. DDR3), maximum amount of memory supported (ex. 16GB), and the channel supported (ex. Dual Channel Memory – in this case it is best to install memory in pairs like 2 sticks of 2GB memory sticks).
Expansion Slots: Most modern motherboards will come with any different number of expansion slots. These generally include a number of PCI Express 2.0 x16 (, PCI Express x1, and PCI slots. You should pick your motherboard based on what peripherals you expect to be using with your Gaming PC, and what you may want to add in the future. This includes Graphics cards (most now use PCI Express 2.0 x16), soundcards, USB, Ethernet, Firewire and so on. Since we are interested in building Gaming PC's here the suggestion is to always have room for a graphics card (or two).
Storage Devices: What storage devices does the motherboard support? Desktop motherboard will generally support a number of storage deice connectors like SATA (serial ATA) or PATA (Parallel ATA) to connect hard drives and optical drives. This will be important to know what types and how many of each the motherboard supports so you can then purchase a hard drive and optical drive compatible to the board. Usually you do not have to pay to close attention if you are purchasing say one hard drive and one optical drive, but if you wanted multiples you may want to check to see if you can. Most modern motherboard will have more SATA connectors as most hard drives and optical drives will require this now.
Onboard Audio: Nowadays motherboard will have pretty good onboard audio (which mean you do not have to purchase an  external soundcard). If you are concerned about the quality of audio your motherboard you can do some research on the motherboard audio chipset to get a better understanding of what you will get.
Onboard Lan: Most motherboard will come with onboard Lan (Ethernet) installed on them so that you can easily connect to the internet, however not all motherboards will come with a wireless option so if this is a concern you may want to shop for wireless adapters to connect to you motherboard.
Rear Panel Ports: These will be the included ports with your motherboard such as
USB, Audio, PS/2, Optical and so on. This can be completely up to you – Just make sure you have enough of what you want in order to connect what you need to your motherboard such as mice, keyboards, audio etc.
Internal I/O Connectors: These will be the in and out connectors that you can connect to your motherboard, such as external USB through your computer case etc.
How to: Steps to Choosing Your Gaming PC Motherboard:
Step One: Budget?
Yes I will always start with budget as the number one thing to do when purchasing and choosing your gaming pc hardware. Why? Because I have found that when you are searching for a bunch of different hardware pieces that will fit your gaming PC needs you may start off by choosing the top of the line Processor, and then slowly find out that after the 7th peice of hardware (processor…motherboard…memory…graphics card…etc.) that you have spent way to much! Go with a mid range board if you have to. Choose a board that has just the right amount of peripheral support and not more than what you need. This way you will not overspend and you have more money to spend on your other hardware parts.
Step Two: Make Sure Everything Will Fit!
Hopefully you have first chosen your processor, but also make sure you have chosen a motherboard that will fit the socket type for that processor. Then go through everything else you may need such as at least one PCI Express 2.0 x16 slot for at least one graphics card (or two slots for two cards), enough USB ports for externals like mice, keyboards and headsets, and make sure there are enough memory slots for the amount of memory you may need to play specific games. Lastly, take a look at the form factors of your motherboard – this will be the actual physical size of the board. You will want to know this so that you can fit it into a specific computer case you purchase (or already have).
Step Three: Future Proof!
Don't just think about the precise amount of connectors, memory, graphics card you need this second. Think about what you may need in 4 months from now when you want to play that awesome new PC Game you have been waiting forever to play. For example: If you know you only need 4GB of memory to play StarCraft II right now, don't just settle for a motherboard that will support a maximum of 4GB of memory, but rather one that will support up to 8GB, 16GB or 32GB! This way you can always add more memory later. The same goes for PCI Express slots for graphics cards, or SATA ports for more hard drive space.
 Conclusion:
I hope that you have learned at least something about choosing a new motherboard for your Gaming PC Build. It is of my opinion that choosing the motherboard is the hardest part in any PC build as there are so many factors to look for and keep track of when shopping for a new motherboard – I guess this makes sense as the motherboard is responsible for connecting all of the crucial components of your computer! I invite you to ask any questions, give any input, or just plain comment below on choosing a motherboard for your gaming PC build.
And now finally, if you are interested in in building a Gaming PC please check out Newb Computer Build's Gaming PC Builds of the Month.
OR if you need help choosing more hardware for your gaming PC build check out How to: Build a Gaming PC