When choosing a power supply for a lot of budget to mid/high range PC builds (such as those in our monthly gaming pc builds) I will recommend anywhere from 500W to 750W in general. and that's where the newer line of PSU's in be quiet!'s line of Pure Power 11 series come into play.
Choosing a power supply is subjectively one of the more tedious parts when choosing a component for your brand new PC build while being probably one of the most important in terms of being able to keep your PC powered and ensuring it has enough juice to push it to its potential.
That's why you want to choose a reputable power supply along with one that has all of the features you want at a reasonable cost. That's because you want the assurance your PC will continue to have enough power while saving extra costs for high-performance hardware like your CPU or GPU.
This is exactly where be quiet! has placed their Pure Power 11 models gearing them towards a great price per performance spot in the market, while maintaining a good quality PSU.
Today I'm taking a look at the be quiet! Pure Power 11 FM 750W PSU model and giving it a once over to give you an idea as to whether this is the power supply for you or not.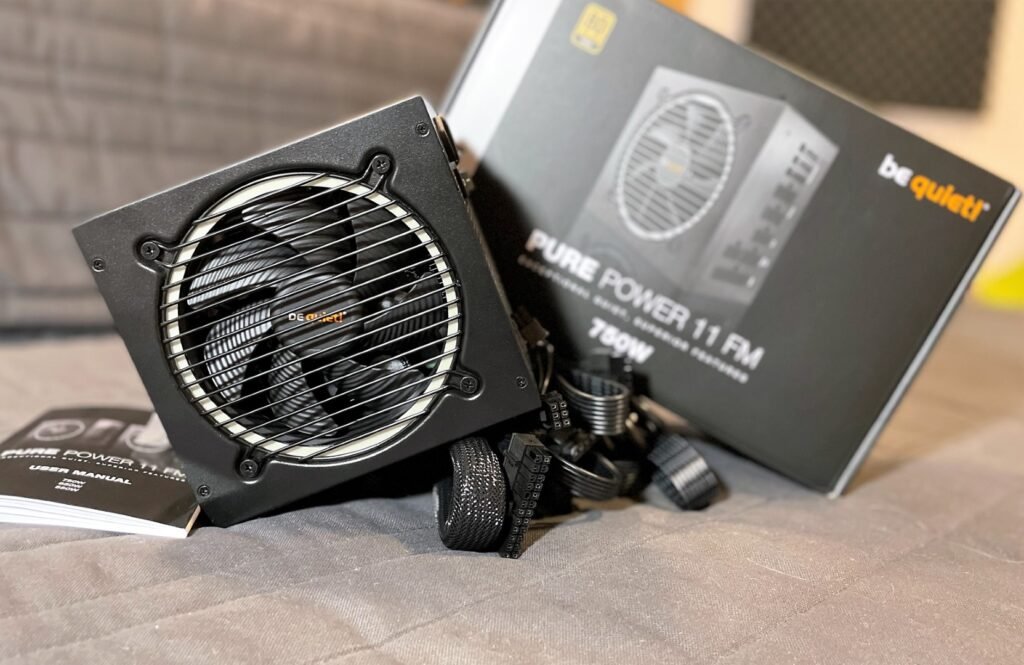 Who is the be quiet! PURE POWER 11 FM 750W For?
In general, Pure Power 11 FM power supply should fit perfectly into a mid-higher end PC build given that it's currently rated at 750W, which should easily support a higher-end Ryzen build with a higher-end graphics card such as up to an RTX 3080 (so quite versatile).
While I'm taking a look at the 750W model, this model also comes in 550W and 650W options in the fully modular version of the power supply, which makes it the perfect range of choice for most PC builds recommended here at Newb Computer Build.
At the moment of publishing, the 750W model is going for around $115 USD, which is priced perfectly given that it's an affordable power supply that's also fully modular (comes with no cables attached and you only need to use the exact cables needed). And in my opinion, one should always go for a power supply that's fully modular when possible, or at the very least semi-modular.
With that being said, the Pure Power FM 11 750W model is currently priced very competitively with other 750W Gold Rated and fully modular power supplies at the moment, with only a handful that is at most $35 cheaper, and not reputable models I would necessarily recommend.
Each and every power supply in the Pure Power line of power supplies come with the be quiet! silence optimized 120MM fan, which is standard and a decently cool and quiet fan that's similar to the other be quiet! silent fan products.
The Pure Power 11 FM is also an 80+ gold-rated power supply that is up to 93.9% efficiency, which is actually at the TOP of the gold rating standard for power supplies — so this power supply could also be considered an economical choice for those looking to squeeze a good amount of performance while spending a little less on their power supply upfront.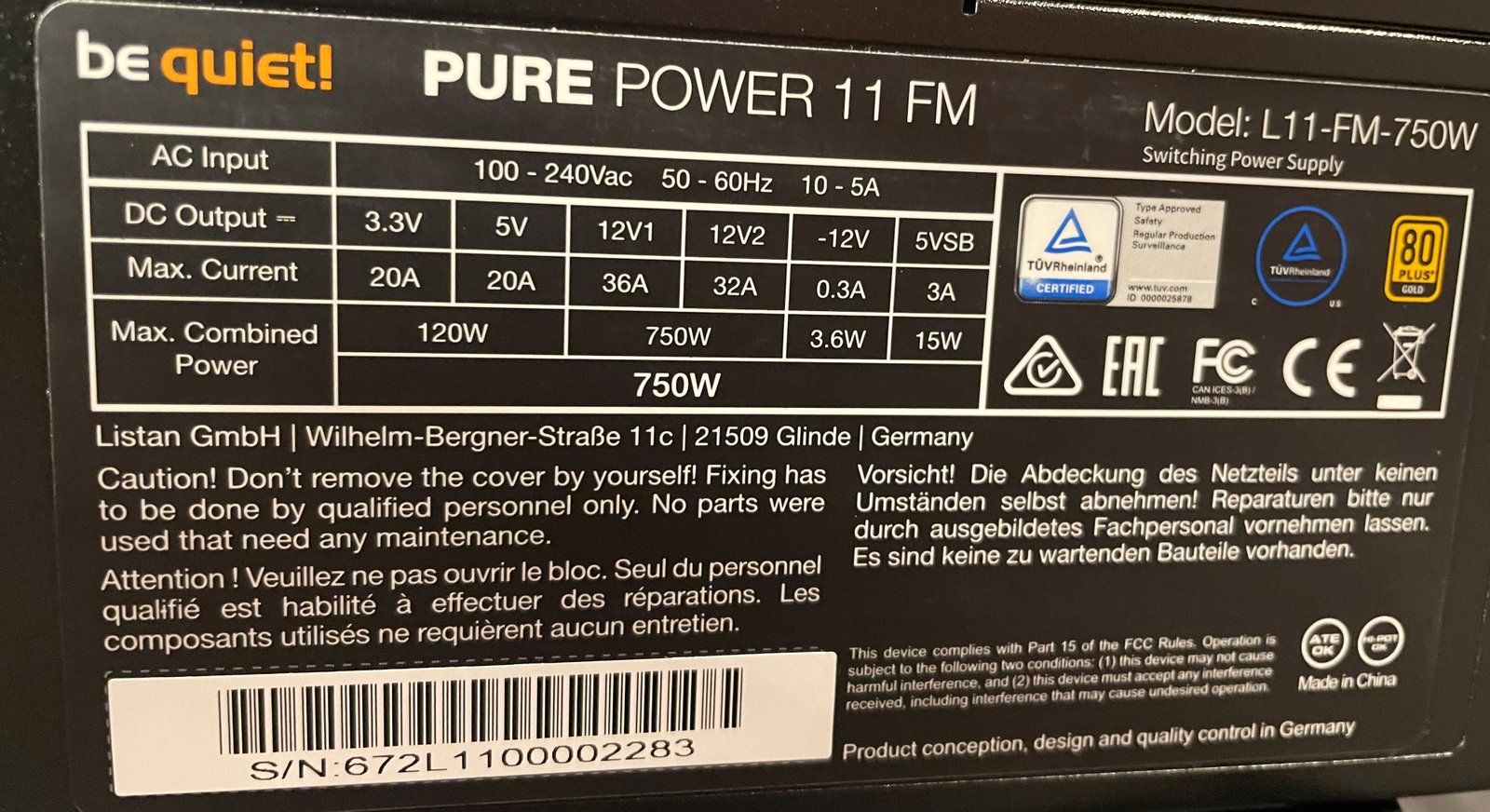 be quiet! PURE POWER 11 FM 750W Specifications
Below you'll see the complete technical specifications for the Puer Power 11 Fm 750W model. You can see that it does support up to 750 Watts of continuous power, with a peak power limit of 820 Watts. It is fully modular and supports a voltage range of 100-240. There is a fairly standard frequency range of 50-60Hz. There is active power factor correction (PFC), which enables a power factor at 100% load of >0.98 — which enables a high-efficiency standard for this power supply.
PSU efficiency is what actually sticks out to me and really speaks to be quiet!'s price per performance stance as it is very competitive, if not better than a lot of power supply with the same features in the Gold Rated standard category.
The average lifespan is rated at 100,000 hours at an average temperature of 25 degrees celsius, which is fairly standard for PUS models in this range.
I do find the operating temperature being only at 40 degrees celsius a bit interesting, as it is 10 degrees less than other competitive models, like the EVGA SuperNova, which is typically at about 50 degrees celsius. One could also argue that if you live in a hot climate and had your PC running, you could easily hit 40 degrees room temp or operating temp where your PSU is housed.
| | |
| --- | --- |
| Model | Pure Power 11 FM 750W |
| Continuous power (W) | 750 |
| Peak power (W) | 820 |
| Form factor | Version 2.52 |
| Form factor EPS 12V | Version 2.92 |
| Modular Cable management | ✓ |
| Topology | LLC + SR + DC/DC |
| Wire-free design (DC-side) | ✓ |
| Voltage (Vac) | 100 – 240 |
| Frequency (Hz) | 50 – 60 |
| Input current (A) | 10 / 5 |
| PFC | active |
| Power factor at 100% load | >0.98 |
| Compliant to Intel C6/C7 | ✓ |
| Power consumption in standby (W) | <0.14 |
| Average life time (h / 25°C) | 100,000 |
| Operating temperature up to (°C) | 40 |
In terms of size, the Pure Power 11 FM measures 165mm x 150mm x 86mm (L x W x H), making it a decent size for an ATX standard PSU, however a bit longer than some of the competition (such as the EVGA SuperNova GA 750, which caps out at 150mm in length), however not a huge deal, but still shorter than the more premium Super Nova 750 G2 I currently had at 180mm in length.
be quiet! PURE POWER 11 FM 750W: a look at the enclosure
Supported Ports and the input side of the PSU
As seen above, the included ports and cables are an ATX Motherboard (20+4 pin), 8-pin CPU, a 4-pin CPU, four PCIe (6+2-pin), nine SATA, two HDD and floppy.
Looking at the ports above, you can see that they are all relatively straightforward and as it's modular a simple plug-and-play.
Each of the inputs is nicely laid out, but I was curious as to why the opening where the Drive input is, is a tad wider than the actual input. Perhaps the enclosure is also used for other models that make full use of the space. Not so much of a bad thing, but it did make me go 'hmm'.
Top Side of the PSU
On the top you of course have the include silenced optimized 120mm be quiet! fan. One of the things I like about be quiet! the most are their minimalistic design style, and this is most apparent when looking at this side of the enclosure. This is because it's the most detailed in terms of design, but the only thing that really pops is the "quiet" part of the "be quiet!" logo in the centre of the fan itself.
Other than that, the fan is a smooth rippled plastic and the fan is covered with a simple, but eloquent black grate. The perfect amount of design for what this is, which is a power supply that gets stored typically at the bottom of your case, forever to be forgotten.
The Sides of the PSU
On the one side of the PSU, we have the informational sticker outlining the power supplies details. On the other side, there is a simple embossed "be quiet!" in the metal itself. Again, a very minimalistic approach to design, which suites the PSU well.
Backside of the PSU
On the back of the power supply is where you input your AC plug, and it's turned on by a typical power switch. Right above the plug input is a very small be quiet! sticker logo, and right below the plug input is a voltage rating sticker outlining 100 – 240v ac.
And finally, the rest of the backside is simply a metal grate with a ton of hexagonal holes that are side by side, with the sole purpose of exhausting all of the air blown into the enclosure by the 120mm fan on top.
be quiet! Pure Power 11 FM 750W: What's included
In the box for the Pure Power 11 FM, we have the PSU itself, which is simply wrapped in bubble wrap on the lefthand side of the box. Then, right on top, there is the manual, which outlines how to get started and some other information about the power supply.
Then on the right-hand side of the box, underneath a cardboard top, included is a small bag of screws to secure the power supply to your pc case, and then a plastic-wrapped bag that includes all of the modular cables.
The modular cables included are an ATX Motherboard (20+4 pin), 8-pin CPU, a 4-pin+4-pin, two PCIe (6+2-pin) cables with a total of four 6+2pin inputs, and three SATA cords that include nine SATA, two HDD, a floppy and the AC power cord.
What's Included Summary
Overall, what's included is pretty standard for this range of power supply. be quiet! didn't necessarily go over the top in terms of including anything extra, and sometimes modular PSUs do include a nice case of some sort to store unused cables in as one example. However, given that a typical user may have something like 3 unused cables max in this sort of setup that goes unused (unless you have a ton of SSDs or extra peripherals or 2 graphics cards, most likely you won't use those three extra cables, two of the three SATA and 6+1 pin PCIe as examples), it's not too hard to find a space to put those.
Finally, each of the cables is a flat black plastic cable, which looks nice enough. However, they are all sleeveless with the exception of the ATX Motherboard cord. This isn't a big deal but may sway some who care about that sort of thing.
be quiet! PURE POWER 11 FM 750W in Action: How does it perform?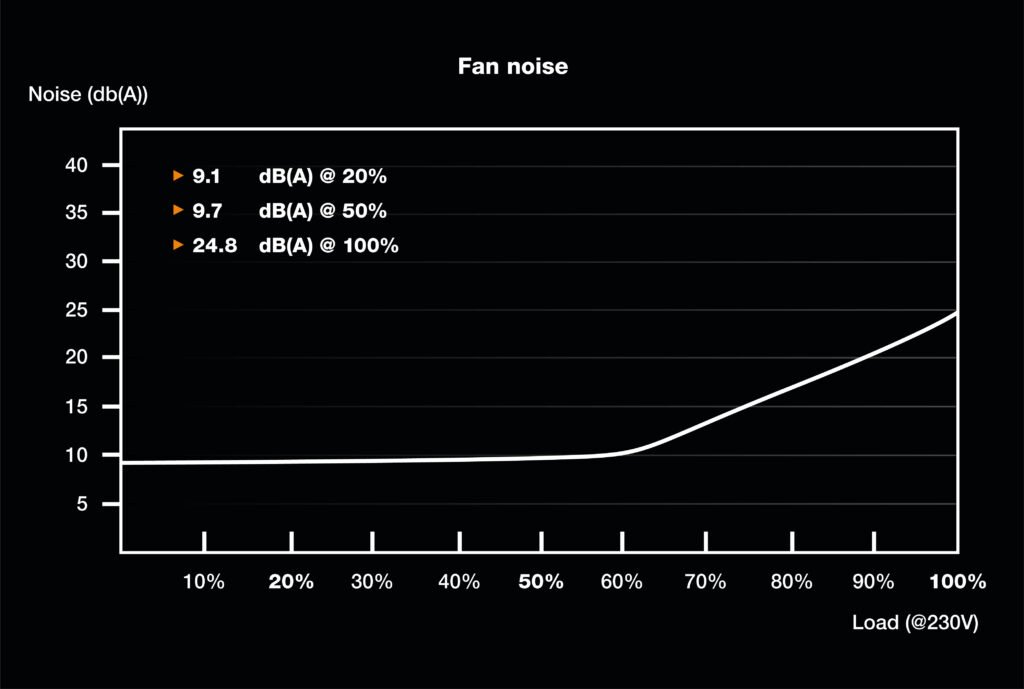 How loud does it get?
I swapped my current EVGA SuperNova 750 G2 for the be quiet! PURE POWER 11FM to get a real feel for how it performs in terms of having everything a mid-high end PC build would need and whether it actually is as silent as they say.
If you look below you see that be quiet! has outlined the various loads the PSU would undertake and the given notice the fan / PSU outputs in db.
So technically, the fan doesn't even have to try too much until it hits about 50% load and then the noise increases steadily as the load increases.
And when using the power supply, the fan spins so smoothly and steadily, that I couldn't even subjectively hear it at all. So I must say, it actually is really quiet.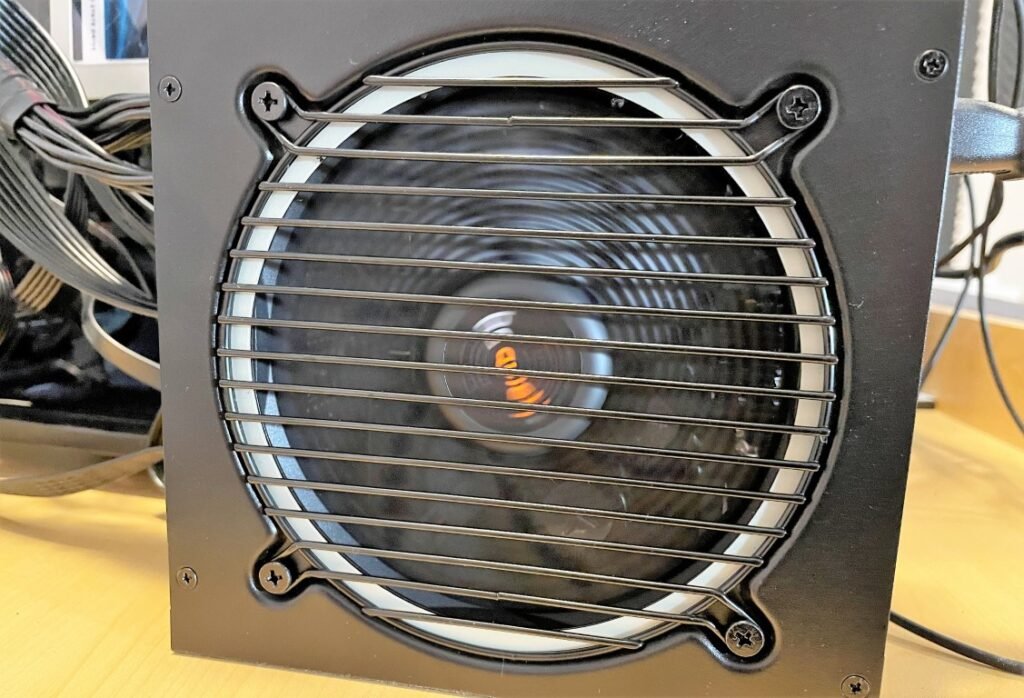 Installation and thoughts on overall quality
I'm currently using a budget Corsair 175R case, which is a mid-tower and theoretically should fit most ATX PSUs with ease. However, it is a bit cramped on the bottom where the PSU goes, especially when you first get it as an HDD cage occupies the bottom as well. I say this as the previous PSU I was using (the EVGA SuperNova), is actually a bit longer, and with thicker cables with sleeves, and it was a very tight squeeze to get it to initially fit (I also had to take out the initial HDD cage in order to do so).
With that being said, the be quiet! PURE POWER 11Fm 750W actually fit quite easily being some mm shorter and having mostly sleeveless flat black cording that maneuvered easily.
So while some may see sleeveless cords as being a bad thing, it may actually benefit smaller mid-tower cases (or micro atx cases if you're going that route).
The one thing that bothered me a bit about the cords as well as the SATA cords and the way they are ribboned (if that's the right word). I have my SATA SSD's installed vertically at the very back of the case, and when plugging them in with the included SATA cord, it doesn't install so that it sits flat and rather protrudes a bit outwards. This is a minor inconvenience as I need to slide my back cover on and may need to pay special attention when doing so now. This, however, would only be for those who have their SSDs installed in a similar manner.
Now in terms of how it operates — once all connected, set up and running, the PURE POWER 11FM performs smoothly. Upon startup and with minimal load, the fan sounds virtually silent, and it fits fantastically in my mid-sized case as an ATX PSU that's just above ATX spec in terms of length at 165mm.
be quiet! Pure Power 11 FM 750W: Is it worth the purchase?
Why you should get the Pure Power 11 FM:
Great price per performance and quality
Fantastic top end 80+ Gold Rated cert power supply efficiency of up to 93.9% efficiency
Looking for a power supply that's fully modular and relatively quiet with the silenced-optmized 120mm be quiet! fan
What could be improved on the Pure Power 11 FM:
Low manufacturer warranty than most at 5 years Warranty

All modular cables could benefit from sleeves (with the exception of the 24 pin ATX cord)
Relatively low operating temperature rating at only 40 dgerees celcius
The improvements for the be quiet! Pure Power 11FM 750 W PSU comes from perhaps needing a higher maximum operating temperature, while also having a relatively low manufacturer's warranty at only 5 years. While 5 years is decent, other competitors in this category typically have around 7-10 years on their warranty.
The final improvement could be the addition of sleeves to all of the cables, as the 24 pin connector is the only one. While I personally don't care too much and welcome sleeveless cable for fitting into smaller budget pc cases, others may find the lack of sleeves displeasing.
All in all, this is a great power supply that definitely has a great cost per performance stance as be quiet!'s intention is. This power supply delivers an impressive high-end 80+ Gold cert efficiency and has all the features most gamers want in a power supply, while also being relatively affordable.