The Build:
The very new Intel Core i7-2600 3.4GHz LGA 1155 95W Quad-Core Desktop Processor
comes in at around $299 and is part of Intel's new Sandy Bridge line of desktop processors. The Specifications for the Intel Core i5-2500 can be found here, as well with Intel's new processor lineup requires a motherboard with a 1155 socket instead of the previous 1156. Please for a full review on the new Sandy Bridge line of processors visit Anandtech's The Sandy Bridge Review as it is very informative. This processor also includes Integrated Intel HD Graphics 2000 right in the chipset itself.
The HIS Radeon HD 6870 H687F1G2M Video Card with Eyefinity
is a graphics card with tons of punch that would provide great 1920×1200 performance resolution in most games, and 2560×1600 resolution in most other games with slightly lowered details.  (If you want to get a slightly better graphics cards for a slightly slightly higher prices, consider the other cards in the "Budget Yielding Alternatives" section below)
The MSI P67A-GD65 (B3) ATX Intel Motherboard
comes in currently at $179.99. This board comes with 2 X PCI Express 2.0×16 slots, 4 RAM slots for up to 32GB of DDR3 RAM. There are 2 X USB 3.0 rear panel ports, and 8 x USB 2.0 ports. As well, there is 2 x USB 3.0 and 2 X USB 2.0 onboard USB.
The ASRock P67 PRO3 ATX Intel Motherboard
is along the new lineup of 1155  p67 Intel socket boards, which includes 4×240 pin memory slots allowing up to a maximum of 32GB of  dual channel DDR3 memory. A built in Audio chipset allowing 8 channels of sound using Realtek ALC892. As well,  includes 6  x USB 2.0 onboard connectors, and 6 x USB 2.0, and 2 x USB 3.0 rear panel ports, 1 x PCI Express 2.0 x16, 3 x PCI Express x1, and 3 x PCI  expansion slots.
In this build I included a high quality G.Skill 4Gb (2 x 2GB) DDR3 SDRAM 1333 (PC3 10666), a SAMSUNG Spinpoint F3 HD103SJ 1TB 7200 RPM SATA 3.0Gb/s 3.5″ Internal Hard Drive -Bare Drive, a SeaSonic S12II 620 Bronze 620W ATX12V V2.3 / EPS 12V V2.91 80 PLUS BRONZE Certified Active PFC Power Supply, a good ASUS 24X DVD Burner – Bulk Black SATA Model DRW-24B1ST/BLK/B/AS
, and chose the COOLER MASTER Centurion 5 CAC-T05-UB Black /Blue Computer Cas
All parts have a set of constituent products under "Budget Yielding Alternatives" that you may feel like considering if you want to go with something a little different (especially with computer cases), or better (as in a hard drive with more space, power supply with more wattage for future use, or higher quality RAM).
Required Hardware:
~SUBTOTAL (Before taxes): ~$877
Visual Representations: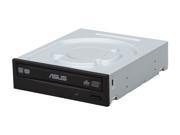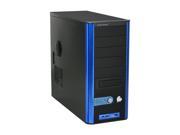 *Note: I try to include parts that will be of best quality within a given bracket, so if you notice a hardware part that may be of greater value within the same price bracket as any of these hardware parts do not hesitate to notify me. I'm always looking to improve, so any critic is welcomed.
Budget Yielding Alternatives:
| | | |
| --- | --- | --- |
| Motherboard: | Waiting until more P67 motherboard are released. | |
Graphics Card:
XFX Radeon HD 5870 HD-587X-ZNFC Video Card with EyefinitySAPPHIRE Radeon HD 6950 100312-1GSR Video CardGIGABYTE GeForce GTX 560 Ti (Fermi) GV-N560OC-1GI Video Card

ASUS GeForce GTX 570 (Fermi) ENGTX570 DCII/2DIS/1280MD5 Video Card

HIS Radeon HD 6970 H697F2G2M Video Card with Eyefinity

EVGA GeForce GTX 580 (Fermi) 015-P3-1580-AR Video Card
Hard Drive:

Internal Hard Drive:

Internal Solid State Drive: