For the most up to date builds visit the best gaming pc builds of the month page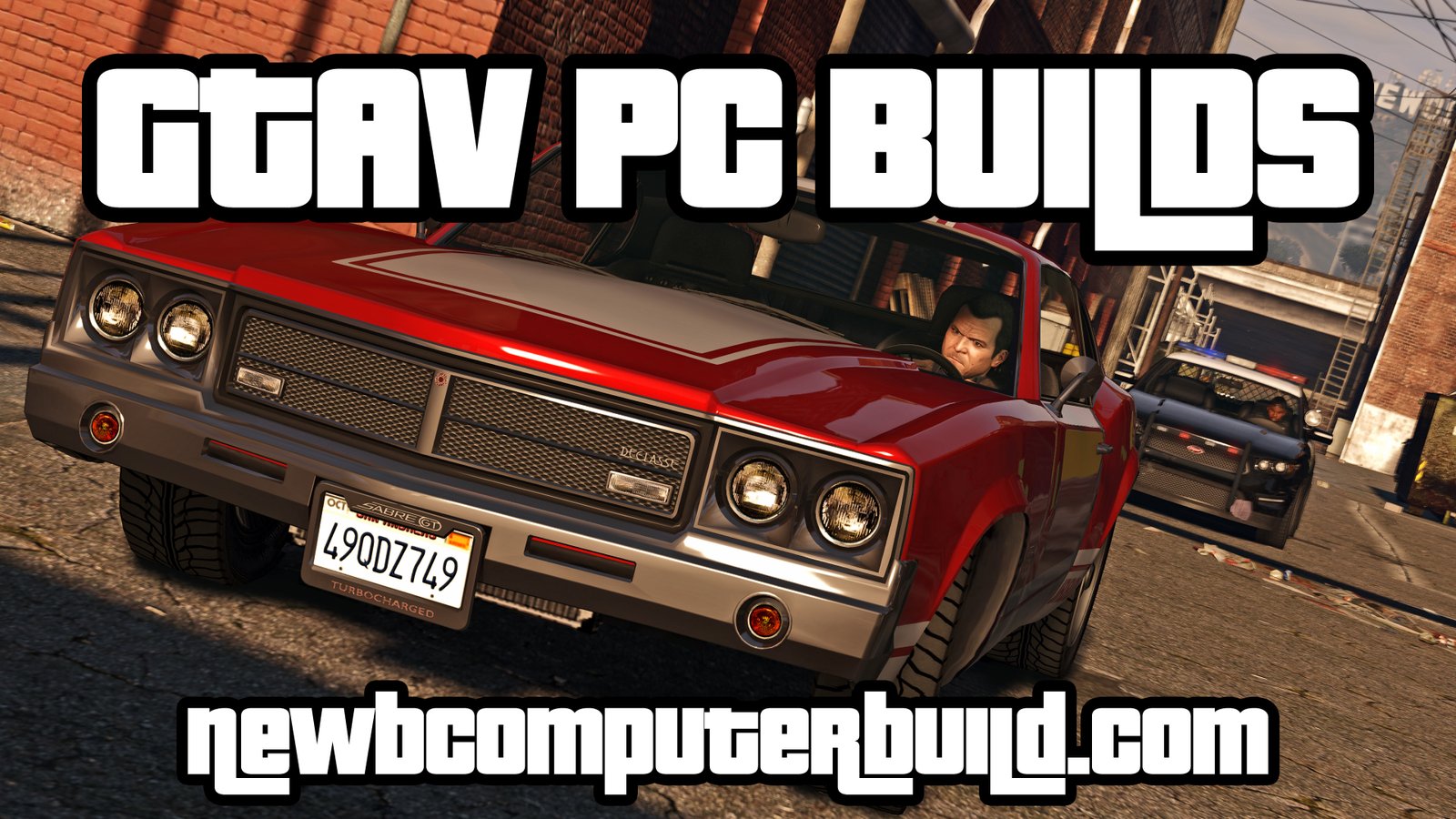 Introduction: Building a PC for GTA V
Grand Theft Auto V has now been released and you can read the official Rockstar Newswire post to read the official release statement from Rockstar and you can visit the official GTAV for PC website to learn more about the game itself. GTAV for PC is capable of running at 4K resolutions or higher and at frame rates of 60 FPS. Below you will see the minimum and recommended specifications for the game (as seen in this Rockstar.com post). Using the recommended requirements as outlined by Rockstar themselves, and real world specs, we have compiled the builds below that will play GTAV for PC at resolutions of 1920×1080 to 4K.
Below we have two builds – one that will be based on a higher than Rockstar's recommended hardware specifications to play GTAV (basic GTAV build) and one that will max out the game no matter what (max settings GTAV build).
The goal here is to put together a couple of builds that will be the best spent cash on hardware to get the highest playable and maxed out settings on GTAV for PC per dollar spent on hardware. Check out the builds below and best of luck building your GTA V PC build.
---
GTAV PC System Requirements
Minimum specifications:
OS: Windows 8.1 64 Bit, Windows 8 64 Bit, Windows 7 64 Bit Service Pack 1, Windows Vista 64 Bit Service Pack 2* (*NVIDIA video card recommended if running Vista OS)
Processor: Intel Core 2 Quad CPU Q6600 @ 2.40GHz (4 CPUs) / AMD Phenom 9850 Quad-Core Processor (4 CPUs) @ 2.5GHz
Memory: 4GB
Video Card: NVIDIA 9800 GT 1GB / AMD HD 4870 1GB (DX 10, 10.1, 11)
Sound Card: 100% DirectX 10 compatible
HDD Space: 65GB
DVD Drive
Recommended specifications:
OS: Windows 8.1 64 Bit, Windows 8 64 Bit, Windows 7 64 Bit Service Pack 1
Processor: Intel Core i5 3470 @ 3.2GHZ (4 CPUs) / AMD X8 FX-8350 @ 4GHZ (8 CPUs)
Memory: 8GB
Video Card: NVIDIA GTX 660 2GB / AMD HD7870 2GB
Sound Card: 100% DirectX 10 compatible
HDD Space: 65GB
DVD Drive
---
Basic GTAV PC Build – $700
The assumption with this build is that it should support "basic" gameplay of GTAV using possibly the highest /higher settings on standard HD resolutions of 1920×1080 at playable frame rates. The hardware reflected here is slightly higher then the recommended requirements as laid out by Rockstar (see above) and has been chosen to be as "slim" as possible in order to get the most performance for your dollar.
This build should play GTAV with good performance with medium-high settings at 1920×1080

Overview: The GTAV Basic PC Build –
This build will be able to perform and play GTA V with decent specs. I chose the Intel 4460 as it fulfills the recommended processor spot outlined by Rockstar's GTAV requirements. One could also go the AMD route and get an AMD FX-8350, but I chose the Intel route, really it would be up to you.
The motherboard I chose is the ASRock H97 PRO4 – since the Intel 4460 has a locked Multiplier I was able to choose a cheaper H97 chipset motherboard. Even though the cost is cheap, this AsRock H97 doesn't hold back on very much and you can read more into its specifications at AsRock.com here.
The major performance driver in this build is the chosen Sapphire Radeon R9 280 graphics card. With the recommended card from Rockstar being either a NVIDIA GTX 660 2GB or an AMD HD7870 2GB, I thought that an R9 280 hits just that sweet spot just above those latter two cards.
Rockstar is recommending 8GB of RAM, so I have included just that with a kit of Crucial Ballistix Sport 8GB memory. Most gaming builds these days will recommend a minimum of 8GB, so this doesn't come as much of a surprise. As for a hard drive, 1TB of storage is plenty with the included 1TB Seagate Barracuda – you could get a lower storage drive and save a few bucks, but in my opinion saving $5 or so for a 500GB drive just isn't worth the savings.
For a PSU, I chose an affordable 600W EVGA 600B. This PSU fits nicely cost wise and 600W is a generous amount of power for this build – the Sapphire Radeon R9 280 only requires a 500W minimum PSU, so I chose a quality budget PSU that provided more then enough juice for about the same cost as a quality 500 – 550W PSU at the moment.
Finally, the chosen PC case is the Corsair Carbide 200R Mid Tower case. This case has been out for a while and has been a popular choice amongst budget PC enthusiasts as it is a basic, smart ergonomic case at a great price. If you want to read more into the Corsair 200R's specifications you can read more at corsair.com.
Lastly, is the required DVD optical drive, which included is the Lite-ON 24X you see in the table above. Why Rockstar outlines a DVD drive as being a requirement is beyond me, but I believe this could be optional assuming you install your OS via a hard drive / USB stick and then purchase an online version of GTAV via something like Steam.
Alternatives / Upgrades to the Basic GTAV Build
The build above reflects one that matches just above the recommended requirements to play Grand Theft Auto V on the PC and at most likely decent settings at 1920b1080 resolutions. However, if you want to pump more FPS or make double sure your PC can play GTAV and more games then these are some of the suggestions I would have over and above the ones in the base build.
You can choose to get a Radeon R9 280X graphics card instead, which does pack more punch then just the R9 280 and would definitely be a worth buy. Likewise an SSD might be a  smart buy for those that truly want faster start times when loading your PC and while loading GTAV which one can only assume is a large software suite with a minimum required storage of 65GB – so I have included a Samsung 850 Pro 256GB SSD. I could have chosen the 128GB version, but in my opinion with the requirement of GTAV being 65GB of free space and then having your OS on top of that, things might start feeling a little squishy.
---
Max Settings GTAV PC Build – $1000
This build will be capable of maxing out GTAV no problem at its max settings at resolutions of 1920×1080 as well as high resolutions like 2560×1440 with playable FPS (which can put the console users to shame). If you are an over the top enthusiast with a nifty 4K display, then this build might not be up to the task, but no fear check out the alternatives table at the end of this builds table for some hardware suggestions that should do the trick.
Gaming PC Build Recipe:
This build should play GTAV at max settings at both 1920×1080 and 2560×1440 resolutions. Want to Play at 4K? – Then check out the alternatives table

Overview: The GTAV Max Settings PC Build –
This build has been crafted for high settings gameplay while trying to minimize costs for those who want to build a budget PC capable of maxing out GTAV (and other games). The included processor is the infamous Intel i5 4960K, the go to standard gaming processor for some time now. This processor is full of potential with its unlocked multiplier, allowing it to be easily overclocked. To get the full potential out of this processor however, it would be smart to overclock, but I would highly suggest purchasing a separate cpu cooler, which isn't included in the build table above but I have included the Hyper 212 EVO in the alternatives table below.
For a motherboard, I have chosen the nifty MSI Z97 Gaming 5 motherboard, which is a fully capable motherboard with a suite of features that won't leave you hanging (you can read the full specification chart directly as msi.com). And to pair with the MSI Gaming Series motherboard, I have also chosen an MSI Gaming GTX 970 series graphics card, which coincidently matches out motherboard quite nicely. Aside from looks though, the GTX 970 should be fully capable of carrying GTAV into 2560×1440 resolutions and I have saved from going with a GTX 980 instead to save those budget conscious builder some cash if need be.
The minimum requirement for RAM as outline by Rockstar for GTAV is 4GB with their recommended amount being 8GB, so I have chosen to go with 8GB of Crucial ballistic Sport DDR3 memory. This should be a sufficient amount of memory as it usually is these days, but if all else fails one could plug in 8GB more in the future for a total of 16GB – most likely won't be the case.
Just like the basic build, I have went with a 1TB Seagate Barracuda hard drive, more then sufficient space for a game specific pc build, but it's also affordable – I will also include an SSD suggestion in the alternatives table, since this can also be a nice upgrade, but for now I'll keep just the Seagate in the base build to keep costs low. The chosen PSU is a 650 W EVGA SuperNOVA G1 PSU, which has plenty of juice for this build to run and is a quality affordable PSU which can also keep costs in line for this build.
The case I chose goes hand in hand with the Basic GTAV build outlined above – I chose to go with the Corsair Carbide Series 300R PC case, which has a little more space and better cooling. You could however still get away with the Carbide 200r and save a few bucks, but I'll leave that up to you. To read the full specifications for the Corsair Carbide case please visit corsair.com
I have included an optical drive in this build and it is a requirement in the GTAV minimum and recommended requirements, but you could get away with installing your OS via a hard drive / USB stick and purchasing GTAV online via something like STEAM, either way included is the Lite-ON 24X optical drive you see above.
Alternatives / Upgrades  to the Max Settings GTAV Build
Here are some worth while upgrades for the Max Settings GTAV build – the following hardware is for those that want to maximize their PCs performance. Likewise the following hardware could be fore those want to game at extreme 4K resolutions, which GTAV will support; you'll just need more powerful hardware.
First, I have included the Sapphire Radeon R9 295X2, which will be more then fully capable of 4K resolutions gameplay of Grand Theft Auto V. I have also included the option to SLI to GTX 970's with another MSI GTX 970 graphics card, which will also be capable of 4K gaming. The third recommendation I have is to add an SSD if possible with the very powerful Samsung 850 Pro – I went with a 256GB model instead of the 128GB because of large requirement of 65GB for minimum requirements for GTAV; although you could probably still get away with the 128GB model and save some cash.
Lastly, I would recommend purchasing the Hyper 212 EVO cpu cooler to help efficiently overclock your Intel i5 4960K processor.
 Final Words – Building a GTAV PC
The above two builds should be able to play GTAV no problem at all with the first Basic Build being based on the recommended requirements from Rockstar themselves (with chosen hardware just above those requirements) and with the Max Settings build being able to play the game at higher resolutions of 2560X1440.
Best of luck and have fun playing Grand Theft Auto V. For your viewing pleasure you will find below some GTA V PC Screenshots at 4K Resolutions: