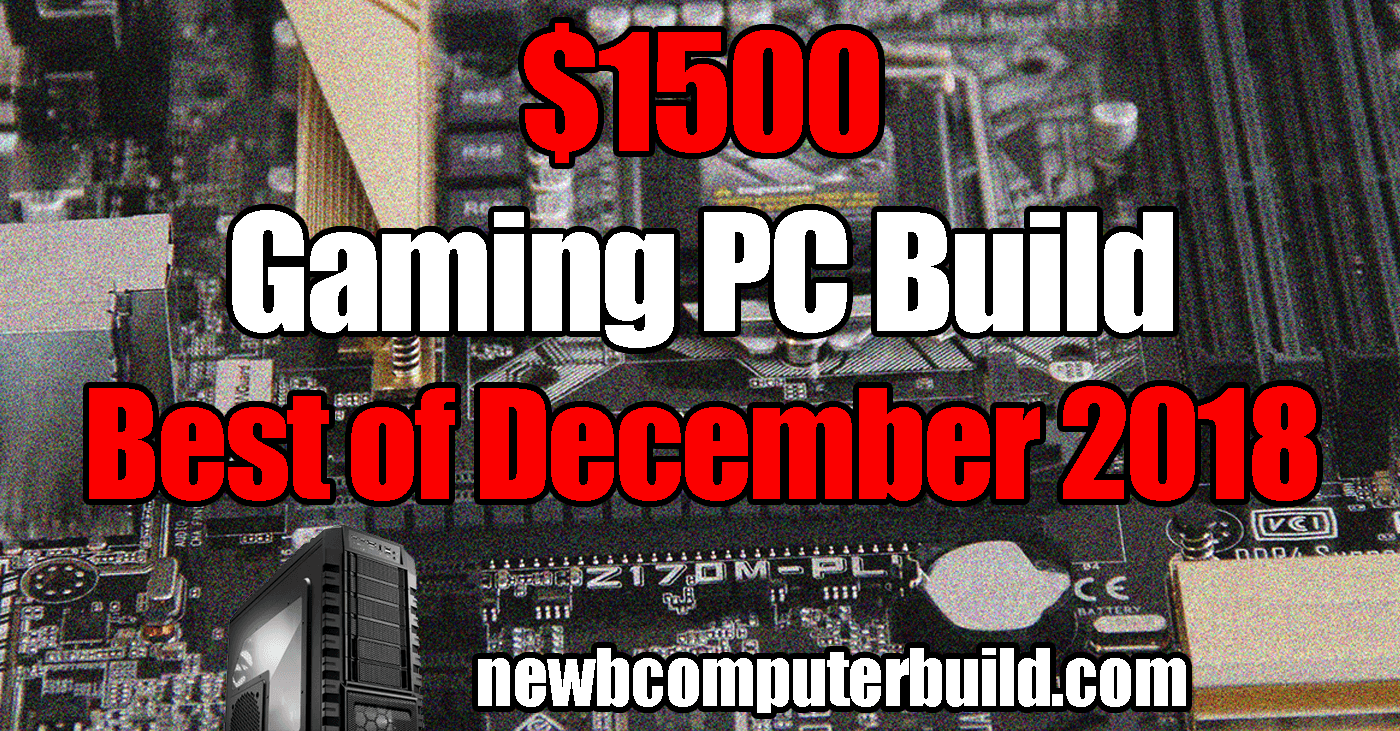 This is the best possible $700 gaming pc build up to date for December 2018. The $700 pc build is for those wanting to get up and running with a budget pc build capable of playing games really well at 1920×1080 resolutions. This is would be the perfect build for those wanting to outperform any console out there without a hiccup with plenty of room for upgrades in the future. 
$1500 Gaming PC Build – December 2018 Updates
The December 2018 $700 gaming pc build uses a Ryzen 5 2600 and pairs that with a GTX 1060 3GB graphics card. This build is for those wanting a simple, affordable gaming pc that will play any pc game on the market at 1080p resolutions with high settings.
---
Looking for a Different PC Build Budget?
Take a look at all of the December 2018 Gaming PC Builds of the Month
---

The Best $1500 Gaming PC Build | December 2018
Performance: Game with Extreme settings and High FPS at resolutions of 1920×1080 (1080P) & 2560×1440 (1440p) + good gameplay at 4K
*This PC Build is powered by the AMD Ryzen 7 2700K CPU and RTX 2070 GPU
Hardware Link
Price
Image
Processor

AMD Ryzen 7 2700X Processor with Wraith Prism LED Cooler – YD270XBGAFBOX

$329.99
Cooler
*Included: The cpu comes with a Wraith Prism RGB Cooler

Need more cooling? See the hardware alternatives table below.

-Included
Motherboard
GIGABYTE X470 AORUS ULTRA GAMING (AMD Ryzen AM4/ X470/ USB 3.1 Gen 2 Front Type C/ ATX/ DDR4/ Motherboard)
$133.70
Graphics Card
RTX 2070 – ZOTAC Gaming GeForce RTX 2070 Blower 8GB GDDR6 256-bit Dual Slot Gaming Graphics Card – ZT-T20700A-10P
$499.99
RAM
$144.88
SSD
WD Blue 3D NAND 1TB PC SSD – SATA III 6 Gb/s, 2.5″/7mm – WDS100T2B0A
$134.99
Power Supply
EVGA SuperNOVA 750 G2, 80+ GOLD 750W, Fully Modular, EVGA ECO Mode, 10 Year Warranty, Includes FREE Power On Self Tester Power Supply 220-G2-0750-XR
$89.99
Computer Case
Cooler Master MasterCase H500 ATX Mid-Tower, tempered glass panel, two 200mm RGB fans with Controller and Case Handle for Transport
$99.99
Estimated Price :
$1434 – (2018)
Overview | Best Gaming PC Build for $1500
December 2018 Update:  This best under $1500 gaming pc build now utilizes the RTX 2070 graphics card, giving you phenomenal performance in-game performance all the way up to 4K (although if you are wanting the best possible 4K gameplay, then we do suggest an RTX 2080 ti).
For the gaming processor this December, we have the AMD Ryzen 7 2700X CPU, which comes with eight cores and 16 threads and comes with a decent Wraith Prism (with RGB lights) CPU cooler. And should you want to upgrade to something like a higher-performing liquid CPU cooler, you now have more funds to do so, which you could consider if you wanted to overclock the heck out of this thing.
The graphics card used is an RTX 2070 (specifically the Gigabyte GeForce Windforce RTX 2070). This card replaces the GTX 1080, which you can still purchase and is still a great card (so if you can find one cheaper you can still get yourself one and save a few bucks). The RTX 2070 utilizes GDDR6 memory, which is the new generation of memory and it does have a faster memory speed than either a GTX 1080 or 1080 Ti in some cases.
The motherboard included is an X470 chipset motherboard, the GIGABYTE X470 AORUS ULTRA GAMING mobo. Alternatively, if you have more moola to throw at a motherboard, you could consider the Gigabyte X470 Aorus Gaming 7 Wi-Fi instead, which is more pricey but has more features including built-in wifi and better audio. This motherboard basically has more than most gamers with probably utilize including (see the full list of features at gigabyte.com):
Chipset AMD X470
Form factor ATX
CPU support AMD Socket AM4
Memory support Dual-channel, four slots, max 64GB
Sound Eight-channel Realtek ALC 1220
Networking 1x Intel Gigabit Ethernet
Ports 1x M.2 PCIe 3.0 x4 32Gbps/SATA 6Gbps up to 22110, 1 x M.2 PCIe 2.0 x4 16Gbps up to 2280, 6 x SATA 6Gbps, 1 x USB 3.1 Type-A, 1 x USB 3.1 Type-C, 1 x USB 3.1 Type-C header, 8 x USB 3.0 (4 via headers), 8 x USB 2.0 (4 via headers), 1 x LAN, audio out, line in, mic, Optical S/PDIF out
Dimensions (mm)305 x 244
Included in the high-end build is 16GB total in memory, a kit of two 8GB sticks of HyperX Kingston Technology Fury.
The storage included in this pc build is a 1TB Western Digital Blue 3D Nand SSD, which is an upgrade from the previous 500GB SSD included in this build. The Western Digital has sequential read speeds up to 560MB/s and sequential write speeds up to 530MB/s.
We have switched up the power supply in this build this month simply due to the previous version shooting up in prices. Included this month is the EVGA SuperNOVA 750 G2, a gold rated power supply, did I mention that it's fully modular, making this a clutter-free power supply.
The PC case has also been switched this month to a Cooler Master MasterCase H500, which is pumping with fantastic airflow with its two font facing 200mm RGB fans. You can learn all about the MasterCase H500 at coolermaster.com.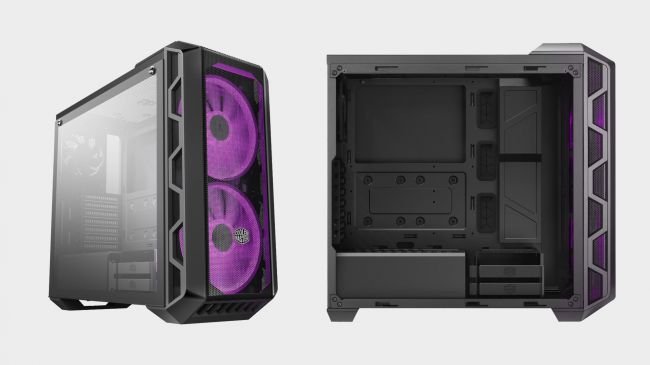 Upgrade Suggestions | Best $1500 PC Build Upgrade Suggestions 2018
The hardware upgrades you see above are recommendations for the best December 2018 gaming PC builds $1500 build. That is if you have more cash to spend or want upgrade ideas, here they are.
If you think you'll want more than the included 1TB of storage, you could opt for the 2TB version of the Western Digital Blue Nand SSD instead for slightly more in cost.
If you are going to be serious about 4Kreoslution gaming, then you should seriously consider an RTX 2080 or 2080ti graphics card. Or if you have a super high refresh rate 1440p monitor, it wouldn't hurt either.
The above pc build does include an SSD, which is perfectly suited for most gamers and pc builders, but if someone were searching for the fastest and one of the most efficient methods of storage, you could consider a premium PCIe Solid State Drive, such as the XPG SX8200 480GB SSD above.
If you want more than the included air CPU cooler included in the main build, the above is the Corsair Hydro Series H100i liquid CPU cooler. This cooler would be a substitute for the stock AMD Wraith Prism CPU cooler, should you feel you need it.
---
Looking for a Different PC Build Budget?
Take a look at all of the December 2018 Gaming PC Builds of the Month