Jump to a specific budget build –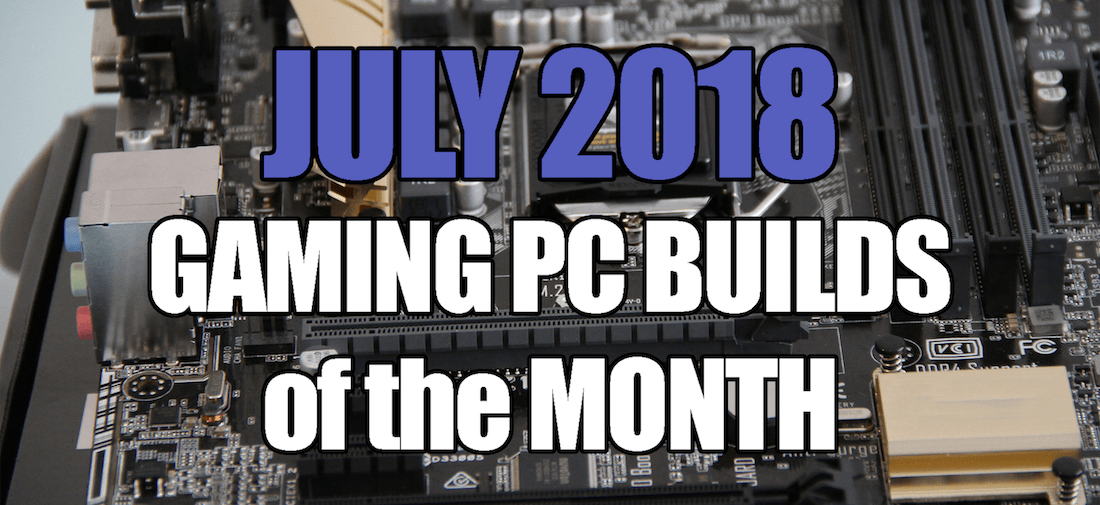 July 2018 Gaming PC Builds | What's New?
Building your own gaming pc is the way to go if you are wanting to garner the most performance per dollar spent on your pc, and this is especially true for the three up to date July 2018 gaming pc builds of the month. Over here at Newb Computer Build, we put out this monthly series of builds to bring you up to date budget pc builds that are the best performing for their cost. The reason why we provide you with three budget categories is that these three budgets are the perfect performance ranges to aim for at the moment if you are going to be building a brand new pc. This is because, at the low-end, you can get great performance on any standard HD monitor. In the mid-range build, you get even better performance at standard HD with the ability to do higher refresh rate monitors (like 144HZ) all the way into 2K resolutions at great performance, and then the high-end build is capable of performing phenomenally at 2K resolutions and can play into 4K. You see, these builds align perfectly into probably 95% of most gamers capabilities.
So what's new this July 2018 — well first off prices for graphics cards, power supplies, and RAM have all dropped significantly over the last month. I mean, the PC building market hasn't felt so good in a very long time. This is great because you can now spend less or get more, depending on how you look at it. So take a look at the three budget gaming pc builds below for under $1500, $1000 or $700 and start building an awesome rig. Feel free to leave a comment should you have anything to ask, say or anything in between.
---
Bookmark our Best Gaming PC Builds for 2018 Page to Keep up to Date With the Monthly Gaming PC Builds, or subscribe here.
---

The Best $1500 Gaming PC Build | July 2018
Performance: Game with Extreme settings and High FPS at resolutions of 1920×1080 (1080P) & 2560×1440 (1440p) + good gameplay at 4K
*This PC Build is powered by the AMD Ryzen 7 2700K CPU and GTX 1080 GPU
Hardware Link
Price
Image
Processor

AMD Ryzen 7 2700X Processor with Wraith Prism LED Cooler – YD270XBGAFBOX

$319.99
Cooler
*Included: The cpu comes with a Wraith Prism RGB Cooler

Need more cooling – see alternatives table below.

-Included
Motherboard
GIGABYTE X470 AORUS ULTRA GAMING (AMD Ryzen AM4/ X470/ USB 3.1 Gen 2 Front Type C/ ATX/ DDR4/ Motherboard)
$139.99
Graphics Card
GTX 1080 – Gigabyte GeForce GTX 1080 Windforce OC GV-N1080WF3OC-8GD Graphics Cards
$529.99
RAM
$166.94
SSD
Crucial MX500 500GB 3D NAND SATA 2.5 Inch Internal SSD – CT500MX500SSD1(Z)
$109.99
Power Supply
EVGA SuperNOVA 750 P2, 80+ PLATINUM 750W, Fully Modular ECO Mode, 10 Year Warranty, Includes FREE Power On Self Tester, Power Supply 220-P2-0750-X1Corsair
$129.99
Computer Case
Cooler Master MasterBox Pro 5 RGB Mid-Tower PC Case 3 RGB Fans 120mm Temper Glass Side Panel Dark Mirror Front Panel ATX, M-ATX, ITX (MCY-B5P2-KWGN-01)
$76.19
Estimated Price :
$1468 – (2018)
Overview | Best Gaming PC Build for $1500
July 2018 Update: Two months ago we saw the release of AMD's newly released Ryzen 7 2700X, which now replaces the previous Intel i7 8700K and with that AMD released brand new X470 chipset motherboards, which are included. What makes the Ryzen 7 2700X so wonderful is that it will make your pc into a very well rounded gaming rig with the ability to game flawlessly and do other tasks like stream games simultaneously relatively easy.
The AMD Ryzen 7 2700X CPU is a part of the 2nd gen of Ryzen chip comes in with eight cores and 16 threads and is cheaper than the previous CPU that held this spot – the Intel i7-8700K. This makes the inclusion of the CPU a no-brainer. Not to mention, we no longer need to include a CPU cooler as it also comes with a decent Wraith Prism (with RGB lights) CPU cooler. And should you want to upgrade to something like a higher-performing liquid CPU cooler, you now have more funds to do so (see the hardware alternatives tables below).
The graphics card recommended for this gaming pc build is the GTX 1080 (Gigabyte Windforce), which will get you phenomenal gaming results in resolutions anywhere from 1080p, to 2K and even good gameplay at 4K.
The motherboard included in an X470 chipset motherboard, the GIGABYTE X470 AORUS ULTRA GAMING motherboard. This motherboard basically has more than most gamers with probably utilize including (see the full list of features at gigabyte.com):
Supports AMD Ryzen™ 2nd Generation/ Ryzen™ with Radeon™ Vega Graphics/ Ryzen™ 1stGeneration/ 7th Generation A-Series/ Athlon™ X4 Processors
Dual Channel Non-ECC Unbuffered DDR4, 4 DIMMs
8+3 Phase Hybrid Digital PWM Design
2-Way CrossFire/ SLI Graphics Support with Dual Armor and Ultra Durable™ Design
ALC1220-VB Enhance 114dB(Rear)/ 110dB(Front) SNR in Microphone with WIMA Audio Capacitors
Dual Ultra-Fast M.2 with NVMe PCIe X4 with One Thermal Guard
RGB FUSION with Multi-zone LED Light Show Design, Supports Digital LED & RGB LED Strips
Intel® Ethernet LAN with cFOS Speed Internet Accelerator
USB DAC-UP 2 with Adjustable Voltage
Anti-Sulfur Resistors Design
Ultra Durable™ 25KV ESD and 15KV Surge LAN Protection
CEC 2019 Ready, Save Power with a Single Click
Included in the high-end build is 16GB total in memory, a kit of two 8GB sticks of Ballistix Sport LT memory. RAM prices are slowly coming down to where they should be, which is great to see. If you do have some extra cash, you could splurge for a better-optimized package of RAM, such as a 16GB G Skill Flare Series 3200mhz kit ($245).
Our storage solution is a Crucial MX500 500GB – which is simply a quality 500GB Solid State Drive (SSD) that comes at a very affordable cost. If you want to get the best of the best in terms of fastest read/write speeds, then you could go with a PCIe SSD, included in the additional hardware recommendations in the table below.
The included power supply unit (PSU) this month is back to the quality EVGA SuperNOVA 750 P2, 80+ PLATINUM 750W, which is a bump up from last months included PSU in terms of power efficiency.
And included again, the PC case we have for this month is the Cooler Master MasterBox Pro 5 RGB. I must say, I am relatively surprised at how awesome this case is for the cost, especially in terms of features such as a smart layout, plenty of space for anything you want to throw in it and of course included RGB fans. To learn more visit coolermaster.com (MasterBox Pro 5 RGB).
Upgrade Suggestions | Best $1500 PC Build Upgrade Suggestions 2018
The hardware upgrades you see above are recommendations for the best July 2018 gaming PC builds $1500 build. That is if you have more cash to spend or want upgrade ideas, here they are.
If you think you'll want more than the included 500GB of storage, you could opt for the 1TB version of the Crucial MX500 SSD instead for slightly more in cost.
If you want to further increase your overall gaming performance in the $1500 pc build, then you could opt for a GTX 1080 Ti graphics card. This card is recommended to those who first, want to maximize their FPS, and secondly for those who think they will gaming at 4K or doing a lot of Virtual Reality gameplay.
The above pc build does include an SSD, which is perfectly suited for most gamers and pc builders, but if someone were searching for the fastest and one of the most efficient methods of storage, you could consider a premium PCIe Solid State Drive, such as the XPG SX8200 480GB SSD above.
If you want more than the included air CPU cooler included in the main build, the above is the Corsair Hydro Series H100i V2 liquid CPU cooler. This cooler would be a substitute for the stock AMD Wraith Prism CPU cooler, should you feel you need it.

---
The Best $1000 Gaming PC Build | July 2018
Capability: Game with Extreme settings at 1920X1080 (HD) resolutions up to Higher Settings at 2560×1440 (2K)
Powered by the Intel i5 8600K and the GTX 1060 6Gb Graphics Card
Hardware Link
Price
Image
Estimated Price:
$934 (2018)
Processor
Intel BX80684I58400 8th Gen Core i5-8400 Processor

$178.99
Cooler
Included
Motherboard
$110.77
Graphics Card

RX 580 8GB: MSI VGA Graphic Cards RX 580 ARMOR 8G OC
$299.99
RAM
$94.99
SSD
$79.99
Power Supply
EVGA SuperNOVA 650 P2, 80+ PLATINUM 650W, Fully Modular, EVGA ECO Mode, 10 Year Warranty, Includes FREE Power On Self Tester, Power Supply 220-P2-0650-X1
$109.99
Computer Case
$59.99
Overview | $1000 Best Gaming PC Build 2018
July 2018 Update: The $1000 gaming pc build this month has had some minor revisions. First, the graphics card has switched to an AMD RX 580, this is because this card has now dropped in price and is actually available and it has a slight edge over the GTX 1060 (such as in DirectX 12 games). The second change is the PC case for the pure reason of adding a different flavor — this month we have included the Phanteks Eclipse.
The included processor is an Intel i5 8400, a great choice now as the cost for this CPU has come down a tad along with more budget conscious Z370 motherboards. If you have a little more to spend on the CPU, check the alternatives tables below where we include the Intel i5 8600K, which gives you more performance potential.
The included graphics card is an AMD RX 580 graphics card, which replaces the previous GTX 1060 as it has a slight edge for the same cost and performs better in DirectX 12 games. You should expect to play pc games phenomenal at resolutions of 1080p and great into 2K.
The motherboard included in the $1000 gaming pc build is the MSI Z370 GAMING PLUS CFX, which is fully compatible with the included Intel i5 8400 CPU and comes with the following specifications (learn more at MSI.com):
Supports 8th Gen Intel® CoreTM / Pentium® Celeron® processors for LGA 1151 socket
Supports DDR4 Memory, up to 4000+(OC) MHz
Lightning Fast Game experience: 1x TURBO M.2, Intel Optane Memory Ready.
AUDIO BOOST: Reward your ears with the studio-grade sound quality for the most immersive gaming experience
DDR4 Boost: Fully isolated, shielded and optimized DDR4 PCB design to give your DDR4 memory a performance boost.
GAMING LAN, powered by Intel®: The best online gaming experience with the lowest latency and bandwidth management.
MULTI-GPU: With STEEL ARMOR PCI-E slots. Supports 2-Way AMD Crossfire™
VR Ready: Best virtual reality game experience without latency, reduces motion sickness
Military Class 5, Guard-Pro: Latest evolution with high-quality Japanese components for best protection and efficiency
In-Game Weapons: Game Boost, GAMING Hotkey, X-Boost, WTFast
EZ Debug LED: Easiest way to troubleshoot
Click BIOS 5: Award-winning BIOS with high-resolution scalable font, favorites, and search function
GAMING CERTIFIED: 24-hour on- and offline game and motherboard testing by eSports players
The RAM kit included is the affordable kit of Kingston HyperX Fury 8Gb kit, which is enough memory for most gaming pc builds, and you always have the option to upgrade more in the future if need be with the extra couple of slots on the included motherboard.
For this pc builds storage, we have a Samsung 860 EVO 250GB SSD, which is a great performing storage, however, if you want more storage room to check out the hardware alternatives table below.
Now to house all of the components in this build, we have the Phanteks Eclipse pc case. This case provides a nice user-friendly design to create a clean and beautiful system. To see the full specifications of this Phantek case, please visit phanteks.com (Phanteks Eclipse).
Upgrade Suggestions | Best $1000 PC Build Upgrade Suggestions 2018
---
Above are the upgrade ideas for the best July 2018 $1000 gaming PC build, these are recommended if you have a larger budget or want some upgrade suggestions later on.
There is a CPU upgrade included this month to act as an upgrade to the above Intel i5 8400, with the upgraded CPU being the Intel i5 8600K. The 8600K gives you the potential to further overclock your CPU for a slightly higher cost. You do have to keep in mind though that if you go with the 8600K, you will need to add a CPU cooler (such as the Cooler Master Hyper 212).
For the best in terms of a performance boost, you could consider going straight for a GTX 1070 or GTX 1070 ti graphics card, which could max those games out in 2K resolutions without a problem, which will enable higher frame rates in more demanding games.
Since the $1000 pc build above includes 8GB of RAM, you could bump this up further to 16GB with a kit of Ballistix Sport LT(2x8GB sticks).
You could also go with a liquid CPU cooler such as the Corsair Hydro Series H80i V2 in place of the included air cooler already included in the above build above. This could help keep things quiet and a tad cooler when overclocking and it offers a more customize the cooling experience.

The Best $700 Gaming PC Build | July 2018
Capability: Game at Smoothly with High settings and FPS at 1920X1080 resolutions in most games.
Hardware Link
Price
Image
Estimated Price:
$669 (2018)
Processor
$139.99
Motherboard
GIGABYTE GA-AB350-Gaming AMD RYZEN AM4 B350 SMART FAN 5 HDMI M.2 SATA USB 3.1 Type-A ATX DDR4 Motherboard
$79.99
Graphics Card
GTX 1050 Ti: ASUS Cerberus GeForce GTX 1050 Ti 4GB OC Edition GDDR5 Gaming Graphics Card (Cerberus-GTX1050Ti-O4G)
$199.99
RAM
Kingston HyperX FURY Black 8GB Kit (2x4GB) 2133MHz DDR4 Non-ECC CL14 DIMM Desktop Memory (HX421C14FBK2/8)
$94.99
SSD
Kingston Digital, Inc. 120GB A400 SATA 3 2.5 Solid State Drive
$37.99
Power Supply
Corsair CX Series, CX500, 500 Watt (500W) Power Supply, 80+ Bronze Certified
$44.99
Computer Case
Thermaltake View 21 Dual Tempered Glass ATX Black Gaming Mid Tower Computer Case Chassis CA-1I3-00M1WN-00
$59.99
Overview | Best Gaming PC Build for $700
July 2018 Updates: The $700 budget gaming pc build for July has stayed about the same and is still well below the $700 price range, so if you did want to make the build even better there is room.
The CPU for the 2018 $700 PC build to a Ryzen 5 1400. This is currently the best cost per performance solution for this budget and if you want a CPU upgrade you can get a Ryzen 5 1600 for about $30 more.
For the graphics card, we have a GTX 1050 Ti graphics card, which is a great GPU that provides you with good 1080p gameplay. If you need to further boost your graphics performance you can think about getting a GTX 1060 3GB card, or the same GTX 1060 6GB as seen in the best $1000 gaming pc build above.
For the motherboard, we had to include a new one to accommodate the inclusion of our Ryzen CPU, so this month we have gone with the plain GIGABYTE GA-AB350-Gaming. This motherboard is a variant of the one included in the $1000 pc build above and has the following specification (Gigabyte.com):
Supports AMD Ryzen™ & 7th Generation A-series/ Athlon™ Processors
Dual Channel Non-ECC Unbuffered DDR4, 4 DIMMs
Fast 2 USB 3.1 Gen 2 with USB Type-A
2-Way CrossFire™ Multi-Graphics Support
Ultra-Fast PCIe Gen3 x4 M.2 with PCIe NVMe & SATA mode support
High-Quality Audio Capacitors and Audio Noise Guard with LED Trace Path Lighting
Realtek® Gigabit LAN with cFosSpeed Internet Accelerator Software
Smart Fan 5 features 6 Temperature Sensors and 4 Hybrid Fan Headers
GIGABYTE UEFI DualBIOS™
APP Center Including EasyTune™ and Cloud Station™ Utilities
The RAM included is a kit of Kingston HyperX Fury (the same as in the $1000 pc build) which is enough memory for most gaming pc builds, and you always have the option to upgrade more in the future if need be with the extra couple of slots on the included motherboard.
The storage included is a Kingston Digital 120GB solid state drive SSD. This is a great start in terms of storage speed and capacity, however, if you do think you'll need more storage right away, you could consider a 256Gb or larger SSD as well (look at any of the builds in this article or in the hardware alternatives table for suggestions).
To actually provided power in this pc build, we have the reputable and affordable Corsair CX Series, CX500, with enough juice to power this build and for a good cost.
The gaming pc case included this month is the Thermaltake View 21 — a very cool tempered glass case with the great aesthetic appeal. Learn more at thermaltake.com.
Upgrade Suggestions | Best $700 PC Build 2018
Here you will find upgrade suggestions should you have more to spend or want ideas for hardware upgrade when you have the need in the future for the best July 2018 $700 gaming PC build.
For a different style to your pc case, we have included yet another newly released PC case, the BitFenix Aurora White Mid Tower. This case can be a worthy upgrade that has RGB lighting functionality, a windowed side to view your superb hardware.
If you are looking for one piece of hardware that will boost the speed of your gaming pc the most, it would be to upgrade your graphics card to an AMD RX 580.
Or if you are looking to spend just a tad more, you could bump your CPU up to an AMD Ryzen 5 1600, which is currently only $160.
You could also increase your storage space by going with a larger capacity Samsung 860 EVO SSD or even the 500GB one. This would be recommended if you think you will need more than 120GB as included in the SSD in the base build above.
---
Additional Gaming PC Components
There are a ton of additional PC components that you may or may not need for your gaming pc build, and below are some suggestions. Such as you may want to add wireless internet functionality, which isn't inherently included in the above builds, and you may not already have an operating system to install on your new rig.
Furthermore, you will need peripherals such as a monitor, mouse, and keyboard. For suggestions for these please head over to the Gaming PC Peripherals page.
Operating System | What will you run Your Gaming PC Build With?
You will need an operating system (OS) for your gaming pc build and If you don't already have one laying around, then you're going to have to purchase a standard OS such as Windows 10 or check out some free alternatives that you could consider. Keep in mind that it is recommended to purchase Windows online or as a USB stick and install it that way as optical drives are not included in any of these builds and nor would you generally need one for any modern gaming pc.
Included below is a USB copy of Windows 10, which is probably what most people need. I have also included two other operating systems that are both currently free – so could be worth the time trying out. Ubuntu is a Linux based operating system. The last OS is SteamOS, which is also a Linux OS being developed by Valve Corporation.
Network Card/USB | Add Wireless Internet to Your PC Build
Not all gaming pc motherboards have wifi, in fact not many do unless you are willing to purchase a more expensive board. So if you want wireless internet (wifi), then you will need to either purchase a wireless PCIe card or USB dongle. Whichever you choose is up to you, but essentially a wireless PCIe card plugs directly into your motherboard and usually has antennas that come out of the back of your PC case, and a USB dongle simply plugs directly into your PC case via a USB port.
Here are a couple examples:
Gaming PC Build Video Overview for July 2018