Jump to a specific budget build –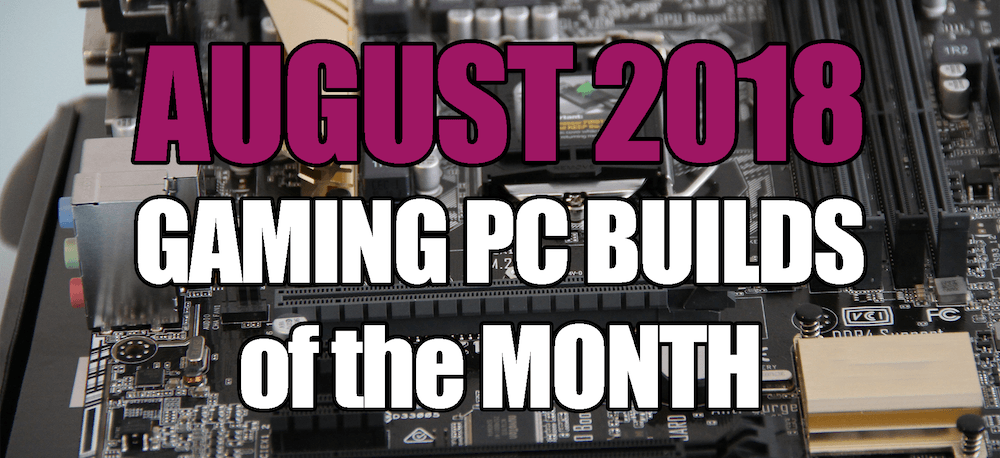 August 2018 Gaming PC Builds | What's New?
Here you will find the three best up to date August 2018 gaming pc builds of the month for under $1500, $1000 and $700 and everywhere in between. These monthly series of builds to bring you up to date budget pc builds that are the best performing for their cost. The reason why we provide you with three budget categories is that these three budgets are the perfect performance ranges to aim for at the moment if you are going to be building a brand new pc or simply upgrading.
So what's new this August 2018 — This month we have had a ton of great changes. The High-End $1500 build has probably the least of all changes, but we do include a newer NZXT H500i pc case, which makes this build look superb with its customizable RGB lighting.
In the $1000 pc build, we have your choice of an Intel i5 8400 or an Intel i5 8500, whichever is cheapest and/or in stock as both of these cpus do perform very similarly. Also newly included is a Corsair Carbide 275R pc case with tempered glass. A
nd finally, in the $700 gaming pc build there have been the most changes of all. The $700 build now includes an AMD Ryzen 1600 cpu, an upgrade over last months Ryzen 1400, but even more so you have the option to upgrade for not much more to a newer AMD Ryzen 5 2600  should you want to invest a tad more into your build. In this build, there is another performance boost as well with the inclusion of the GTX 1060 3GB graphics card — making the $700 much more powerful.
---
Bookmark our Best Gaming PC Builds for 2018 Page to Keep up to Date With the Monthly Gaming PC Builds, or subscribe here.
---

The Best $1500 Gaming PC Build | August 2018
Performance: Game with Extreme settings and High FPS at resolutions of 1920×1080 (1080P) & 2560×1440 (1440p) + good gameplay at 4K
*This PC Build is powered by the AMD Ryzen 7 2700K CPU and GTX 1080 GPU
Hardware Link
Price
Image
Processor

AMD Ryzen 7 2700X Processor with Wraith Prism LED Cooler – YD270XBGAFBOX

$324.99
Cooler
*Included: The cpu comes with a Wraith Prism RGB Cooler

Need more cooling? See the hardware alternatives table below.

-Included
Motherboard
GIGABYTE X470 AORUS ULTRA GAMING (AMD Ryzen AM4/ X470/ USB 3.1 Gen 2 Front Type C/ ATX/ DDR4/ Motherboard)
$131.58
Graphics Card
GTX 1080 – Gigabyte GeForce GTX 1080 Windforce OC GV-N1080WF3OC-8GD Graphics Cards
$489.99
RAM
$159.99
SSD
Crucial MX500 500GB 3D NAND SATA 2.5 Inch Internal SSD – CT500MX500SSD1(Z)
$89.95
Power Supply
EVGA SuperNOVA 750 P2, 80+ PLATINUM 750W, Fully Modular ECO Mode, 10 Year Warranty, Includes FREE Power On Self Tester, Power Supply 220-P2-0750-X1Corsair
$142.03
Computer Case
NZXT H500i ATX Computer Case, with digital fan control and RGB lighting, Black (CA-H500W-B1)
$99.99
Estimated Price :
$1439 – (2018)
Overview | Best Gaming PC Build for $1500
August 2018 Update:  We again include the Ryzen 7 2700X, and what makes it so wonderful is that it will make your pc into a very well rounded gaming rig with the ability to game flawlessly and do other tasks like stream games simultaneously relatively easy (like to game and stream anyone?). This month we have switched our case to the gorgeous NZXT H500i custom RGB lighting case — this is one heck of a gaming rig.
The AMD Ryzen 7 2700X CPU is a part of the 2nd gen of Ryzen chip comes in with eight cores and 16 threads; this makes the inclusion of the CPU a no-brainer. Not to mention, we no longer need to include a CPU cooler as it also comes with a decent Wraith Prism (with RGB lights) CPU cooler. And should you want to upgrade to something like a higher-performing liquid CPU cooler, you now have more funds to do so (see the hardware alternatives tables below).
The graphics card recommended for this gaming pc build is the GTX 1080 (Gigabyte Windforce), which will get you phenomenal gaming results in resolutions anywhere from 1080p, to 2K and even good gameplay at 4K.
The motherboard included in an X470 chipset motherboard, the GIGABYTE X470 AORUS ULTRA GAMING motherboard. This motherboard basically has more than most gamers with probably utilize including (see the full list of features at gigabyte.com):
Chipset AMD X470
Form factor ATX
CPU support AMD Socket AM4
Memory support Dual-channel, four slots, max 64GB
Sound Eight-channel Realtek ALC 1220
Networking 1x Intel Gigabit Ethernet
Ports 1x M.2 PCIe 3.0 x4 32Gbps/SATA 6Gbps up to 22110, 1 x M.2 PCIe 2.0 x4 16Gbps up to 2280, 6 x SATA 6Gbps, 1 x USB 3.1 Type-A, 1 x USB 3.1 Type-C, 1 x USB 3.1 Type-C header, 8 x USB 3.0 (4 via headers), 8 x USB 2.0 (4 via headers), 1 x LAN, audio out, line in, mic, Optical S/PDIF out
Dimensions (mm)305 x 244
Extras N/A
Included in the high-end build is 16GB total in memory, a kit of two 8GB sticks of Kingston HyperX 2400. RAM prices are a tad better now, so don't be too shy to get what you need. If you do have some extra cash, you could splurge for a better-optimized package of RAM, such as a 16GB G Skill Flare Series 3200mhz kit (~$228).
Our storage solution is a Crucial MX500 500GB – which is simply a quality 500GB Solid State Drive (SSD) that comes at a very affordable cost, so don't be shy to upgrade to the 1TB version should you think you need the space right away.  If you want to get the best of the best in terms of fastest read/write speeds, then you could go with a PCIe SSD, included in the additional hardware recommendations in the table below.
The included power supply unit (PSU) this month is back to the quality EVGA SuperNOVA 750 P2, 80+ PLATINUM 750W, which is a bump up from last months included PSU in terms of power efficiency.
We have switched up the gaming pc case this month to include the beautiful RGB lighting equipped and digital fan controlled NZXT H500i case. This case can sometimes be in short supply, so try and catch them while they are in stock — in fact, you can also try one of the other color combinations as well (Black/ Black-Blue / Black-Red / Black-White). This case has the following specifications (learn more at nzxt.com):
CAM-powered Smart Device to simplify installation and manage the use of RGB lighting and fans
Premium, all-steel construction with the sleek H Series design; available in four color combinations
Tempered glass panel showcases custom RGB lighting along with the vertical GPU mount
System installation and expansion made easy with all-new cable management system
Water-cooling installation simplified for both AIO and custom loop
Adaptive Noise Reduction optimizes cooling and noise balance for best gaming comfort
Upgrade Suggestions | Best $1500 PC Build Upgrade Suggestions 2018
The hardware upgrades you see above are recommendations for the best August 2018 gaming PC builds $1500 build. That is if you have more cash to spend or want upgrade ideas, here they are.
If you think you'll want more than the included 500GB of storage, you could opt for the 1TB version of the Crucial MX500 SSD instead for slightly more in cost.
If you want to further increase your overall gaming performance in the $1500 pc build, then you could opt for a GTX 1080 Ti graphics card. This card is recommended to those who first, want to maximize their FPS, and secondly for those who think they will gaming at 4K or doing a lot of Virtual Reality gameplay.
The above pc build does include an SSD, which is perfectly suited for most gamers and pc builders, but if someone were searching for the fastest and one of the most efficient methods of storage, you could consider a premium PCIe Solid State Drive, such as the XPG SX8200 480GB SSD above.
If you want more than the included air CPU cooler included in the main build, the above is the Corsair Hydro Series H100i liquid CPU cooler. This cooler would be a substitute for the stock AMD Wraith Prism CPU cooler, should you feel you need it.

---
The Best $1000 Gaming PC Build | August 2018
Capability: Game with Extreme settings at 1920X1080 (HD) resolutions up to Higher Settings at 2560×1440 (2K)
Powered by the Intel i5 8400/ or 8500 and the RX 580 8GB Graphics Card
Overview | $1000 Best Gaming PC Build 2018
August 2018 Update: The $1000 gaming pc build has had a few changes this month: Th CPU included is still the Intl i5-8400, but with an alternative listed as the Intel i5-8500. The choice in cpu is there as supplies of the 8400 are currently a little low and the cost can be similar to the Intel i5-8500, so you should choose your CPU based on either the one with the best cost, or whichever is in supply (this is because the performance between these two CPUS is very similar). The storage size has been upgraded to a 1TB Crucial MX500 SSD and a new gaming pc case has been added — the Corsair Carbide 275R.
The included processor is your choice of an Intel i5 8400 or an Intel i5 8500. The choice really comes down to whichever either costs the last, or whichever is in supply — both of these CPUs perform very similarly — so it really is your choice. These CPUs are a great choice now as the cost for this CPU has come down a tad along with more budget conscious Z370 motherboards. If you have a little more to spend on the CPU, check the alternatives tables below where we include the Intel i5 8600K, which gives you more performance potential.
The included graphics card is an AMD RX 580 graphics card, of which you should expect to play pc games phenomenal at resolutions of 1080p and great into 2K. If you have a little more to spend and want to invest in what will guarantee you the most performance in terms of your dollars spent, then you could consider a GTX 1070 (see the hardware upgrades table below).
The motherboard included in the $1000 gaming pc build is the MSI Z370 GAMING PLUS CFX, which is fully compatible with the included Intel i5 8400 CPU and comes with the following specifications (learn more at MSI.com):
Supports 8th Gen Intel® CoreTM / Pentium® Celeron® processors for LGA 1151 socket
Supports DDR4 Memory, up to 4000+(OC) MHz
Lightning Fast Game experience: 1x TURBO M.2, Intel Optane Memory Ready.
AUDIO BOOST: Reward your ears with the studio-grade sound quality for the most immersive gaming experience
DDR4 Boost: Fully isolated, shielded and optimized DDR4 PCB design to give your DDR4 memory a performance boost.
GAMING LAN, powered by Intel®: The best online gaming experience with the lowest latency and bandwidth management.
MULTI-GPU: With STEEL ARMOR PCI-E slots. Supports 2-Way AMD Crossfire™
VR Ready: Best virtual reality game experience without latency, reduces motion sickness
Military Class 5, Guard-Pro: Latest evolution with high-quality Japanese components for best protection and efficiency
In-Game Weapons: Game Boost, GAMING Hotkey, X-Boost, WTFast
EZ Debug LED: Easiest way to troubleshoot
Click BIOS 5: Award-winning BIOS with high-resolution scalable font, favorites, and search function
GAMING CERTIFIED: 24-hour on- and offline game and motherboard testing by eSports players
The RAM kit included is the affordable kit of Kingston HyperX Fury 8Gb kit, which is enough memory for most gaming pc builds, and you always have the option to upgrade more in the future if need be with the extra couple of slots on the included motherboard.
For this pc builds storage, this month included is a Crucial MX 500 500GB SSD. This is an upgrade from previous months as the cost for this SSD is really cheap right now.
Finally, the gaming pc case for the $1000 pc build is a CORSAIR CARBIDE 275R, which comes in your choice of white or black. The Carbide 275R is a minimalistic designed pc case with an edge to edge tempered glass. The specifications of the Carbide 275R include versatile cooling, expansive storage space, direct airflow path cooling and built-in cable routing (to learn more visit corsair.com). The Corsair Carbide 275R is a newer case as of 2018 as a budget-friendly pc case and has had great reviews all around — check our the Toms Hardware review: Corsair Carbide 275R Tempered Glass Case Review: Clear Winner?
Upgrade Suggestions | Best $1000 PC Build Upgrade Suggestions 2018
CPU UPGRADE
Add a Better CPU (This one can be overclocked for further performance.

*Note:

You will need to also purchase a

CPU cooler

): Intel BX80684I58600K 8th Gen Core i5-8600K Processor
$259.99
GRAPHICS CARD UPGRADE
GTX 1070: EVGA GeForce GTX 1070 SC GAMING ACX 3.0 Black Edition, 8GB GDDR5, LED, DX12 OSD Support (PXOC) 08G-P4-5173-KR
$379.99
RAM UPGRADE 
Add More RAM (16GB) – HyperX Kingston Technology Fury 16GB (2 x 8GB) DDR4 2400MHz DRAM
$159.99
CPU COOLER UPGRADE
Corsair Hydro Series H80i v2 Extreme Performance Liquid CPU Cooler, Black- Add a liquid CPU Cooler for quieter, more customized and efficient cooling experience.

$94.99
---
Above are the upgrade ideas for the best August 2018 $1000 gaming PC build, these are recommended if you have a larger budget or want some upgrade suggestions later on.
There is a CPU upgrade included this month to act as an upgrade to the above Intel i5 8400, with the upgraded CPU being the Intel i5 8600K. The 8600K gives you the potential to further overclock your CPU for a slightly higher cost. You do have to keep in mind though that if you go with the 8600K, you will need to add a CPU cooler (such as the Cooler Master Hyper 212).
If you want this biggest bang for your money spent in terms of performance, then you could consider going straight for a GTX 1070 graphics card. This could max those games out in 2K resolutions without a problem, which will enable higher frame rates in more demanding games.
Since the $1000 pc build above includes 8GB of RAM, you could bump this up further to 16GB with a kit of Kingston HyperX Fury RAM.
You could also go with a liquid CPU cooler such as the Corsair Hydro Series H80i V2 in place of the included air cooler already included in the above build above. This could help keep things quiet and a tad cooler when overclocking and it offers a more customize the cooling experience — this could also be used if you decided to go with the Intel 8600K CPU upgrade as it doesn't come with a cooler.

The Best $700 Gaming PC Build | August 2018
Capability: Game at Smoothly with High settings and FPS at 1920X1080 resolutions in most games.
Hardware Link
Price
Image
Estimated Price:
$695 (2018)
Processor
$149.99
Motherboard
GIGABYTE GA-AB350-Gaming AMD RYZEN AM4 B350 SMART FAN 5 HDMI M.2 SATA USB 3.1 Type-A ATX DDR4 Motherboard
$89.99
Graphics Card
GTX 1060 (3GB): EVGA GeForce GTX 1060 3GB GAMING, ACX 2.0 (Single Fan), 3GB GDDR5, DX12 OSD Support (PXOC) Graphics Cards 03G-P4-6160-KR
$216.22
RAM
Kingston HyperX FURY Black 8GB Kit (2x4GB) 2133MHz DDR4 Non-ECC CL14 DIMM Desktop Memory (HX421C14FBK2/8)
$97.99
SSD
Kingston Digital, Inc. 120GB A400 SATA 3 2.5 Solid State Drive
$27.99
Power Supply
Corsair CX Series, CX500, 500 Watt (500W) Power Supply, 80+ Bronze Certified
$44.99
Computer Case
MasterBox 5 Mid-tower Computer Case – BLACK
$67.53
Overview | Best Gaming PC Build for $700
August 2018 Updates: The under $700 gaming pc build for August 2018 has had a ton of very notable changes. First, the cpu has been upgraded to the Ryzen 5 1600, and even though the CPU is upgraded you do have the option to further upgrade to the newer Ryzen 5 2600 CPU – but you will have to spend a tiny bit more to do so — such as you could use the included B350 motherboard and do a BIOS upgrade or also upgrade the motherboard to an X370 board to enable further overclocking (see the hardware upgrade table below for more details). Second – there is a significant upgrade change to a GTX 1060 3Gb graphics card, and third there has ben a chang in pc case to a Master Box 5.
The CPU for the 2018 $700 PC build to a Ryzen 5 1600, this is an upgrade from last months included cpu, which was the Ryzen 5 1400. This is a fantastic choice, but you could also consider a newer Ryzen 5 2600.
For the graphics card, we have a GTX 1060 3GB graphics card, which is a great GPU that provides you with awesome 1080p performance. If you need to further boost your graphics performance you could consider and RX 580 graphics card as you see included in the $1000 gaming pc build.
For the motherboard, we had to include a new one to accommodate the inclusion of our Ryzen CPU, we have an included an AMD B350 chipset motherboard — the GIGABYTE GA-AB350-Gaming. This motherboard is perfect for the included build included in the above under $700 gaming pc build as is, however, if you did have a little bit more to spend, I would consider an upgrade to an AMD Ryzen 5 2600 CPU and an AMD X470 chipset motherboard; that way you could leverage the power of a better cpu and overclock quite easily.
The RAM included is a kit of Kingston HyperX Fury (the same as in the $1000 pc build) which is enough memory for most gaming pc builds, and you always have the option to upgrade more in the future if need be with the extra couple of slots on the included motherboard.
The storage included is a Kingston Digital 120GB solid state drive SSD. This is a great start in terms of storage speed and capacity, however, if you do think you'll need more storage right away, you could consider a 256Gb or larger SSD as well — or heck throw in another Kingston 120GB SSD for another $30 or so.
The included power supply unit in this pc build is the reputable and affordable Corsair CX Series, CX500, with enough juice to power this build and for a good cost.
The pc case has also changed this month to the Cooler Master MasterBox 5. I have always loved this pc case for its quality and simplicity for such a budget-friendly case. The MasterBox 5 is built for enthusiasts and makes for easy building and expansion for anything from a basic build to DIY water cooling. Learn more about the Masterbox 5 at coolermaster.com.
Upgrade Suggestions | Best $700 PC Build 2018
CPU Upgrade
 *Newer more powerful CPU Upgrade:  AMD Ryzen 5 2600 Processor with Wraith Stealth Cooler
$165.99
+ MOTHERBOARD Upgrade
*If upgrading to a Ryzen 5 2600 this motherboard will provide much better overclocking potential and works right out of the box:

MSI X470GPLUS Performance GAMING AMD X470 Ryzen 2

(if using the GIGABYTE GA-AB350-Gaming you may need to upgrade the BIOS for compatibility with the Ryzen 5 2600)

$129.99
GPU Upgrade 
RX 580 8GB: XFX Radeon RX 580 GTS XXX Edition 1386MHz OC+, 8GB GDDR5, AMD Graphics Card (RX-580P8DFD6)
$249.99
STORAGE UPGRADE
Samsung 860 EVO 250GB 2.5 Inch SATA III Internal SSD (MZ-76E250B/AM)

$74.99
The above are upgrade ideas should you have more to spend than the allotted $700 for this gaming pc build. There are some significant performance upgrades above including the CPU and graphics card – and even further, if you upgrade the CPU you could also upgrade the motherboard for an even more overclocking capability for even more of a performance boost.
The CPU upgrade suggested is newer AMD Ryzen 5 2600, which is currently only about $15 more than the included AMD Ryzen 5 1600 — although you may want to also upgrade the motherboard.
The motherboard upgrade suggestion is an AMD socketed X470 board — the MSI X470GPLUS Performance GAMING motherboard. This motherboard can further leverage the cpu upgrade by providing an easier overclocking experience. Do keep in mind that if you upgrade the CPU to the AMD Ryzen 5 2600, you can still use the GIGABYTE GA-AB350-Gaming motherboard, but it may require a BIOS upgrade.
If you are looking for an easy PC gaming performance upgrade, then you could consider upgrading the graphics card to an RX 580 8Gb graphics card, which should enable quality PC gaming performance well over 1080p resolutions.
You could also increase your storage space by going with a larger capacity Samsung 860 EVO SSD or even the 500GB one. This would be recommended if you think you will need more than 120GB as included in the SSD in the base build above.
---
Additional Gaming PC Components
There are a ton of additional PC components that you may or may not need for your gaming pc build, and below are some suggestions. Such as you may want to add wireless internet functionality, which isn't inherently included in the above builds, and you may not already have an operating system to install on your new rig.
Furthermore, you will need peripherals such as a monitor, mouse, and keyboard. For suggestions for these please head over to the Gaming PC Peripherals page.
Operating System | What will you run Your Gaming PC Build With?
You will need an operating system (OS) for your gaming pc build and If you don't already have one laying around, then you're going to have to purchase a standard OS such as Windows 10 or check out some free alternatives that you could consider. Keep in mind that it is recommended to purchase Windows online or as a USB stick and install it that way as optical drives are not included in any of these builds and nor would you generally need one for any modern gaming pc.
Included below is a USB copy of Windows 10, which is probably what most people need. I have also included two other operating systems that are both currently free – so could be worth the time trying out. Ubuntu is a Linux based operating system. The last OS is SteamOS, which is also a Linux OS being developed by Valve Corporation.
Network Card/USB | Add Wireless Internet to Your PC Build
Not all gaming pc motherboards have wifi, in fact not many do unless you are willing to purchase a more expensive board. So if you want wireless internet (wifi), then you will need to either purchase a wireless PCIe card or USB dongle. Whichever you choose is up to you, but essentially a wireless PCIe card plugs directly into your motherboard and usually has antennas that come out of the back of your PC case, and a USB dongle simply plugs directly into your PC case via a USB port.
Here are a couple examples: