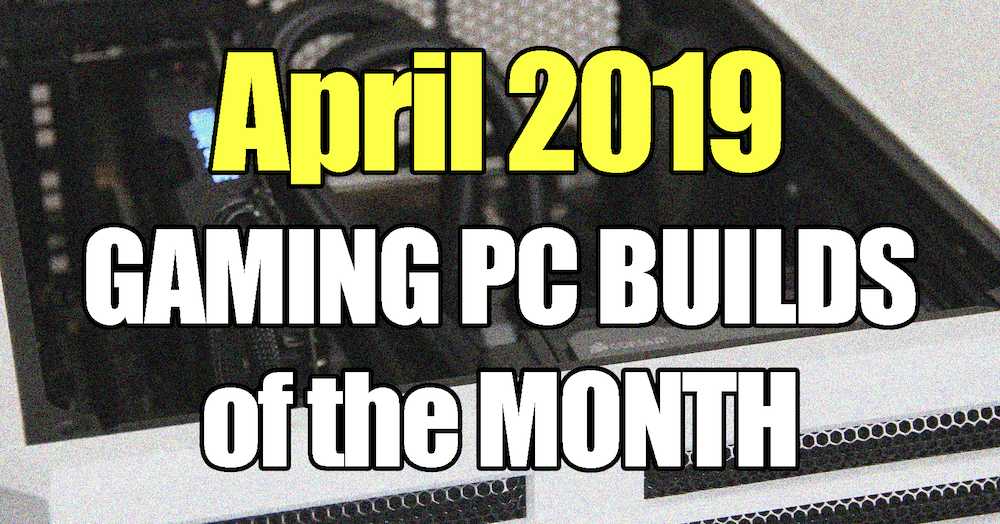 Welcome to the best Gaming PC Builds of the Month for April 2019. The builds updated every month are in the budgets in and between $700, $1000, $1500. Play any game out there at the best possible settings and get the most performance per dollar spent on your gaming pc.
Looking for fresh gaming pc build this month? Here are the updated gaming pc builds of the month for April in the respective budgets of $700, $1000 and $1500 or anywhere in between. These builds are built for maximum performance per dollar spent and are for new pc builders or those looking to upgrade their current rig.
Each of the pc builds this month come in at well under their target budgets, which means that they have never been this affordable meaning you can get more performance for every dollar spent.
Enjoy this months builds and if you have any questions or comments feel free to leave those below!
---
Bookmark our Best Gaming PC Builds for 2019 Page to Keep up to Date With the Monthly Gaming PC Builds, or subscribe here.
---
The Best $1500 Gaming PC Build | April 2019
Performance: Game with Extreme settings and High FPS at resolutions of 1920×1080 (1080P) & 2560×1440 (1440p) + good gameplay at 4K
*This PC Build is powered by the AMD Ryzen 7 2700K CPU and RTX 2070 GPU — Prefer to use an Intel i7 9700K? Then check out the hardware alternatives below.
ESTIMATED PRICE: $1516 (May 2019)
Overview | Best Gaming PC Build for $1500
To read the full overview visit the Best $1500 Gaming PC Build Page
---

The Best $1000 Gaming PC Build | April 2019
Capability: Game with Extreme settings at 1920X1080 (HD) resolutions up to Higher Settings at 2560×1440 (2K)
Powered by the Intel i5 8500 and the RTX 2060 Graphics Card
Estimated Cost (May 2019): $1025
Overview | $1000 Best Gaming PC Build 2019
To read the full overview visit the Best $1000 Gaming PC Build Page
---

The Best $700 Gaming PC Build | April 2019
Capability: Game at Smoothly with High settings and FPS at 1920X1080 resolutions in most games.
Powered by the Ryzen 5 2600 CPU and a RTX 580 8GB Graphics Card
Cooler
Wraith Stealth Cooler (Included)
The Wraith Stealth Cooler is included with the Ryzen 5 2600
Motherboard
ASUS TUF B450-Plus Gaming Motherboard (ATX) AMD Ryzen 2 AM4 DDR4 HDMI DVI M.2
The ASUS TUF B450-Plus Gaming motherboard has the following specifications:
GPU Temperature Sensing & Fan Xpert 4 Core: Ensures every fan achieves the best balance of cooling performance and acoustics
TUF Protection: SafeSlot, ESD Guards, DDR4 overvoltage protection, Digi+ VRM, and stainless-steel back I/O for long-term reliability
Military-grade TUF Components: TUF LANGuard, TUF Chokes, TUF Capacitors, and TUF MOSFETs for maximum durability
Exclusive DTS® Custom audio: Delivers positional cues to stereo headphones, helping you to pinpoint enemies and action
Aura Sync RGB: Synchronize LED lighting with a vast portfolio of compatible PC gear
PC Case
CORSAIR Carbide 275R Mid-Tower Gaming Case, Window Side Panel- Black
Full window side panel shows of your system in style

Clean and minimalist styling with soft accent lighting

Builder-friendly with simple and intuitive internal layout. Radiator Compatibility- 120mm, 140mm, 240mm, 280mm, 360mm. Compatible Corsair Liquid Coolers-H55, H60, H75, H80i, H90, H100i, H105, H110i, H115i, H150i. Compatibility- Mini-ITX, MicroATX and ATX

Versatile cooling options with space for multiple radiator configurations

Rugged-construction steel drive trays provide expansive storage space
Estimated Price (May 2019): $698
Overview | Best Gaming PC Build for $700T
To read the full overview visit the Best $700 Gaming PC Build Page
Gaming PC Peripheral Ideas
Below are some quick notes on how you can go about choosing the right gaming pc peripherals for your gaming pc build. Do note that included are limited options, but are definitely valid recommendations and examples of what you should be looking for.
Gaming Keyboards
You can use pretty much choose any keyboard you want, as these can sometimes be entirely preference based, however there are some things to consider for optimal gaming. Such as whether a keyboard is mechanical, or has the right look and feel you want (looking for some solid RGB lighting?).
Below are a couple of examples of some great gaming keyboards:
Gaming PC Mice
Gaming mice are probably the easiest of the peripherals to purchase as it can really just boil down to preference and feel. You can look out for other quality indicators like Dots per inch (DPI), the higher being the more precise and most sensitive and other features like the ability to sign functions to buttons or change your DPI on the fly.
See below for a couple of gaming mice examples, the first is the Proteus, which I have loved for years and the second is a solid budget example.
Gaming PC Monitor
The main thing to keep in mind is that when choosing the right monitor to take note of the resolution and the refresh rate, as these are important performance indicators. The higher the resolution and the higher the refresh rate will require higher-end gaming hardware.
For example: In the gaming pc builds of the month you could get something like a 1920×1080 resolution monitor at 60Hz for the $700 pc build. For the $1000 build you could get a 1920×1080 resolution monitor at 120hz, or a 2460×1440 resolution monitor at 60h. And for the $1500 gaming pc build, you could get a 2560×1440 resolution monitor at 120hz or a 4K resolution monitor at 60hz for the $1500 pc build.
One last thing to keep in mind is that monitors with G-Sync are best suited for builds using an NVIDIA graphics card and monitors with Freesync are best suited for monitors using AMD graphics cards.
Below you'll find several examples of monitors of various resolutions and refresh rates:
| | Monitor Link | Price | Image |
| --- | --- | --- | --- |
| Monitor (2560X1440 at 155Hz) | Dell S2719DGF 2560 x 1440 Resolution with 16:9 Aspect Ratio, 1ms Response time | $399.99 | |
| Monitor (2560X1440 at 60Hz – Widescreen) | LG 25UM58-P 25-Inch 21:9 UltraWide IPS Monitor with Screen Split | $169.99 | |
| Monitor (4K at 60Hz) | Acer Predator XB281HK bmiprz 28-inch UHD (3840×2160) NVIDIA G-SYNC | $527.82 | |
| Monitor (1920×1080 at 75Hz) | | $99.99 | |
| Monitor (1920×1080 at 144Hz) | ViewSonic XG2401 24 Inch 1080p 1ms 144 Hz Gaming Monitor with FreeSync | $199.99 | |
Operating System | What will you run Your Gaming PC Build With?
You will need an operating system (OS) for your gaming pc build. If you don't already have one laying around, then you're going to have to purchase a standard OS such as Windows 10 or check out some other free alternatives that you could consider. Keep in mind that it is recommended to purchase Windows online or as a USB stick and install it that way as optical drives are not included in any of these builds and nor would you generally need one for any modern gaming pc.
Included below is a USB copy of Windows 10, which is probably what most people need. I have also included two other operating systems that are both currently free – so could be worth the time trying out. Ubuntu is a Linux based operating system and is open source. The last OS is SteamOS, which is also a Linux OS being developed by Valve Corporation.
Network Card/USB | Add Wireless Internet to Your PC Build
Not all gaming pc motherboards have wifi, in fact not many do unless you are willing to purchase a more expensive board. So if you want wireless internet (wifi), then you will need to either purchase a wireless PCIe card or USB dongle. Whichever you choose is up to you, but essentially a wireless PCIe card plugs directly into your motherboard and usually has antennas that come out of the back of your PC case, and a USB dongle simply plugs directly into your PC case via a USB port.
Here are a couple examples:
April 2019 Gaming PC Builds of the Month Overview Video