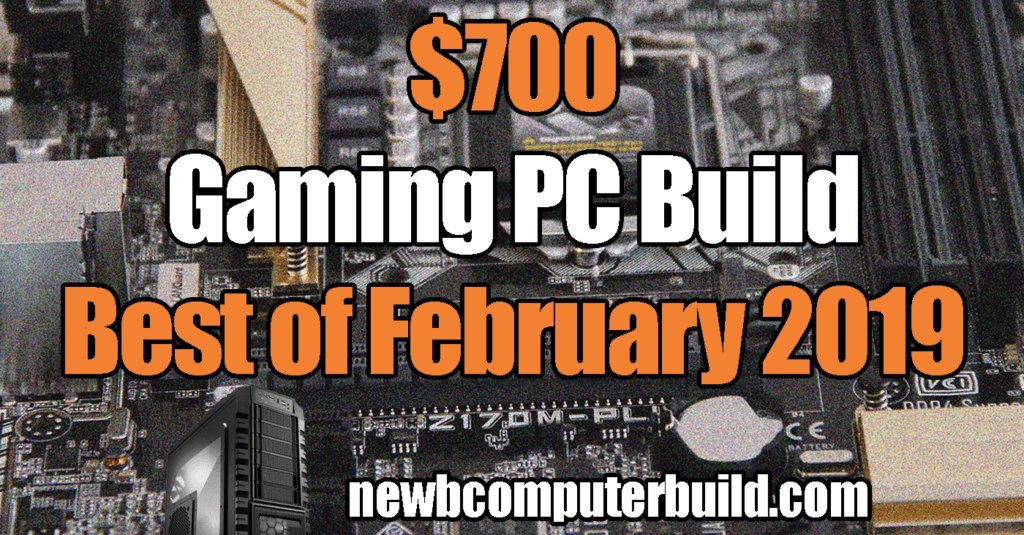 If you are in the market for the best possible pc build for $700 this February 2019, then here it is. The $700 pc build is for those who want a budget pc build capable of playing games really well at 1920×1080 / standard HD resolutions. This is would be the perfect build for those wanting to outperform any console out there without a hiccup with plenty of room for upgrades in the future.
$700 Gaming PC Build – February 2019 Updates
Last month we saw the biggest changes to the best $700 gaming pc build and this month the build stands strong. For February 2019 the CPU powering this rig is the Ryzen 5 2600 CPU, and a very capable RTX 580 graphics card, making this a very powerful $700 / budget 1080p resolution pc build.
---
Looking for a Different PC Build Budget?
Take a look at all of the Best 2019 Gaming PC Builds of the Month
---

The Best $700 Gaming PC Build | February 2019
Capability: Game at Smoothly with High settings and FPS at 1920X1080 resolutions in most games.
Powered by the Ryzen 5 2600 CPU and a RTX 580 8GB Graphics Card
Hardware Link
Price
Image
Estimated Price:
$698 (February 2019)
Processor

$164.99
Motherboard
ASUS B450 AMD Ryzen 2 ATX Gaming Motherboard AM4 DDR4 HDMI DVI M.2 USB 3.1 Gen2 (Prime B450-Plus)
$109.99
Graphics Card
RTX 580 (8GB): Sapphire 11265-05-20G Radeon Pulse RX 580 8GB GDDR5 Dual HDMI / DVI-D / Dual DP OC with Backplate (UEFI) PCI-E Graphics Card Graphic Cards
$219.99
RAM
Corsair LPX 8GB DDR4 DRAM 2133MHz C13 for DDR4 Systems 8 DDR4 2133 (PC4 17000) DDR4 2133
$59.99
SSD
Kingston A400 SSD 240GB SATA 3 2.5" Solid State Drive SA400S37/240G – Increase Performance
$29.99
Power Supply
Corsair CX Series, CX500, 500 Watt (500W) Power Supply, 80+ Bronze Certified
$58.49
Computer Case
Fractal Focus G No Power Supply ATX Mid Tower w/Window (Black)
$55.00
Overview | Best Gaming PC Build for $700
February 2019 Updates: The $700 gaming pc build had a significant upgrade last month with the inclusion of a more powerful CPU (Ryzen 5 2600) and a more powerful graphics card (RTX 2060). This build could probably fufil most standard gaming pc builders out there who simply want to game at high settings at 1080p.
The CPU for February 2019 is the Ryzen 5 2600 CPU is a superb value coming in with 6 CPU cores and 12 threads at 3.4Ghz. This is a solid gaming cpu that is priced really well.
The graphics card gets a major bump this month with the RTX 580 8GB (specifically the Sapphire Pulse RTX 580). This card has so much potential when gaming at 1080p, and you should expect to max out most games at 1080p resolutions.
The mother board included is a newer more compatible B450 board — the ASUS B450 Gaming (Prime B450-Plus motherboard. This motherboard has the following specifications (read the full specifications at asus.com):
AM4 socket: Ready for AMD Ryzen™ processors
Fast memory and storage: Dual-channel DDR4 3200MHz (OC) and NVM Express® RAID supported.
Aura Sync RGB: Synchronize LED lighting with a vast portfolio of compatible PC gear.
Gaming connectivity: Dual M.2 and USB 3.1 Gen 2 Type-A connectors.
Gaming networking: Intel Gigabit Ethernet, plus ASUS LANGuard and GameFirst technologies.
5-Way Optimization: Automated system-wide tuning, providing overclocking and cooling profiles that are tailor-made for your rig.
Gaming audio: SupremeFX S1220A teams with Sonic Studio III to create an aural landscape that draws you deeper into the action.
Gamer's Guardian: Pre-mounted I/O shield, ASUS SafeSlot and premium components for maximum endurance.
The RAM included is a kit of Corsair LPX 8Gb RAM (the same as in the $1000 pc build) which is enough memory for most gaming pc builds, and you always have the option to upgrade more in the future if need be with the extra couple of slots on the included motherboard.
The storage included is a Kingston Digital 240GB solid state drive SSD. This is a great start in terms of storage speed and capacity and is an increase in storage capacity compared to the $700 pc build in previous months. Is 240GB not enough storage for you? Then add more or save for more in the future (see the hardware alternatives for options).
The included power supply unit in this pc build is the reputable and affordable Corsair CX Series, CX500, with enough juice to power this build and for a good cost for cheap.
Finally, for the PC case in the $700 gaming pc build — we have the Fractal Focus G. This case is a sophisticated, elegant case that provides a compact, smart layout for your pc hardware.
Features include (learn more on the Fractal Focus H specifications page at fractal-design.com):
Available in Black, White, Petrol Blue, Mystic Red, and Gunmetal Gray
Large windowed side panel
Two preinstalled Fractal Design Silent Series LL 120mm White LED fans
Six total fan positions for high-airflow capability
Filtered front, top and base air intakes for a dust free interior
Support for high-profile CPU coolers and multiple radiator configurations
18 – 25 mm of space for cable routing behind the motherboard plate
Support for graphics cards up to 380 mm long without compromising hard drive space
Two vibration dampened universal drive bays with support for6TB+ HDDs and 15mm SSDs, plus an additional 2.5″ mount behind the motherboard tray
Front I/O panel includes USB 3.0, USB 2.0 and audio jacks
Kensington anti-theft padlock bracket and re-usable ventilated expansion slot covers included
Upgrade Suggestions | Best $700 PC Build 2019
The above are upgrades to the February 2019 $700 gaming pc build. That is if you have more to spend than a $700 budget for this gaming pc build, these are some options for you to increase your overall gaming performance. There are some significant upgrades above including the CPU and graphics card – and even further, if you upgrade the CPU you could also upgrade the motherboard for an even more overclocking capability for even more of a performance boost for nothing.
The CPU upgrade suggested is an AMD Ryzen 5 2600X, this could be a slight upgrade in computing power and it overclocks quite nicely (in order to do so, please also upgrade the motherboard).
The motherboard upgrade suggestion is an AMD socketed X470 board — the MSI X470GPLUS Performance GAMING motherboard. This motherboard can further leverage the included Ryzen cpu by providing an easier overclocking experience.
If you are looking the simplest performance upgrade, then you could consider upgrading the graphics card to an RTX 2060 graphics card, which is a fantastic card and is also included in our February 2019 $1000 gaming pc build.
You could also increase your storage space by going with a larger capacity 500GB Western Digital 3D NAND SSD. This would be recommended if you think you will need more than 120GB as included in the SSD in the base build above.
---
Looking for a Different PC Build Budget?
Take a look at all of the Best 2019 Gaming PC Builds of the Month