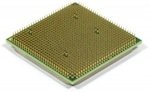 If you are planning on building your own computer choosing the right processor is a critical decision with the wrong choice potentially wasting the other expensive parts of your machine. The processor market has been dominated by two major players for over a decade now with Intel and AMD alternately being at the top, more recently ARM low power processors have begun to move from the mobile device market into low-end Netbooks.
Benchmarks and reviews are invaluable as a way of comparing prices and specifications, especially as the GHz processing speed figure that was long used as a benchmark of performance no longer tells you how much data the processor will be able to shift accurately. When buying a new processor you should be considering the socket type, this is the connector in the motherboard that the processor is housed in and carries data to and from the processor. For Intel cores this is the LGA 1366, also known as Socket B which replaced the LGA 775 (Socket T) for high-end and performance users in desktops as well as the recently released LGA 1156 for the second generation i3, i5 and i7 quad-core processors, and in 2011 the LGA 1155 motherboards were released for the newer i3, i5, and i7 Sandy Bridge processors. AMD processors use the AM2+ and AM3 sockets and motherboard chips so your choice of motherboard must be able to support the chip you choose.
If you intend to use your home-built computer for graphics-intensive tasks or other easily parallel tasks such as video processing then a large number of cores will be important, making Intel`s Quad-core i-series a good choice. For most users two cores would be sufficient for gaming and every day use, offering a significant improvement over a single core. For lower power, such as mobile or those who want to keep their power bill down the i3 is a good choice with a low price tag of around $90. The i5 at $170 with benchmark scores approaching 7,000, is a more powerful mid-range processor suitable for most heavy users able to perform video editing and gaming tasks powerfully but at a lower price than the i7. The top end i7 core is a monster, available at clock speeds of up to 3.6 GHz and racking up Passmark scores approaching 11,000, ideal for CAD or modelling applications, it`s also power-efficient and easy to overclock but likely to be more than most users need priced at $250.
AMD offers the Phenom, Phenom II and Athelon. The Phenom II X6 is a powerful six core processor available at $150 and achieving low 6,000 in the passmark benchmark, with the AMD chips offering gamers good performance for the money, based on the older 45 nm process compared to Intel`s 22 nm die. The Phenom II clocks in at 3.4 GHz and does well on benchmarks, performing comparably with the i5 series but far behind the i7.
Read widely to find reviews and consider waiting for the new wave of chips coming out in 2011, bringing Intel`s new Sandy Bridge architecture while AMD will bring out their Fusion chips. For the moment the best choices are Intel`s i5 and if you can afford it go all the way up to the i7 monster cores. Once you`ve sorted your ultimate gaming rig you can finally settle back in your leather sofa and do some hardcore gaming.