Have you ever wanted to build a super-compact, and portable gaming PC build? AKA, a Mini ITX form factor build capable of quickly sliding into a backpack for easy transportation while keeping up with high demanding pc games.
The idea here would be so that you can have a gaming PC that is portable enough that you could simply throw it into a backpack, go over to a friend's house, and start gaming. And even better, it would be a gaming PC that would be capable of playing modern PC games at the highest of settings so that you can show off how many FPS you have compared to your friends.
This is what PCMaster Race Redditor u/adilkhan1214 did by building the "ultimate backpack build…" using a Ryzen 3700X + RX 2070 graphics card and capable of fitting into a 4.7 L backpack.
Using a Ryzen 3700X and an RTX 2070 you say? Yes! This PC Build would be capable of maxing out modern PC games without any issue at 1080p and even at 1440p and capable of good 4K gameplay (however below we use a slight variation of this, but this is still an option).
I know what you must be thinking…how the heck can I build myself a super-compact pc build that I can drag around to LAN with for simply showoff out in public.
In the PC build you saw above, the user u/adilkhan1214 used all store-bought components, except for the case – which he had a local friend custom build. Unless you are super craft and capable of this, you might want to consider a small form factor case, however, building your own is possible given enough prowess to do so.
For example, I built this makeshift DIY PC case a while back when doing a custom media PC made of a metal sheet, some plexi glass and wood blocks – albeit it wasn't fully self contained, more of a test bench.
So for today's build, we will assume you are not building your own case, but doing with a super small form factor Mini ITX case instead.
Lets build you a high performing backpack pc build!
Building a High Performing Compact Backpack PC Build
Keep in mind that this build was inspired by the original backpack build references above, however, I have narrowed it down to the hardware that is more practical for most. Such as I'll be using the stock cooler, and going with a more affordable Mini ITX motherboard that includes everything most need.
And secondly, this gaming PC build should closely mimic our $1000 gaming PC build of the month in performance, but in small form factor – and because it is a smaller form factor, you will be paying a bit more.
The beauty of a small form factor though, is that yes it is very portable, can more comfortably fit on a shelf, and be tucked away and yes it looks much more compact.
The High Performing Mini ITX Backpack Gaming PC Build (Able to Fit into a 70L Backpack) < $1700
So here's the complete Mini ITX gaming pc build. This build is capable of keeping up with games at higher resolutions 1080p into 1440p without a problem and should keep temps down with the open concept miniature case and low profile CPU cooler while keeping it really compact and portable.
The pc build below is trimmed a bit from the original concept from u/adilkhan1214 in that it uses the mini Gigabyte RTX 2060 rather than the 2070, uses less RAM, the Ryzen 3600x rather than 3700x CPU and uses a higher efficiency power supply.
These hardware changes were all done with a more realistic end-user in mind in that it's a much more affordable gaming pc that is more realistic as a small form factor, which gives you a better bang for your buck per performance value and will produce a bit little less heat.
The AMD Ryzen 5 3600X is a phenomenal gaming processor for the cost. Straight out of the box, it can beat some more expensive cpus in gaming.
Amazon Price: $239.99
The AMD 3600X does come with a stock cooler, however is will be too tall for this particular build to fit in the case, so we went with a premium low profile cpu cooler.
Price: $39.90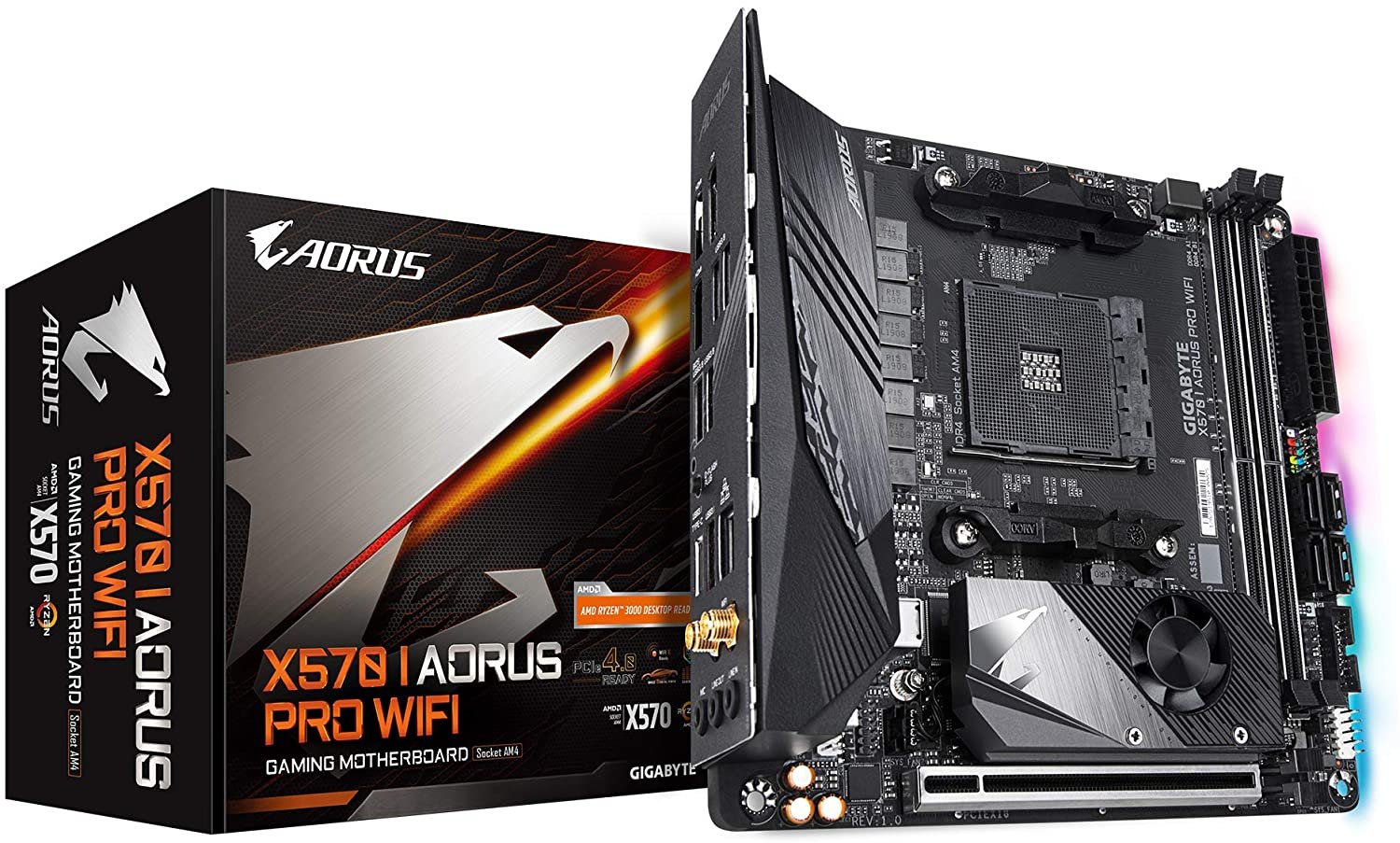 This is a full feldge X570 motherboard and in Mini ITX form - making it an action packed small form factor motherboard, including:
Supports AMD 3rd Gen Ryzen/ 2nd Gen Ryzen/ 2nd Gen Ryzen with Radeon Vega Graphics/ Ryzen with Radeon Vega Graphics processors

Dual Channel ECC/ Non ECC Unbuffered DDR4, 2 DIMMs

Direct 8 Phase Infineon digital VRM solution with 70a power stage

Extended VRM heatsink & 5W/MK thermal pad

Dual Ultra-Fast NVMe PCIe 4.0/3.0 x4 M.2
Amazon Price: $219.99

The RTX 2060 is a fairly good graphics card as is, and this particular one is miniaturized and will fit in this compact build nicely and produce minimal heat. The RTX 2060 is capable of high-end gameplay at higher resolutions.
Amazon Price: $389.98
Included is a total of 16GB in the best $1000 gaming pc build, which will be plenty of memory for this rig.
Amazon Price: $73.99

The Western Digital Black 1TB  NVMe is a great NVMe choice in storage in that offers up to 3430 mb/s transfer speeds.
Amazon Price: $149.99
This power supply will fit perfectly into the customized Mini ITX case included below and comes at a platinum rated efficiency at 500W, done deal.
Amazon Price: $149.99
Screw connection of elements of the case from steel 1 mm thick.

These shells are painted exclusively with Powder paint.

To connect the video card, we use only high-quality PCI-e riser with support for GEN 3.0 from Li-Heat.

FLEX 1U Power Supplies are incredibly reliable server solutions.

A USB 2.0 or 3.0 port can be mounted in front of the case.
Specification
Size:  225mm x 190mm x 110mm

Material: Steel (1mm)

MB: mini-ITX (170x170mm)

GPU: long to 183mm

Cooler: up to 48mm

RAM: up to 55 mm

Storage: 1 x SSD/HDD 2.5"

PSU: Flex ATX 1U Mini-ITX до 170 х 81 х 41мм
custmod.com Price: $69.99 (plus shipping)
Estimated Cost (2020): $1654
Amazing, isn't it? The Mini ITX backpack gaming PC build above emulates everything one might want from a small factor gaming PC build, which is high performance in the smallest possible enclosed space and once that doesn't get too hot.
The above includes a Ryzen 3600X, which is a fantastic CPU as-is and can be overclocked relatively easily. It does come with its own cooler, however for the sake of this build, I had to swap it for a lower profile NH-L9a AM4 Noctua instead – which will cooler this CPU without a problem.
The motherboard in this build is a premium Mini ITX one – the Gigabyte X570 Pro Wifi. Yes, a small factor Mini ITX motherboard that has included wifi – which is important in a small factor build as it keeps it as compact as possible without having to add additional wifi dongles or cards.
The graphics card here is an RTX 2060, specifically the Gigabyte RTX 2060 Mini – capable of fitting in the included small case. This makes it capable of 2060 GPU speeds while being able to be confined to a tight space. This card is also available as an RTX 2070 (higher performing), so you can keep an eye out for that if you like, however they are hard to get your hands on.
For memory, we have 1 total of 16GB (2X 8GB) sticks of Crucial Ballistix 3200 RAM. This is a perfect amount of ram for a high-end gaming PC. The original concept for this build (see article introduction) included 32GB, however, this may be a tad much for most gamers – but it's still possible to get.
Included for storage is a total of 1TB with the Western Digital Black 1TB NVME SSD – which has great read/write speeds of up to 3430mb/s transfer and since it's an M.2 drive, it takes up very little space.
Now for the power supply, this one is a bit unique when compared to my usual recommendations. This power supply is a brick shaped 500W plain Jane PSU – the FSP Group Mini ITX Flex 80 Plus Platinum. This PSU is an upgrade when compared to the concept one in the introduction to this article, however it was chosen as it is highly efficient, provides a full 500 watts of juice and fits wonderfully into the custom pc case below.
The case that encloses all of this amazing hardware is also unique, it is the FX stl 4.7L rev.2 case from custmod.com. This PC case has the bare bones all you need for a very compact Mini ITX gaming pc build. This case can fit in a 4.7L backpack and fits the hardware above in a neat, tight compact way and provides plenty of airflow all around. There are plenty of Mini ITX gaming pc cases out there and ones that look much nicer, however this one will get your build as tight as possible.