Jump to a specific budget pc build –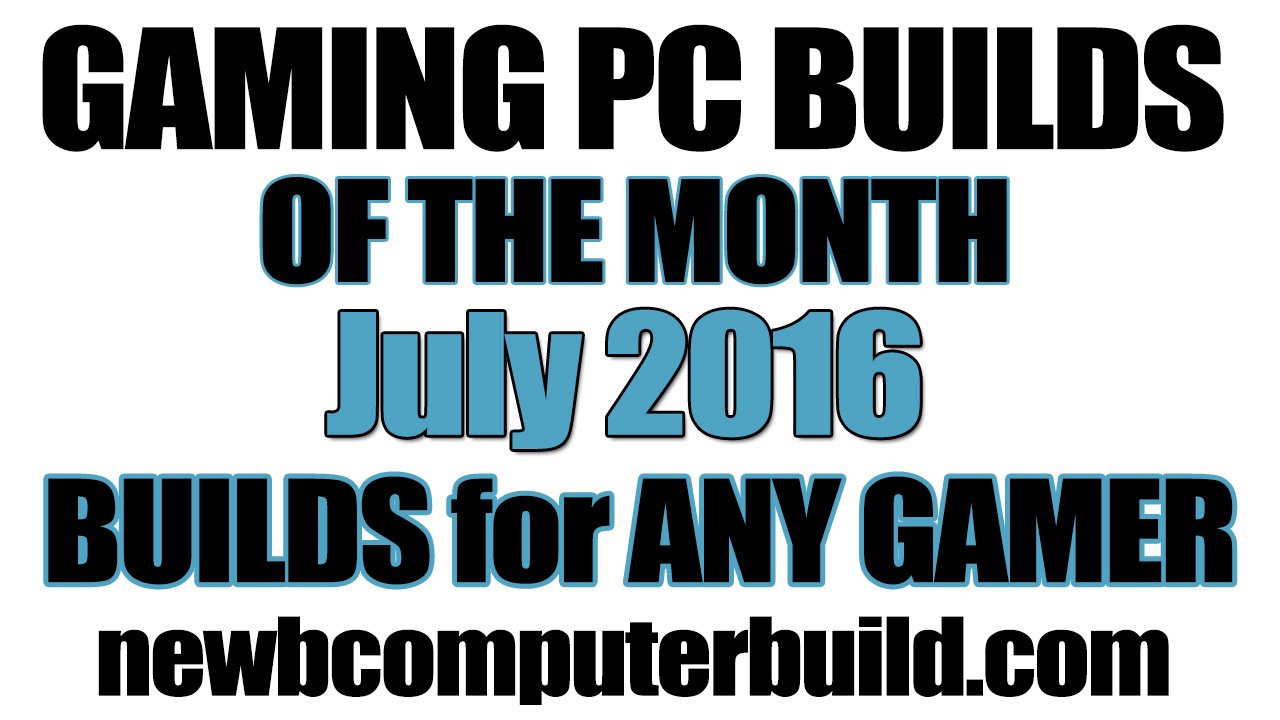 Introducing the Gaming PC Builds of the Month for July 2016
Hello PC builders and enthusiasts. If you are here because you are looking to build a brand spanking new gaming build or are looking to upgrade your current build to squeeze every last drop of performance out of your favorite games, then you are at the right place – otherwise you should still stay and learn how awesome it is to build your own 2016 gaming pc build – or check out the 2016 building a gaming pc build guide to learn why you should.
For July 2016 we are seeing some of the brand new exciting graphics cards that have been recently release by NVIDIA and AMD – these include respectfully the GeForce GTX 1080, GeForce GTX 1070 and AMD RX 480. This month we have a clearer picture as to what budget these cards belong in based on cost and performance benchmarks, and these are explained in each of the builds overviews below.
The following builds should cover most of any gamers needs as they are organized based on what resolutions you are expecting to play your games on at high settings at buttery smooth  performance and high frames per second. There are three builds included all with hardware Upgrade ideas to squeeze every bit of performance possible. The main included builds are an Extreme PC Build (for gaming at 1440p – 4K resolutions), a High-End PC Build (for gaming at 1080p – 1440p resolutions) and an Entry Level Gaming PC Build (for gaming at 1080p).
Feel free to leave any comments or questions with regards to any of the builds and most of all, best of luck building.

July 2016 PC Build (1440p to 4K) – $1300
Capability: Game with Extreme settings and High FPS at resolutions of 1920×1080 (1080P) & 2560×1440 (1440p) + playable at 4K
Hardware Link
Price
Image
Estimated Price :
$1318.00 (July 2016)
Processor
Intel Boxed Core I5-6600K 3.50 GHz, 6 M Processor Cache 6 for LGA 1151 (BX80662I56600K)
$251.49
Cooler
Cooler Master Hyper 212 EVO – CPU Cooler with 120mm PWM Fan (RR-212E-20PK-R2)
$29.49
Motherboard
MSI Performance Gaming Intel Z170A LGA 1151 DDR4 USB 3.1 ATX Motherboard (Z170A Gaming Pro Carbon)
$159.99
Graphics Card

---

$480.00

---

$469.99

---

RAM
$58.99
SSD
Samsung 850 EVO 500GB 2.5-Inch SATA III Internal SSD (MZ-75E500B/AM)
$154.85
Power Supply
EVGA SuperNOVA 750 P2 80+ PLATINUM, 750W ECO Mode Fully Modular NVIDIA SLI and Crossfire Ready 10 Year Warranty Power Supply
$114.97
Computer Case
Fractal Design Define S Gaming Case with Window FD-CA-DEF-S-BK-W
$70.00
Optical Drive
No optical drive included in base build cost – *This should be considered optional
–
Overview: Gaming PC Build ( $1500 )
With the exciting NVIDIA graphics cards announcements last month, we have seen a number of changes to the top end build this July 2016. There are also changes in how I have decided to organize the builds – this build is for those who want to game smoothly in most games at monitor resolutions of anywhere from 1440p (2K) all the way into 4K. Also if you look a little further below there are hardware upgrades for this build that all increase performance of this build in someway – you can choose to substitute any of those recommendations and they are 100% compatible with the build above.
The Extreme $1300 pc build you see above is actually cheaper than what is usually included in the highest end monthly pc build – this is because the newer NVIDIA graphics cards have brought other cards if similar performance down in cost, which has the biggest impact this month.
Starting off with the cpu, we have an Intel i5 6600K cpu and paired with it is a Cooler Master Hyper 212 cpu cooler (you need to purchase a cpu cooler as there is no stock cooler included with the 6600K).
The biggest performance boosting hardware included, is one of two suggestions – first we have the brand new GTX 1070 – which is a tad more expensive than in should be right now, but performance similarly to the second card suggestion (choose either or) the GTX 980 Ti; this is the card that has held this spot for quite some time in the monthly builds, but has just come down in price significantly. Both of these cards perform pretty alike when benchmarked (benchmark example: GTX 1070 / GTX 980 Ti comparison video by Science Studio). If you want an even higher performing graphics card the other newer NVIDIA card, the GTX 1080 is suggested below in the hardware upgrades section.
For a motherboard we have the MSI Z170A Gaming Pro Carbon motherboard that includes everything you need with a few neat additions like Mystic Lighting, Gaming LAN and more. See the motherboard specifications below or learn more at MSI.com.
Socket

1151

CPU (Max Support)

i7

Chipset 

Intel® Z170 Chipset

Memory Channel 

Dual

DIMM Slots 

4

Max Memory (GB) 

64

PCI-Ex16 

3

PCI-E Gen 

Gen3

PCI-Ex1 

4

RAID 

0/1/5/10

LAN 

10/100/1000*1

TPM 

1

USB 2.0 ports (Rear) 

4

Audio ports (Rear) 

Realtek® ALC1150 Codec

HDMI 

1

DVI 

1

DirectX 

DX12

Form Factor 

ATX

SLI 

Y

CrossFire 

Y
For RAM, we have whopping 16GB (two 8GB sticks) with the included Ballistix Sport LT 16GB kit, which is plenty enough memory for any gaming pc build.
Our storage solution this month is a Samsung 850 EVO 500GB Solid State Drive "SSD", which will perform much better helping with those load / boot times and reading speeds. This is a major bump in solid state storage as the builds budget now allows for this (as previously only 256GB SSD was included in this build). If you want an even greater boost in read / write speeds check out the Storage Upgrade solution in the Hardware Upgrades below for this pc build.
The power supply unit has been upgraded this month to a higher efficiency EVGA SuperNOVA 750 P2 80+ PLATINUM instead of the previous EVGA 750W G2, and it is currently listed at the same price, which made it a no brainer to include instead – should the Platinum P2 go up in price, you will still be fine going with the previous EVGA 750W G2.
The case included in the July 2016 extreme PC build is the Fractal Design Define S. This quality case isn't brand new, but it is a reputable, quality, sound dampening, modernistic pc case well worth the purchase. The key features as laid out by fractal-design.com for the Define S case are –
Optimally designed for silent computing, while not compromising on airflow and cooling capabilities
Innovative internal layout, providing a perfectly straight airflow path to the CPU heatsink for air cooling set ups or extensive radiator mounting possibilities for water cooling set ups
Extensive water cooling support for a case of this size; housing radiators up to 420mm in the top and 360mm in the front
Including smart reservoir brackets; featuring drill-free reservoir mounting on the front of the motherboard tray and pre-drilled pump mounting holes on the bottom panel
Equipped with ModuVent™ fan slot covers providing the option of additional cooling or maximum sound absorption
Including two Fractal Design Dynamic GP14 140mm fans developed for superlative airflow while still maintaining low noise levels
Maintaining a dust-free interior with dust filters that cover the front and bottom air intakes
Introducing newly designed hard drive trays placed vertically behind the front partition of the motherboard tray; Three sturdy steel trays with vibration-dampening grommets allowing for installation of one 3.5″ or 2.5″ drive on each tray, without disrupting the airflow or interfering with the radiator mounting possibilities
An additional 2 dedicated steel SSD trays cleanly placed behind the motherboard tray
Long motherboard tray extending to the front panel contributing to an extremely clean build, hiding both hard drives and cables
Define S model is also available with a large window on the side panel
July 2016 (1440p to 4K) PC Build Upgrade Suggestions – $1950
All of the below hardware upgrades are recommendations for the above 1440p – 4K PC build for July 2016. You can choose one or all of the hardware and it will be compatible with the above build and improve it's performance in some way. Should you purchase all of the hardware upgrades instead of the alternatives already in the main build, then this becomes a $1950 pc build.
You can bump the cpu up to an Intel i7 6700K cpu if you do things like video work, graphics work etc. since this isn't really needed for pure gaming – plus this cpu is much cheaper than it used to be. This could also be a worthy upgrade for those wanting to further "future-proof" their high-end build.
The above gaming pc build includes a Samsung EVO 500GB SSD for storage, which is perfectly suited for most gamers, although below is a faster Samsung SM851 PCIe SSD, which has faster read / write times and also 500GB of storage.
For a CPU cooler alternative, below is the Corsair Hydro Series H100i GTX liquid cpu cooler. This cooler would be a substitute for the above included Hyper 212 EVO air cpu cooler and would provide a quieter, more efficient / more customized cooling experience. This option would be best purchased now rather then later so as to save on buying only one cooler for your PC (learn more at corsair.com).
For a huge bump in gaming performance and graphics potential there is the brand new GTX 1080 graphics card included. This graphics card is in limited supply currently and a tad expensive, so you may have to wait until they are more widely available.
BUILD COST WITH ALL BELOW UPGRADES: $1950

July 2016 PC Build (1080p to 1440p) – $1000
Capability: Game with Extreme settings at 1920X1080 resolutions and even Higher Settings at 2560×1440
Hardware Link
Price
Image
Estimated Price:
$978 (July 2016)
Processor
Intel Boxed Core I5-6600K 3.50 GHz, 6 M Processor Cache 6 for LGA 1151 (BX80662I56600K)
$251.49
Cooler
Cooler Master Hyper 212 EVO – CPU Cooler with 120mm PWM Fan (RR-212E-20PK-R2)
$29.49
 
Motherboard
$139.99
Graphics Card

EVGA GeForce GTX 970 4GB SC+ GAMING ACX 2.0, 26% Cooler and 36% Quieter Cooling Graphics Card 04G-P4-2977-KR (*Price has gone down due to the newly released RX 480, seen below)

OR

---

AMD RX 480 8GB (*Newly released card – limited supply– linked to an Amazon search of: RX 480 8GB (Performance is slightly better than the GTX 970 overall)

$269.99

---

Estimated: $240  – MSRP)

---

RAM
$41.99
SSD
$92.00
Power Supply
EVGA SuperNOVA 650 G1 80+ GOLD, 650W Continuous Power, Fully Modular 10 Year Warranty Power Supply 120-G1-0650-XR
$78.10
Computer Case
$74.99
Optical Drive
No optical drive included in base build cost – *This should be considered optional
–
Overview: Gaming PC Build ( $1000 )
This $1000 build is for those who want to be playing all games at 1920×1080 resolutions and into 1440p / 2K resolutions smoothly and at high settings – if this sounds like what you're looking for, then this July 2016 $1000 gaming pc build is for you.
The major addition to this July 2016 PC build is yet another new graphics card this time from AMD – the Rx 480. This card and the GTX 970 (which has been in the build for a while now) do perform similarly where the RX 480 does have a slight advantage in some games, however you could consider the newer RX 480 as being more future proof in terms of updates, but I wouldn't let that lead your decisions as you should look up benchmarks for the particular games yo are interested in playing.
This build also uses a combination of the Skylake Intel i5 6600K cpu and a Cooler Master Hyper 212 cpu cooler (as you do need a cooler as there is no stock one included with the 6600k), plus the hyper 212 helps tremendously when oveclocking.
The motherboard included for the $1000 July 2016 PC Build is the Gigabyte GA-Z170X-Gaming 3. This motherboard does support both Crossfire and SLI (great for future upgrading potential), so that you do have the option to include two of either the graphics card options as an upgrade suggestion for the future. The Gaming 3 motherboard has the following specifications (and you can learn more on the product page at gigabyte.com):
Supports 6th Generation Intel® Core™ Processor
Dual Channel DDR4, 4 DIMMs
Intel® USB 3.1 with USB Type-C™ – The World's Next Universal Connector
3-Way Graphics Support with Exclusive Ultra Durable Metal Shielding over the PCIe Slots
Dual PCIe Gen3 x4 M.2 Connectors with up to 32Gb/s Data Transfer (PCIe NVMe & SATA SSD support)
3 SATA Express Connectors for up to 16Gb/s Data Transfer
115dB SNR HD Audio with Built-in Rear Audio Amplifier
Killer™ E2200 Gaming Networks
High Quality Audio Capacitors and Audio Noise Guard with LED Trace Path Lighting
APP Center Including EasyTune™ and Cloud Station™ Utilities
GIGABYTE UEFI DualBIOS™ Technology
The RAM included is the affordable kit of Crucial Ballistix Sport DDR4 8GB kit, which is enough memory for most standard gaming pc builds, and you always have the option to upgrade more.
The included storage is the Samsung 850 EVO 250GB SSD  and should you require more then 250GB of storage right away you could also consider adding in a cheap 1TB HDD as a secondary drive or upgrading to the 500GB version / or the slightly faster SSD included in the hardware upgrades section below.
The included power supply unit (PSU) used is the EVGA SuperNOVA G1 650W power supply, which is a great PSU with all modular cables and it provides the perfect amount of power for this build along with room for some upgrades. For it's price, quality and the fact that it's modular makes this a perfect choice.
For the second month in a row I've included the Enthoo Pro M which recently came out with two new colors (Titanium Green and Anthracite Gray).
A quick overview of the Phanteks Enthoo Pro M  (http://www.phanteks.com/Enthoo-Pro-M) –
Features:
Enthoo Pro M includes 1 x 140mm fan in the rear. Ability to upgrade to additional fans is possible. All fans included are Phanteks new redesigned and better performing SP series fans.
Appearance:
Brushed aluminum look
Clean interior – Hidden PSU and HDDs
---
July 2016 (1080p to 1440p) PC Build Upgrade Suggestions –
Here are some upgrade ideas for your $1000 July 2016 pc build if should you want some alternative hardware upgrades or if you want to spend a tad more or for those that want some upgrade ideas.
If you want more graphics power in the future you could potentially SLI two GTX 970's. If you go this route, then you will also need a stronger power supply, as much as 850w – so there is one included below (I would only consider the larger PSU if you really plan on doing this).
If you are serious about achieving maxed out settings and high FPS at 2560×1440 (144p) resolutions, then you July want to consider an R9 390X – such as the XFX R9 390X below. This card will be all you need to blast through games at the higher 2K resolutions.
Included is a 250GB version of the Samsung 850 EVO, but what if you want more storage and to also have it on a single fast SSD? Well then you could consider bumping it up to the 500GB Samsung 850 EVO.
You could also  go with a liquid cpu cooler such as the Corsair Hydro Series H80i GT. This could help keep things quiet and a tad cooler when overclocking and it offers a more customize cooling experience (learn more about the Corsair h80i GT at Corsair.com).
*Note: If you plan on doing SLI (adding two GTX 970's for example) then you will probably want at least an 850W power supply such as – EVGA SuperNOVA 850 G2 PSU ($124.99).
BUILD COST WITH ALL BELOW UPGRADES: $1100
July 2016 PC Build (1080p) – $600
Capability: Game at Smoothly with High settings and FPS at 1920X1080 resolutions in most games.
Overview: $600 Gaming PC Build
If you are interested in a budget build that can max out with high FPS standard high definition 1910×1080 resolutions in most pc games then this less than $600 gaming pc build is for you. This budget gaming pc build is a very capable 1080p gaming machine and is the staple build for most enthusiasts either just starting out or wanting to simply get up and gaming on standard HD 1080p gaming.
For the gaming CPU we have a Intel i3 6100 – a dual core cpu clocked in at 3.7 GHz and paired with that we have a ASUS STRIX Radeon R9 380 graphics card that is the real gaming performance driver behind this build. The R9 380 fits comfortably into the budget and has been a go to HD gaming card for a little while now.
The gaming motherboard included is the Gigabyte H170 GA-H170-Gaming 3 motherboard which is a great pick with plenty of features for the $600 pc build – including features like DDR4 memory which is a bump up from the previous $600 builds overall features. This motherboard has the following features –
LGA1151 for 6th-gen Intel® Core™ desktop processors
Intel® Core™ i7/Core™ i5/Core™ i3/Pentium®/Celeron®
intel H170
DDR4 / 2 Channel / 4X DIMM / 64GB
Killer™ E2200 Gaming Networks
2 SATA Express Connectors for up to 16Gb/s Data Transfer
High Quality Audio Capacitors and Audio Noise Guard with Ambient LED Trace Path Lighting
ATX Form Factor
The memory we have a kit of Crucial Ballistix Sport 8Gb DDR4 memory and For storage we have a MyDigitalSSD (256GB) BP5e Slim 7 solid state drive, which is one of the best budget ssd's available – SSD performance with a cheap price tag.
The power supply unit included is the EVGA 600B 600Watt power supply, this is a great budget PSU and more then enough power for this build.
This month we have another budget Rosewill pc case included, but this time around included is the Rosewill Gaming ATX Mid Tower Computer Case Challenger S pc case. This case features stylistic design with tool less design all at a budget cost. For a full overview of the Challenger S please visit rosewill.com.
July 2016 (1080p) PC Build Upgrade Suggestions – $800
These are the upgrade suggestions for specific hardware included in the above pc build. You can choose to upgrade one of all of the hardware and each will provide a performance boost for this build. If you choose to upgrade using all of the below hardware, the build becomes an $800 gaming pc build.
Should you want to upgrade the stock cooler already included with the i3 6100 Corsair then the Hydro Series H55 liquid cpu cooler could be a solution. Corsair describes this cooler as a being able to run your PC cooler when compared to a cpu's stock cooler. This liquid cooler is ideal since it can easily fit into even the more cramped of pc cases. Read more at corsair.com.
If you want a boost in gaming performance and FPS, than you could consider bumping up the graphics card to an R9 380x, such as the linked XFX R9 380X below (check out the R9 380x benchmarks over at Anandtech.com). This July be worth while if you have a little more to spend now and is a newer graphics card release.
You can increase your storage space by going with an affordable 480GB ADATA SSD as seen below, which is a great price for a large storage solution SSD.
Finally,  included is a better performing gaming CPU, the Intel i5 6500, which may be a worthy investment to solidify performance in those higher cpu demanding games.
BUILD COST WITH ALL BELOW UPGRADES: $800
---
Gaming PC Build Peripheral Considerations
The above July 2016 gaming pc builds do not include peripherals such as monitors, mice or keyboards. So please check out the gaming pc peripherals section should you need to purchase a monitor, mouse or keyboard for your new gaming pc build. There are many suggestions generally split into three categories of higher-end, mid-range and basic suggestions. If you have any questions or want a suggestion feel free to leave a comment.
Operating System Options
If you don't already have an operating system for your new gaming pc build, then you're going to have to either invest in purchasing a standard OS such as Windows 7, Windows 8.1, Windows 10. Otherwise, there are some free alternatives that you could consider below as well. Keep in mind that you will need an optical drive should you decide to purchase the install discs, however you can also purchase Windows online or as a USB stick and install it that way – this would be the process for installing your OS without an optical drive (which isn't included in each of the base builds above).
The following are some operating systems you can consider installing upon putting your Gaming PC build together. The first three will cost you and are either Windows 7 or 8.1, or 10 – I have no opinions here so I'll leave the purchase of these up to the discretion of yourself, but do keep in mind that either way you do have the option of upgrading to Windows 10 for now. I have also included two other operating systems that are both currently free. Ubuntu is a Linux based operating system. The last OS is SteamOS, which is also a Linux OS being developed by Valve Corporation and is being made to be used for a Steam Machine game console.
July 2016's Gaming PC Build Hardware Overview Video: