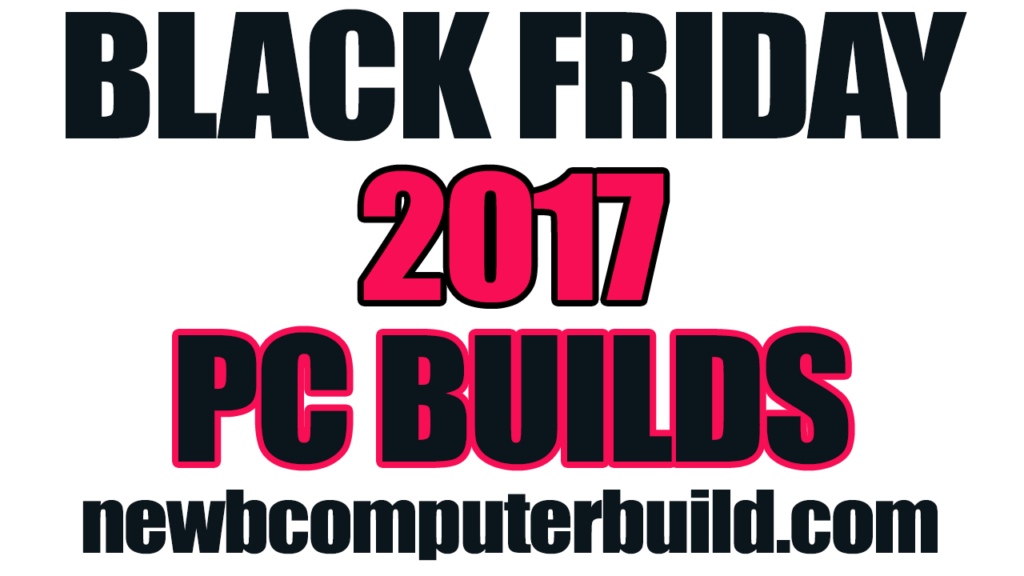 It-tis that time again, and we have another explosion sales in every corner of the market fo the annual roll-out of Black Friday deals. The PC hardware market is no exception and there are some good (and seemingly good) gaming pc hardware deals out there for you to wrap your hands around — you just need to know where to go. So if you have been trying to plan your ideal gaming pc build and have been waiting for the right moment to squeeze in as much high-performing hardware as possible, then now could be that time.
This 2017 Black Friday PC Build and hardware page is here to inform you as pc builders and hardware enthusiasts as to where you might want to go in order to get the best deals on specific hardware. Whether you ar in the process of procuring the hardware you want, upgrading your current rig or freshly looking for that perfect pc build, then you are at the right place. If you are looking to a particular pc build in your budget though, please check out the November 2017 Gaming PC Builds of the Month article here at Newb Computer Build.
Below I have listed some of the best places to look for deals coming into this November 2017 Black Friday gaming pc build / hardware deals.
Where to get Started in Finding the Best Black Friday PC Build Deals this 2017?
Since we are in the market for building our own PC's, you need to be on the lookout for each separate hardware component. So you should have an idea of what your PC Build is going to include, your budget and your PC performance goals.
So list out…a CPU, Cooler, Motherboard, Graphics Card, More Storage, Power Supply, PC Case, Monitor, Keyboard, Mouse and so on. Then you can  compare and contrast the daily deals, weekly deals and day of Black Friday pc hardware deals.
I would also be curious to see if anyone can get a cheaper memory package in the capacities of 8GB or 16GB DDR4 kits. This is because those particular kits have been really inflated lately, so if you can get a great deal on some decent memory, go for it.
If you find any extra ordinary deals, do feel free to also leave them in the comments section below!
Best Black Friday PC Build Hardware Deals
Browse through the various Black Friday deals for PC enthusiasts to find some of the best deals this year. If you look through all of them, I'm sure you'll find something you're looking for.
Amazon Black Friday PC Build and Hardware Deals
Visit Amazon's Black Friday Deals
Every year Amazon has a Black Friday Deals Week. It's an entire week leading up to Black Friday with daily deals – Check out Amazon's 2017 Black Friday Deals Week here. There are plenty of deals of the day and top deals to choose from.
Although, where I would look specifically is at Amazons PC Gift Guide, this is where they list out all of their PC gaming hardware, peripherals, accessory deals and more. And likewise the Amazon PC Gaming Holiday Event store.
NewEgg Black Friday Deals for Your PC Build
Visit NewEgg's Black Friday Deals
This 2017, NewEgg is having a month long Black Friday sale and it is going on until the end of Black Friday and perhaps into Cyber Monday. You can see all of NewEgg's amazing Black Friday PC hardware deals here.
NCIX's Black Friday Deals for Your PC Build
NCIX is hosting their Black Friday deals on the exact Nov 24 Black Friday for exactly 24 hours. So if you want to catch any of the great NCIX deals, visit their Black Friday PC deals page here on Black Friday to see what they unlock.
Example Black Friday PC Builds 2017
The following gaming pc builds come directly from our November 2017 Gaming PC Builds edition of our monthly builds here at Newb Computer Build. You could use these lists as a general template to get you started in finding hardware deals, such as you can search for a deal on the specific processor, but if there is a 240GB Samsung SSD you could search for other types of 240GB SSD's that are on sale, and you should be able to bring the price on the following PC builds down.
High-End Gaming PC Build (Regular $1500)
Mid-Range Gaming PC Build (Regular $1000)
Regular Budget Gaming PC Build (Regular $600)
Have you found some great Black Friday deals on PC hardware — then please share in the comment section below!