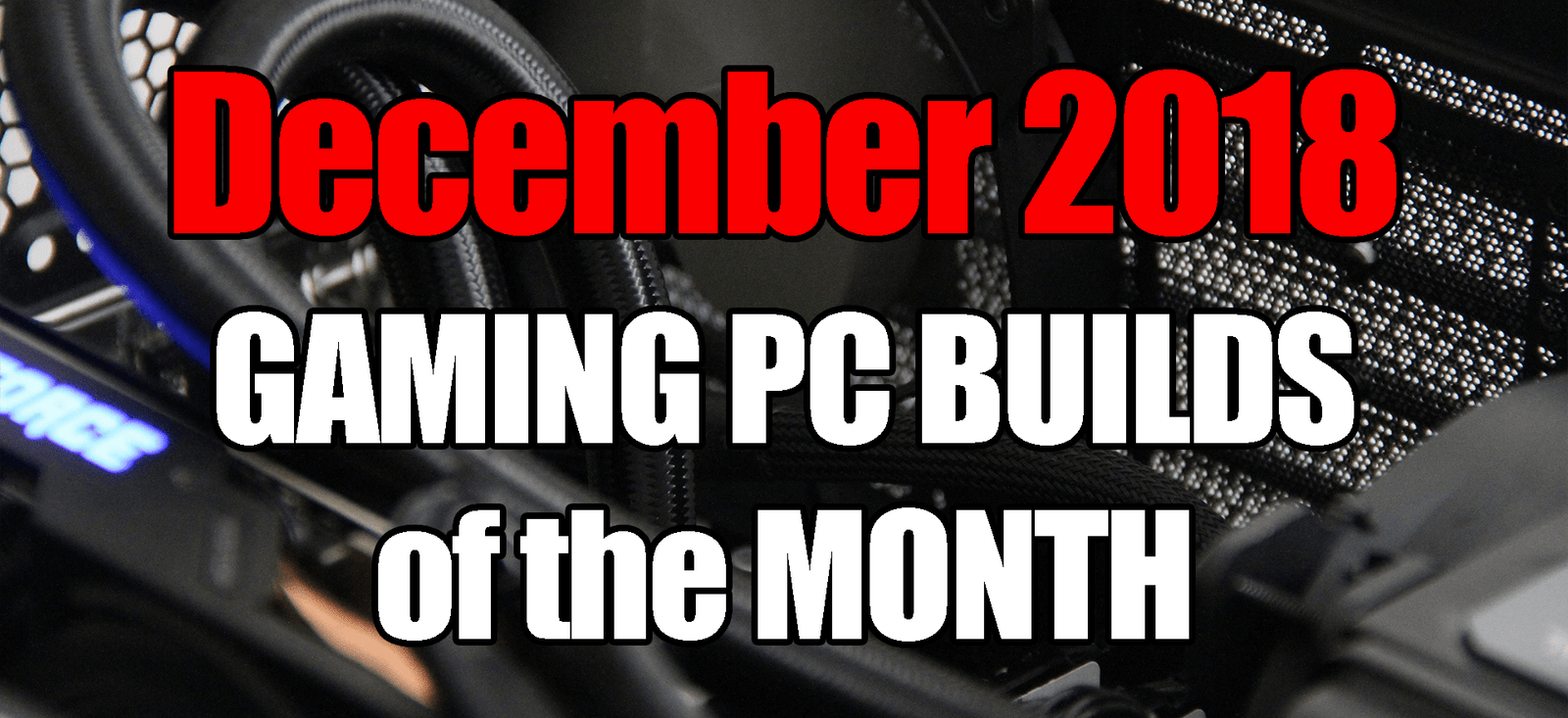 Looking to build the very best gaming pc build this December 2018 — then you're in the right place. The following are the best pc builds for $700, $1000, $1500 and everywhere in between. Play any game out there at the best possible settings and get the most performance per dollar spent on your gaming pc.
December 2018 Gaming PC Builds of the Month
Last month we saw the ultimate release of Nvidia's newest RTX graphics card line-up, and based on the benchmarks and costs of the RTX 2080 and 2080 — we have decided to place the RTX 2070 perfectly into the $1500 gaming pc build. The high-end build utilizes the Ryzen 7 2700X processor and when paired with the new RTX 2070, will obliterate any game out there at 1440p and beyond. In the $1000 gaming pc build we have added in a GTX 1070 into the base build with makes this build a really good pick for around $1000. We have also added in the NZXT H500 gaming pc case, and in the $700 gaming pc build is holding strong with the Ryzen 5 2600 paired with a GTX 1060.
Overall, if you are looking for a brand spanking new pc build, you will find it here. These builds are put together with a budget-minded builder in mind, giving you the best deals on performance per-dollar spent so that you can spend as little as you can and get as much performance. as you can.
Here's to wishing everyone happy holidays and a happy new year. Here's to ending 2018 building the best possible gaming pc possible!
---
Bookmark our Best Gaming PC Builds for 2018 Page to Keep up to Date With the Monthly Gaming PC Builds, or subscribe here.
---

The Best $1500 Gaming PC Build | December 2018
Performance: Game with Extreme settings and High FPS at resolutions of 1920×1080 (1080P) & 2560×1440 (1440p) + good gameplay at 4K
*This PC Build is powered by the AMD Ryzen 7 2700K CPU and RTX 2070 GPU
Hardware Link
Price
Image
Processor

AMD Ryzen 7 2700X Processor with Wraith Prism LED Cooler – YD270XBGAFBOX

$329.99
Cooler
*Included: The cpu comes with a Wraith Prism RGB Cooler

Need more cooling? See the hardware alternatives table below.

-Included
Motherboard
GIGABYTE X470 AORUS ULTRA GAMING (AMD Ryzen AM4/ X470/ USB 3.1 Gen 2 Front Type C/ ATX/ DDR4/ Motherboard)
$133.70
Graphics Card
RTX 2070 – ZOTAC Gaming GeForce RTX 2070 Blower 8GB GDDR6 256-bit Dual Slot Gaming Graphics Card – ZT-T20700A-10P
$499.99
RAM
$144.88
SSD
WD Blue 3D NAND 1TB PC SSD – SATA III 6 Gb/s, 2.5″/7mm – WDS100T2B0A
$134.99
Power Supply
EVGA SuperNOVA 750 G2, 80+ GOLD 750W, Fully Modular, EVGA ECO Mode, 10 Year Warranty, Includes FREE Power On Self Tester Power Supply 220-G2-0750-XR
$89.99
Computer Case
Cooler Master MasterCase H500 ATX Mid-Tower, tempered glass panel, two 200mm RGB fans with Controller and Case Handle for Transport
$99.99
Estimated Price :
$1434 – (2018)
Overview | Best Gaming PC Build for $1500
December 2018 Update:  This best under $1500 gaming pc build now utilizes the RTX 2070 graphics card, giving you phenomenal performance in-game performance all the way up to 4K (although if you are wanting the best possible 4K gameplay, then we do suggest an RTX 2080 ti).
For the gaming processor this December, we have the AMD Ryzen 7 2700X CPU, which comes with eight cores and 16 threads and comes with a decent Wraith Prism (with RGB lights) CPU cooler. And should you want to upgrade to something like a higher-performing liquid CPU cooler, you now have more funds to do so, which you could consider if you wanted to overclock the heck out of this thing.
The graphics card used is an RTX 2070 (specifically the Gigabyte GeForce Windforce RTX 2070). This card replaces the GTX 1080, which you can still purchase and is still a great card (so if you can find one cheaper you can still get yourself one and save a few bucks). The RTX 2070 utilizes GDDR6 memory, which is the new generation of memory and it does have a faster memory speed than either a GTX 1080 or 1080 Ti in some cases.
The motherboard included is an X470 chipset motherboard, the GIGABYTE X470 AORUS ULTRA GAMING mobo. Alternatively, if you have more moola to throw at a motherboard, you could consider the Gigabyte X470 Aorus Gaming 7 Wi-Fi instead, which is more pricey but has more features including built-in wifi and better audio. This motherboard basically has more than most gamers with probably utilize including (see the full list of features at gigabyte.com):
Chipset AMD X470
Form factor ATX
CPU support AMD Socket AM4
Memory support Dual-channel, four slots, max 64GB
Sound Eight-channel Realtek ALC 1220
Networking 1x Intel Gigabit Ethernet
Ports 1x M.2 PCIe 3.0 x4 32Gbps/SATA 6Gbps up to 22110, 1 x M.2 PCIe 2.0 x4 16Gbps up to 2280, 6 x SATA 6Gbps, 1 x USB 3.1 Type-A, 1 x USB 3.1 Type-C, 1 x USB 3.1 Type-C header, 8 x USB 3.0 (4 via headers), 8 x USB 2.0 (4 via headers), 1 x LAN, audio out, line in, mic, Optical S/PDIF out
Dimensions (mm)305 x 244
Included in the high-end build is 16GB total in memory, a kit of two 8GB sticks of HyperX Kingston Technology Fury.
The storage included in this pc build is a 1TB Western Digital Blue 3D Nand SSD, which is an upgrade from the previous 500GB SSD included in this build. The Western Digital has sequential read speeds up to 560MB/s and sequential write speeds up to 530MB/s.
We have switched up the power supply in this build this month simply due to the previous version shooting up in prices. Included this month is the EVGA SuperNOVA 750 G2, a gold rated power supply, did I mention that it's fully modular, making this a clutter-free power supply.
The PC case has also been switched this month to a Cooler Master MasterCase H500, which is pumping with fantastic airflow with its two font facing 200mm RGB fans. You can learn all about the MasterCase H500 at coolermaster.com.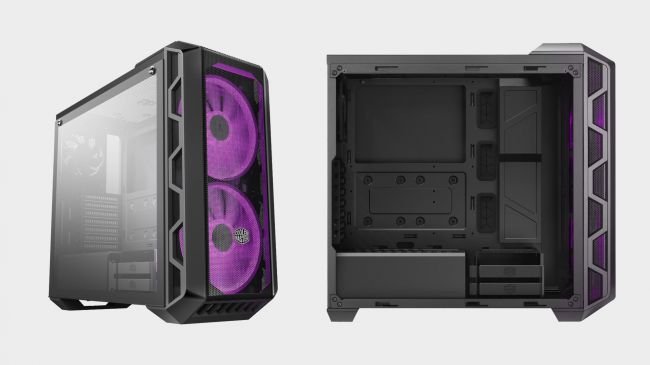 Upgrade Suggestions | Best $1500 PC Build Upgrade Suggestions 2018
The hardware upgrades you see above are recommendations for the best December 2018 gaming PC builds $1500 build. That is if you have more cash to spend or want upgrade ideas, here they are.
If you think you'll want more than the included 1TB of storage, you could opt for the 2TB version of the Western Digital Blue Nand SSD instead for slightly more in cost.
If you are going to be serious about 4Kreoslution gaming, then you should seriously consider an RTX 2080 or 2080ti graphics card. Or if you have a super high refresh rate 1440p monitor, it wouldn't hurt either.
The above pc build does include an SSD, which is perfectly suited for most gamers and pc builders, but if someone were searching for the fastest and one of the most efficient methods of storage, you could consider a premium PCIe Solid State Drive, such as the XPG SX8200 480GB SSD above.
If you want more than the included air CPU cooler included in the main build, the above is the Corsair Hydro Series H100i liquid CPU cooler. This cooler would be a substitute for the stock AMD Wraith Prism CPU cooler, should you feel you need it.

---
The Best $1000 Gaming PC Build | December 2018
Capability: Game with Extreme settings at 1920X1080 (HD) resolutions up to Higher Settings at 2560×1440 (2K)
Powered by the Intel i5 8400 and the GXT 1070 Graphics Card
Hardware Link
Price
Image
Estimated Price:
$1071 (2018)
Processor
Intel Core i5-8400

$205.00
Cooler
Included
Motherboard
$90.29
Graphics Card

GTX 1070: Gigabyte GV-N1070G1 GAMING-8GD REV2.0 GeForce GTX 1070 G1 Computer Graphics Card

$399.99

RAM
$67.74
SSD
$77.99
Power Supply
EVGA Supernova 750 P2, 80+ Platinum 750W, Fully Modular ECO Mode, 10 Year Warranty, Includes Free Power On Self Tester, Power Supply 220-P2-0750-X1
$89.99
Computer Case
$69.99
Overview | $1000 Best Gaming PC Build 2018
December 2018 Update: Ok so the $1000 gaming pc build for December is actually slightly over $1000. This is because I really think it's worth it to include a GTX 1070, because you'll get so much performance mileage out of it for a slight increase in cost. However, if you do want to save roughly $70, you can still go with an RX 580 graphics card and still get really good performance at 1080p to 1440p gaming.
The included gaming CPU this December is the Intel i5 8400. This gaming CPU is a great choice and purchase for the cost. If you have a little more to spend on the CPU, check the alternatives tables below where we include the Intel i5 8600K, which gives you more performance potential.
This month we have officially changed the graphics card to a GTX 1070 — yes this increases the cost a bit for the overall build, but trust me, it's worth it. As stated above, you can save some bucks if you are on a solid $1000 budget and go with  RX 580 graphics card instead.
The motherboard that has been included in the under $1000 gaming pc build is the MSI Z370 GAMING PLUS CFX, which is fully compatible with the included Intel i5 8400 CPU and comes with the following specifications (learn more at MSI.com):
Supports 8th Gen Intel® CoreTM / Pentium® Celeron® processors for LGA 1151 socket
Supports DDR4 Memory, up to 4000+(OC) MHz
Lightning Fast Game experience: 1x TURBO M.2, Intel Optane Memory Ready.
AUDIO BOOST: Reward your ears with the studio-grade sound quality for the most immersive gaming experience
DDR4 Boost: Fully isolated, shielded and optimized DDR4 PCB design to give your DDR4 memory a performance boost.
GAMING LAN, powered by Intel®: The best online gaming experience with the lowest latency and bandwidth management.
MULTI-GPU: With STEEL ARMOR PCI-E slots. Supports 2-Way AMD Crossfire™
VR Ready: Best virtual reality game experience without latency, reduces motion sickness
Military Class 5, Guard-Pro: Latest evolution with high-quality Japanese components for best protection and efficiency
In-Game Weapons: Game Boost, GAMING Hotkey, X-Boost, WTFast
EZ Debug LED: Easiest way to troubleshoot
Click BIOS 5: Award-winning BIOS with high-resolution scalable font, favorites, and search function
GAMING CERTIFIED: 24-hour on- and offline game and motherboard testing by eSports players
The RAM kit included is the affordable kit of Corsair LPX 8GB DDR4 RAM which is enough memory for most gaming pc builds, and you always have the option to upgrade more in the future if need be with the extra couple of slots on the included gaming motherboard.
We have switched up the storage solution this month to a Western Digital Blue 3D Nand SSD 500GB SSD. This SSD is priced really well this month and is a solid performing SSD.
For the $1000 gaming pc build December 2018 build, there is a new pc case — the NZXT H500. This is a sleek all-steel constructed pc with great cable management and a minimalistic professional looking design. Learn about all of it's featues over at NZXT.com.
Upgrade Suggestions | Best $1000 PC Build Upgrade Suggestions 2018
CPU UPGRADE
Add a Better CPU (This one can be overclocked for further performance.

*Note:

You will need to also purchase a CPU cooler like this Hyper 212 EVO): Intel BX80684I58600K 8th Gen Core i5-8600K Processor
$254.99
GRAPHICS CARD UPGRADE
RTX 2070: ZOTAC Gaming GeForce RTX 2070 Blower 8GB GDDR6 256-bit Dual Slot Gaming Graphics Card – ZT-T20700A-10P
$499.99
RAM UPGRADE 
Add More RAM (16GB) – HyperX Kingston Technology Fury 16GB (2 x 8GB) DDR4 2400MHz DRAM
$144.88
CPU COOLER UPGRADE
Corsair Hydro Series H80i v2 Extreme Performance Liquid CPU Cooler, Black- Add a liquid CPU Cooler for a quieter, more customized and efficient cooling experience.

$74.99
---
Above are the suggested upgrade ideas for the best December 2018 $1000 gaming PC build, these are recommended if you have a larger budget or want some upgrade suggestions later on.
If you wanted to easily upgrade your CPU, you could simply swap for the Intel i5 8600K. The 8600K gives you the potential to further overclock your CPU for a slightly higher cost. You do have to keep in mind though that if you go with the 8600K, you will need to add a CPU cooler (such as the Cooler Master Hyper 212).
The graphics card upgrade this month has also changed due to the actual card in our $1000 pc build being upgraded — the upgrade  card is now the newer RTX 2070, so if you have the dollars to spend and want to upgrade what will give you the biggest boost in performance, this is what you should upgrade first.
Since the $1000 pc build above includes 8GB of RAM, you could bump this up further to 16GB with a kit of Kingston HyperX Fury RAM.
You could also go with a liquid CPU cooler such as the Corsair Hydro Series H80i V2 in place of the included air cooler already included in the above build above. This could help keep things quiet and a tad cooler when overclocking and it offers a more customize the cooling experience — this could also be used if you decided to go with the Intel 8600K CPU upgrade as it doesn't come with a cooler.

The Best $700 Gaming PC Build | December 2018
Capability: Game at Smoothly with High settings and FPS at 1920X1080 resolutions in most games.
Overview | Best Gaming PC Build for $700
December 2018 Updates: The December 2018 $700 gaming pc build uses a Ryzen 5 2600 and pairs that with a GTX 1060 3GB graphics card. This build is for those wanting a simple, affordable gaming pc that will play any pc game on the market at 1080p resolutions with high settings.
The CPU this month is the Ryzen 5 2600 CPU is a superb value coming in with 6 CPU cores and 12 threads at 3.4Ghz.
For the graphics card this December 2018, we have a GTX 1060 3GB graphics card, which is a great GPU that provides you with awesome 1080p performance. If you need to further boost your graphics performance you could consider and RX 580 graphics card as you see included in the $1000 gaming pc build.
This months motherboard for the under $700 gaming pc build is an AMD B350 chipset motherboard — the GIGABYTE GA-AB350-Gaming. This motherboard is perfect for the included build included in the above under $700 gaming pc build as is, however, if you did have a little bit more to spend, you could consider an upgrade to an AMD X470 chipset motherboard; that way you could overclock quite easily.
The RAM included is a kit of Kingston HyperX Fury (the same as in the $1000 pc build) which is enough memory for most gaming pc builds, and you always have the option to upgrade more in the future if need be with the extra couple of slots on the included motherboard.
The storage included is a Kingston Digital 120GB solid state drive SSD. This is a great start in terms of storage speed and capacity, however, if you do think you'll need more storage right away, you could consider a 256Gb or larger SSD as well — or heck throw in another Kingston 120GB SSD for another $30 or so.
The included power supply unit in this pc build is the reputable and affordable Corsair CX Series, CX500, with enough juice to power this build and for a good cost.
The gaming pc case for December 2018 is the Antec Gaming Series Three Hundred Two pc case. This case is a classic high-quality gaming pc case. This is a great affordable pc case that performs very well with a hot aggressive front bezel and great cooling system. Learn more at antec.com.
Upgrade Suggestions | Best $700 PC Build 2018
The above are upgrades to the $700 gaming pc build. That is if you have more to spend than the allotted $700 for this gaming pc build. There are some significant performance upgrades above including the CPU and graphics card – and even further, if you upgrade the CPU you could also upgrade the motherboard for an even more overclocking capability for even more of a performance boost for nothing.
The CPU upgrade suggested is an AMD Ryzen 5 2600X, this could be a slight upgrade in computing power and it overclocks quite nicely.
The motherboard upgrade suggestion is an AMD socketed X470 board — the MSI X470GPLUS Performance GAMING motherboard. This motherboard can further leverage the included Ryzen cpu by providing an easier overclocking experience.
If you are looking the simplest performance upgrade, then you could consider upgrading the graphics card to an RX 580 8Gb GPU, which should enable quality PC gaming performance at 1080p.
You could also increase your storage space by going with a larger capacity 256GB Samsung 860 EVO SSD. This would be recommended if you think you will need more than 120GB as included in the SSD in the base build above.
---
Additional Gaming PC Components for December 2018
There is a lot more additional PC components that you may or may not need for your gaming pc build, and below are some suggestions. Such as you may want to add WiFi functionality, which isn't inherently included in the above builds, and you may not already have an operating system to install on your new pc.
Operating System | What will you run Your Gaming PC Build With?
You will need an operating system (OS) for your gaming pc build and If you don't already have one laying around, then you're going to have to purchase a standard OS such as Windows 10 or check out some free alternatives that you could consider. Keep in mind that it is recommended to purchase Windows online or as a USB stick and install it that way as optical drives are not included in any of these builds and nor would you generally need one for any modern gaming pc.
Included below is a USB copy of Windows 10, which is probably what most people need. I have also included two other operating systems that are both currently free – so could be worth the time trying out. Ubuntu is a Linux based operating system. The last OS is SteamOS, which is also a Linux OS being developed by Valve Corporation.
Network Card/USB | Add Wireless Internet to Your PC Build
Not all gaming pc motherboards have wifi, in fact not many do unless you are willing to purchase a more expensive board. So if you want wireless internet (wifi), then you will need to either purchase a wireless PCIe card or USB dongle. Whichever you choose is up to you, but essentially a wireless PCIe card plugs directly into your motherboard and usually has antennas that come out of the back of your PC case, and a USB dongle simply plugs directly into your PC case via a USB port.
Here are a couple examples:
December 2018 Gaming PC Builds of the Month Overview Video
*Coming soon