PC Build Navigation: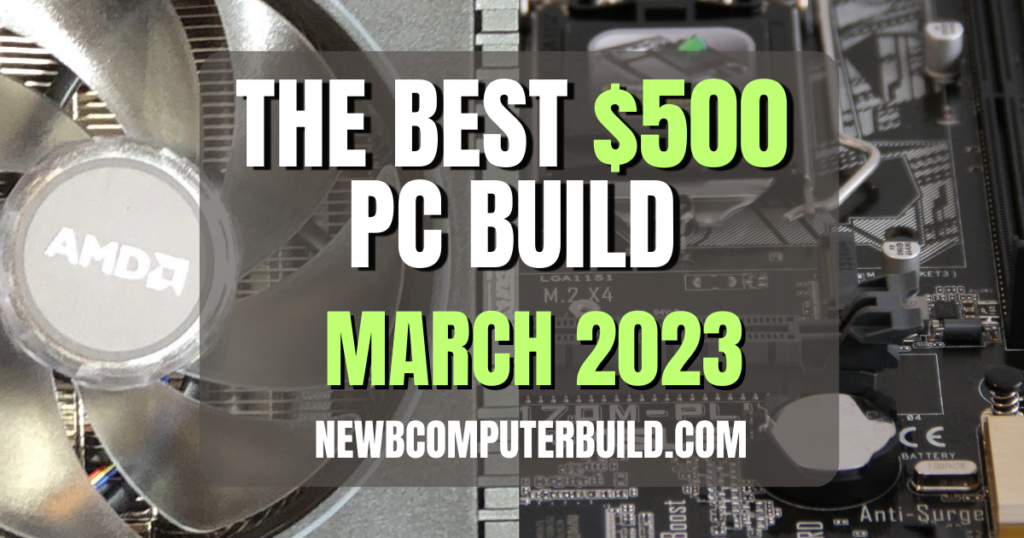 The Best $500 PC Build for March 2023 Update:
Last month we saw so many great changes to the best $500 gaming PC build of the month, and this month the build stands strong and still includes the powerful integrated graphics chip — the Ryzen 7 5700G. And the greatest part of this build is that it comes in well under the already modest budget of $500, which is either a bargain for anyone with a $500 budget or good news in that you can save only a bit more for discrete graphics card, which would knock this PC build to the next level in terms of gaming performance.
Welcome to the best $500 PC Build for March 2023. This is a very viable and entry-level Gaming PC Builds of the Month and the staple in terms of entry-level gaming PC builds as it comes in at an extremely entry-level cost and is a simple setup utilizing integrated graphics (without the need for a separate graphics card). This gaming PC build will play any PC game on the market, it's just a matter of what settings and presets.
So if you've been in the market for a PC build that is economical and can still game decently, this $500 pc build is it. You could perhaps consider this the console killer, in the instance that it is more affordable and leaves you with the flexibility a PC gives you in terms of upgradeability and diverse options of gaming and the other benefits of having a custom pc.
Please keep in mind that every PC is and can be unique to its builder, so feel free to swap things like cases if you had your eye set on something more unique to you — and if you have any questions as per compatibility, please feel free to leave a comment.
Which March 2023 PC Build is right for you based on Your Gaming and Budget Needs?
The budgets included below should accommodate most PC gamers who play in many gaming settings, maxing games anywhere from 1080p to 1440p and playing really well into 4K.
If you are not sure which pc build is right for you based solely on your budget, then here is a quick breakdown of which build may be a right fit for you (*rough performance guidelines):
---
Bookmark our Best Gaming PC Builds for 2023 Page to Keep up to Date With the Monthly Gaming PC Builds, or subscribe here.
---
The Best $500 Gaming PC Build | March 2023
Capability: Game at 720p to 1080p resolutions in most games.
Powered by the Ryzen 5 5600G CPU with Integrated Radeon RX Graphics
(*You don't need a graphics card with this CPU as it comes with Integrated Radeon Graphics for smooth 1080p gaming)
Play some of the most popular games at 1080p with the fastest processor graphics in the world, no graphics card is required

8 Cores and 16 processing threads, bundled with the AMD Wraith Stealth cooler

4.6 GHz Max Boost, unlocked for overclocking, 20 MB cache, DDR4-3200 support

For the advanced Socket AM4 platform. Maximum Operating Temperature (Tjmax)-95°C
Amazon Price: $178.00 (If you want to cut your budget even further, consider the AMD Ryzen 5 5600G)

2. Cooler: AMD Wraith Stealth Cooler (Included)
This cooler is included with the AMD Ryzen 5700G CPU
This motherboard is a quality budget Micro ATX sized board, that features everything you'd need in a $500 PC, including:
AMD AM4 Socket: l Ready for Ryzen 5000 Series/ 4000 G-Series/ 3000 Series Desktop Processors

Comprehensive cooling: Large VRM heatsink, PCH heatsink and Fan Xpert 2+

Made for online gaming: 802.11ac Wi-Fi, TUF LANGuard and TurboLAN technology

Gaming Connectivity: BIOS FlashBack button, USB 3.2 Gen 1 Type-A, 32Gb/s M.2 onboard, SATA 6Gb/s, 802.11ac Wi-Fi, DisplayPort/HDMI/D-Sub

Gaming Look and Feel: ASUS-exclusive Aura Sync RGB lighting, including RGB headers and a Gen 2 addressable RGB header for greater customization
Amazon Price: $99.99
4. Graphics Card: *Integrated Radeon RX Graphics Included
The Ryzen 5 5600G comes with integrated Radeon Graphics at a graphics frequency of 1900 MHz and a graphics core count of 7.
16GB is an upgrade to the $500 gaming PC build, and might even be more than you actually need. However, at the moment 16GB kits are close in cost to 8GB ones at the moment anyhow -- so it only makes sense.
Amazon Price: $48.99
Capacity: Up to 2TB with sequential reads or writes up to 2400MB/s/1900MB/s

NVMe PCIe interface, marking the next step in storage innovation

Includes SSD management software for performance optimization, data security, and firmware updates

Backed by a limited 5-year warranty or up to the max endurance rating of 150 TBW
Amazon Price: $36.99
500W is plenty for this pc build and the Thermaltake Smart 500W RGB does the trick perfectly.
Delivers 500 Watt Continuous output at plus 40 degree. Compliance with Intel ATX 12 Volt 2.31 and EPS 12V 2.92 standards

80 PLUS Certified, 80 percentage efficiency under typical load

Supports (2) PCI E 6plus2pin Connectors. Active (PFC) Power Factor Correction, MTBF: 100,000 hours

Industry Grade Protections: (OPP) Over Power Protection, (OVP) Over Voltage Protection, (SCP) Short Circuit Protection

High Quality Components

Equipped with a powerful plus 12 Volt rail, superior performance under all types of system loading

5 Year Warranty
Amazon Price: $39.99
Front Design for maximized Airflow with two front 120mm fan pre-installed (& one rear 120mm fan pre-installed)

Convenient Interface with one USB, 3.0 & two USB 2.0

Power Supply unit dedicated space for improved cooling performance

7 PCI Expansion Slots with Bottom & Top Magnetic Dust Filter
Estimated Price (March 2023): $464
(*Using integrated graphics)
Overview | Best Gaming PC Build for $500
For the $500 gaming PC build of the month for March 2023, you will get HD 1080P resolutions with game settings scaled back for optimal FPS gameplay and it uses integrated graphics, which makes this the most accessible pc to game on out of all of the gaming pc builds of the month.
The $500 gaming pc build is currently powered by the Ryzen 7 5700G CPU with integrated Radeon RX graphics. This means you do not need a graphics card to get up and start gaming, which is a plus since cards are really inflated with regard to cost at the moment. This also allows you to add a better graphics card for increased performance in the $500 gaming pc build of the month.
This gaming PC build is a back-to-the-basics type build that focuses solely on getting as much performance as possible from each dollar spent. That means no bells and whistles, only pure performance and concentration on the necessities of our build.
This could be considered the gateway PC for those breaking free of the gaming console and jumping into PC gaming – or for those who want an affordable gaming pc that can play any game out there with scaled settings.
$500 Gaming PC Build of the Month Upgrades
As with all of the gaming pc builds of the month, there are plenty of upgrades that you could consider if you had just a bit more to spend. You can check these out here:
To read the full overview and for a list of hardware alternatives, please visit the FULL Best $500 Gaming PC Build Page
The best $500 gaming pc build can be further upgraded — visit the full overview page for a full overview of this build including suggestions for hardware upgrades including a higher-performing CPU, or a high-performing graphics card.
---
Operating Systems for Your Gaming PC
Do keep in mind that you will also need an operating system, however, it's not too difficult to find keys for windows 11 online, you will need to install it using something like a USB key or external drive.
The Best $500 PC Build for March 2023 Overview Video
If you prefer to check out a video overview of the $500 PC build, then look no further. And please remember if you have any questions or comments on your build to leave them below and I'll try my best to help you out. Best of luck building your next best PC build!