PC Build Navigation: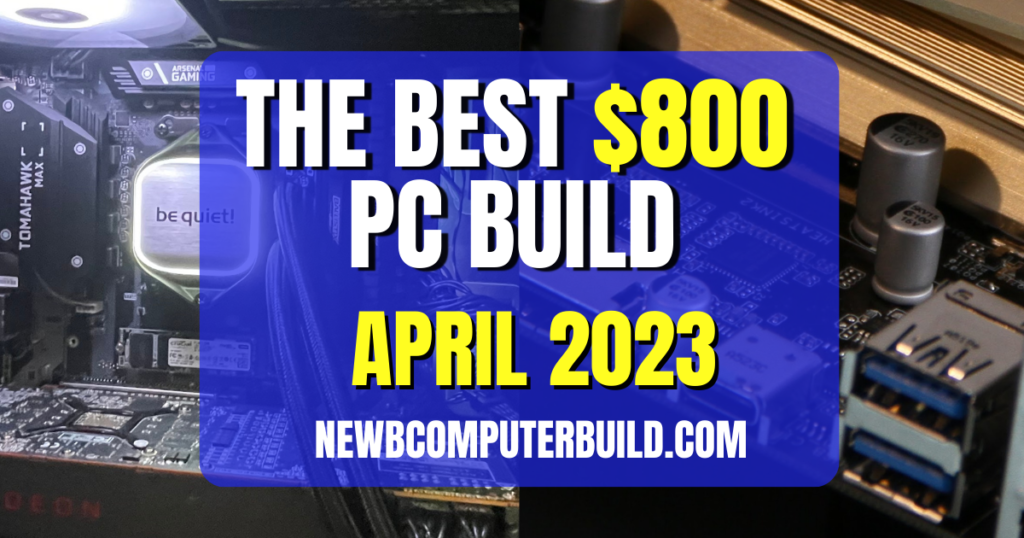 The Best $800 Gaming PC Build for April 2023 Update:
The $800 gaming PC build is the PC build most budget gamers are looking for. This PC build aims to play any PC game on the market at standard HD resolutions without any issues, making this build the ideal accessible build for most gamers. You may think you need more, but do you?
For April 2023, the best $800 pc build dropped a bit in cost. This is great news if your budget is $800, or leaves room for upgrades, which you can find on the official best $800 gaming pc build page.
Please keep in mind that every PC is and can be unique to its builder, so feel free to swap things like cases if you had your eye set on something more unique to you — and if you have any questions as per compatibility, please feel free to leave a comment.
Which April 2023 PC Build is right for you based on Your Gaming and Budget Needs?
The budgets included below should accommodate most PC gamers out there that play in many gaming settings, maxing games anywhere from 1080p to 1440p and playing really well into 4K.
If you are not sure which pc build is right for you based solely on your budget, then here is a quick breakdown of which build may be a right fit for you (*rough performance guidelines):
---
Bookmark our Best Gaming PC Builds for 2023 Page to Keep up to Date With the Monthly Gaming PC Builds, or subscribe here.
---
The Best $800 Gaming PC Build | April 2023
Capability: Game Smoothly with High settings and FPS at 1920X1080 resolutions in most games with the best $800 Gaming PC Build.
Powered by the Intel Core i3-12100F and an RTX 6650 XT Graphics Card
A top-of-the-line gaming CPU is in this price range -- beating out its competition in gaming performance, even in the higher cost ranges. This CPU is like the Intel i3 12100, but cheaper and without integrated graphics (since a graphics card is included anyhow).
Intel Core i3-12100F Desktop Processor 4 (4P-0E) Cores Up to 4.3 GHz Turbo Frequency LGA1700 600 Series Chipset 58W Processor Base Power
Amazon Price: $106.92
2. Cooler: Intel Laminar Cooler (Included)
This is the stock cooler for the Intel Core i5 12400. It would be recommended that if you want to overclock upgrade this to an after-market CPU cooler (see hardware alternatives for options)
Price: *Included
Intel LGA 1700 socket: Ready for 12th Gen Intel Core, Pentium Gold and Celeron Processors

Ultrafast connectivity: PCIe 4.0, Intel 1 Gb Ethernet,rear USB 3.2 Gen 2 Type-A and front USB 3.2 Gen 1 Type-A and Type-C

ASUS OptiMem II: Careful routing of traces and vias, plus ground layer optimizations to preserve signal integrity for improved memory overclocking

Comprehensive cooling: VRM heatsink, M.2 heatsink, PCH heatsink, hybrid fan headers and Fan Xpert 2+
The $800 gaming PC build includes an MSI Gaming RX 6650 XT Graphics Card, which offers top-of-the-line $800 gaming PC performance, blasting through the previous card offerings in this spot and providing very high 1080p FPS gameplay.
Price: $299.99
16GB of RAM is the sweet spot for any gaming pc out there and should be all you need -- however there is always room to upgrade!
Amazon Price: $48.99
NVMe (PCIe Gen3 x4) technology with up to 3500MB/s sequential reads, random read/write 350K/460K IOPS

Spacious storage up to 4TB

Performs up to 33% better than the previous generation

Solid Gen3 performance

Rated at MTTF greater than 1.5 million hours for extended longevity and reliability
Amazon Price: $35.99

Supports Dual/Quad/multi-core CPUs. Supports single 12V output for higher power usage

Dc to DC converter design, provides superior dynamic response, greater system stability and maximizes the 12V DC rail output

Multi-gpu technologies supported; 6 pin and 8 pin PCI-E connectors support all GPU platforms. Built in 1 x auto-thermally controlled black 135mm fan

Connectors: 1 x 20/24pin main power, 1 x 4/8pin 12V, 2 x PCI 6+2pin, 4 x SATA, 4 x peripheral. All protections

Apevia ATX-PR600W Prestige 600W 80+ Gold Certified, RoHS Compliance, Active PFC ATX Gaming Power Supply, 3 Year Warranty
Amazon Price: $51.99
Full Acrylic Side Panel for ATX Mid Tower Computer PC Case

Front Design for maximized Airflow with two front 120mm fan pre-installed (& one rear 120mm fan pre-installed)

Convenient Interface with one USB, 3.0 & two USB 2.0

Power Supply unit dedicated space for improved cooling performance

7 PCI Expansion Slots with Bottom & Top Magnetic Dust Filter
Estimated Price (April 2023): $749
Overview | Best Gaming PC Build for $800
The best $800 gaming PC build of the month for April 2023 is for those who just want to build a solid pc capable of over 100FPS or so gaming at standard HD 1080P resolutions and well over 60FPS at 1440P. This is truly the 'every person' type of build for those who just want gaming on a PC and do it at fairly decent performance settings.
The CPU included this month is a huge upgrade with the Intel i3 12100F CPU, which is a very capable CPU, and if you opted for the Intel Core i3 12100 (non F), you could also have decent integrated graphics, so what this means is that if you want to wait for a better deal on the graphics card, this that CPU would get you up and running without one in the meantime, and would enable some lower-end gaming. But you shouldn't have to do this, which is why I simply include the slightly cheaper, but very same CPU, the Intel i3 12100.
The graphics card included is a Radeon RX 6650 XT graphics card, which will push games to max settings under a 1080p resolution at higher FPS and even does well at 1440P than before with this budget. This build is probably most of what any very typical "I just want to game" gamers out there as it does max games out easily at 1080p standard HD monitor resolutions.
$800 Gaming PC Build of the Month Upgrades
To read the full overview and for a list of hardware alternatives, please visit the FULL Best $800 Gaming PC Build Page
The best $800 gaming pc build can be further upgraded — visit the full overview page for a full overview of this build including suggestions for hardware upgrades including a higher-performing CPU, a high-performing graphics card for those more intense games, or even a better pc case.
---
Operating Systems for Your Gaming PC
Do keep in mind that you will also need an operating system, however, it's not too difficult to find keys for windows 11 online, you will need to install it using something like a USB key or external drive.
The Best $800 PC Build for April 2023 Overview Video
If you prefer to check out a video overview of the $800 PC build, then look no further. And please remember if you have any questions or comments on your build to leave them below and I'll try my best to help you out. Best of luck building your next best PC build!