Jump Straight to the Best Gaming Monitors:
So you want to choose the right monitor for you to enjoy the best possible gaming experience? Well there may be a few things you need to look for when searching for the best gaming monitor for you. Choosing the best possible gaming monitor might be different for each individual depending on what you like, need, and can afford. So what I am going to do in this article is first explain what you should be generally looking for in a good gaming monitor, and then show you my recommendations based on what I believe to be the some of the best gaming monitor choices.
What to Look for in a Gaming Monitor
Resolution:
When choosing a monitor for your gaming PC the first thing I would look at is the monitors resolutions. A Gaming monitor is a gaming monitor because it should make your games look great! Look for a monitor with at least 1920×1080 resolution (Full HD). Nowadays monitors at this resolution are easily accessible and affordable so I would advise you to not get anything but full HD.
Contrast Ratio:
The contrast ratio of a monitor is the ratio of the luminance of the white to black that your monitor is capable of producing. Generally, the higher the contrast ratio the better as this will produce crisper colors. So when choosing your gaming monitor check out the contrast ratio, and see what the best ratio you can choose. *Note: Take everything into consideration and do not choose a monitor solely base don something like contrast ratio.
Response Time:
Generally you just want to fastest response time in your monitor as possible; especially with a gaming monitor. Response time is the amount of time is takes between you giving an action to your computer to when you monitor reacts to this change. Response time is measured in milliseconds: Such as 5ms.
Brightness
The brightness of a monitor is measured in candelas per square meter (cd/m2). Generally you will find most monitors are around 300 cd/m2 as too low of a brightness can be bad, as well as too high of a brightness.
Monitor Inputs:
Make sure you check what inputs are included on a monitor you consider buying, because you want to be able to actually attach your computer to it! Generally any good gaming monitor will come with a mixture of HDMI, DVI-D, D-Sub and VGA inputs, so check what your computers video card supports.
Monitor Size:
Well this on seems obvious doesn't it? This one is completely up to you and will be mostly based on price and size preference. It is my personal opinion that bigger is better, but who am I to say?
Best Gaming Monitors
In my opinion this is a fantastic gaming monitor (and one of the best). Great features such as the Asus Splendid video intelligence Technology (optimizes image quality with intelligent color, brightness, contrast and sharpness corrections), AI Light (automatic bgithness adjustment), picture in picture, and Asus will even cover any shipping costs back to them if anything goes wrong (doesn't make it a better gaming monitor but it is a perk!)
| | |
| --- | --- |
|  RESOLUTION: | 1920 x 1080 |
|  CONTRAST RATIO: | 100,000 :1 (ASCR) |
|  RESPONSE TIME: | 2ms (GTG) |
|  BRIGHTNESS: | 300 cd/m2 |
|  MONITOR INPUTS: | DisplayPort, DVI-D, D-Sub, HDMI |
|  MONITOR SIZE: | 27″ |
Purchase:
US:
Canada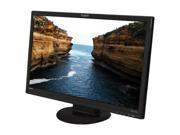 Planar PX2710MW Black 27″ Full HD HDMI WideScreen LCD Monitor w/Speakers
Planar is not the most widely known monitor company, but wow this monitor packs punch and for a relatively cheap price! For under $300 you can get a full 27″, with a low response time of 2ms, and HDMI hookup. By far I believe this is a great bang for your money sort of monitor.
| | |
| --- | --- |
|  RESOLUTION: | 1920 x 1080 |
|  CONTRAST RATIO: | 1200:1 |
|  RESPONSE TIME: | 2ms (GTG) |
|  BRIGHTNESS: | 300 cd/m2 |
|  MONITOR INPUTS: | D-Sub, DVI, HDMI |
|  MONITOR SIZE: | 27″ |
Purchase:
US:
Perhaps you don't want a huge monitor but still want to get the best out of a slightly smaller gaming monitor? At an even cheaper price? This Asus is perfect a 23.6″ screen and priced under $190 you can have a high quality monitor at a low price! It also comes with al the great Asus additions like Asus Splendid video intelligence, Aspect control (you can select you preferred display mode among Full and 4:3 for true to life gaming or movie watching with data loss or image distortion), and the Asus rapid replacement program where Asus will pay for any shipping back to them if something goes wrong with your monitor.
| | |
| --- | --- |
|  RESOLUTION: | 1920 x 1080 |
|  CONTRAST RATIO: | 1000:1 (ASCR 20000:1) |
|  RESPONSE TIME: | 5ms |
|  BRIGHTNESS: | 300 cd/m2 |
|  MONITOR INPUTS: | D-Sub, DVI, HDMI |
|  MONITOR SIZE: | 23.6″ |
Purchase:
US:
Canada
Good luck!
I hope you find the best gaming monitor possible to compliment your gaming experience. Please share your like or dislike with any of these choices, and what would you recommend? Share your responses below, and if you get the chance like me to 😉