Headset Overview
When searching for a new headset to fulfill all of my listening wants, I finally settled on purchasing the Creative Sound Blaster Tactic 3D Sigma headset which cost me $54.99 CAD during NewEgg's "one week headset savings event". This saved me a claimed $35. On average I've seen the price of these Sigma's run anywhere from my $54.99 to $85. Before making my online purchase, I did some research before I finally settling on choosing the Sound Blaster Sigma's based on some headset wants. My new headset wants were pretty specific and I preferred that it included these five things:
My Headset Wants:
Great usage for gaming
Listening to music (all kinds)
Both USB and Analog (For full functionality + to secure usage with my iPod on the go)
A Microphone that detaches (I want to use my headset for more than gaming / chatting)
Lastly, I needed a headset that was not too expensive
As you can see I wanted versatility in a new headset. This saves me from purchasing multiple headsets for gaming/chatting/music/etc. Before I get into what I think of the headset, lets go through what these Sounds Blaster Tactic 3D Sigma's have to offer:
Rough Paraphrased List of Features From Creative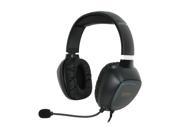 The Creative Sound Blaster Tactic 3D Sigma's offer a high-resolution 3D gaming audio experience with 50mm Neodymium drivers. There is touchscreen piece of software included that allows you to play with the THX TruStudio Pro Surround that produces a 360 degree headphone surround along with VoiceFX voice morphing technology. Included is your choice of an analog or USB connection (You can use the headset in analog with standard mini jacks or connect in a Dual Mode USB adapter to your PC or Mac for a full THX Tru Studio Pro experience).
Feature Descriptions:
Dual Mode – Analog or USB: You can connect the headsets  3.5mm mini jack to the Sound Blaster sound system, on-board audio, or an MP3 Player. As well, you can connect with the THX TruStudio Pro Dual Mode USB Adapter to the PC or Mac. – This is exactly what I was looking for!
THX TruStudio Pro technology: This is the surround audio that lets you hear from the front, back, around, above, and below in game. Neat!
High-Resolution driver units: The drivers included in the Sigma headset are a high-resolution 50mm Neodymium driver that according to Creative "…unveil fine details with sonic accuracy to deliver the best gaming experience ever."
Custom TacticControl: Software that allow full customizability for the THX TruStudio audio suite and VoiceFX controls. You can save a "TacticProfile" that you can share with others to use, or you can use other people's profiles.
VoiceFX: Allows you to morph you voice into different characters!
Steel Core Headband: The headset has a steel core which is pretty durable.
Differences Between the Creative Sound Blaster Tactic 3D Sigma and the Creative Sound Blaster Tactic 3D Alpha?
There are two sets of headphones in Creative's Sound Blasters Tactic 3D line: The Alpha and the Sigma (With Sigma being the "higher-end" model). I do not have any real life experience using both, but description wise the Sigma is better than the Alpha because:
The Sigma…Is created more durable with a Steel Core Headband while the Alpha does not have a Steel Core Headband.
The Sigma…Has 50mm Neodymium drivers, while the Alpha has only 40mm Neodymium drivers.
The Sigma…Has more padding for comfort than the Alpha.
The biggest difference for me would be the larger drivers in the Sigma, but comfort and durability are always great (especially since when I purchased the Sigma's they were only $10 cheaper than the Alpha's).
 My Personal Creative Sound Blaster Tactic 3D Sigma Review
Initial Reactions
My initial reactions to unboxing the new Sound Blaster Tactic 3D Sigma's were very good. The box it comes in is well designed, and all the parts inside were all packaged very well and very easy to take out of the box.
What's Included
The collection of parts included are the headset (obviously) and a detachable microphone and THX TruStudio Pro Dual Mode USB adapter. On the headset itself is also a very nice thin cord (like flattened spaghetti) that has an in-line volume control to turn the volume of your headset up and down, as well as a microphone on and off switch, which makes it really easy to turn the mic on and off.
The Design
As for the headset, I was really impressed with its design. There is nothing
really flashy about them (which I like). A flat black plastic is encased around the headset, with a solid metal under frame that you can adjust to fit your larger head; this feels really sturdy.
The headset fit well onto my head with an adjust of about two notches. Another note is that the ear pieces on the headset have a swivel motion which I believe makes it conform to my head better, although dunno any other uses?
Comfort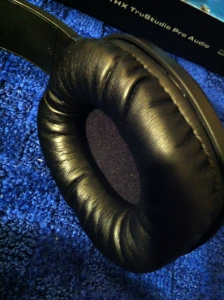 The ear pieces have a foam like casing surrounded by some sort fake leather like material which is really cushy. The first day I was able to use the Creative Sigma's was a whole 8 hour day at work, and quite honestly they were comfortable the whole day. I think I may have taken them off a total of 5 times to run and get something.
As well, at the very top of the headset where it touches the top of your head there is a thick foam padding. I didn't even feel the top of the headset; even after sitting at work all day!
The Sound
The sound on the Sound Blaster Sigma's is actually pretty good. I turned the bass up fully and they do have quite a 'thump', but nothing too extreme. I`m not sure how much of better sound these have than the Sound Blaster Alpha`s, but I presume it is much better as these Sound Blaster Sigma`s have a 50mm magnet instead of the Alpha`s 40mm one. The THX sound is great! Sometimes give me shivers, and it does create a 360 degree like sound experience. It is almost like a softer sound sort of feel for certain directions / distances of sounds.
The Microphone
What I loved about this microphone is that it is detachable! I did not want a headset that had either a static microphone or a swivel microphone. I just think it looks rather tacky if I am using the headset in situations aside from gaming. As for the sound this microphone sounds pretty standard, nothing special. It will be good enough for chatting in any game, or chatting online in any form, and plus it does a good job of keeping surrounding sounds out! The only fault I had with the microphone is that when I want to take it back out, it is a little tougher than I would like it to be, although I'm just happy it does come out.
The Software
It was really easy to get started with this headset, all I did was plug and play. However this headset does come with some really nice software. It was a pretty quick install for me, and then I played with some of its settings which were fun.
In the Sound Blaster Tactic (3D) Control Panel you can create or import custom profiles that include their own sound settings in THX TruStudio PRO, The Equalizer, Voice FX etc. One neat thing I thought was the Voice FX which has about 18 different voice types to choose from.
*QUICK TIP: In the software included there is a "Passcode" section where you can type in a couple of codes that add some more functionality to the software. The only two available right now are:
UUDDLRLRBA – This one enables VoiceFX customize ability
IDSPISPOPD – This ones gives you more appearance options
Conclusion
The thing about these headphone that I liked and what attracted me the most are there versatility. Not only can I use these as a great gaming headset, but also to listen to music (on the computer, iPod etc.), watch movies, and pretty much anything else I wanted If you can think of it. As well when I purchased the Sound Blaster Tactic 3D Sigma headset they were not too expensive at $54.99. This is a very decent price for a headset with so many features. The only things I may change on the headset are maybe the flattened cord on the head set (perhaps just too different than my previous headsets), and if I were to add anything, it would be nice if they suppressed noise better at larger volumes (just for those around me at work!)
Gallery
 Where to Purchase
If you are looking to purchase the Creative Sound Blaster Tactic 3D Headset you can try:
In the US:
In Canada: