Overview
So I have been on a roll lately with gaming hardware arsenal with my purchase of the Creative Sound Blaster Tactic 3D Sigma gaming headset (check out my review here) and the Logitech G500 Gaming Mouse (check out my review here). So far I have been very impressed with my hardware choices, and I am still very impressed with my new purchase of the Logitech G510 Gaming Keyboard! I purchased the Logitech G510 for a mere $100 (with the regular price being =~$120), however I am now kicking myself as no more than a week later Amazon has it for $84.99 (*slaps myself in face). I honestly would suggest reading the rest of this review if you are interested in a new gaming keyboard, and would like to say right from the start I would highly recommend this keyboard for this price.
What's Included in The Box:
Aside from the Logitech G510 itself, inside the box is the included software: "Logitech G-Series Key Profiler", an instruction booklet, and a palmrest. In the past I have honestly been a $10 dollar keyboard guy so usually I would boycott fancy accessories like a palm rest 😛 but honestly I would recommend using this one or else you wrist / palm will rub on the edge of the keyboard. Aside from the contents you will need a USB 2.0 port to plug in the keyboard, and either download or have a CD drive for the software.
Logitech G510 Gaming Keyboard Features
You might ask yourself "so what's the point in purchasing a more expensive keyboard, even if it's for gaming?" Well you might not, but I asked myself this, and it's because of a ton of cool / useful features.
GamePanel LCD: It's only a very small LCD screen at the very top of the keyboard, but this little screen adds some spunk and power this this G510 keyboard. For one the color of the screen will always match the color of the rest of the keyboard, as well you can keep track of so many things such as: In game player rankings, servers IP, score, times, health, ammunition levels, CPU system specification indicators, media information for music etc., e-mail notifications and much more.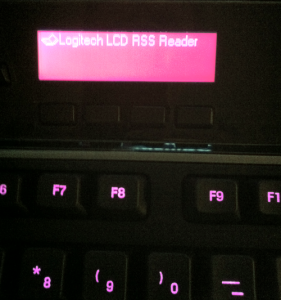 Custom color backlighting: If you are looking for a keyboard with a bunch fo cool lights, then this is it, Honestly, you can change the keys on the Logitech G510 to literally any color and match it ot several different key profiles.
Integrated USB Audio: This is great if you have a gaming headset with an analog 3.5 mm plugs as a USB audio device. From the keyboard you can mute your audio, and mic separately.
18 Programmable G-Keys: So three macros per G Keys means that you can have up to 54 different functions for every game you play.
Multi-key input: This allows you to press five keys as the same time with all the keys being recognizable (allows you to do more at one time)
Game / Desktop Mode: This is a key that you can flick on and off which turns your Windows Key functionality off so that you do not hit is by accident while in game (or doing whatever your doing). This is surprisingly useful especially for FPS games.
My Personal Logitech G510 Gaming Keyboard Review:
Look and Feel:
The look and feel of the Logitech G510 is amazing. This may be subjective, but I love the customize ability of this keyboard. I can select a different color of my choice for every keyboard profile I create, which is useful for a visual cue as to what keys I have activated, and two looks very vibrant. The keys type quite smoothly, but do make somewhat of a clicking noise. At first I did find the keyboard slouched forwards a tad too much, but I got used to this quickly while using the optional Palmrest that came in the box.
Keyboard Setup:
The Logitech G510 has it's keys set up perfectly in my opinion. When compared to the low quality keyboard I am used to whilst gaming there was no getting used to new key locations etc. The only handicap I had was assigning new functions to the G-Keys and that was it. I found that every key seemed to have a purpose and there is no wasted space on this keyboard. I also love the audio increase/decrease roll bar – I found it much easier to control the volume by rolling the included bar up and down aside from hitting a plus or minus key found on most generic keyboards.
Conclusion:
The Logitech G510 Gaming Keyboard is a great and wonderfully welcomed piece of hardware to my gaming PC. Why do I love most of everything I buy? Well, before I purchase most of anything I own I have read, and done a ton of research on prospective hardware. This is because I strive to buy the best within my price range – As this is not to say I buy the best for any price, but at my price point. I highly recommend this keyboard to anyone wanting a new Gaming Keyboard! Every key has a useful purpose, the colors are vibrant / look great, it feels nice, and the usability seems infinite.
Gallery:
Where to Purchase:
If you are looking to purchase the Logitech G510 Gaming Keyboard I suggest:
In the US:
In Canada:
I would like to know your thoughts about the Logitech G510 Gaming Keyboard so please leave a comment and tell me your experiences or thoughts. Or perhaps you have a gaming keyboard you currently use that you love!