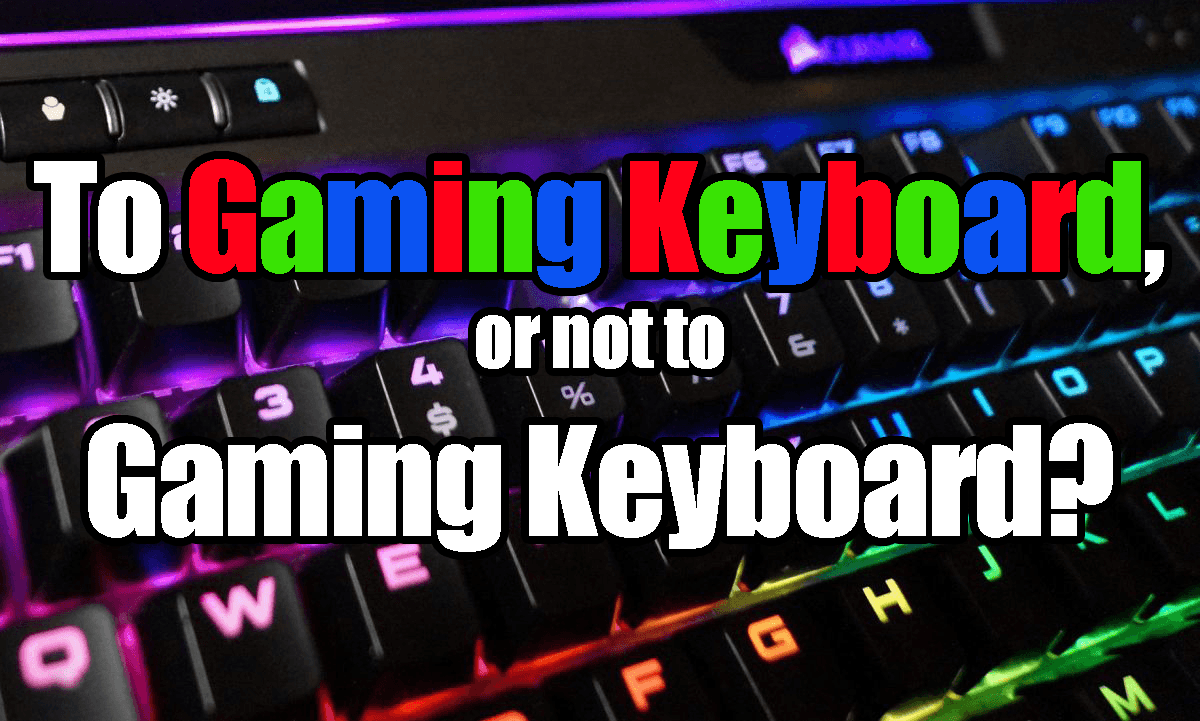 Last Updated: March 2021
When you are shopping for PC gaming equipment or building your own gaming pc, chances are you spend a great deal of time selecting the best pc card, motherboard, and processor for your machine. You probably even spend a lot of time selecting the perfect-looking case for your build. But have you ever given much thought to your keyboard?
(Looking for gaming pc builds — then check out the Best Gaming PC Builds of 2021)
A good gaming keyboard used properly can mean the difference between winning or losing your favorite game. Let's take a look at five reasons why a good gaming keyboard could mean the difference between success and failure while playing your favorite pc game and the benefits of using a gaming keyboard.
5 Reasons why you Should get Gaming Keyboard
1. Comfort Is King
While games may have become much more casual-friendly in recent years, the best games still often require rather long play sessions. Just think about your typical MMO. Even the most casual-friendly MMORPG's require more than 20 minutes of your time. Sometimes, they may need a few hours, especially if you are tackling end-game content with a large group.
A gaming keyboard usually features full-sized, well-spaced, mechanical keys that are easy to use for longer periods of time. On top of that, the shape of the keyboard is usually made to fit your hands perfectly so you can use your keyboard for longer stretches without hurting your hands and wrists.
2. Mechanical Keys Allow for Faster Typing
Most gaming keyboards feature mechanical keys instead of the membrane keyboards out there. The keys on these keyboards are much easier to press and often don't have to be pressed with as much force as other types of keyboards. This means you can type much faster on it compared to other keyboards.
If you are playing a game, you will be able to move your character with much more ease compared to the other keyboard. Because it's easier, you won't suffer from fatigue while you're playing and you will be able to make all your moves much faster. Sometimes in games, milliseconds matter, and you can easily gain a few milliseconds if you use a mechanical keyboard.
*Did you know: There are many different kinds of mechanical switches for keyboards? Each type has its own feel and sound. There isn't necessarily a better one than the other, but it does come down to user preference in how you prefer the feel of your keys to be based on tactile preference so more. Some examples include Cherry MX Blue, Brown, Red, or Black switches.
3. Macros Make Your Life Easier
Macros are definitely the largest advantage of gaming keyboards. Gaming keyboards often come with a row or more of keys that you can customize to do almost anything in your favorite game. On top of that, you can often set multiple profiles if you play different games. This allows these keys to operate differently in every game you play.
By creating customize macros, you can automate some of the most important, and sometimes tedious, tasks you have to perform in your game. These tasks will not only make it easier to play but could give you just that small advantage you need when going against the toughest bosses or other players.
4. Custom Control Pads Improve Control
While this doesn't apply to every keyboard marketed for gamers, there are many gaming keyboards out there that come with custom control pads on the left-hand side of the keyboard. These controls mimic the WASD keys and the keys surrounding them into a custom control pad. These custom keys make it much easier for you to control your characters in-game. Better control usually translates into better response time while you play. That means you will be quicker to the draw whether you are going up against the AI or another player while enjoying your favorite PC game.
5. Backlights For Gaming In All Types of Light
First, let's just get this out of the way – backlights are cool – RGB FTW! Keyboard backlights, especially on gaming keyboards, often feature multi-colored backlights that you can customize yourself. They just look cool, and that makes gaming even more fun.
But beyond this fact, backlights do serve a purpose. Backlights allow you to game in all sorts of lighting. When I game, I often enjoy turning down the lights in the room and playing in the dark. This is especially fun when you are playing a game in the horror genre. If you turn down the lights, you can really allow yourself to be sucked into the game, but you still need to see what you are doing, and that's where the backlight comes into play. No matter what color it may be, a backlight will help you see what you are doing in the dark so you can enjoy your games in all types of lighting.
Parting Thoughts — Does a Gaming Keyboard Matter?
While a good gaming keyboard will never be as important as the specs of your gaming computer, it can give you a small edge over other players. At the very least it will make your gaming experience much more fun. If you are looking for any way possible to improve your performance while you play the latest gaming titles, then consider a gaming keyboard. I believe it could definitely mean the difference between success and failure in the highly competitive realm of pc games.
Plus these days, there is no short supply of what one might consider a "gaming keyboard", making it more affordable than ever to get your hands on a keyboard that boasts what one might consider gaming features and more at a decent cost. And lastly, peripherals often come down to user preference, so ultimately get what matters most to you, your comfort, and what games you play.
Click here for a list of some of the best gaming PC keyboards right now on Amazon