Live streaming while you game is becoming more and more popular as being able to stream is becoming more accessible then ever. The gaming world is becoming so much more diverse and the streaming community adds another layer of community and even a platform for you the play for an audience. Some popular Streaming platforms include Twitch or Youtube Gaming – which are both great and each their pros and cons. The only thing is that you need  a decent streaming pc build to get up and running.
So you may be interested in playing a game, say GTA V and throwing up a live stream – you load up Twitch, create an account and then go….now what? While I'm not going to get into the particulars of streaming set-up itself, basically all you need to do is create and account at the streaming website of your choosing, then choose a piece of software to stream your game (I use Open Broadcaster Software (OBS) as it's free and extremely easy to use) and then plug in a few settings for said software (OBS Twitch instructions here  / OBS YouTube Gaming instructions here).
In order to properly stream you will need a PC build that is suitable enough to keep up with high settings game-play with and without streaming. Now if want to get really hardcore into streaming, you can do a two computer set-up where you play a game on one Gaming PC and capture using a capturee card with another Streaming PC, but but this article assumes you are like 99% of other gamers / streamers out there and I will assume you are going to build and use one pc as your primary pc.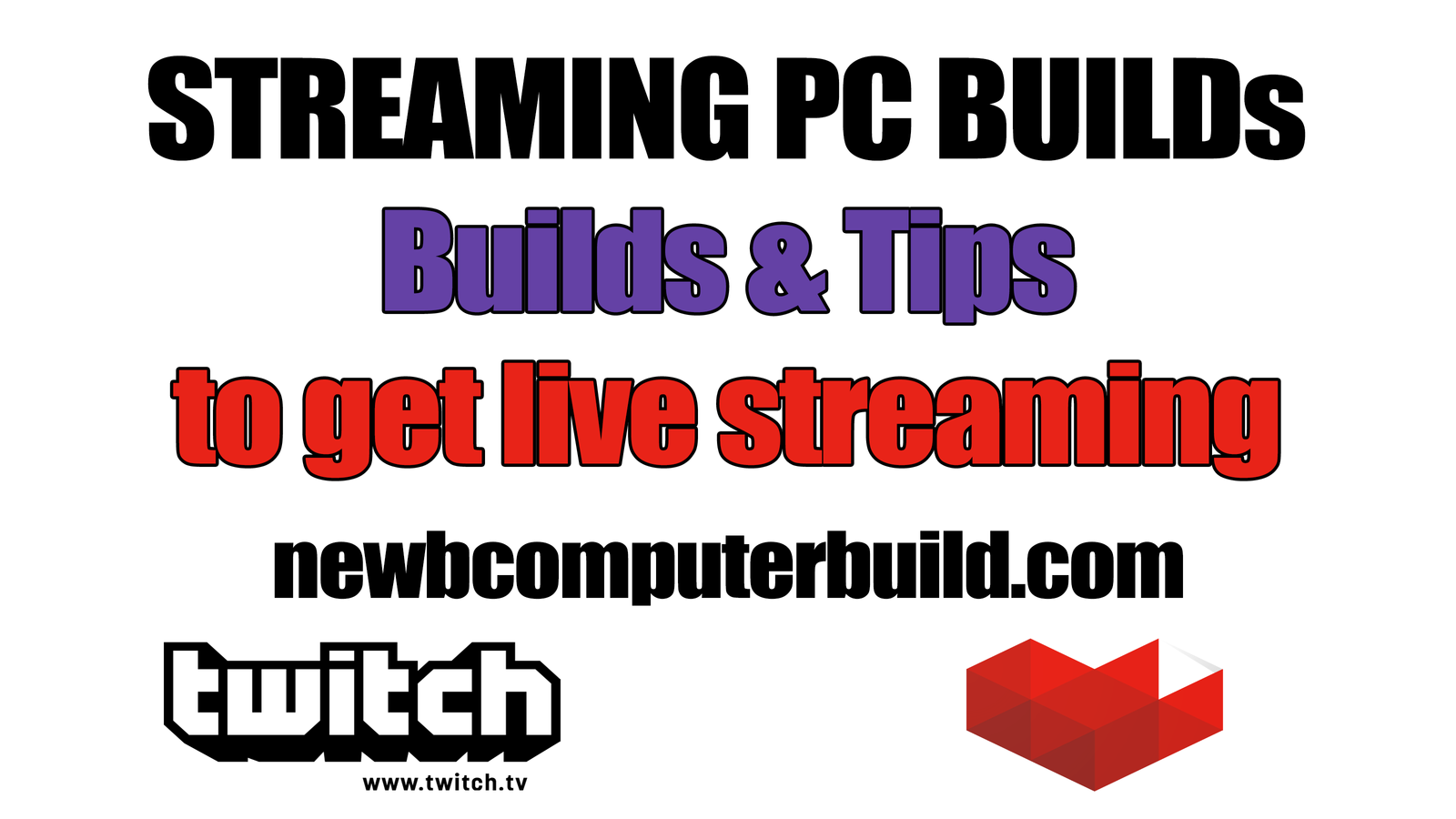 The Nitty Gritty on Streaming Hardware
Streaming is extremely cpu dependent – so generally speaking you may need a stronger cpu in your streaming pc build than in a standard setup. Twitch for example requires a recommended hardware minimum of:
CPU: Intel Core i5-4670 or AMD Equivalent (Compare CPUs here)
MEMORY: 8GB DDR3 SDRAM
OS: Windows 7 Home Premium or newer
GPU: isn't the biggest factor but it is recommended to have a card that supports DirectX 10 and up.
While streaming itself doesn't put tons of pressure on your GPU, a high end GPU would be required to play games at higher settings. This would be one of the things to keep in mind since this will also depend on the games you play (for example Hearthstone won't require as tough of a gaming pc as say GTA V).
You will also have to take note of your internet connection, primarily the upload speed. You should probably have at least a 3MB per second upload rate and anything above that is gravy.
High Performing Streaming PC Build
Estimated Gaming Performance: 60FPS 1080p or higher
Estimated / Reccomended Live Streaming Performance: 720p / 30 or 60fps (in high FPS games)
Generally speaking this would be a build for those that want to stream very smoothly at the "golden point" (baseline of 720p@30fps, 2000kbps, x264 Veryfast) and higher (which is streaming at 720p / 30fps) using very high end games at very high settings (games like Battlefield, Battlefront, Crisis 3,  the Witcher, Just Cause, GTA V and so on). This build also leaves room for future upgrades and might even be a touch more then you need for certain games, but will play games at high settings (60fps + 1080P or higher resolutions) as well as stream wonderfully at the "golden point" or higher.
Hardware Link
Price
Image
Estimated Price:
$1090
Processor
Intel Boxed Core I7-6700K 4.00 GHz 8M Processor Cache 4 LGA 1151 BX80662I76700K
$347.00
Cooler
Cooler Master Hyper 212 EVO – CPU Cooler with 120mm PWM Fan (RR-212E-20PK-R2)
$29.49
 
Motherboard
$139.59
Graphics Card

ASUS Graphics Cards TURBO-GTX970-OC-4GD5 OR

---

GeForce GTX 1070 (*Newly announced card – estimated release date: June 10th – linked to an Amazon search of the GTX 1070)

$289.38

---

$-

($379 MSRP)

---

RAM
$34.38
SSD
$89.27
Power Supply
EVGA SuperNOVA 650 G1 80+ GOLD, 650W Continuous Power, Fully Modular 10 Year Warranty Power Supply 120-G1-0650-XR
$78.10
Computer Case
$71.99
Optical Drive
No optical drive included in base build cost – *This should be considered optional
–
The build above is very similar to on of the recent builds included in the gaming pc builds of the month here at Newb Computer Build, with one minor tweak – the cpu. The included cpu below is an Intel i7 6700K, which will help tremendously in your streaming pc build, able to smoothly stream through any service depends on video encoding, which is helped tremendously by using the Intel i7's hyper-threading versus an Intel i5 (which is all you would need for most standard gaming builds).
Included to go with the cpu is a needed cpu cooler – the Cooler Master Hyper 212 EVO is a long standing highly accepted cooler in the pc building community as it provides optimum cooling at a great price.
For a motherboard, included is the  Gigabyte GA-Z170X-Gaming 3. This is a Z170 chipset motherboard that can easily take advantage of overclocking the Intel i7 6700K cpu, which, increases this builds potential even further. The Gaming 3 motherboard does support both Crossfire and SLI (great for future upgrading potential), so that you do have the option to include two of either the graphics card options as an upgrade suggestion for the future. The Gaming 3 motherboard has the following specifications (and you can learn more on the product page at gigabyte.com):
Supports 6th Generation Intel® Core™ Processor
Dual Channel DDR4, 4 DIMMs
Intel® USB 3.1 with USB Type-C™ – The World's Next Universal Connector
3-Way Graphics Support with Exclusive Ultra Durable Metal Shielding over the PCIe Slots
Dual PCIe Gen3 x4 M.2 Connectors with up to 32Gb/s Data Transfer (PCIe NVMe & SATA SSD support)
3 SATA Express Connectors for up to 16Gb/s Data Transfer
115dB SNR HD Audio with Built-in Rear Audio Amplifier
Killer™ E2200 Gaming Networks
High Quality Audio Capacitors and Audio Noise Guard with LED Trace Path Lighting
APP Center Including EasyTune™ and Cloud Station™ Utilities
GIGABYTE UEFI DualBIOS™ Technology
Now for the graphics card – I have included the ASUS GTX 970 above, which is a fantastic gaming gpu that is capable of playing pc games at max settings with 60fps+ at 1080p. Now with that being said it will also work great alongside the Intel 6700K which will take most of the streaming work load, while the gpu will give you optimal performance while gaming on your own monitor. At the time of writing this article though there have been a ton of graphics card announcement recently, so there will be some new NVIDIA cards released soon, primarily to coincide with this build, I would recommend the GTX 1070. This card will be a tad more expensive then the GTX 970, but based on current benchmarks I would highly recommend it.
For RAM there is an included kit of 8GB DDR4 Kingston HyperX Fury RAM, this should be a decent amount of RAM for this streaming PC, but keep in mind that the upgrade potential is still there as you can always add a couple of more sticks for a total of 16GB should you need it later on (say you want to stream and do tons of multitasking using plugins, browser, music and so on all at the same time).
There isn't a ton of space included in terms of storage, but included is a high performing Samsung 850 EVO 256GB Solid State Drive. I would for sure get an SSD, but you do have the option of bumping that up to a 500GB or 1TB version if you like right now, or simply add in more storage in the future when the needs arises.
The power supply included is more then enough juice to get your running, plus its a high quality EVGA SuperNova 650W PSU – which is a very efficient and reliable PSU.
Lastly, the included PC case is a Phanteks Enthoo Pro M – a minimalist simple enthusiast case that does the trick of both encompassing your hardware as well as looking great. There is also a full tower version of the Enthoo Pro for not much more, but I would only recommend it for those that don't mind a larger case or imagine themselves stuffing a ton of hardware into there.
Streaming PC Build Final Words
The build I've outlined in this article is the best likely streaming build to get anyone up and running in most of any games with typical streaming settings on streaming sites like Twitch or YouTube Gaming. So the build should be able to max typical games out at standard HD resolutions, while also being able to stream at end user preferred streaming rates.
If can still stream on a lower end pc build, but this would mean scaling your settings in pc games / streaming at lower bitrates etc. While you can also get an even higher-end pc build to play games at higher resolutions on your own pc (1440p up to 4K for example) and this would generally require a higher end graphics card (such as a GTX 1080 or GTX 980 Ti as a couple of examples.
If you ever decide to get really into streaming the best way to get optimal streaming performance is to actually have two separate PCs – a dedicated Gaming PC and a dedicated Streaming PC – of which you can learn more about that on Twitch's Broadcasting with Two Computers article.
Streaming Microphones and Webcams
Now that you have an idea of what a decent streaming pc build looks like, there are other considerations depending on how immersive you want your streaming experience to be . This includes things like microphones and webcams. There are so many options for these such as you can simple buy a gaming headset with a mic, or a separate desktop mic and just any general 1080p webcam. Check out below for some pc streaming peripheral ideas.
Thank you for checking out the article. If you have any questions with regards to setting up you streaming gaming pc build or have anything to add, then please leave your comments below.
I wish everyone the best of luck building and have fun streaming your favorite pc games. Once in a while I like to stream  over at Twitch, so feel free to stop by sometime: