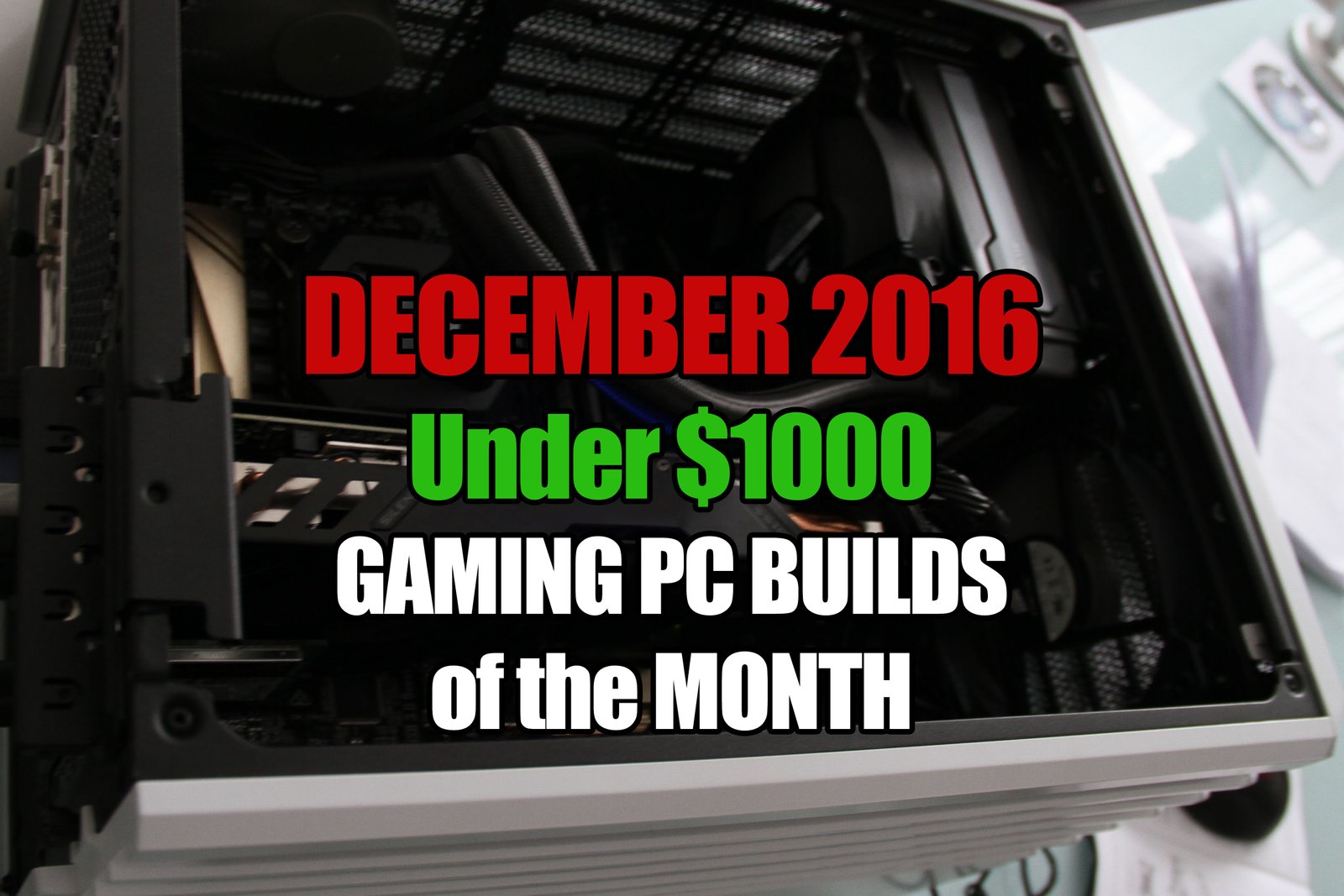 If you are looking to build a $1000 gaming pc build this December, then you are at the right place. Here you will find one of the best builds you can get for this budget – which is aimed at those looking to crush games at 1080p and play into 1440p comfortably, depending on the game. The build you see below is currently priced below the $1000 budget and has some upgrades in case you want some ideas to increase the overall performance of this build should you have room in your savings.
If you have any questions, then feel free to leave any comments below – happy building!

December 2016 PC Build (1080p to 1440p) – Under $1000
Capability: Game with Extreme settings at 1920X1080 resolutions up to Higher Settings at 2560×1440 (2K)
(*Note: All prices are in USD but URLs go to your local Amazon)
Hardware Link
Price
Image
Estimated Price:
$944 (December 2016)
Processor
Intel Boxed Core I5-6600K 3.50 GHz, 6 M Processor Cache 6 for LGA 1151 (BX80662I56600K)
$219.99
Cooler
Cooler Master Hyper 212 EVO – CPU Cooler with 120mm PWM Fan (RR-212E-20PK-R2)
$29.44
 
Motherboard
$130.99
Graphics Card

XFX RX-480P836BM AMD Radeon RS 8GB GDDR5 DVI/HDMI/3Displayport PCI-Express Video Card

---

OR – Choose either of these graphics cards

---

EVGA GeForce GTX 1060 GAMING, ACX 2.0 (Single Fan), 6GB GDDR5

$279.99

---

---

$259.89

---

---

RAM
$54.00
SSD
$75.95
Power Supply
EVGA SuperNOVA 650 G1 80+ GOLD, 650W Continuous Power, Fully Modular 10 Year Warranty Power Supply 120-G1-0650-XR
$79.89
Computer Case
$79.99
---
See the other December 2016 Gaming PC Builds of the Month
---
Overview: Gaming PC Build ( $1000 )
For under $1000, you can get a pretty sweet PC build, on that can play all games maxed out at 1920×1080 resolutions and into 1440p / 2K resolutions smoothly and at higher settings. This is the High-End gaming PC build, a gaming pc build that will probably cover most of any average gamer needs. This would be the build I would recommend to those wanting a well rounded pc build that covers both enthusiast and regular gamer grounds of performance.
This build uses a combination of the Intel i5 6600K processor and a Cooler Master Hyper 212 cpu cooler (as you do need a cooler as there is no stock one included with the 6600k), plus the hyper 212 helps tremendously when oveclocking that unlocked 6600k processor leaving with tons of possibilities.
For the graphics cards included in the less than $1000 build  we have two card options – the first the NVIDIA GTX 1060 and the second is the AMD RX 480 graphics card. Both of these cards can be similar in cost and performance they do differ in specific games so please do look up some benchmarks. A great benchmark overview can be found through hardwareunboxed.com GTX 1060 benchmarks in various games – this guy does a spot on job bench-marking, so I highly recommend his content.
The motherboard included for the $1000 December 2016 PC Build is the Gigabyte GA-Z170X-Gaming 3.  The Gaming 3 motherboard has the following specifications (and you can learn more on the product page at gigabyte.com and see the specifications listed below or check out Gigabytes overview video on YoutTube):
Supports 6th Generation Intel® Core™ Processor
Dual Channel DDR4, 4 DIMMs
Intel® USB 3.1 with USB Type-C™ – The World's Next Universal Connector
3-Way Graphics Support with Exclusive Ultra Durable Metal Shielding over the PCIe Slots
Dual PCIe Gen3 x4 M.2 Connectors with up to 32Gb/s Data Transfer (PCIe NVMe & SATA SSD support)
3 SATA Express Connectors for up to 16Gb/s Data Transfer
115dB SNR HD Audio with Built-in Rear Audio Amplifier
Killer™ E2200 Gaming Networks
High Quality Audio Capacitors and Audio Noise Guard with LED Trace Path Lighting
APP Center Including EasyTune™ and Cloud Station™ Utilities
GIGABYTE UEFI DualBIOS™ Technology
The RAM included is the affordable kit of Ballistix Sport LT 8GB kit,which is enough memory for most standard gaming pc builds, and you always have the option to upgrade more in the future if need be with the extra couple of slots on the included motherboard.
The included storage is a 250GB SK Hynix Flash SSD, this is a new storage piece for this build and is a great bang for your buck newer SSD model – an alternative should this ssd not be in stock is the Samsung 850 EVO, which is a tad better although a tad more expensive.
The included power supply unit (and for some time now in this build) used is the EVGA SuperNOVA G1 650W power supply, which is a great PSU with all modular cables and it provides the perfect amount of power for this build along with room for some upgrades. For it's price, quality and the fact that it's modular makes this a perfect choice.
The new PC case I've chosen for the $1000 gaming pc build is an interesting one. That is because I have gone with the Rosewill Gaming ATX NIGHTHAWK 117 – a larger case which is essentially the successor to the Rosewill THOR V2. This case is screaming style and capacity and can house up to an E-ATX motherboard. This may not be idea for every gamer, so if you are the type who wants a more compact case in the same budget, then check out last months case the BitFenix Aurora Mid Tower Case.
*Note: The Rosewill Nighthawk was also given a 2016 Editor Recommended stamp of approval by TomsHardware's review of the this case
For a quick overview of the NIGHTHAWK 117 case check out Rosewill TVs video:
---
You Can View All The $1000 2016 Gaming PC Builds Here
---
December 2016 (Under $1000) PC Build Upgrade Suggestions
$1300 with all below upgrades are included
Here are some upgrade ideas for your under $1000 December 2016 pc build depending on your budget or future performance upgrade – perhaps more than $1000.
For a further boost in graphics you could consider going straight for a GTX 1070 graphics card, which could max those games out in 2K without a hiccup enabling higher frame rates in more demanding games.
If you want more than the included 250GB storage SSD in the main build, you could consider bumping your SSD up to a slight faster 480GB SanDisk Extreme Pro SSD instead giving you nearly double the space – you can also note that this is an even higher performing SSD than the included SSD in the $1300 build for this month / which can also be a slightly cheaper 500GB SSD alternative.
You could also go with a liquid cpu cooler such as the Corsair Hydro Series H80i V2 in place of the Cooler Master Hyper 212 EVO  air cooler already included in the above build. This could help keep things quiet and a tad cooler when overclocking and it offers a more customize cooling experience (learn more about the Corsair h80i GT at Corsair.com).
I have also included a PSU upgrade this month – that is the EVGA 650Watt P2, which is a Platinum rated PUS giving you an extra boost in power efficiency, which could save a tad on power as it uses it more efficiently. To learn more about the EVGA P2 specifications please visit the EVGA P2 information page.
BUILD COST WITH ALL BELOW UPGRADES: $1356
STORAGE UPGRADE
Add a Larger Faster SSD: SanDisk Extreme PRO-Series Solid State Drive SDSSDXPS-480G-G25 (2.5″, SATA Revision 3.0, 6Gb/s 480GB Storage) ($209.00) –

GRAPHICS CARD UPGRADE

Then get more graphics power with a new GTX 1070 – Gigabyte GeForce GTX 1070 G1 Gaming Video/Graphics Cards GV-N1070G1 GAMING-8GD Price: $419.99

PSU UPGRADE

Upgrade to a Platinum efficient power supply – EVGA SuperNOVA 650 P2, 80+ PLATINUM 650W , Fully Modular , EVGA ECO Mode, 10 Year Warranty , Includes FREE Power On Self Tester, Power Supply 220-P2-0650-X1 ($109.94)

CPU COOLER UPGRADE

Corsair Hydro Series H80i v2 Extreme Performance Liquid CPU Cooler , Black- Add a liquid CPU Cooler for quieter, more customized and efficient cooling ($89.95)
Peripheral Ideas (Monitor Keyboard & Mouse) for the December 2016 Under $1000 PC Build
Here are some peripheral ideas for our under $1000 December 2016 PC build. This is a new section this month and in the past we did peripheral articles separately, but since some individuals have had questions with regards to what best peripherals should go with their builds, I thought I would package these into the builds this month.
Below is a monitor that would go best with this build since it is capable of pumping games with high settings at high FPS no problem at 1080p without a hiccup (keep in mind that you can go into 1440p if you wanted). Also included is a mechanical keyboard with cherry mx switches with plenty of features and a mouse catered to high precision FPS players.
December 2016's $1000 Gaming PC Hardware Overview Video:
*Coming soon.