Build a PC for Knights of the Fallen Empire:
This is an older article from the original release of Star Wars The Old Republic. If you're looking for up to date PC builds for the new Knights of the Fallen Empire, then please visit the updated Gaming PC Builds of the Month articles. Feel free to leave a comment if you have any further questions.
---
Jump to: The Introductory Build (Build One) – The Mid Range Build (Build Two) – The Ultimate High Settings Build (Build Three)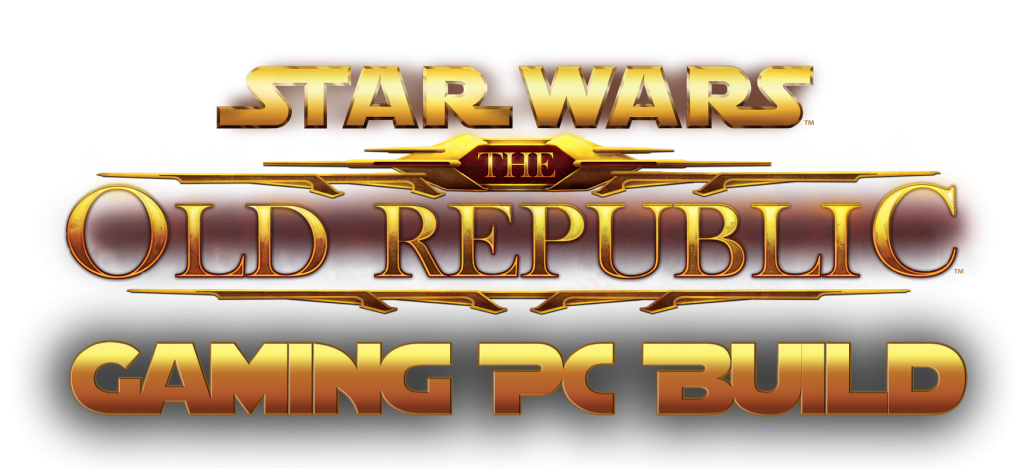 The long awaited game title where you are the hero of your own Star Wars saga in a story driven massively multiplayer online game brought to you by BioWare and LucasArts. Whether you choose to be a Jedi or a Sith, one of the most important aspects of being able to play a game like this is having the right hardware to play it at the quality this game deserves.
So in this article I am going to discuss a few gaming builds that you can use to play SWTOR at several different settings; these builds will determine whether you want to play the game on a introductory level or at the maximum possible settings. So I am going to organize these builds on these three assumptions: (all builds will include a Processor, Motherboard, Graphics Card, Hard Drive, Power Supply , Optical Drive and Computer Case)
This build will be of the assumption that you want to play SWTOR, however do not want to spend more than you have to, or have a lower budget. The thinking behind this build will be looking at the minimum system requirements to play and putting together a minimum build.
Star Wars: The Old Republic Build Two: The Mid Range Build
This build will be a mid range build able to play SWTOR at relatively higher settings while being able to keep within a mid range budget. You may even be able to play at the higher setting levels, but may have a lower FPS in more areas with more activity (large battles etc).
The third build will be the the build of builds for SWTOR. If you are wanting to build your gaming pc for this game and want to play it at the highest possible settings at all times, then this is the build for you.
Starting: Know the Minimum System Requirements:
As you can see on the SWTOR minimum system requirements page following is the minmum system requirements for Star Wars: The Old Republic:
| | |
| --- | --- |
| Processor |  AMD Athlon 64 X2 Dual-Core 4000+ or Intel Core 2 Duo 2.0GHz or better |
| Operating System |  Windows XP or later |
| RAM | Windows XP: 1.5 GB RAM Windows Vista and Windows 7: 2GB RAM*note: If you are using integrated graphics it is recommended that you have a minimum of 2GB of RAM |
| Graphics Card  | ATI X1800 or better nVidia 7800 or better.Intel 4100 Integrated Graphics or better*note: The Old Republic requires a video card with a minimum of 56MB of on-board RAM with support for Shader 3.0 or better. |
|  Internet Connection |  You must be connected to the internet to play Star War The Old Republic |

Star Wars: The Old Republic Build One:
After taking a look at the minimum system requirements for SWTOR above, you can see that you really do not need much to play the game. The build I am providing below will allow you to play the game without any troubles, however do not expect to play at higher settings.
Gaming PC Build Recipe:
SWTOR Introductory Build
Estimated Price:
$ 390 (Prices will vary and are accurate as of December 2011)
The SWTOR Introductory Hardware Overview:
The AMD Athlon X2 is pretty much the minimum processor in terms of CPU power to play SWTOR. As well, this processor is worth every penny and cannot be beaten in terms of price.
The Gigabyte GA_M68MT-S2P motherboard will support the AMD Athlon X2 with ease. At its fine price point it is the perfect choice for the introductory SWTOR build because it comes at a price low enough to be worthy of this classification and includes everything you need. The following are the technical details for this motherboard:
CPU: Support for AMD AM3/Phenom II/Athlon II processor. Chipset: NVIDIA GeForce 7025/nForce 630a chipset
Memory: 2 x 1.5V DDR3 DIMM sockets supporting up to 8GB of system memory, Dual channel memory architecture, Support for DDR3 1333(OC)/1066/800 MHz memory modules
Audio: Realtek ALC889 codec, High Definition Audio, 2/4/5.1/7.1-channel. LAN: Onboard Realtek RTL8211CL (10/100/1000Mbit)
Expansion Slots: 1 x PCI Express x16 slot, running at x16. 2 x PCI Express x1 slots. 1 x PCI slot
Storage Interface: 4x SATA 3Gb/s connectors. Support for RAID 0, RAID 1, RAID 5, RAID 10 and JBOD
Back Panel Connectors:1 x PS/2 keyboard port/1 x PS/2 mouse port/1 x serial port/1 x D-Sub port/4 x USB 2.0/1.1 ports/1 x RJ-45 port/3 x audio jacks (Line In / Line Out / MIC In)
Internal I/O Connectors:1 x 24-pin ATX power connector/1 x 4-pin ATX 12V power connector/4 x SATA 3Gb/s connectors/1 x CPU fan header/1 x system fan header/1 x front panel header/1 x front panel audio header/3 x USB 2.0/1.1 headers/1 x parallel port connector/1 x clearing CMOS jumper
USB: Up to 10 USB 2.0/1.1 ports
The Radeon HD 5670 1GB is actually a tad more than required by the minimum system requirements for Star Wars: The Old Republic, however it is actually one of the best graphics cards in this price range at this point in time. You want to play SWTOR? Then this will do the trick!
Kingston ValueRAM is unbeatable in this situation since it it literally the minimum requirements and all you need to play SWTOR.  This single stick of RAM contains 2GB of memory and is only $13.99 at the time of writing this article. If you are only looking to play the game at its minimum settings then this will work perfectly. If you want to double the RAM to 4GB you could also just buy another stick of this later on. You may also find a separate dual channel 4Gb bundle for around $24 if you don't mind spending the extra cash now.
320GB should be all you need for an introductory gaming pc build. If your primary concern is to only play SWTOR then you should be in the clear for now as all you would need is to instal the game and the operating system you use (most likely Windows 7) to play. 320GB however will also allow much more more and if you ever need more you can always add another drive to the mix (especially if prices drop later on)
This Cooler Master Elite 460W PSU is all you need for this gaming pc build. 460W should be plenty to power the following hardware components and does not take a very big hit on your pocket. Also, at the time of writing this Amazon has it ranked with 54 reviews and over 4.5/5 stars.
The GAMMA Classic series case always fits the bill for any budget gaming pc build if you ask me. It is generally priced around $35 and it a quality computer case for this price range (as an introductory gaming pc build). I have used this case in my previous build recommendations several time and will continue to do so.
The LG Electronics optical DVD drive is a basic optical drive that will be able to burn and utilize any CD or DVD you throw at it. I chose this optical drive since it is just like the rest, except comes with a quality brand at a greta price level.

Star Wars: The Old Republic Build Two
The goal of this build is to provide you with the requirements to play SWTOR at mid range and acceptable level at the higher graphics settings. These results are actually based on my gameplay experience with my current build of which my recommendations are based on.
In this build I will provide you with the recommended hardware as well include the 60 second benchmarks I took during some gameplay on my gaming pc. I was able to play SWTOR at all of the highest settings, however it would slow down some at higher gameplay scenarios.
Gaming PC Build Recipe:
SWTOR Mid Range Build
Estimated Price:
$ 590 (Prices will vary and are accurate as of December 2011) – This is by far the best bang for buck gaming PC for SWTOR
The SWTOR Hardware Mid Range Overview:
The AMD Phenom II X4 955 Black Edition processor has een the ultimate gaming pc bang for your buck processor for the past long while. In fact, this processor is the exact one I have been using for a while and it has never failed. I have played SWTOR and this processor held up to the task at all the highest settings, however did slow in larger traffic intensive situations. At the end of this segment please look for the benchmarks I took for my gaming p build playing Star Wars: The Old Republic.
The Asus M4A87TD motherboard is perfect for the Phenom X4 processor and as I had said with the Phenom X4 proessor above, I also own this motherboard and am currently using it in my build. I have had zero problems with it and have no complaints. The only downside I can think of is the one PCI Express 2.0 x16 slot (as to only have one graphics card; which is ok if that is all you are going to use).
The Radeon HD 6770 is fantstic graphics card by anyones standards. This card will play so many games at the highest setting right now; especially for the $100-$120 price range. Unlike the previous processor and motherboard this is not the exact graphics card I have right now, but it is very similar. The Radeon HS 6770 graphics cards is directly related to the Radeon HD 5770 graphics cards of which I currently use and have benchmarked with SWTOR.
The Corsair Vengeance memory is the perfect set of Dual Channel DDR3 memory set for most game out at the moment. Right now all I am using is a set of 4GB DDR3 G Skill RAM, and it has worked perfectly. If you also purchase the ASUS motherboard I have noted above, you may also upgrade to 8GB in the future easily as there would be 2 slots open for more RAM. The Corsair Vengeance RAM has been highly rated with a 5/5 stars on Amazon.
500Gb for a mid range build is plenty if you ask me. After all, this build is specifically for SWTOR, so 500Gb to install this game and the OS is way more than you need. However, if you are in fact building a gaming pc in the price range you mise well have a few extra GB so as to install future games, music, movies, software etc. Western Digital is a highly recommended hard drive by me and runs very stable.
So yes I have used the Antec 750W power supply in previous builds (the gaming pc builds of the month) and the background behind this piece of hardware speaks for itself. The reviews and quality of this PSU is fantastic and even though it looks rather plain the actual qualifications surpass this. It has been my opinions and many other that you should not skimp when it comes to purchasing a good PSU, as it is the devise that powers every piece of hardware running your gaming pc.

Ok, so the Thermaltake V4 Back Edition case is not the case of all cases, but for $46  this is the perfect mid tower ATX case to hold this build in tact. With a slight blue glow you can feel the power behind a solid build to play Star Wars: The Old Republic. It has always been my opinion that a case is highly personal until it comes to the perfect amount of cooling. That is you choose the case that fits your personality, until you need a higher quality case to keep that processor of your cool enough when over-clocking or pushing it to its limits and this case fits that bill.
The LG Electronics optical DVD drive is a basic optical drive that will be able to burn and utilize any CD or DVD you throw at it. I chose this optical drive since it is just like the rest, except comes with a quality brand at a greta price level.
The Benchmarks from My Star Wars: The Old Republic Gameplay
These benchmarks were taken using my current pc build (as seen in the Newb Computer Build About page) using the FRAPS video game recording software. As you can see the average 42.167 FPS for this 60 second interval is not too bad at the highest settings using the current pc gaming setup!
| | | | | |
| --- | --- | --- | --- | --- |
| Frames |  Time (ms) |  Min |  Max |  Avg |
| 2470 | 60000 | 13 | 59 | 41.167 |

Star Wars: The Old Republic Build Three
If you are reading this Third Build for playing the Star Wars: The Old Republic then you are most likely interested in playing at the highest possible settings smoothly and at ease. The build i am going to provide here is going to provide you with the best possible gaming quality in this game guaranteed. And even though your main plan is going to want to play SWTOR at max settings, it will most likely play many others at the same rate.
Gaming PC Build Recipe:
SWTOR The Ultimate High Settings Build
Estimated Price:
$ 1250 (Prices will vary and are accurate as of December 2011)
The SWTOR Hardware Mid Range Overview:
The Intel i5-2500K processor is the top of the line in not just a processor for paying SWTOR, but for gaming pc's everywhere! This is because it has an unlocked CPU multiplier that make it an easier CPU to over-clock. That is, in the future if you need more processor juice, this can be easily accomplished here. The Sandy Bridge line of SPUs is by far the best by right now for any gaming pc!!
Just the some of the monthly gaming pc builds I chose the ASUS 1155 Intel Z68 P8z68-V motherboard to pair with the Intel Core i5-2500K processor. This mobo supports up to  2 PCIe 2.0 x16 ports, four memory slots (allowing up to 32 GB memory), plenty of USB ports, and a Z68 north bridge. This means the future proof of this board is phenomenal; you can add another graphics card in the future for double the graphics capability, or double or even triple up the RAM in the future. (Never mind that its a Z68 mobo!)
For SWTOR, the Radeon 6970 will blow this game out of the waters (of space…of course!) This is honestly all you need to play this game at whatever graphics settings you desire. Toms Hardware has even voted this graphics card as Excellent at 2910×1200 resolution in most games of which I wholly agree.
This Kingston 8GB dual channel package of memory is perfect for the ultimate SWTOR gaming pc build since it is..yes triple the minimum requirement for the game of 2GB RAM. Never mind that this package of memory roughly $39 for the full 8GB and has an Amazon rating of 5/5 stars.
As per the last build I have again chosen a 500GB Western Digital Hard Drive. Yes, I understand that I should have up the space for this build, however it is not needed for a game specific gaming pc build. As well, at the time of writing this article hard drives are at an all time low in supply (due to shortages where they are produced) so the prices are inflated. Therefore, I would not recommend any more than a 500GB Hard Drive with an upgrade when you need it.
Corsair Enthusiast TX V2 Series 850-Watt 80 Plus Bronze Certified High Performance Modular Power Supply CP-9020004-NA
A Corsair 850 Watt Modular Power Supply Unit is perfect for this SWTOR gaming pc build (of the ultimate quality). This is because 85) watts is more than plenty to power all of this hardware, modular is the power supply of the future (as to rid  your computer case of the mess of unused cords) and the Corsair Enthusiast power supply brand is highly recommended for its quality and reputation (the ultimate status of a PSU!).
The  Corsair 600T Special Edition case cannot be a better fit for the ultimate SWTOR gaming pc build. I mean just take a look this picture of a 600T StarWars Case Mod posted here at Newb Computer Build with a Strom Trooper look; really cool! Plus the Corsair 600T Gaming PC Case is one of the top gaming pc cases as of right now. It looks very sleek, is of a very high quality and comes with these Product Features:
User-swappable side panel window or mesh insert housing up to four 120mm fans
Optimize airflow and keep your system neat and tidy using the intelligent cable management system.
Front panel includes USB 3.0, USB 2.0, Headphone, Mic, and a four-channel fan controller.
Install or upgrade your CPU heatsink quickly with the easy-access backplate cutout.
Keep your system cool with the dual 200mm fans and rear 120mm fan
Access your hardware faster than ever with easy side panel removal.
Built-in compatibility for SSDs in the six hard drive bays gives you the flexibility you need.
Easily accessible dust filters keep the cool air flowing over your valuable components.
I used this LG Electronics optical DVD drive for both of the previous builds for the Star Wars: The Old Republic gaming PC builds. The only reasoning behind this is because optical drives now have all become relatively similar and in my opinion do not vary too much. By choosing a reputable brand like LG at a price like this you cannot go wrong within budget. Really, the only improvements over a drive such as this is to go Blu-Ray and this is not needed in a gaming pc build such as this; unless you want it.
The Star Wars: The Old Republic Gaming PC Builds Conclusion:
After reading all three of the gaming pc build provided here I hope that you have found what you need in order to play SWTOR at the setting you want to in the price range you have. If your main goal is to purchase separate hardware parts to just play the game, then you should be ok if you follow any of the hardware recommendations above, or else you can also refer to the minimum system requirements for the game provided before the article build or here.
I wish you luck when purchasing your hardware for SWTOR and if you need any pointers or help choosing the right hardware pelase leave a comment below or get in contact with me via the comment form.
If you enjoyed reading this article please support Newb Computer Build whether it is subscribing by entering your e-mail in the top right form, liking us on facebook or joining our circle on Google Plus. Also, if you have any suggesitons or a gaming PC build that works really well for you or you think would work better please leave a comment below I would love to hear from you. Thank you!
Good Luck and may the force be with you.
Star Wars: The Old Republic PC Build Hardware Overview Video