PC Build Navigation: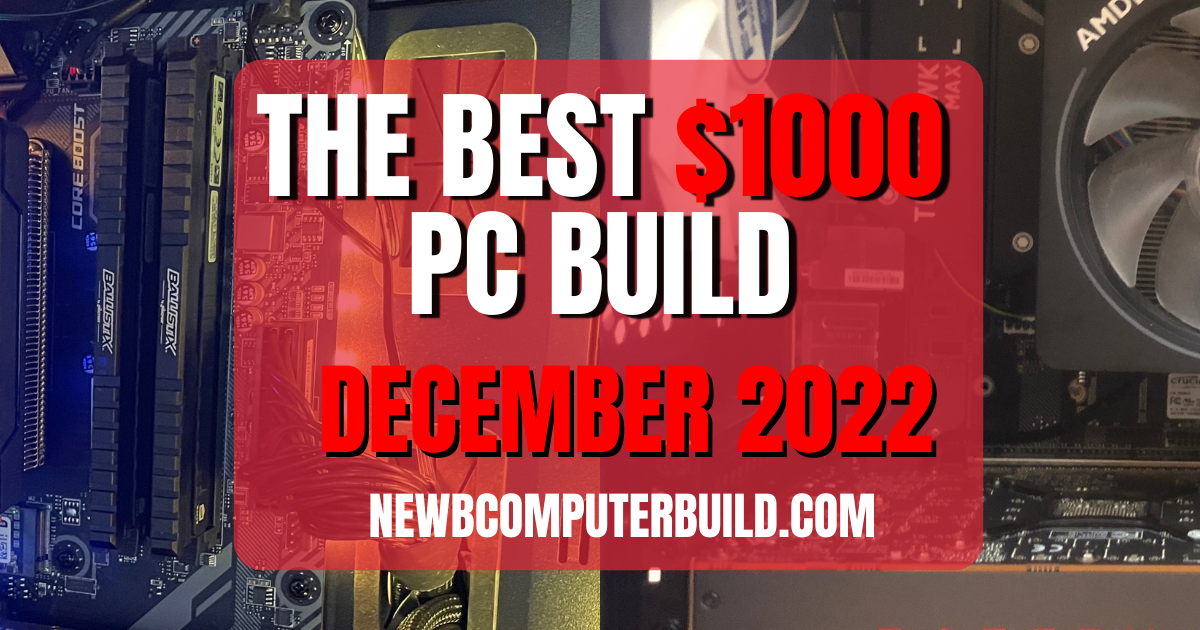 The Best $1000 PC Build for December 2022 Update:
Welcome to the best $1000 PC Build for December 2022. The $1000 build has seen minor changes this month, primarily due to minor cost changes, but overall is a solid pick in terms of performance for this budget and comes in slightly above the $1000 this time around, but it's well worth it in over all performance.
Intel, AMD and NVIDIA have been busy with some higher-level hardware releases over the last month, which won't affect this build too much until probably the new year, so if you are in the $1000 budget range for a PC, this is the best performing hardware for the cost right now, which is also priced very well in anticipation for a new year of hardware releases in this budget range.
Please keep in mind that every PC is and can be unique to its builder, so feel free to swap things like cases if you had your eye set on something more unique to you — and if you have any questions as per compatibility, please feel free to leave a comment.
Which December 2022 PC Build is right for you based on Your Gaming and Budget Needs?
The budgets included below should accommodate most PC gamers out there that play in many gaming settings, maxing games anywhere from 1080p to 1440p and play really well into 4K.
If you are not sure which pc build is right for you based solely on your budget, then here is a quick breakdown of which build may be a right fit for you (*rough performance guidelines):
---
Bookmark our Best Gaming PC Builds for 2022 Page to Keep up to Date With the Monthly Gaming PC Builds, or subscribe here.
---

The Best $1000 Gaming PC Build | December 2022
Capability: Game with Extreme settings at 1920X1080 (HD) resolutions up to Higher Settings at 2560×1440 (2K)
Powered by the Intel i5 12400f CPU and the RTX 3060 ti Graphics Card
The Intel Core i5 12400 is included this month over the Intel i5 12400F simply because the "f" was out of stock, and the cost is about the same. Either way, it doesn't matter too much, but the 12400 does have integrated graphics if you need it, whereas the 12400 does not. Either way -- this is a great gaming CPU.
Amazon Price: $183.47
2. Cooler: Intel Laminar RM1 Cooler (Included)
This is the stock cooler for the Intel Core i5 12400. It would be recommended that if you want to overclock upgrade this to an after-market CPU cooler (see hardware alternatives for options).
Price: *Included 
This is a great budget B650 motherboard with the following specifications:
Intel LGA 1700 Socket: Supports 12th Gen Intel Core Series Processors

DDR4 Compatible: Dual Channel DDR4, 4 DIMMs

Sturdy Power Design: 6+2+1 Phases Hybrid Power Design, Premium Choke and Capacitors, 8-pin Solid Pin CPU Power Connector

Comprehensive Thermal Design: M.2 Thermal Guard

Next Gen Connectivity: PCIe 4.0, Dual NVME PCIe 4.0 x4 M.2, USB 3.2 Gen2 Type-C, HDMI 2.0,

Fast Networking: 2.5GbE LAN

Dynamic Audio: High-End Audio Capacitors, Audio Noise Guard

Fine Tuning Features: RGB FUSION 2.0, Supports Addressable LED & RGB LED Strips, Smart Fan 6, Q-Flash Plus Update BIOS without installing, CPU, Memory, and GPU
Amazon Price: $104.99

The 3060 Ti is a great graphics card for most standard gaming and is faster than previous cards in this bracket giving you great 1440p and 1080p performance in gaming.
Price: $459.99
Included is a total of 16GB in the best $1000 gaming pc build, which will be plenty of memory for this rig.
Amazon Price: $59.99
Capacity: Up to 2TB with sequential reads or writes up to 2400MB/s/1900MB/s

NVMe PCIe interface, marking the next step in storage innovation

Includes SSD management software for performance optimization, data security, and firmware updates

Backed by a limited 5-year warranty or up to the max endurance rating of 150 TBW
Amazon Price: $39.99
The sweet spot for this build is 650W of juice -- and I'm a big fan of be quiet!'s pure power line of PSUs.
80 PLUS Gold efficiency (up to 93.3%)

Modular cables for maximum build flexibility

Two strong 12V-rails

Silence-optimized 120mm be quiet! fan

Advanced stability and voltage regulation thanks to LLC, SR and DC-to-DC
Amazon Price: $107.99
Front I/O USB Type-C Port and Tempered glass side panel with single screw installation

Enhanced cable management: Our patented cable routing kit with pre-installed channels and straps makes wiring easy and intuitive

STREAMLINED COOLING: 2 Aer F120mm fans are included for optimal internal airflow and the front panel and PSU intakes include removable filters, a removable bracket designed for radiators up to 240mm - simplifies the installation of either closed-loop or custom-loop water cooling

Motherboard support: Mini-ITX, MicroATX, and ATX
Amazon Price: $69.99
Estimated Cost (December 2022):  $1026.41
Overview | $1000 Best Gaming PC Build 2022
The December $1000 PC build includes an Intel i5 12400 CPU and includes a stock cooler. You don't have to spend any money upfront for a cooler, however, if you want superior cooling should you be overclocking, you could consider a better cooler (check out the Best 2022 $1000 gaming pc build page for upgrade alternatives).
The real performance driver behind this build is the RTX 3060 ti graphics card, which at the moment of posting this article is in stock and has improved significantly in cost this month.
This $1000 pc build will play games smoothly at a high refresh rate of 1080p gameplay and really well into 1400p (2K) resolution gameplay at high FPS.
$1000 Gaming PC Build of the Month Upgrades
To read the full overview and for a list of hardware alternatives, please visit the FULL Best $1000 Gaming PC Build Page
If you visit the full overview for the best $1000 build you'll also find hardware alternatives and upgrades. This can be upgraded hardware including a better graphics card, more memory, or even more storage space should you need it.
---
Operating Systems for Your Gaming PC
Do keep in mind that you will also need an operating system, however, it's not too difficult to find keys for windows 11 online, you will need to install it using something like a USB key or external drive.
The Best $1000 PC Build for December 2022 Overview Video
If you prefer to check out a video overview of the $1000 PC build, then look no further. And please remember if you have any questions or comments on your build to leave them below and I'll try my best to help you out. Best of luck building your next best PC build!