PC Build Navigation: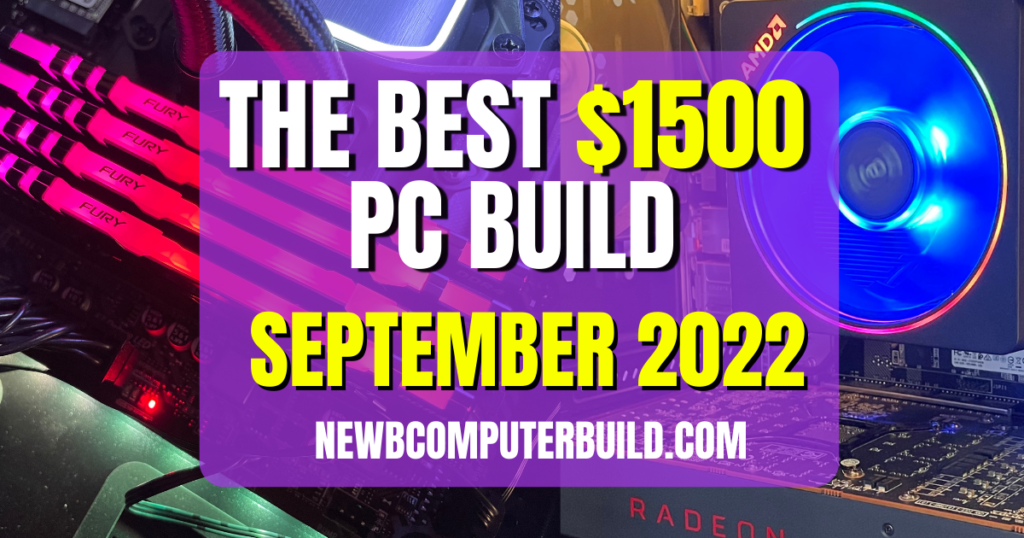 The Best $1500 PC Build for September 2022 Update:
Welcome to the best $1500 PC Build for September 2022. Each of the builds in the Gaming PC Builds of the Month have had performance bumps lately, and the $1500 is no exception, as last month the graphics card in this build went from an RTX 3070 up to an RTX 3080 for an overall less budget cost than months prior. This is amazing news as the $1500 can smoke any game on the market in higher resolutions with amazing FPS expectations.
So if you've been in the market for a higher-end range build, the market hasn't been this accessible in terms of cost per performance for years, which is a huge win for gamers.
I do also want to note that AMD is coming out with some newer spiffy Ryzen 7000 series CPUs in a month's time, so PC builds who want to latest and most up-to-date released hardware may want to wait, however, do keep in mind that supplies are generally lower upon release and cost may be higher than they need to be for a bit.
Please keep in mind that every PC is and can be unique to its builder, so feel free to swap things like cases if you had your eye set on something more unique to you — and if you have any questions as per compatibility, please feel free to leave a comment.
Which September 2022 PC Build is right for you based on Your Gaming and Budget Needs?
The budgets included below should accommodate most PC gamers out there that play in many gaming settings, maxing games anywhere from 1080p to 1440p and play really well into 4K.
If you are not sure which pc build is right for you based solely on your budget, then here is a quick breakdown of which build may be a right fit for you (*rough performance guidelines):
---
Bookmark our Best Gaming PC Builds for 2022 Page to Keep up to Date With the Monthly Gaming PC Builds, or subscribe here.
---
The Best $1500 Gaming PC Build | September 2022
Performance: Game with Extreme settings and High FPS at resolutions of 1920×1080 (1080P) & 2560×1440 (1440p) + good gameplay at 4K
*This Gaming PC Build is powered by the Intel i5 12400 CPU and an RTX 3080 Graphics Card
*Newer addition and faster than the previous Ryzen chip in this build.
6 Processor Cores and 12 Threads

4.4 Max GHz, 2.5 base GHz

Compatible with Intel 600 Series Chipset based motherboards

Intel UHD Graphics 730 included

Intel Laminar RM1 Cooler included
Amazon Price: $193.95
2. Cooler: Intel Laminar RM1 (*Included with CPU)
The Intel i5 12400 comes with the Intel Laminar RM1 Cooler included. This cooler will work just fine, however, if you want to really get the most out of overclocking (should you choose to), then you may want to purchase a better CPU cooler.
Dual Channel DDR4 Memory Technology

4 x DDR4 DIMM Slots

Supports DDR4 non-ECC, un-buffered memory up to 5000+(OC)
Amazon Price: $148.99
The RTX 3080 is a FANTASTIC gaming card and will crush ANY game you throw at it. In fact, it may be too much card for most gamers, but it is a phenomenal graphics card for gaming and will push your gaming performance to be able to play at the highest settings with high FPS into 1440p and plays very well at 4K.
Cost (Amazon): $729.99
16GB of RAM is the perfect spot for any high-end gaming pc - included is a 16GB kit of Corsair Vengeance LPX.
Amazon Price: $63.99
Capacity: 1TB but Up to 2TB with sequential reads/writes up to 2400MB/s/1900MB/s

NVMe PCIe interface, marking the next step in storage innovation

Includes SSD management software for performance optimization, data security, and firmware updates

5-year limited warranty
Amazon Price: $71.99
80 plus Gold certified, with 90% efficiency or higher under typical loads

Fully modular to reduce clutter and improve airflow

100% Japanese capacitors, LLC resonant circuit design DC-DC converter design to improve 3.3V. 5V. Stability

Double ball Bearing fan and EVGA eco mode for exceptional reliability and quiet operation
Amazon Price: $109.99
Combining innovative cable management, concentrated airflow, and proven CORSAIR build quality, the 4000D is a fitting choice for an immaculate high-performance PC.

The CORSAIR RapidRoute cable management system makes it simple and fast to route your major cables through a single channel, with a roomy 25mm of space behind the motherboard for all of your cables.

Includes two CORSAIR 120mm AirGuide fans, utilizing anti-vortex vanes to concentrate airflow and enhance cooling.

A spacious interior fits up to 6x 120mm or 4x 140mm cooling fans, along with multiple radiators including 360mm in front and 280mm on the roof (dependent on RAM height).

Put modern connections within easy reach with a front I/O panel including a USB 3.1 Type-C Port, USB 3.0 port, and a combination audio/microphone jack
Amazon Price: $104.99
ESTIMATED PRICE (September 2022): $1424
Overview | Best Gaming PC Build for $1500
The best $1500 gaming pc build for September 2022 includes one of the best performing gaming CPUs in the market right now, the Intel i5 12400. There are better CPUs, but for price per performance, it just doesn't make sense to go all out unless you have other things in mind for your PC. If that's the case, then you may want to check out the hardware upgrade suggestions in the full $1500 gaming PC build of the month article.
This is paired with another powerfully new piece of hardware, the RTX 3080 graphics card, making this a very powerful gaming pc capable of extreme performance in games at higher resolutions — we're talking exceptional 4K gaming at well above 60FPS and of course, phenomenal FPS performance at 1440P and 1080p. You just can't go wrong here as months prior, an RTX 3070 barely fit in this PC budget.
If you are looking for an over-the-top, very fast-performing gaming PC build that you don't have to worry about tweaking very much in order to max all games out at HD and higher resolutions, then this build is for you. However, unless you are wanting to get into seriously high-end 4K gaming, you shouldn't need much more.
If you still think you need increased performance, you could upgrade your CPU or GPU if you have the excess funds. If that is the case, you could simply consider upping the graphics card to something like an RTX 3080 Ti. This build also includes a very good gaming pc case, with great cooling and more.
$1500 Gaming PC Build of the Month Upgrades
If you have more to spend, then you could check out some hardware alternative suggestions. This could be for either upgrading this build before or after you buy it. To do so, visit the full $1500 gaming pc builds overview here:
To read the full overview and for a list of hardware alternatives, please visit the FULL Best $1500 Gaming PC Build Page
---
Operating Systems for Your Gaming PC
Do keep in mind that you will also need an operating system, however, it's not too difficult to find keys for windows 11 online, you will need to install it using something like a USB key or external drive.
The Best $1500 PC Build for September 2022 Overview Video
If you prefer to check out a video overview of the $1500 PC build, then look no further. And please remember if you have any questions or comments on your build to leave them below and I'll try my best to help you out. Best of luck building your next best PC build!